The kitchen is a beloved zone in almost every house. It's where you rush in for a quick breakfast before work or transform into a culinary artist to impress friends. With this in mind, its design requires a special approach. Kitchen wall decals are becoming popular in kitchen design projects since they don't take up any space. These smart and stylish decor elements add a nice touch to the interior without affecting its layout.
Let's explore popular uses and types of custom wall decals for kitchen design.
Kitchen Wall Decals for Different Uses
Well-thought-out home wall decals can decorate, organize and personalize your kitchen. Thanks to a range of styles, they're perfect for livening up the space and setting the right atmosphere. Here are trendy applications for kitchen vinyl wall decals.
Decorative Decals For Kitchen Walls
Dinner parties in the kitchen are cozy and fun. Make the experience even more dynamic by embellishing walls with trendy kitchen vinyl wall decals. Get started by selecting designs that match the overall theme of your space.
Kitchen Utensils for Minimalistic Design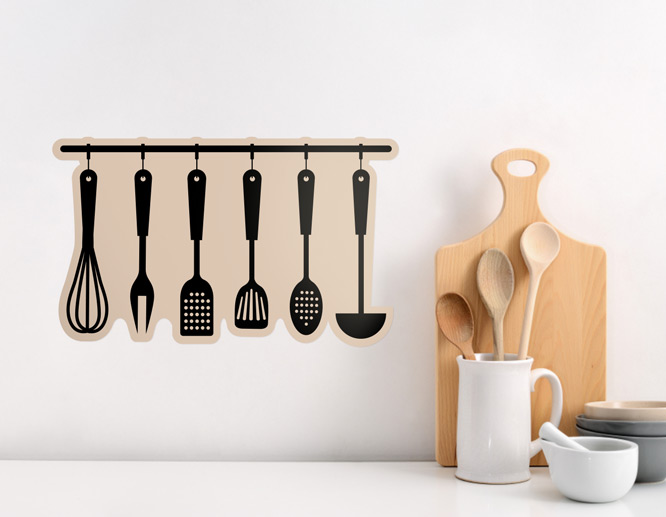 Transform your minimalist kitchen by adding wall art decals with clear designs to the walls or cabinets. If you're fond of home-made food but hate the mess, this type of decor will let you breathe a little easier. To make the cooking experience enjoyable, make designs appealing but not overwhelming. Give the wall tiles a modern touch to affirm that simplicity is serenity. A kitchen wall decal depicting organized utensils, for instance, will serve as a source of neatness. 
Global Landmarks for Worldly Cuisine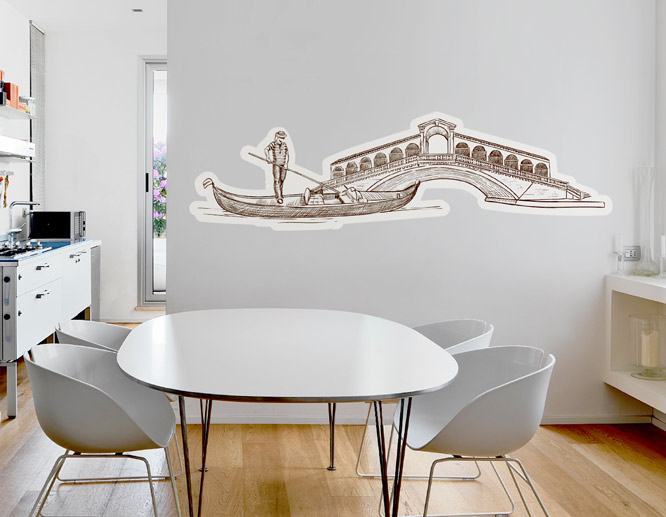 If you like to cook and serve on the spot, you've probably set your kitchen up with a small dinner table. For the dining corner to stand out from the rest of the space, apply decorative kitchen wall decals to the surrounding walls. Depict your favorite culinary destination or cuisine with the graphics. An image of an Italian landmark, for example, will give the kitchen a worldly feel. It will enhance your appetite as well as show your love for traveling.
If you'd like to have matching decor adhesives around the house, check out living room wall decals for ideas. 
Informative Kitchen Wall Vinyl Decals
If you prefer things to be practical, informative displays will be your favorite. Go for designs that combine appealing imagery with useful messages.
Rules for the Kitchen Illustrations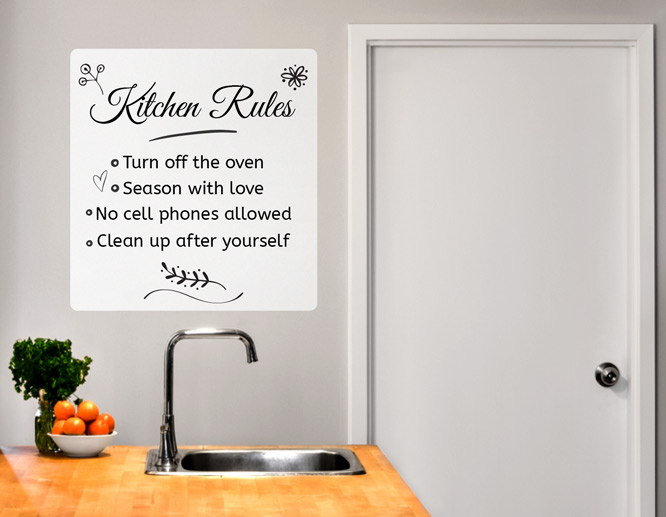 If you're a serious cook, you likely have a set of rules established for your kitchen. To save you the hassle of repetition, convey them through a custom-made kitchen wall decal. Order this eye-catching decor element with must-follow rules and have it in a visible spot. Getting vinyl lettering for this illustration will give the design a more refined look. With this decor at the kitchen door, you can enjoy cooking your way. Match it with custom acrylic signs showcasing your favorite artpiece to adorn the walls of your kitchen.
Measurement Kitchen Wall Decals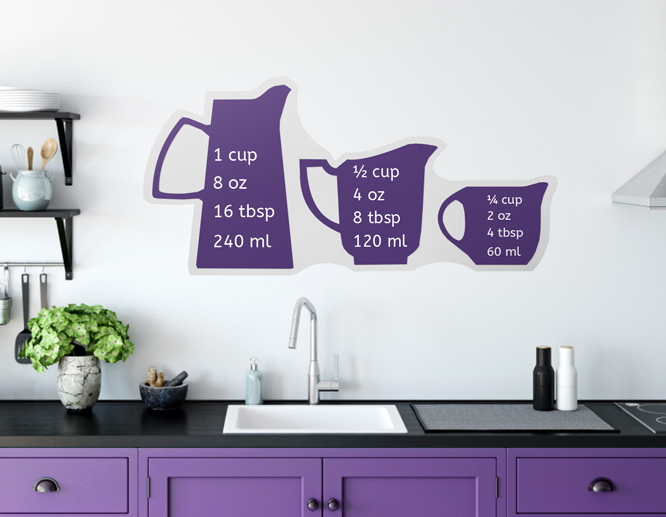 Love to look for new recipes? If so, you're always having to figure out different cooking measurements. To spare you the headache of converting units back and forth, get custom aluminium signs or decals for kitchen walls that have the conversions clearly depicted with cups and spoons. Get a diagram comparing all the measuring units and display them with fun pictures. You can showcase the differences through visual and textual elements, like in the template here. Square Signs offers an intuitive sign design tool that will allow you to make any modifications you like to it or create your own.
Personalized Kitchen Wall Decals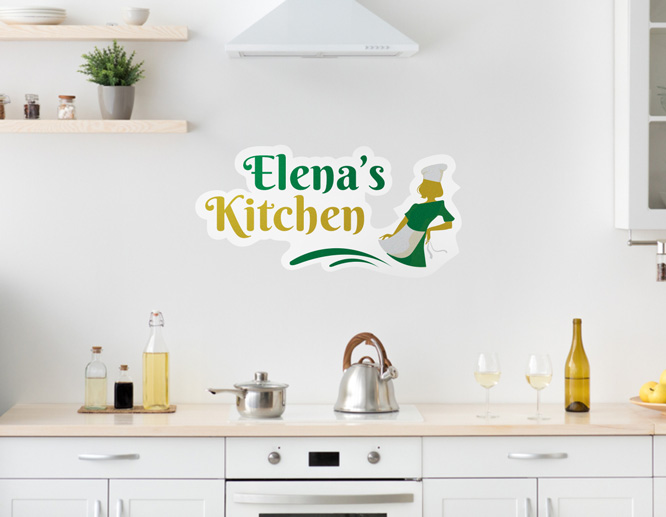 If you're the only cook in the house, you can surely claim the kitchen as your own. Custom-made adhesives are a quick and tasteful way to do it. Adorn one of the walls with a chef silhouette and add your name next to it. You can also showcase personalized PVC signs on a kitchen shelf. This will inspire the chef in you everytime you step in. The playful graphics will level up the design of your kitchen and pay a compliment to your passion at the same time. Try different color combinations to find the right match.
Kitchen Peel and Stick Wall Decals by Theme
Decor items designed for kitchen walls can vary in style. In this section, we've gathered decoration ideas for various themes.
Inspirational Kitchen Wall Decals
Cooking is a sophisticated form of art. And what's a better way to get creative inspiration than from your kitchen itself? Here are wall design elements that can be your culinary muse. 
Motivational Quotes to Get You Cooking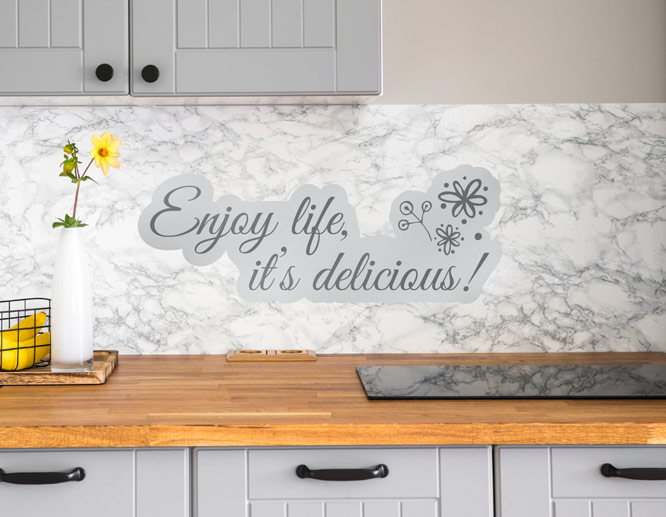 "Enjoy life, it's delicious" is a fun reminder of the tasty side of life. Any gourmet would agree with this wall saying. Seeing decals for kitchen walls with an uplifting note can be the highlight of your day. Since food affects mood, it will also serve as motivation to cook healthy meals at home. Go on and put it up somewhere with a good view. In case you want more ideas, check these designer-made sign templates.
Awakening Yellow Sunflowers for a Good Appetite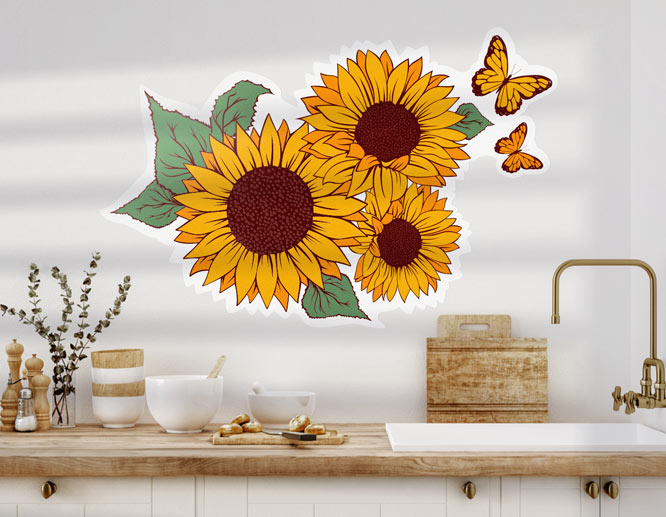 Color choice plays a crucial role in kitchen design as it can affect your eating habits. Warm colors boost appetite so use them if you want your family to be less picky about food. Apply a kitchen wall decal or acrylic photo prints with sunflowers to increase delicious cravings, brighten up the space and create a sense of coziness. Experiment with background colors that heighten your desired effect.
Whimsical Decals for Kitchen Walls
Kitchen design is not limited to functionality. You can also use humorous quotes and images to lighten up the mood. Here are some ways to get it done. 
A Witty Quote and Graphic Combo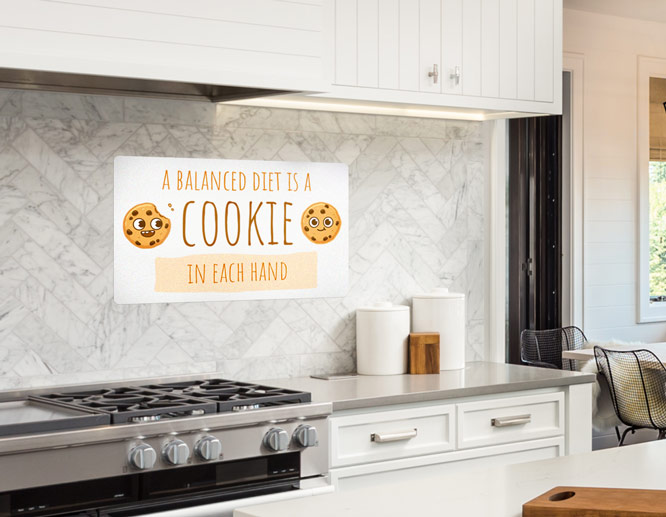 If you're a sweet tooth, go for a personalized kitchen wall decal reading "a balanced diet is a cookie in each hand." Monochromatic lettering with colored cookies will be a funny addition to the kitchen design. Once you have it displayed, you won't have to come up with an excuse for all the baking you do. Just be warned – this sweet illustration might trigger your guests to crave a bite of their own. Explore our decoration sign templates for more ideas.
Silhouettes for Sassiness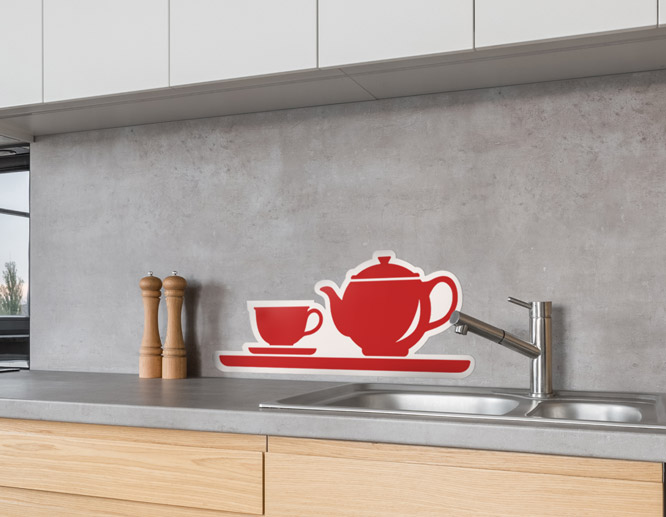 Silhouettes of relatable objects are seen in design projects for places spanning from cafes to apartments. Incorporate characteristic culinary items into your kitchen design for a charming effect. If you're a tea person, a silhouette of a hot cup of tea with steam squiggles coming out of it will give your kitchen a personalized look. If the overall design lets you, make it red to create an accent wall that evokes warmth and triggers the appetite. Check out our article on funny wall decals for more ideas. 
Holiday Kitchen Vinyl Wall Decals
Holidays often involve house decorations and revolve around food. If you're making holiday treats yourself, it's only fitting that the festive mood should start in the kitchen. Here are kitchen wall decal ideas you can use for homey holidays.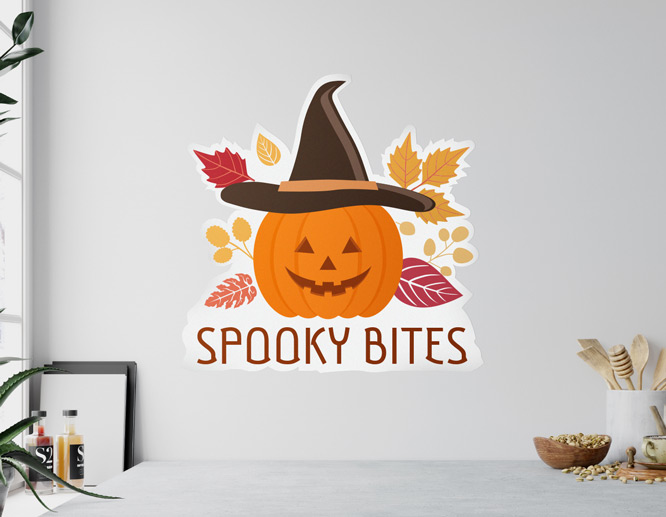 Many adults anticipate trick or treating as much as children do. House decorations are a classy way to set the theme in the kitchen. Start by adding candy kitchen peel and stick wall decals to get into the spirit for treats. Get the smiling pumpkin to spread festive vibes where they belong. Writing spooky messages will invite your guests in for a daring bite. If you're throwing a big halloween party, consider putting up home window decals with matching illustrations.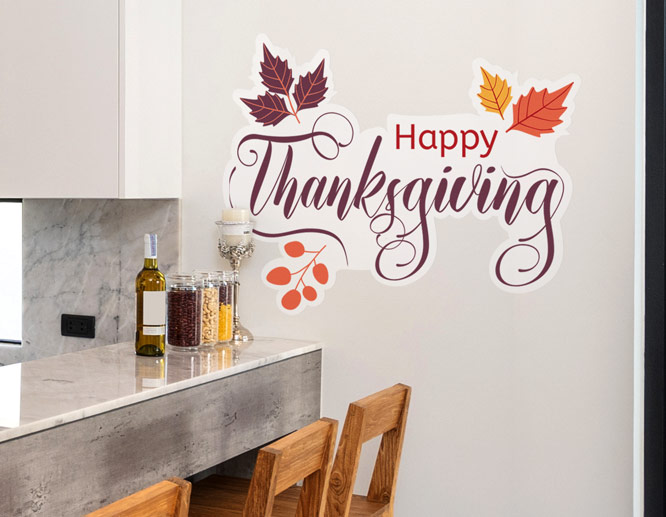 Thanksgiving is all about finding gratitude with family and friends. Besides the tasty smells of homemade dishes, consider surprising guests with the cozy setting you've created. Spice up the space using a kitchen wall decal in autumnal colors. Orange-hued leaves and a "Happy Thanksgiving" note will radiate warmth and amplify the bond in your kitchen. If you want other decor elements for your kitchen, foam board printing or gator board printing with a similar motif can serve as matching accents.
Top Features of Kitchen Wall Decals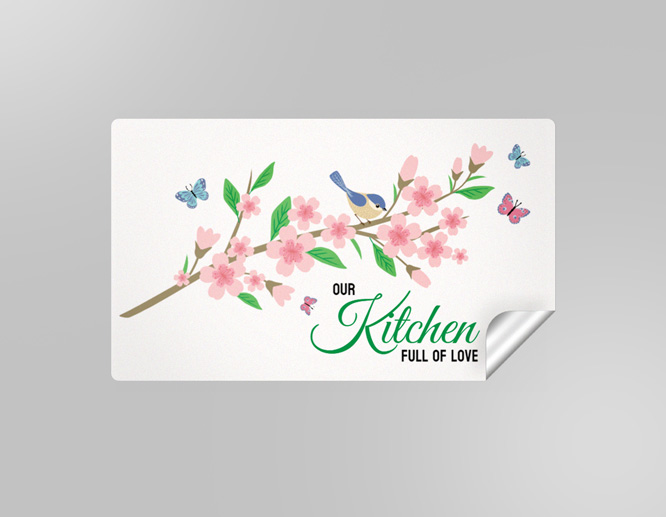 Adhesive wall designs are perfect tools for kitchen decoration due to their material specifications. Here are the features that make them stand out.
Easy Installation and Removal
First and foremost, kitchen peel and stick wall decals are easy to apply. All you need to do is carefully peel off the backing paper and attach your product to the wall, working from top to bottom. They don't take up any space so you can get them as big or small as you like. Removal is just as easy. Start at a corner and slowly pull the product away from the wall for a residue-free finish. You can use a blow dryer to heat the material for an even smoother process.
Decals for kitchen walls can be customized with unique shapes. With square, rounded, overline and outline cutting options at your disposal, you can realize all your creative ideas. The only thing that will affect your decision is the parameters of the application area. Do all necessary measurements before you order something large to ensure a proper application.
Made of top-grade opaque vinyl material, a kitchen wall decal can adorn your kitchen wall for years to come. The product will last more than 6 years if applied indoors. They're still applicable if you're thinking of an outdoor kitchen design, in which case they'll serve over 3 years.
Conclusion
Kitchen peel and stick wall decals are perfect for any kitchen design, be it permanent or temporary. Available in different styles and shapes, these appealing decor elements can set the desired mood for everyday cooking to holiday festivities. Order the design that matches your needs and add style to your kitchen with ease.