Make your window display the surprise element that takes your interior and even exterior design to the next level. While decorating windows is an exciting endeavor, it's not as easy as it may seem. The excess of window decals, treatments and types of decor available out there are a challenging mess to maneuver through.
Determining the right product for both your home and business location is a skill. To gain insight, read this thorough guide on the best window decoration ideas and practices. Make sure to go over the tips and highlights at the end so you can add the finishing touches like a pro.
Window Decoration Ideas for Different Locations and Occasions
Do you need window decal ideas for different locations? Or maybe you're getting ready for a holiday or special event? Window decorations are a great tool for personalizing interior design, promoting your business and setting a joyful atmosphere.
Use Cute Window Decals and Decors to Boost the Interior and Exterior of Different Spaces
The windows are what connect the interior and exterior of your home, office and vehicle. That's why it's wise to take them all into account.
#1. Improve Your Home Interior
The interior design of any ideal home is cozy and relaxing. After all, it's where you retreat to find peace of mind and body. To enhance this overall ambiance, be mindful that window decor doesn't block vital sunlight or clash with other elements already in place.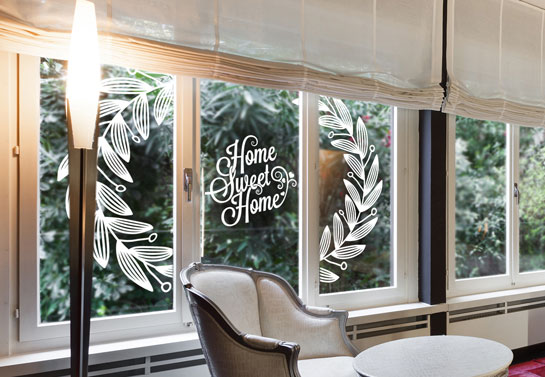 Here are a few ideas:
Prints of quotes from your favorite book or idol will create flashes of inspiration. You can also go with hobby-related or cute window decals to adorn your windows. Make sure to use mild tones that don't overwhelm the space. Pay attention to details and ensure that your decor matches the inside as well as the outside view.
Bring nature in with house plants. Artistic pots for your windowsill can be found online and in specialty stores. Self-adhesive pots that stick right onto the window are an exciting trend. If you decide to go with this option, choose plants that don't require much soil and watering so they're light enough to stay firmly attached.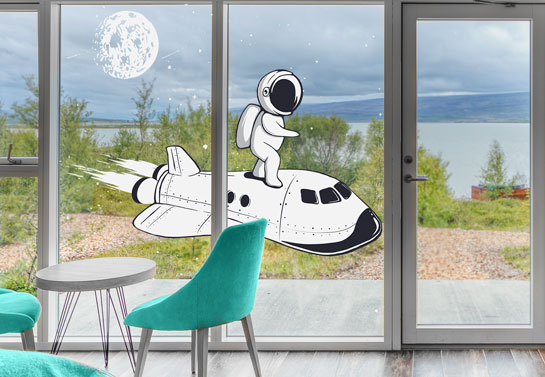 No window dressing is perfect without curtains or shades though these are essentials not many people pay special mind to. Your selection should give an additional glow to your windows and create nice frames for plants and decals. Full-length curtains create an air of grandeur whereas decorative bamboo shades showcase a thoughtful approach.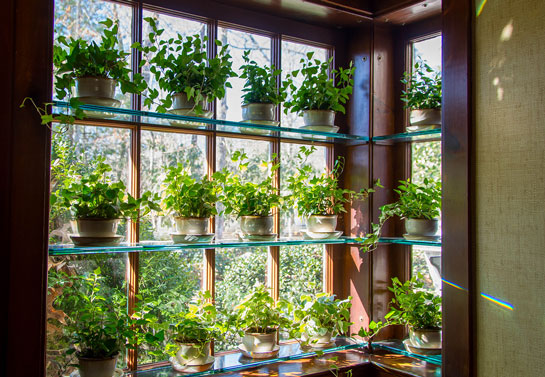 Don't miss out on our article dedicated to window decor ideas for your home with cool examples for inspiration. You'll find 24 ideas for the whole house and expert advice on how to use them.
#2. Promote Your Business
Decorations are a cool and effective way to promote your business and window displays are a prime tool to utilize. The best window stickers will be vibrant from the outside, drive in foot traffic and give your business a boost.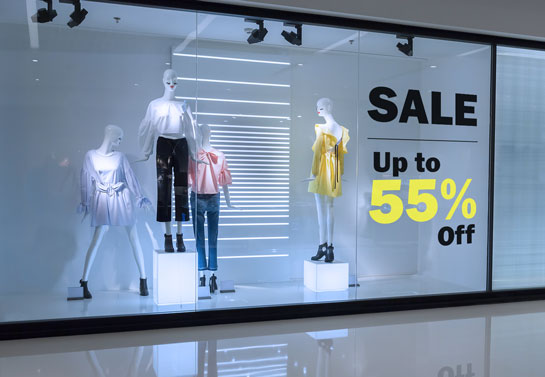 Let's see the ideas below:
Dress up your windows with stickers showcasing your products, services, brand name and logo. Advertise your business and adorn your windows at the same time.
Showcase thematic seasonal and holiday decors. Spring comes with lots of flowers while autumn is full of colorful leaves. Emphasize the most beautiful aspects of each season to invite customers in. Display special offers to make your window clings even more valuable and inviting.
Welcome guests with funny quote prints. Standard welcome signs hanging on store windows and doors are boring. Use funny quotes that relate to your business instead. Delight your visitors and they'll come back to you.
Use stylish bulbs to illuminate your windows in the dark. Your storefront should catch attention day and night. Don't hesitate to consult a specialist to help you determine the best methods of illumination for your shop displays.
Don't be afraid to play with different hues. Research color psychology to learn about its effects on customer moods and their buying habits. Bright colors will create winning window displays for your business.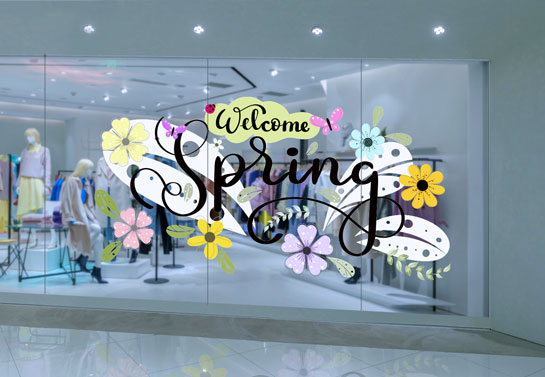 Read the article on 14 Business Window Decal and Decor Ideas to find the one that suits your profession and requirements.
#3. Personalize Your Car
How do you imagine personalizing your car? It's all about adding a hint of your individual style to it and the rear window is a prime spot to do it. Besides decorative purposes, rear window decals also make for ideal promotional displays. Pay once and advertise on the go without any additional efforts.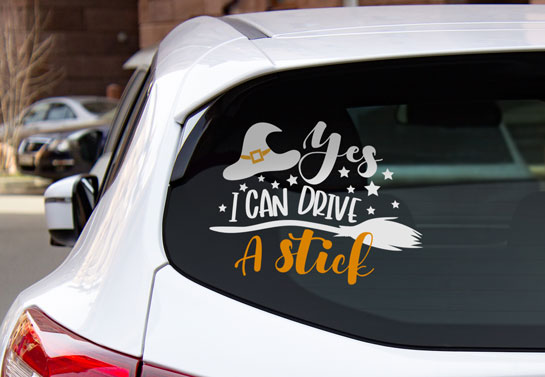 Take a look at these cool ideas:
Get eye-catching quotes printed on your rear window for the drivers behind you. Besides decoration, these quotes can serve various purposes. For instance, you may have seen stickers that ask other drivers to go slower or inform them about kids being in the vehicle.
Express your point of view using car lettering and show support for issues that arise nationwide. You might make some friends or at least get honks along the way.
Go with funny family stickers. Though widely used, there is an endless variety of stick families you can use or customize. Your imagination is the only limit.
Spread joy by decorating the rear window for each holiday. Stick on small car decors and make your vehicle a part of the celebration.
Use the empty rear windows as a free mobile board for promoting your business. Big and small businesses can both benefit from this opportunity.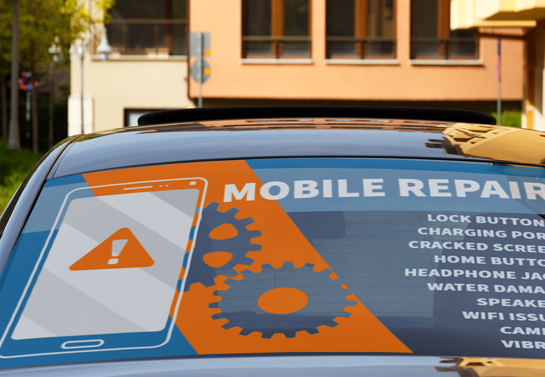 Get the scoop on car stickers with our article: 15 Cool and Funny Rear Window Decals.
Decorate Windows for Different Events and Occasions
There are events, holidays and occasions you may want to get ready for. Window decorations are a practical way to create the right atmosphere. Here are a few ideas and suggestions you can use.
#4. Get Ready for the Holidays
Decorations are an inseparable part of any festive holiday. There are tons of ways to adorn your windows for favorites like Christmas and Thanksgiving.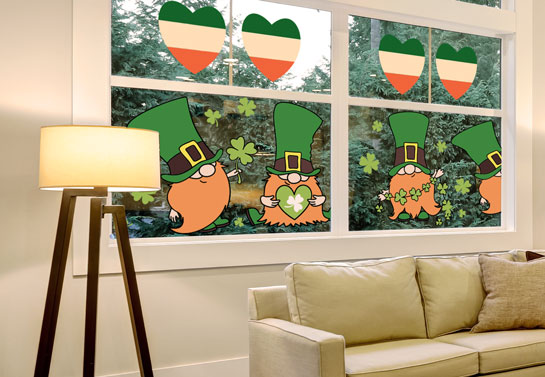 Get inspired by these ideas to celebrate with style.
Get into the holiday spirit with thematic stickers. Feature scenes like a Christmas tree surrounded by gift boxes or a Cinco de Mayo cactus and beer.
Emphasize symbols related to the occasion. There are plenty of them that represent specific celebrations. Popular examples are egg-shaped stickers for Easter or Shamrock prints for St. Patrick's Day.
Congratulate your loved ones on their special days with window lettering. You can use either traditional congratulation quotes or go creative and write something personal and unique.
Boost your business by adding holiday-related flair to your logo and showcase it on your windows. You can also use your products as centerpieces for your storefront decorations.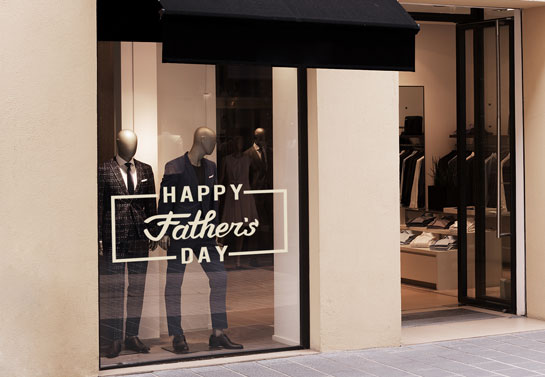 There are so many interesting holidays during the year. Find out how to decorate your windows for 10 major US holidays in our article on Holiday Decorating Ideas for Windows to Celebrate Every Season.
#5. Decorate for Special Parties and Events
Important events and occasions in your life like weddings and birthday parties definitely deserve your attention in terms of decoration. Take these ideas into consideration when beautifying your windows: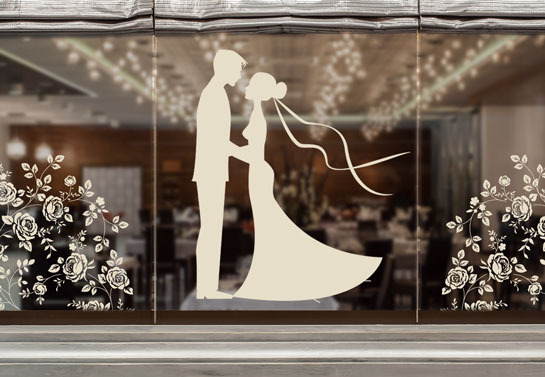 Embrace photo prints of the heroes of the day. What can be a better decoration project for your windows than having your best memories featured on them? The first kiss for a wedding party or a picture of the first steps of a now 20-year-old will do the trick.
Get window quotes. Celebrate with loving quotes on the windows for your engagement party or baby-shower. Your options here are limitless.
Nice patterns that match the party theme will add a perfect accent as well. They'll enhance the appearance of those dull windows and create an artsy atmosphere. You can also use them in tandem with other decor elements like acrylic signs or metal photo prints.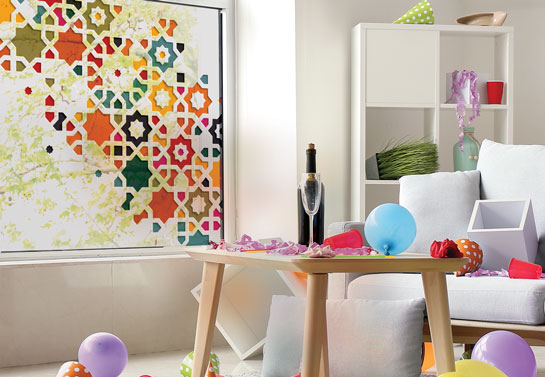 You can use our sign design tool free of charge to bring these window decal ideas to life.
Tips and Highlights: Expert Insights on How to Decorate Windows
Even the best window stickers and decor elements need to be applied, utilized and paired wisely to look refined. Get the most out of the above ideas and those mentioned in the related articles with these techniques, tips and highlights.
Tip 1. Choose the Right Type of Decal
When it comes to the best window decals, there are select types you need to be aware of to make the right choice. The quality of the product won't matter if you don't get the right type of sticker. Here is what you need to know for starters.
Select window lettering if you need quotes printed for your home or business location.
Create privacy and decorate at the same time with frosted or perforated window decals. The first gives windows a sandblasted appearance while the second has micro-punched holes that enable one-way visibility.
Make the most out of these adhesive decors by selecting ones that you can reuse over and over again. Static clings give you this opportunity.
Tip 2. Don't Overuse Decorations in Small Spaces
Light is vital for making small spaces appear larger. It follows that you'll need to be careful when decorating windows as they are a prime source of sunlight. Choose smaller decor features that don't take up too much space. You'll also want to go with mild, pastel colors to give the space a lighter look.
Tip 3. Know the Right Cutting Option for Decorative Decals
Often, your design for window graphics is perfect but the background or borders look off. You may need to add or remove borders and backgrounds for your sticker to have better visibility. Here is a guide to cutting options so you can make an informed choice when ordering window graphics.
Choosing the standard option doesn't mean choosing the dull one. It gives your square/rectangle sign sharp edges for a bold appearance.
Another option is choosing the rounded cut. It gets rid of the sharp corners and grants a refined look to the final product.
A custom shape could be the best solution for your sticker. Adding an extra border around the shape of your design makes it even more attention-grabbing and emphasizes details. Overline cutting is what you need for this.
The shape of your design is sometimes perfect as it is. Accompanied by the right lighting, your stickers will shine without the need for a border or background. Outline cutting is the right option if this is the case.
 If you need decals of quotes or phrases, go with vinyl lettering.
Tip 4. Decorate Your Windows According to Their Types
There are many types of windows available so decorations may vary depending on their style and size.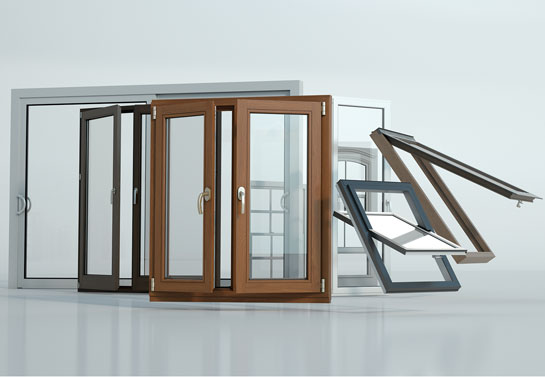 Let's see the most common types of windows that could use special decorations.
Double-hung windows are one of the most popular types in the US. They're a traditional window style so consider using traditional window decors like velvet drapes. Don't put too many items on the sill or you may need to move them every time you open the windows. Go with window stickers to avoid the hassle.
Bay or bow windows give you extra space that's perfect for decorating. Create a cozy window seat in front of them as a reading spot for cold autumn evenings. As for decorations on the windows themselves, create a scene with multiple smaller sized pieces. Adhesive plant pots are a good option for bay or bow windows as well.
Awning windows are commonly placed higher on the wall or with large stationary windows to offer a wider view. These sorts of windows don't always have a sill but if they do, feel free to place as many decorations on them as you wish since the windows open outward. These sorts of windows are also perfect for window films. Aside from adding shade, they will prevent sunlight from damaging decorative items placed on the windowsill.
I hope you found the answer for how to decorate your windows. With these cool ideas and helpful techniques, your windows will shine like never before. To ease the process, we have prepared free decoration templates for you. They're ready-made designs you can use to create the best window decals. Now that you see a bunch of decoration opportunities for the windows that seemed dull before, don't let the moment pass. It's time to take action!