Freshly-squeezed tropical juice, long sunny days, vacations and shopping all season long: this all sounds terrific, doesn't it?
Things get more exhilarating if you're a retailer and want to lift spirits up high with your seasonal bargain deals.
Ready to find your summer sale sign idea right away? Turn up an upbeat summer song while you surf through my blog.
Summer Sale Banners to Win Over Shoppers
Sunshine color-blasts are near, and so are long-awaited journeys in calm turquoise waters. Everyone is getting ready for these easy days. I know you are too! If you're searching for alluring summer sale sign ideas, my first piece of advice for you would be to get large summer sale banners.
For this promotion, retractable banners are a perfect match because they're quite large and they're ideal for showcasing your bargains. Do you want to explore other products and ideas? Read on and uncover your favorites.
Hot Summer Sale Banners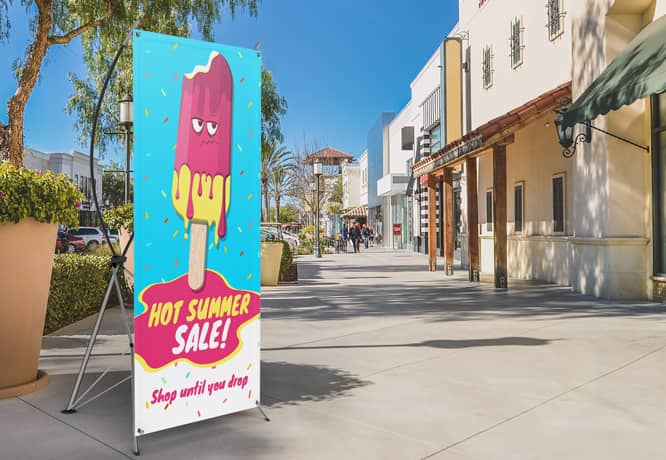 Add to the scorching summer heat with your blazing hot summer sale banners. X-stand banners are an obvious option for this promotion and you can place them wherever you want. It's both a cost-effective and durable tool for your promotional campaigns.
Have you already come up with ideas for sale promotions you want to bring to life? Use our intuitive sign design tool and transform your thoughts into breathtaking graphics with a few clicks. Upload your own photos, choose the size, material, background and other details to visualize your hot summer sale banner.
First Day of Summer Sale Banners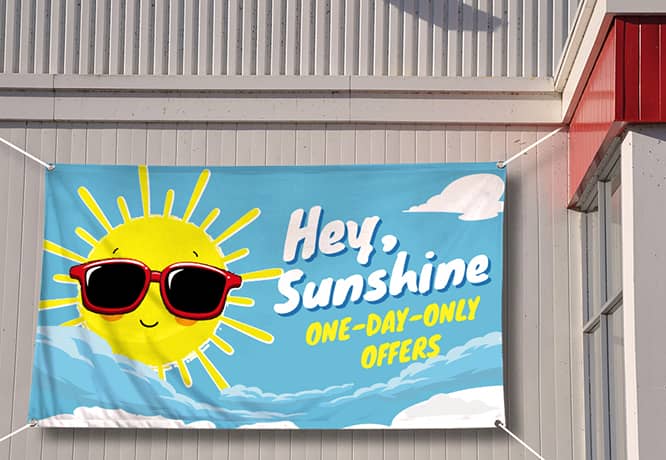 Do you know that summer officially starts on June 20? It's a good idea to celebrate the sunniest day of the year with a special one-day-only summer sale. Before getting started with the bargains, make sure you do everything in your power to increase walk-ins. Pick vinyl banners to create your first day of summer sale banner showcased with themed graphics. They're highly visible to attract customers and to use for in-store as well as storefront displays.
Personalize your design with vibrant graphics and summer colors and elements to brighten up the mood. You can also use the ready-made visuals shown in the picture above. The sun will shine brighter on June 20, and so will your deals.
Are you interested in ideas on how to feature other seasonal deals in your store as well? See our retail sale signs and save your favorites for later.
Glossy Summer Sale Signs
When school's out and people are finally going on long-awaited vacations, it's time to shake things up in your business. I'm going to update my list of suggestions with more summer sale sign ideas for you to rock this summer. You'll find my first helpful suggestion to get that done right here.
Get promotional sandwich board signs and place them anywhere you like. How beneficial is this product? Well let's put it this way. It's double-sided, easy to carry and reusable. But if you're seeking even more summer sale signs, you can find them right below.
Summer Clearance Sale Signs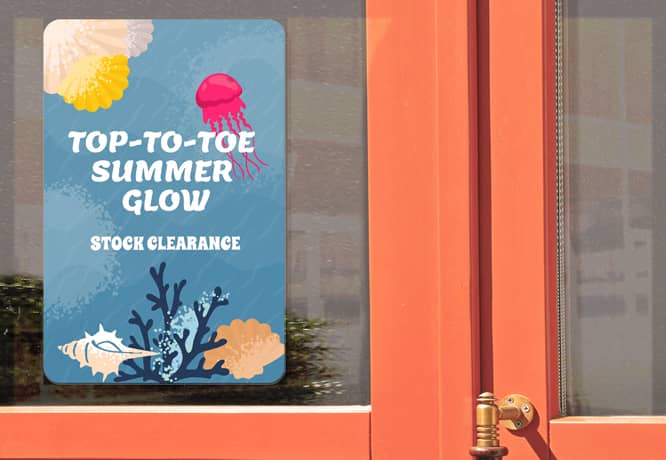 Have you decided to announce sensational discounts to get rid of your seasonal collection? Your customers will be jumping at the opportunity. Don't hesitate to promote your special offers with delightful summer clearance sale signs. Thinking of a handy product solution? Pick window decals or static clings to hang all over your store windows.
If you want to come up with crafty business window decal ideas, choose sunny colors and eloquent messages to keep your promotion unique.
Need ready-made graphics? Dive into a selection of our sale sign templates and pick out your favorites. You can restyle the templates to your liking by choosing the best-fitting background, sunny colors and more.
End-of-Summer Sale Signs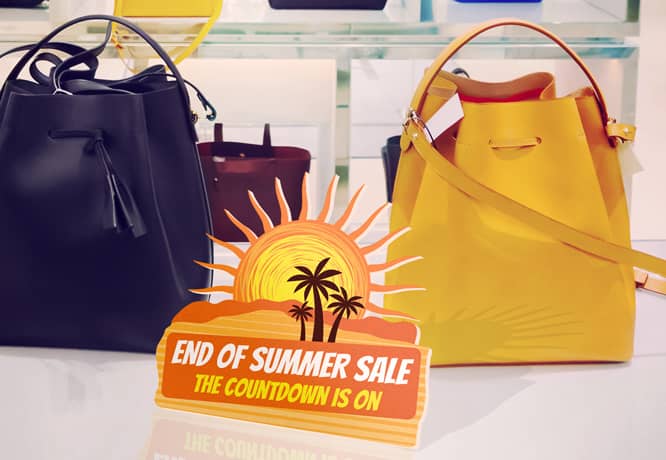 Do a little summer cleaning by putting your old collection on sale as you wave goodbye to the season. Make sure you draw attention to your special offers with end-of-summer sale signs which bring in more shoppers. Hang overline-cut PVC signs on your store windows or order free-standing displays to use in-store.
Bid summer farewell in style. Choose bright colors for your end-of-summer sale sign, or click on the picture above to transform it into your favorite display.
The products in this collection are useful in both long and short-term promotional campaigns. Choose the best match for your occasion and take your pick from the crafty ideas I've prepared for you. Get your unique summer sale signs that will be a game-changer this season.
Are you also thinking of redecorating your store for annual holidays? Take a moment and look through our collection of catchy holiday decorating ideas for windows.