https://www.squaresigns.com/product/wooden-signs
There is beauty in simplicity. Turn your home office into a space that radiates ease and functionality. These 10 practical home office decorating ideas will require minimal effort on your part.
The simple home office decor tips coming up include dressing up your walls with wall decals and much more. This article will also show you how to decorate your home office desk.
After reading these minimalist home office decor tips, you'll be ready to decorate the home office of your dreams!
Try these artistic and practical home office decorating ideas!
Tip #1: Print minimalist illustrations on your walls
Are you looking for decor ideas to elevate your wall decor? Ditch the paintbrush and go for wall stickers.
Minimalist decals are an ideal choice for upgrading your office interior. They're easy to apply and remove.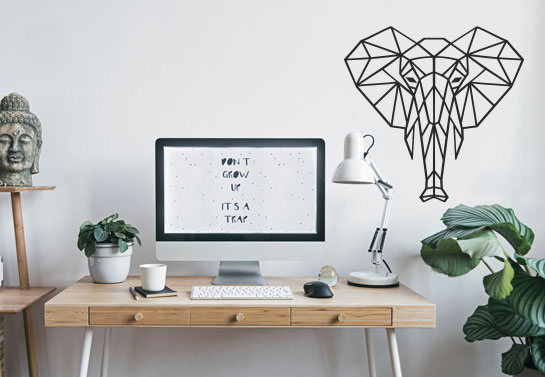 Use this design tool to customize the perfect decals for your simple home office decor.
Tip #2: Share your wifi password on a sign
If you receive clients in your home office, they probably ask you for your wifi password.
Print your password on wooden signs or PVC signs to make your office look more inviting. Place one sign in the living room and another one on your desk.
This is one of those home office desk decor ideas that guests won't easily forget, unlike the password!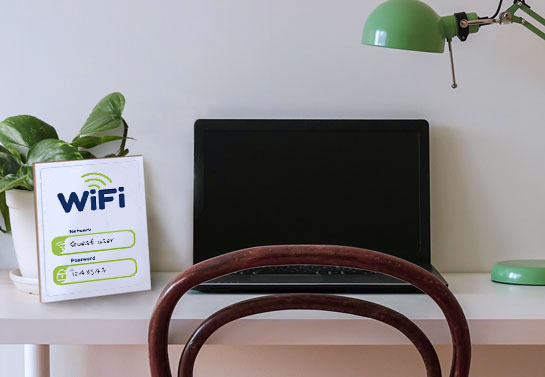 Related: A Quick Tour of Fundamental Home Office Decor Ideas.
Tip #3: Decorate your desk for a cozy look
You can never run out of home office desk decor ideas because there are endless options to choose from. Accessorize your desk with tabletop acrylic signs that read your favorite quote.
If your desk is packed, use your shelves as sign stands instead. This inspiring home office shelf decorating idea will add a sense of variety to your interior design.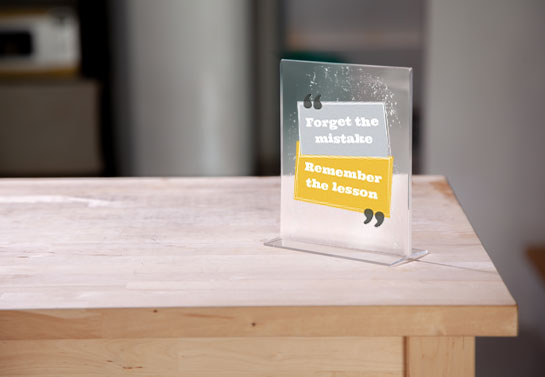 Tip #4: Curate art for your accent wall
Your minimalist home office decor won't be complete without an elegant accent wall. Introduce art to your workspace with canvas prints or acrylic photo prints displayed on the walls.
If you don't feel like drilling holes into your wall, place the canvases on your desk. It's another home office desk decoration idea that will add depth to your space. Make sure to collect a thematic assortment for a visually appealing effect.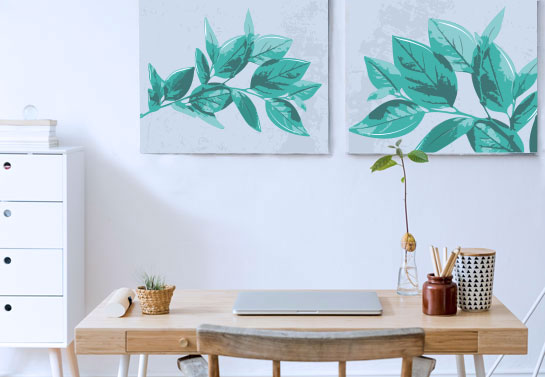 The more effortless the design, the better. Check out these home office decoration templates to get inspired!
Grasp the basics of simple home office decorating ideas with these tips!
Tip #5: Get yourself a desk with built-in outlets
Equip your desk with built-in outlets. It's one of the home office desk decor ideas that is not only utilitarian but will also reduce the clutter of unruly power cords.
Cables are messy and go against the polished ambiance of an orderly home office. Learn how to build outlets into your desk or get a ready-made smart desk from any furniture store.
Tip #6: Embrace simple aesthetics for a minimalistic look
Go natural with your home office composition. Paint your walls with neutral colors such as beige, shades of white, muted pink and lilac.
As for your furniture, make sure it's made of wood. You want to feel like your office is part of the outdoors. With this in mind, go for organic elements instead of plastic.
If you're also looking for home office desk decoration ideas, you're in the right place! Adorn your desk with plants; preferably succulents because they're low-maintenance.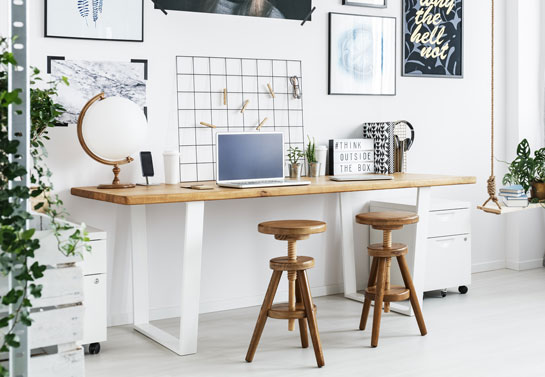 Tip #7: Brighten your office with natural light
Let there be living light. You don't want to cramp your simple home office with one too many desk lamps and chandeliers. Instead, brighten your office by placing your desk near the windows.
Light from the sun powers you with vitamin D and fights seasonal depression. Plus, it amplifies the natural look that you're going for.
Tip #8: Save space with wall-mounted furniture
Decorating an office can be a hassle, especially if you're working with a small space. If that's the case, utilizing wall-mounted cabinets and desks is an ingenious hack.
The advantages of this design include saving floor space and making it easier to clean the office.
Floating desks save space and look chic. Cabinets are also practical if you want to add additional storage space.
Just refrain from going overboard with wall-mounted furniture because it will crowd your walls if used in excess.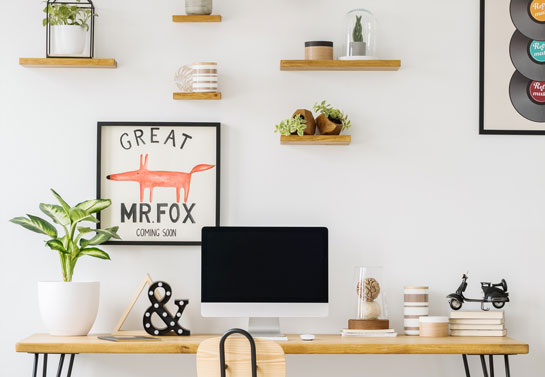 Tip #9: Organize to make simple home office decor stand out
Don't worry if you don't have a closet; you can always use drawers!
To save space and have everything you need within reach, use drawer dividers. It's one of the simple home office decorating ideas that is easy to apply and makes a huge difference.
Tip #10: Turn your closet into a storage space
Saving space should be one of your top priorities while decorating a pragmatic home office. Don't let your belongings pile up on your desk. Instead, turn your closet into a space-saving storage nook.
You'll need shelves, file cabinets and storage boxes for this project. You can style your closet if you want to, of course. Just know that you don't necessarily have to as no one else is likely to see it.
Creating in-closet storage space is the best way to sort any disarray and keep your files secure. It's also one of the best home office decor ideas on a budget!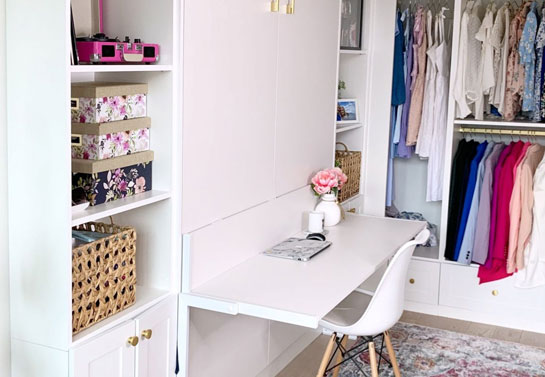 Simplicity is best when it comes to home office design. At this point, you've learned home office shelf decorating ideas and know how to decorate your home office desk. Now get ready to customize your workspace using this design tool. It's time to roll up your sleeves and try these practical home office decorating ideas!