Put a smile on your baby's face with custom illustrated nursery wall decals. The nursery is where the baby spends most of its precious time. While babies may smile at cute images, mommies need a helping hand to keep their little ones sated and happy. So read on to find amazing, inspirational imagery to lift your spirits and engage your baby in the world of play.
Nursery Decals in Popular Themes
Thinking of sprucing up the room with adorable pictures? Make use of striking options in different sizes. Feel free to order versatile custom wall decals with sizes reaching up to 52"x1,680". That'll give you the opportunity to cover as much of the walls in your house as you like with large home wall decals. If you prefer compact nursery wall decal solutions, just reduce the sizes and adjust the shaping options on the design platform.
Inspirational Nursery Decals for Walls
You can word impressive quotes on your nursery walls to trigger positive emotions. Anything from lullabies to a mix of sweet words the baby has uttered can adorn the walls. You can visualize them with vinyl lettering and rest assured they'll lift the mood of everyone who lays eyes on them.
1. Lullabies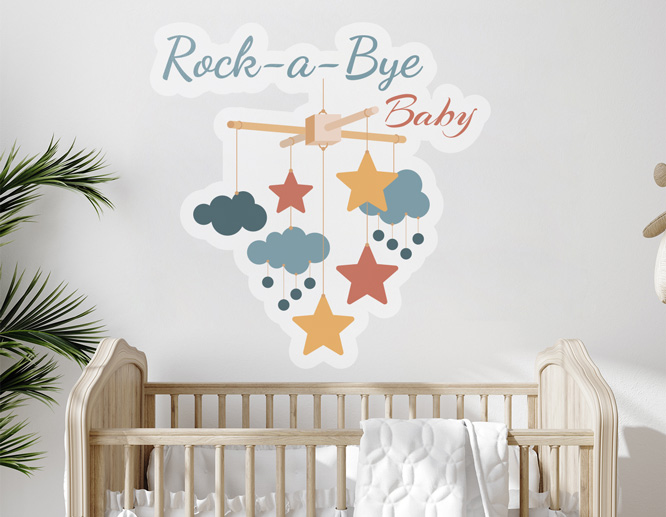 Create a design with your favorite lullaby lyrics. It could be the "Rock-a-Bye Baby" song for example. Then, feature them as nursery decals for walls.
2. Sweet Sayings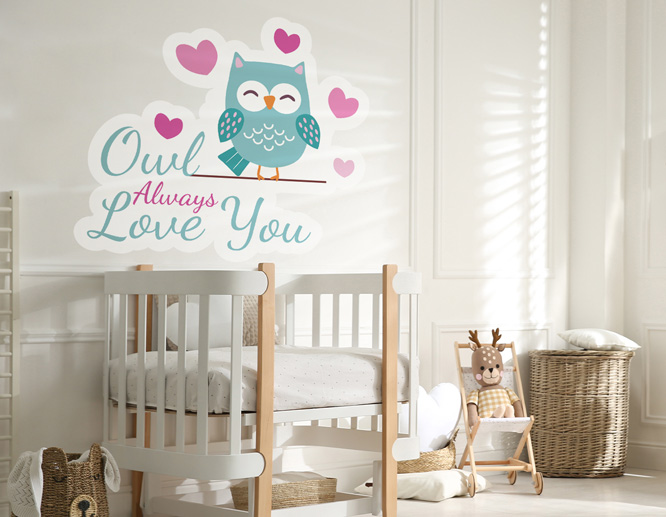 Has your baby uttered some interesting words? Present them in your baby's room with vinyl nursery wall decals.
Educational Adhesives for the Nursery
Use wall art decals to help your little one explore the wonderful world of education. Guide the baby to its first words with colorful alphanumeric displays. These are some of the unisex options which cheer up and educate little girls and boys.
1. Learning the Alphabet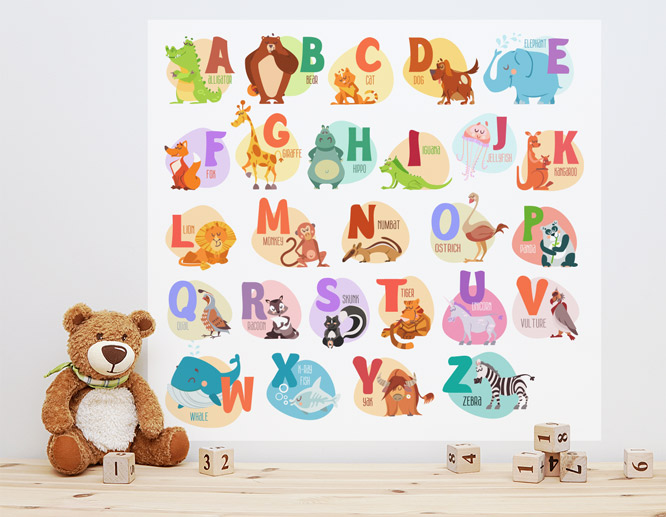 Display the letters of the alphabet using colorful nursery vinyl wall decals. Placing a matching picture next to each letter will ensure your baby understands it more clearly and picks it up faster. You can find countless alphabet designs on the web. Choose one, upload it to our sign design tool, customize it and order your perfect educational nursery wall decal.
2. Learning Numbers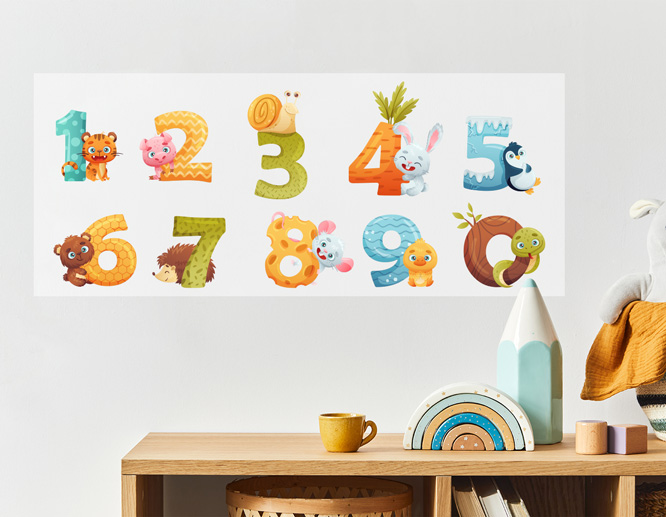 Help your baby learn numbers by presenting them as nice nursery wall decal items. You can design them with creative illustrations that'll best suit the outline of each number.
Nature-Inspired Playroom Imagery
Depictions of nature have always been one way to embellish a room. Opt for juvenile variants as opposed to lifelike landscapes. You should look for more vibrant options which will pique kids' interest.
1. Rainbow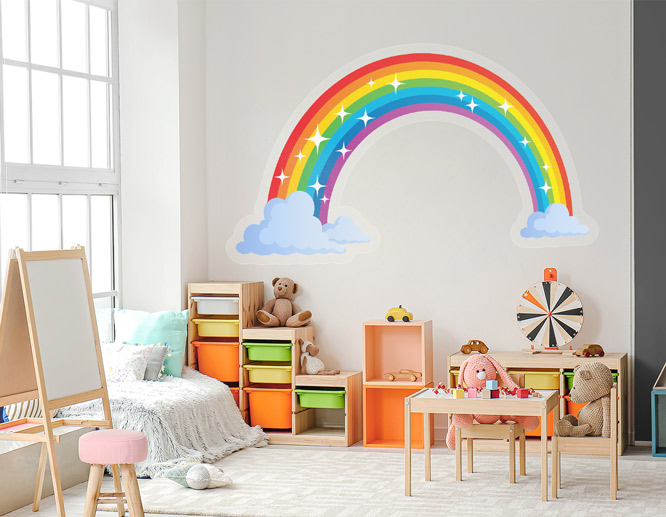 Designing a rainbow is sure to cheer up your baby. It may turn out to be a good starting point for you to teach your child colors.
2. Butterflies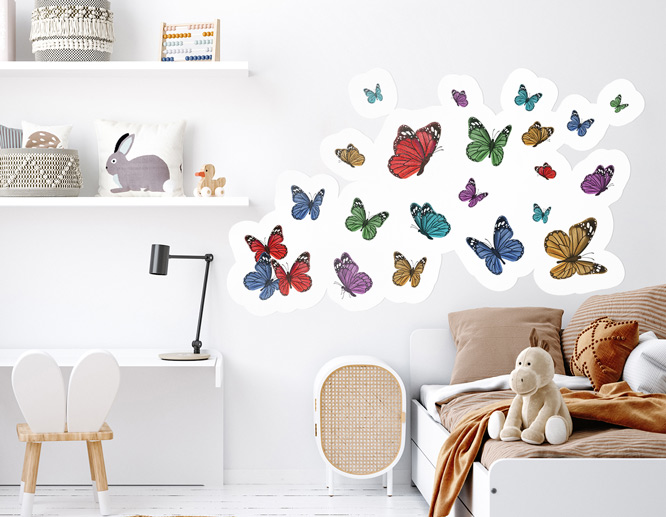 Butterfly illustrations are cute. So customize your piece with vibrant colors for your baby to enjoy the aesthetics.
Aquatic Nursery Wall Decor
Pictures of fish, aquatic mammals like dolphins, and other amazing marine animals such as sea turtles can also amuse your baby. For infants, cartoon depictions of animals are very interesting. What's more, pics of animals making smiley faces turn them into even lovelier creatures.
1. Cartoon Fish with Sea Creatures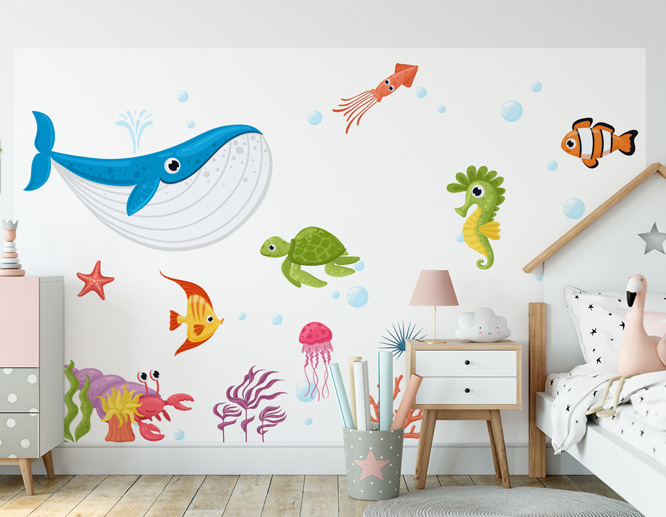 An animated picture with sea creatures and fish will create a cheerful environment in the room. It'll also add a touch of serenity to the surroundings. Do you wish to make your infant happy with pretty decorations? Head over to the Square Signs website, upload one of the lovely decoration sign templates and customize it. Add more attributes, such as texts or graphics to match your taste. Now, you're on the way to crafting one of the best wall decals for nursery embellishment.
2. Cute Cartoon Dolphins Smiling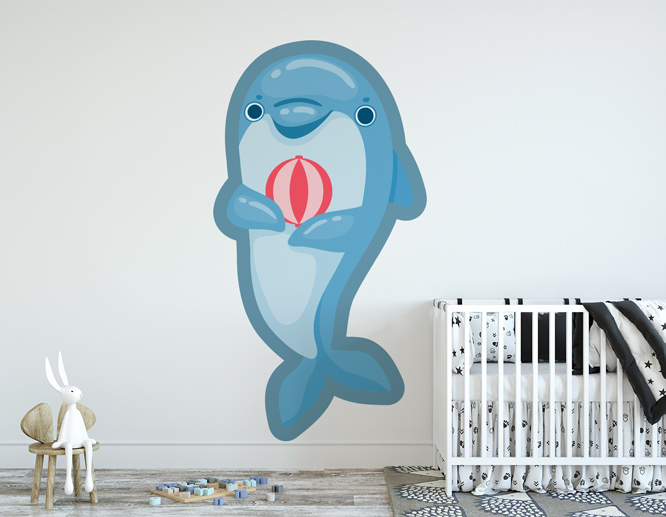 Putting a smile on a dolphin's face will make it look more friendly. Cartoon nursery wall decal items and other types of funny wall decals will convert the blank walls of your house with a fun touch.
Sticky Wall Decor With Fauna
Bright colors are among the most effective features to pique the curiosity of your little ones. So be it birds, bears, monkeys or other animals, make sure to display them in vibrant colors.
1. Colorful Birds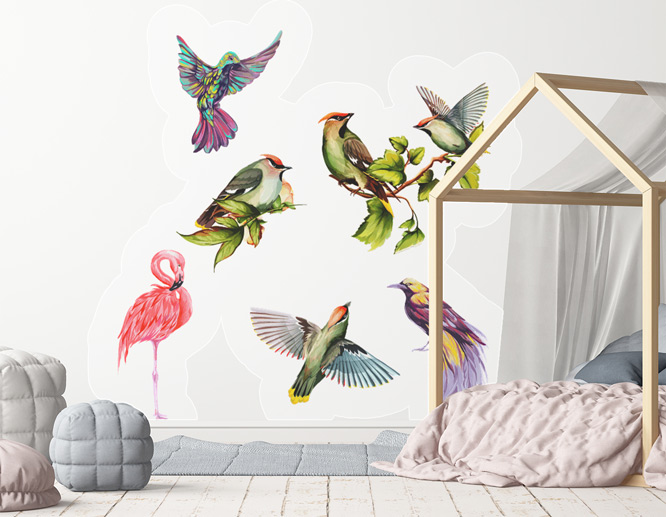 Singing colorful birds such as parrots, goldfinches or canaries attract babies with their sweet tunes and bright feathers. You can have illustrations of those adorable creatures onto the walls as nursery room wall decals.
2. Animal World Map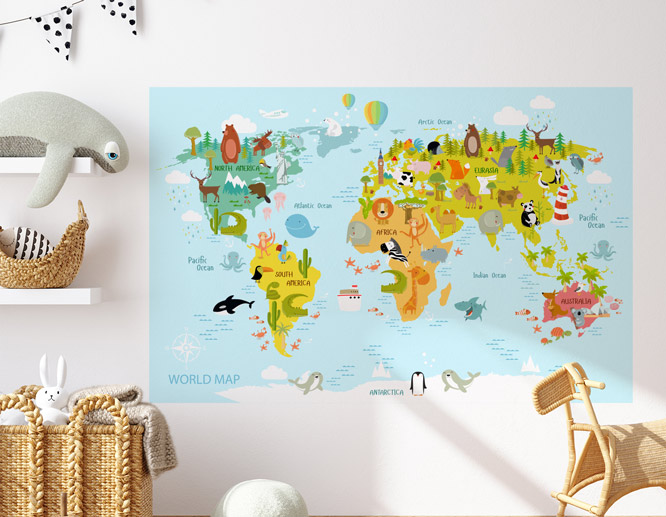 Do you think it's too early to introduce your baby to standard physical or political world maps? Well, an animal world map can be a brilliant substitute during childhood. It can serve as a more playful alternative for the baby. Such maps usually show the distribution of animal species across different continents. So, apart from being entertaining, these maps serve educational purposes.
Outer Space Nursery Sticky Solutions
What about portraying celestial bodies on vinyl nursery wall decals and adhering them to the playroom walls? It's preferable to depict more fun elements of outer space and display them as nursery removable wall decals to amuse your baby.
1. Moon and Stars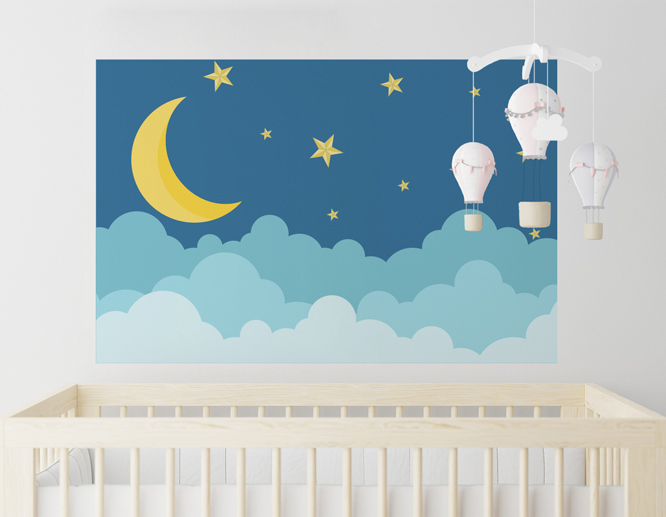 Unlike bedroom wall decals which are mostly intended for adults' and teenagers' bedrooms, removable nursery wall decals are meant for infants. This concept is based on the idea that they should impress with more playful looks.
2. Sun and Clouds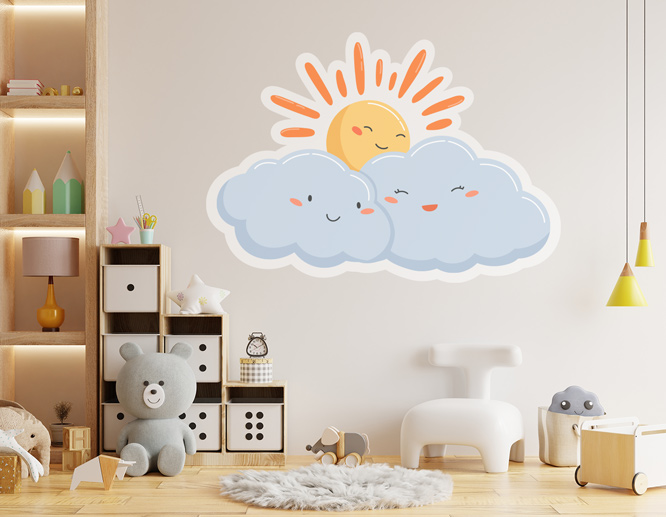 Similarly, get creative while picturing the sun and clouds. You're free to add other elements as well. For example, giving the sun a smiley face has always been a trend and it'll probably keep its appeal for years to come. Imagination is limitless, and so is creativity. Explore beautiful sign templates or play around with the options to add your own touch.
Nursery Illustrations With Cartoon Characters
Looking at cartoon characters portrayed on sticky solutions will give babies a sense of familiarity. Once they take a look at the illustrations, they'll be able to tell who their favorite characters are.
1. Tom and Jerry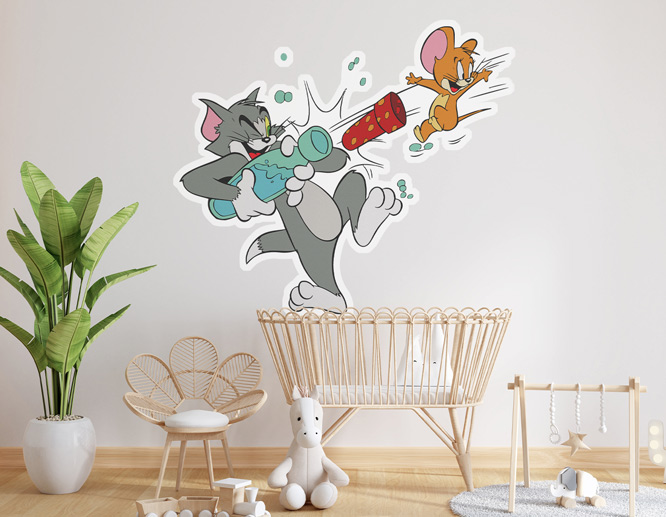 Even though there are many modern cartoons, Tom and Jerry is timeless. Fun nursery decals for walls with Tom and Jerry are still quite popular. They'll certainly create a cheerful atmosphere in the room.
2. Winnie the Pooh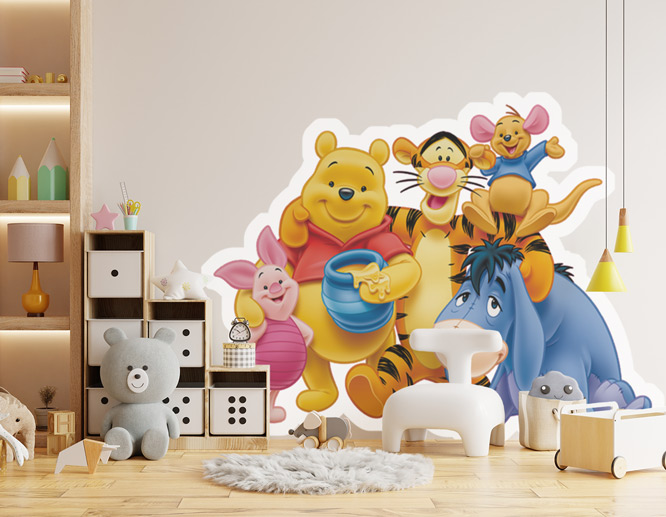 Most parents and babies love "Winnie the Pooh." That's why this type of imagery is greatly popular in nursery rooms. Apart from applying them as nursery decals for walls, you can also make use of home window decals to visualize "Winnie the Pooh" on windows.
Personalized Nursery Decals for Walls
Unlike generic gender-neutral items, personalized items contain distinct information about the baby. Be it the baby's initials or its full name visualized with nursery wall decal designs, they'll surely evoke warm feelings.
1. Baby Growth Chart With a Giraffe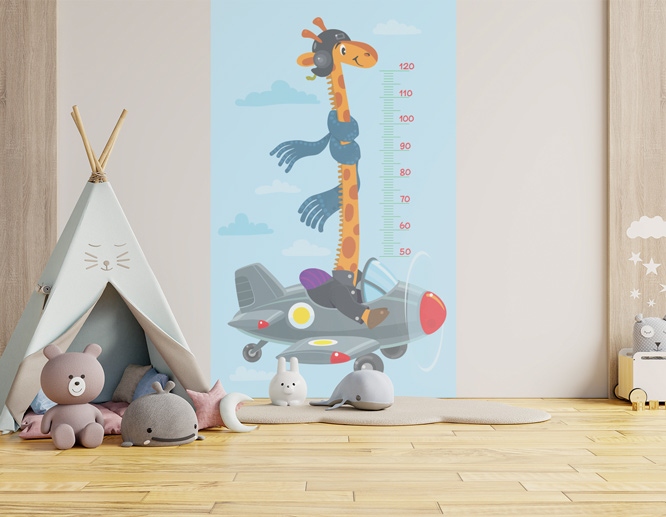 A baby growth chart is one of the best nursery wall decals for practical use. It's not only cute but also helps in measuring how big your baby's growing. You can symbolize the chart with an image of a giraffe - the tallest land animal. Add a playful text, your baby's name or initials and the date when you measured their height, et voila.
2. "Mommy and Me" Sticky Photo Solutions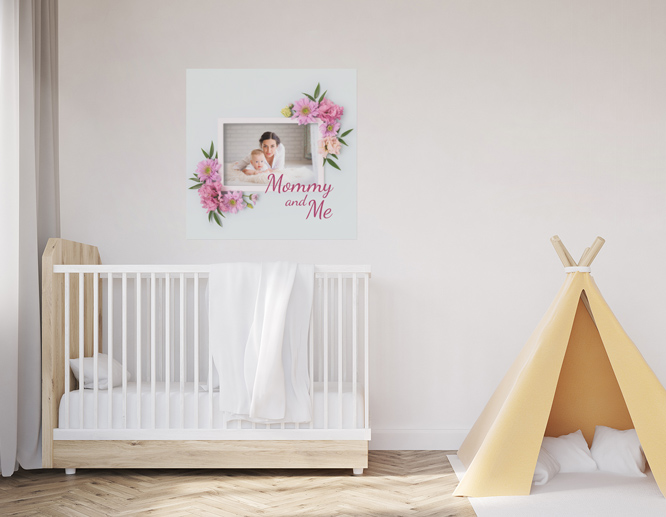 You can get your favorite photos printed as sticky solutions. Feel free to combine the photos with texts to double the personalization effect. You can add lovely texts like "Daddy's little boy," "Mommy and Me" to accompany the photographic removable nursery wall decals. Should you prefer versions with a framed look, choose custom acrylic photo prints.
Nursery Wall Decal Creative Combinations
Let your creativity loose with combinations of fictional figures. Images from different realities combined will add a touch of fantasy to your illustrations.
1. Teddy Bears on Parachutes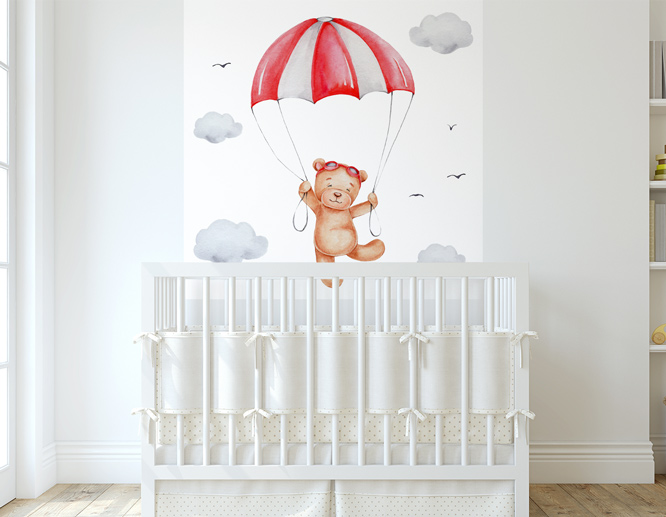 Depict fuzzy teddy bears parachuting from the sky to amuse your baby. Colorful mural solutions of this type will catch the eye of both children and adults. You can order them as full images or custom cut removable nursery wall decals.
2. Penguins with Balloons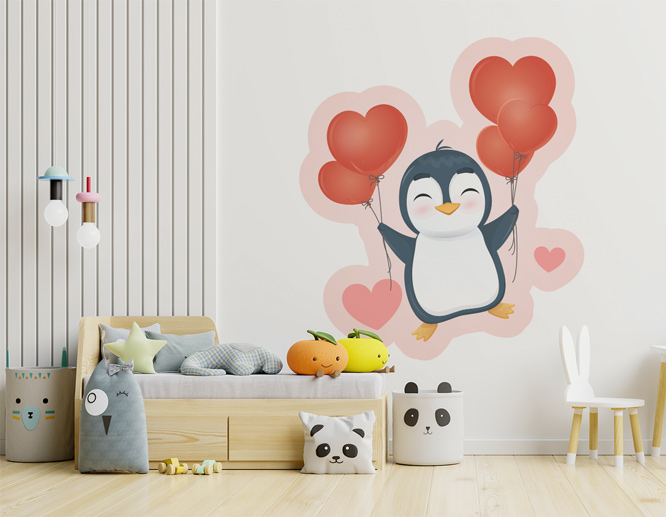 You can have custom cut illustrations of adorable penguins holding colorful balloons adhered to your nursery walls. If you need portable mediums insteaf of sticky ones, opt for lightweight options like foam board printing, acrylic signs or gator board signs. Either way, you'll admire the exquisite designs on your nursery walls.
Different Types of Nursery Decals
You can shape your sticky items with full images, as well as custom outline or overline cut options. In addition, add extra charm to your nursery wall decal items by custom cut-out texts.
Standard Cut Nursery Adhesives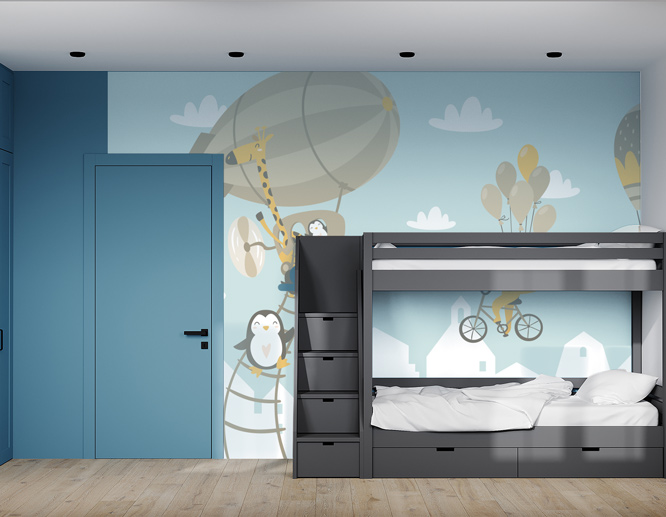 Full image solutions have square, rectangle, rounded cutting options, so feel free to choose any style.
Custom Cut Playroom Images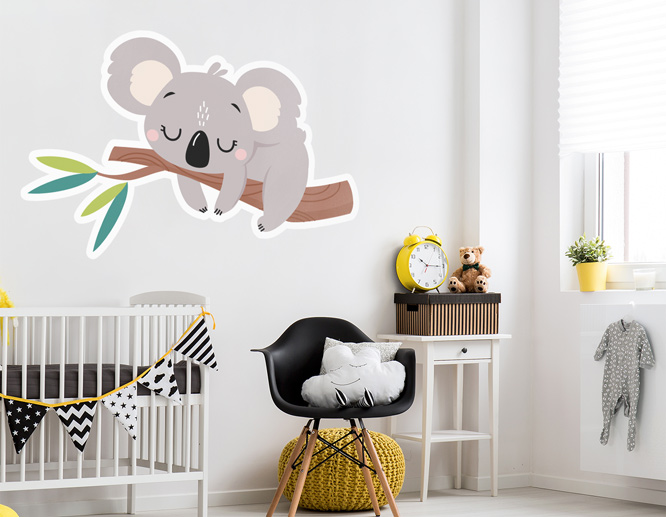 You can have the items outline or overline cut based on the contours of the figure. This flexibility allows customers to create unique items in the very shape of their designs.
Cut-Out Nursery Lettering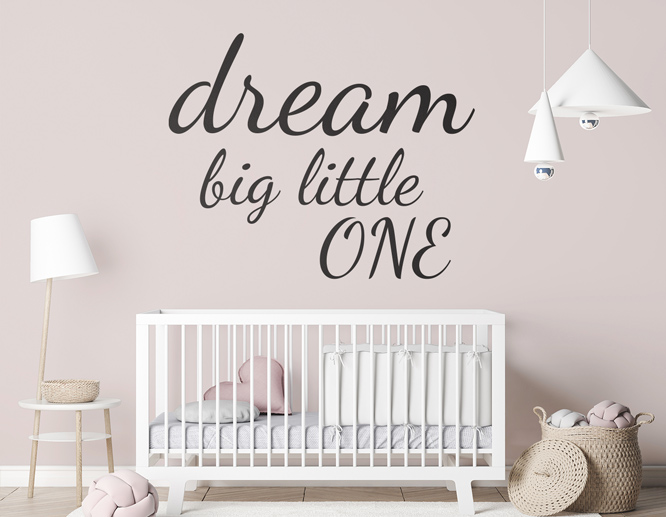 Explore cut-out letters to create sticky items with inspirational sayings. This option allows to display initials, names or other texts with detailed cutting.
Summing Up
The article presents several ideas for the best nursery wall decals. Adorn your baby's playroom with sticky solutions for inspirational, educational or entertaining purposes. This way you'll amuse and teach the baby at the same time. Chances are your child will learn a lot of new things. Finally, the options come with versatile technical specifications which will allow you to enjoy custom shaped and finely cut items.