Thinking about how to decorate a patio to turn it into an entertaining place for the summer? Leverage the playful outdoor patio decor ideas below to bring your expectations to life.
Outdoor Patio Decor Ideas
Ideas to decorate the outdoor patio may vary a bit depending on its placement. First, let's explore several front patio decor ideas to adorn the surrounding areas. 
Front Patio Decor Ideas
The front patio might be the first thing your guests will notice once they enter your yard. So, sparking inspiration with welcoming, motivational or funny texts is among the first things to consider on this list of outdoor patio decor ideas. 
Idea 1. Set up a welcoming tone in front of your patio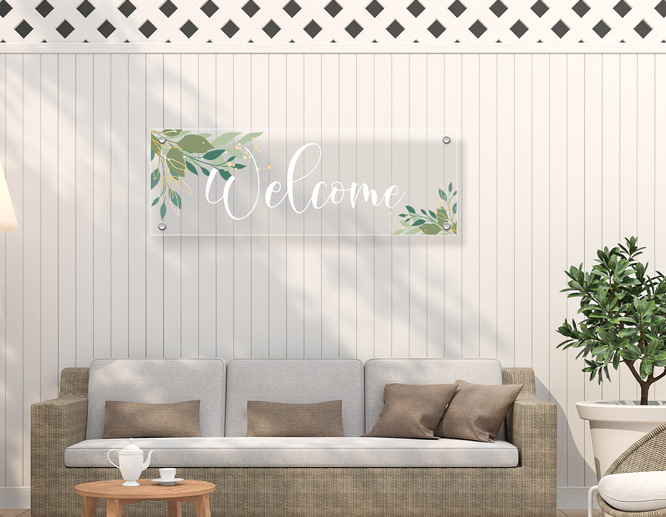 Greet your guests by setting up a welcoming message on neat acrylic signs or PVC signs if you have the proper fencing. For example, wooden fences or plant walls are surfaces that are suitable for attaching accessories and decorative items.
Idea 2. Inspire with motivational quotes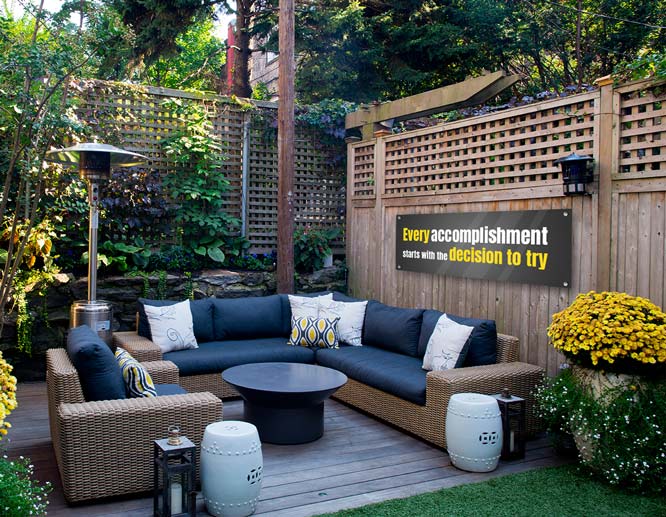 Wish to realize your inspirational front patio decor ideas? Make use of your leisure time outdoors to get motivated by putting up inspirational quotes on your surroundings. Solutions such as styrene signs or custom aluminum signs capable of withstanding different weather conditions can serve this purpose.
Idea 3. Make funny quotes and jokes to make your space lively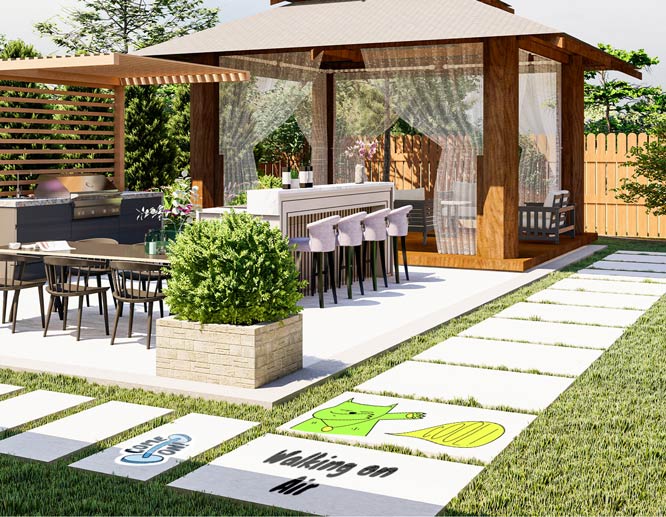 Wish to create a joyful atmosphere on your patio? We've got you covered. Fun floor graphics on the pavement leading to your patio are sure to cheer you up.
Idea 4. Create a natural environment on your patio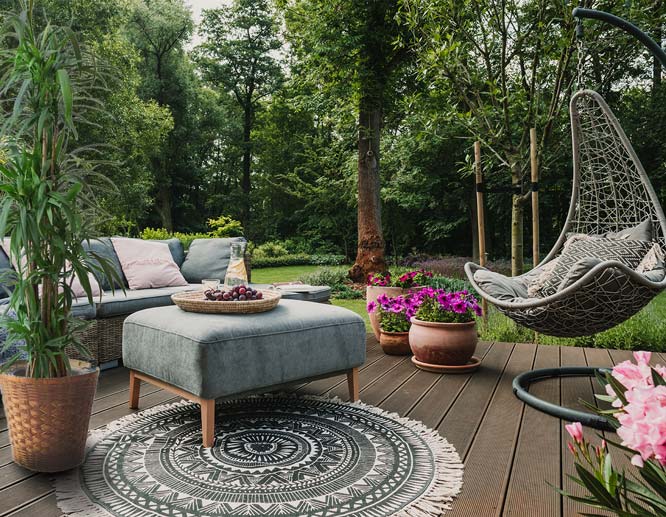 Looking for front patio decor ideas inspired by nature? Potted plants, trees and fragrant flowers are perfect for creating the aromatic green environment you desire. 
Idea 5. Consider illumination to light up your front patio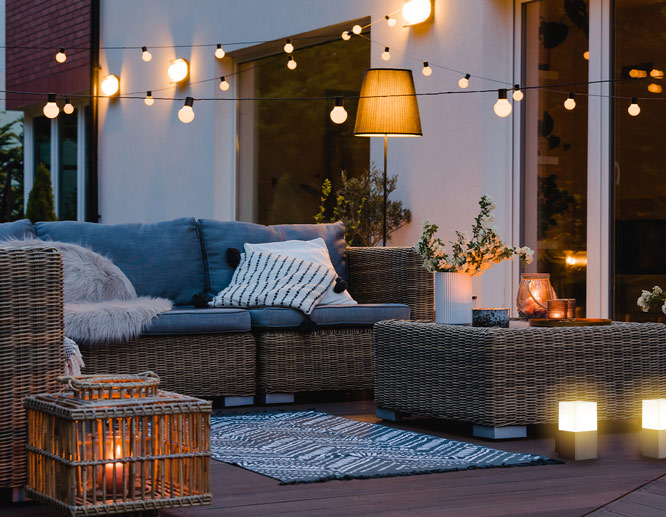 Your front patio decor ideas list will be incomplete without decorative lanterns and bulbs. They will ensure your patio is illuminated at night and elegant in the daytime. 
Idea 6. Ensure privacy through original solutions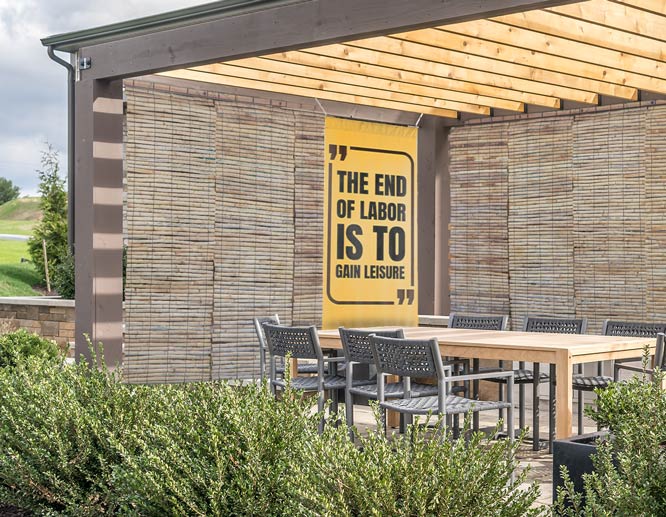 Longing to create your personal space while realizing outdoor patio decor ideas? You can make use of fabric banners to guarantee your privacy. Anything from funny to inspirational quotes can adorn the area. In addition, bamboo roller blinds are among the most popular ideas if you're wondering how to decorate a front porch.They can be applied for privacy as well as light management.
Back Patio Decor Ideas
While searching for front and back patio decor ideas, make sure to take into consideration the difference between the two. The front patio is more of a welcoming space for your guests as well as a warm environment for your family. On the other hand, a back patio is a private space to spend leisure time with family or alone. 
Idea 7. Create a rustic environment on your back patio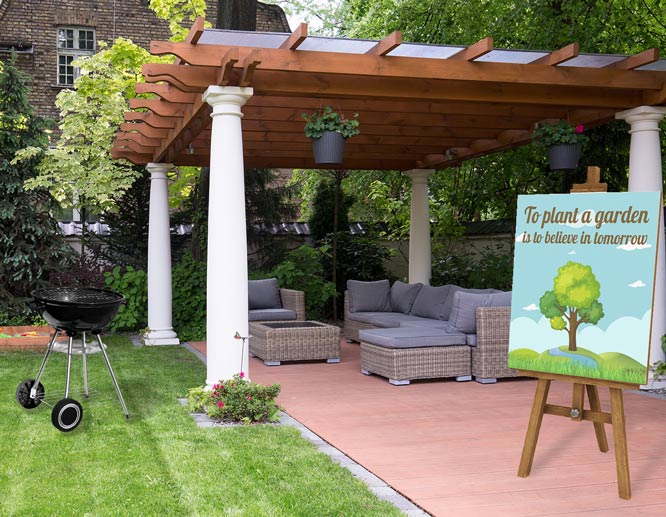 Wooden signs are rustic-style items you can integrate into your list of outdoor patio decor ideas. You can implement your back patio decor ideas by painting and writing anything inspirational on wooden surfaces. Also, sticking various designs and letters on the wood will create unique items. Nice-to-have backyard patio decorating ideas like bird bath basins, flower beds and wagon wheel benches will spruce up the environment.
Idea 8. Create a smart reading corner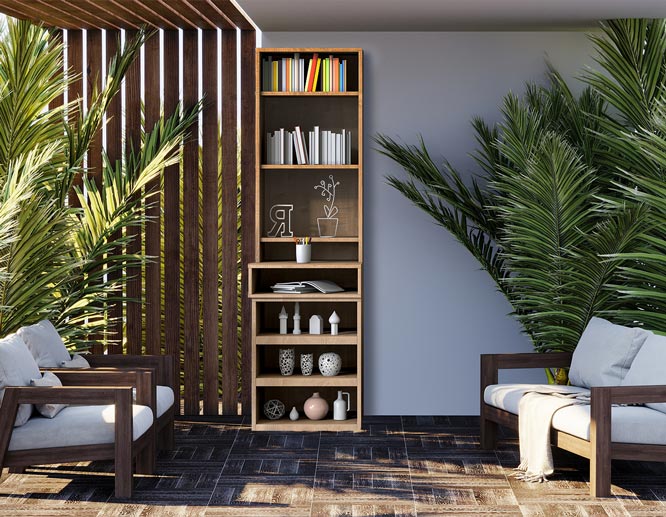 Looking for smart ideas on how to decorate a back patio? Read on to enrich your list of outdoor patio decor ideas with a comfortable reading corner with bookshelves nearby. Pamper yourself with romance or how-to books to supplement your backyard patio decorating ideas. Skim through strategy books in your spare time and find fresh ideas for your business, some lifehacks and the like.
Idea 9. Apply illumination to create a warm environment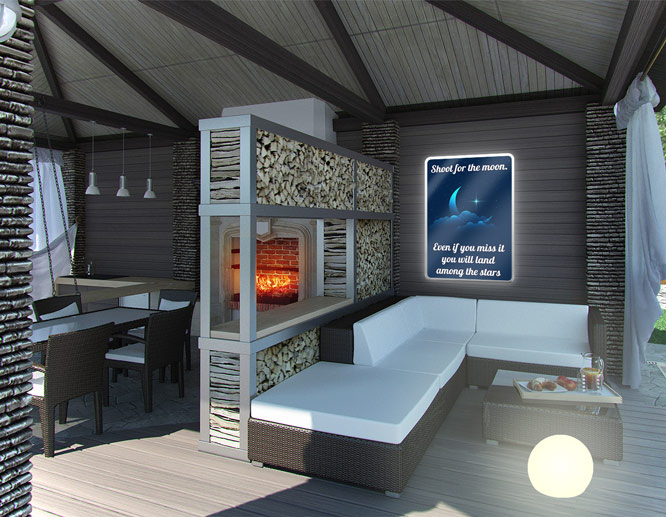 Decorative lanterns and overhead bulbs, elegant bulbs beneath the edges of the fireplace… What could look more romantic? Create a dreamy environment with backlit decal signs by providing your own inspirational texts for this item. Alternatively, make your back patio decor ideas a reality by leveraging some ready-made decoration sign templates.
DIY Patio Decorating Ideas 
Some people enjoy building things. These are the ones who will love the unique DIY patio decorating ideas below. If you're someone who loves everything you do with your own hands and whether you're looking for DIY patio decorating ideas or DIY projects for home, we've got you covered. DIY may require some time. Anyway, the fact that it's less expensive makes us think again. Perhaps worth exploring the outdoor patio decorating ideas on a budget? 
Idea 10. Set up family photos on your own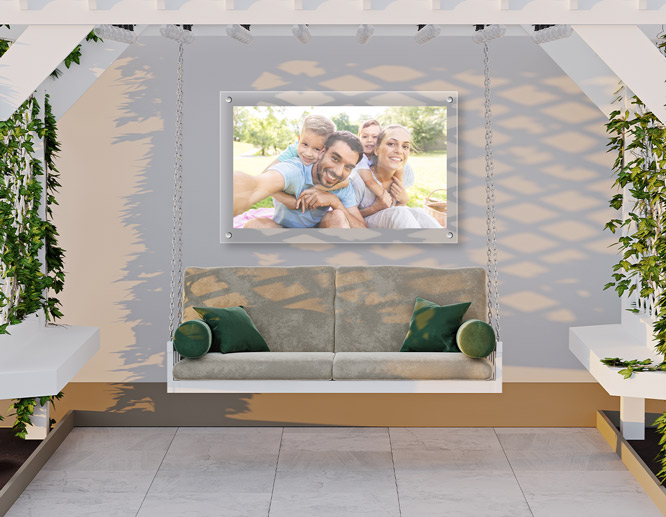 Wish to know how to decorate a patio to surround your precious ones with the warmth of memories past? Print a nice family photo at a local photo printing service and fit it into a frame. In case you don't want to go through the hassle, there is a workaround! Meet specially designed acrylic photo prints or gator board printing! These solutions will retain their vibrant looks for years to come and offer perfectly fitting installation options.  
Idea 11. Consider using canvas artworks you created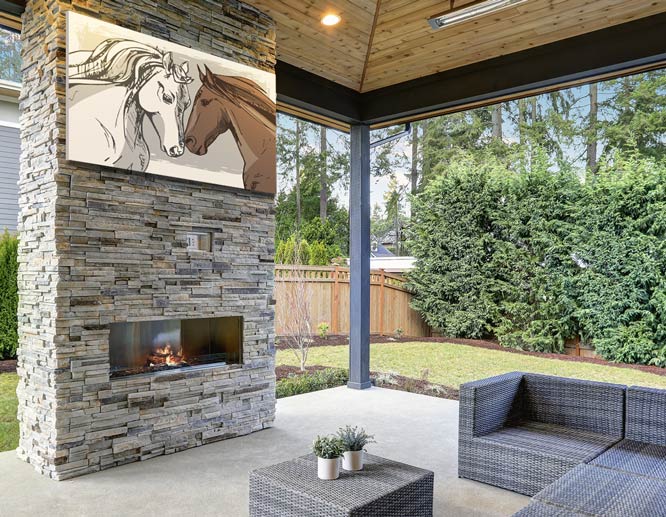 Ideas on how to decorate a patio have been implemented in many ways. Hesitant about using your original canvas artwork for decorative purposes? Just take a shot of your artwork, upload it to our intuitive sign design tool, save the file and get in touch with us. A UV curing system will be applied to create canvas prints that can be safely used under a covered patio. 
Idea 12. Grow and craft nature-inspired solutions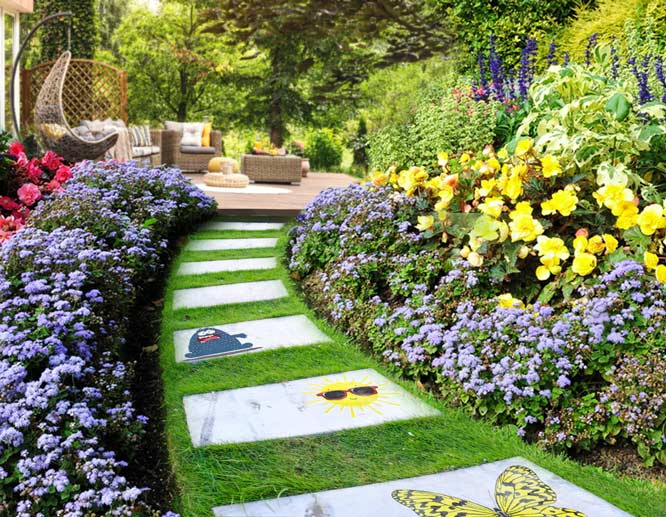 Ideas on how to decorate your outdoor patio are getting cooler with lively gardening solutions. Growing different plants is a lengthy process but the results are sure to leave you delighted. Everything from wood flower beds to decorative stepping stones can be crafted on your own. In the end, laying gravel on the relevant parts of your garden will supplement these simple patio decorating ideas. 
Idea 13. Craft ingenious artwork to suit various interior styles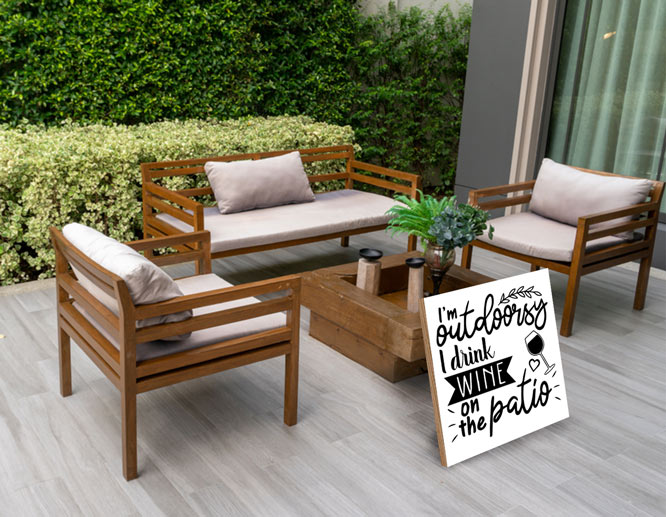 Curious to learn how to decorate a patio with attributes matching various interior styles? Wooden solutions are the way to go. Not sure about the techniques? There are a bunch of strategies out there on how to make wooden signs. Pick the strategies that fit your taste and preferences.
Now you know how to decorate your patio on a budget. DIY projects will save you money while paying for products and services will save you time. They say time is the most valuable asset. You be the judge of that! 
Space Saving Ideas on How to Decorate a Small Patio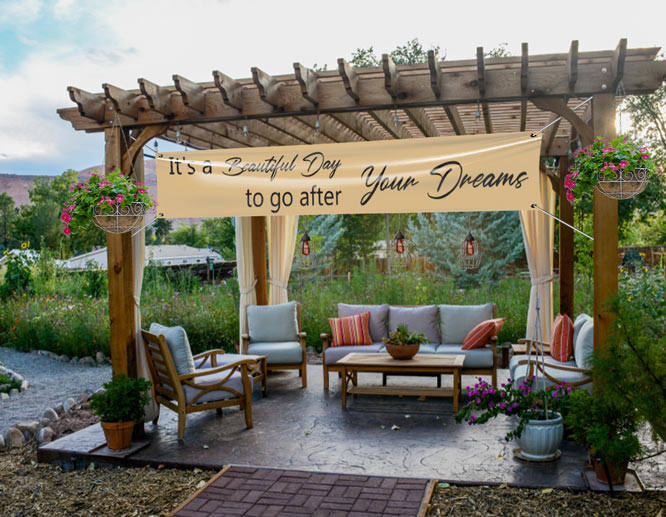 Decorating a small patio can seem challenging at first glance. The below tips on how to decorate a small outdoor patio will give you walkthroughs for the special cases. 
Tip 1. Decorate the overhead space
One of the tips on how to decorate a small patio can be implemented by including hanging solutions to save space on the floor. Creating an inspiring environment in your patio by hanging grommeted vinyl banners comes in handy. 
Tip 2. Hang lanterns overhead 
Another technique on how to decorate a patio in case you're short of space is hanging lanterns from above. This will ensure decoration and illumination while also achieving the strategic space-saving goal.
Tip 3. Hang potted flowers 
A similar tip on how to decorate a small patio is applicable for potted flowers and plants. Hang the pots from above to create a natural environment while saving much of your space. 
Now you have a number of ideas and tips on how to decorate a patio at your fingertips. Follow our blog to find even more original solutions to decorate and nurture inspiration.