Is your front porch awe-inspiring? Or do you think something is missing? Decorate your porch by implementing strategic space-saving steps. You should also think about preserving privacy while still allowing natural lighting to pass through. It may take you hours of brainstorming to figure out how to decorate a front porch. The creative ideas and helpful tips below will help you sum up a list of creative entry porch decor ideas.
Front Porch Decorating Ideas
There are cute front porch decorating ideas to take your breath away in your leisure time or make guests feel welcomed at home events.
Entrance Porch Decorating Ideas for Everyday Use
The front porch should be warm and inviting. To ensure the desired effect, make the most of these unique front porch decorating ideas.
1. Greet your guests with welcoming displays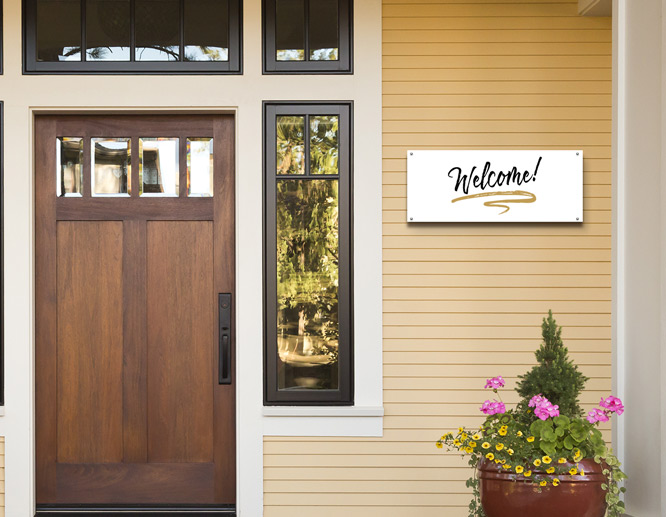 Visualize your front porch decor ideas with neat-looking acrylic signs. Display a welcoming message to exude hospitality.
2. Embrace good memories with cute photography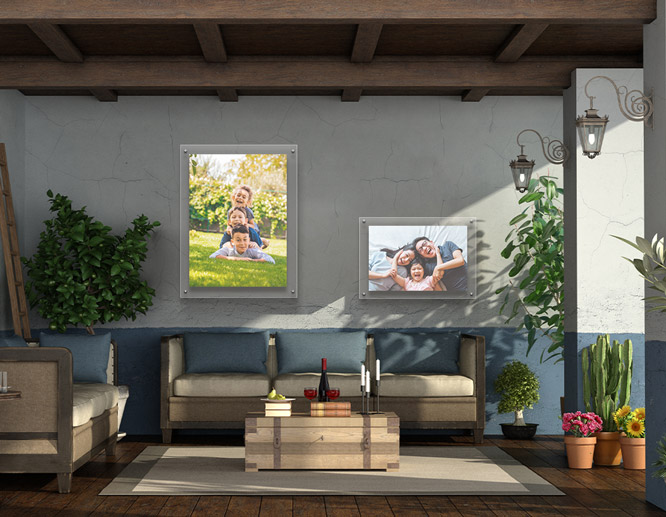 What if you could depict precious memories by having photos printed onto a clear, smooth material? It's now possible with acrylic photo prints. The photos are directly printed onto plexiglass. Another option to print photos is metal photo prints. Both these solutions are durable and printed with high-quality UV-graphics. You can also have your favorite pieces of art illustrated on these products. Square Signs offers discounts from time to time, so check in frequently!
3. Replenish the aesthetic with rustic designs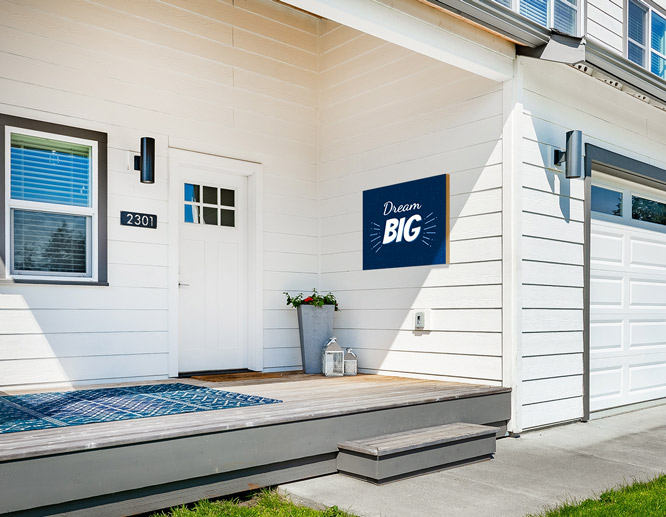 A porch is a place to hang out with guests and family or enjoy some time alone. You can use rustic elements for a creative touch. Solutions inspired by nature such as wooden signs are suitable for your porch. You can design ready-made sign templates by making changes to match your taste. Include texts and graphics with a click on the "design now" button. Wish to explore other outdoor porch decor ideas made of wood? Look through our article on how to make wooden signs.
4. Embellish the environment with artistic decors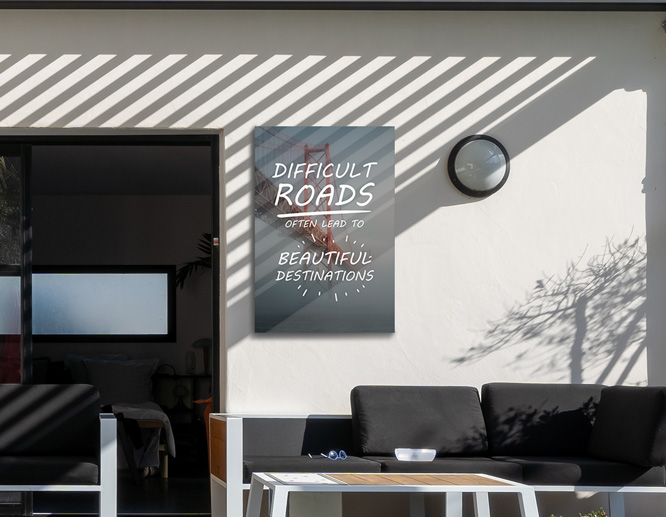 Art makes room for endless creativity. If you are an art lover, why not embellish your porch with creative pieces? You may have some stunning artwork, but are you sure you want to use the originals? Well, you don't have to. You can get remakes of your original pieces by having them recreated on canvas prints or foam board printing. Just make sure to place the item under cover to avoid damage later. If you love doing everything yourself, explore DIY projects for home.
Outdoor Porch Decor Ideas for Home Events
In addition to everyday front porch decorating ideas, you can implement decor solutions on special occasions such as birthdays, proposals, first tooth parties, gender reveals and so on. These solutions are mainly intended for indoor use but they can also be used outdoors for a shorter time. They are sure to liven up your events with a personalized touch.
1. Personalize your home events with lightweight solutions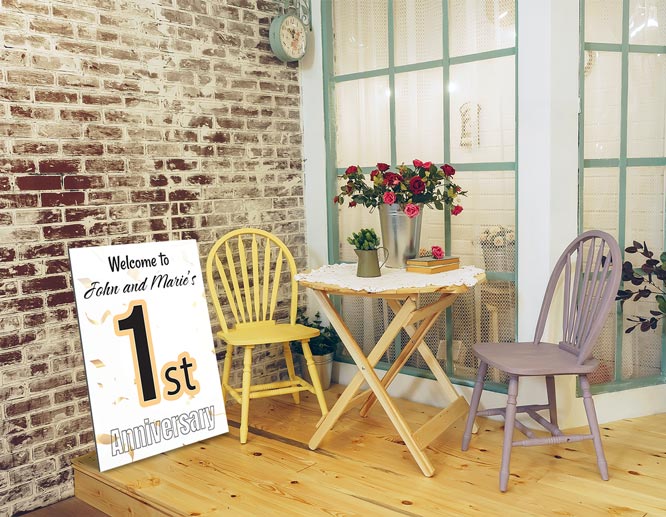 Portable solutions such as gator board printing are a perfect fit for temporary use at home events. You can personalize your message by having the names of birthday boys or girls, newly-weds or babies written on the displays. For example, it could be anything like "John and Mary's Wedding," "Alice's Birthday" or "Tommy's Tooth Party." You can even have photos printed on these items. Once the event is over and the guests are gone, you can take down the display with little to no hassle and store it for later use.
2. Furnish flat surfaces with lovely decorative items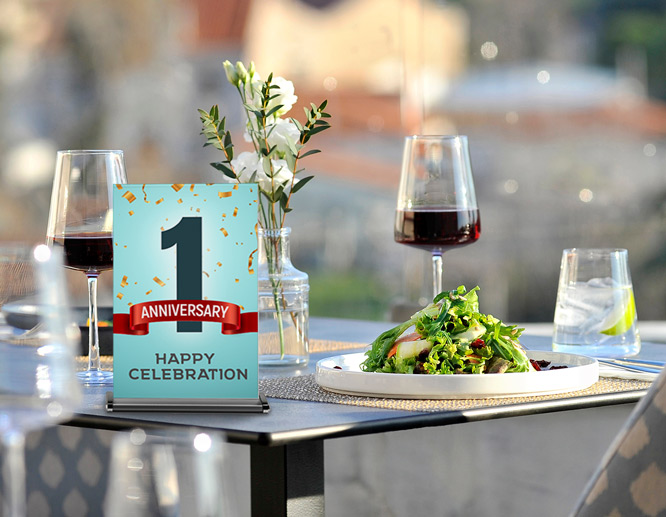 Ideas for decorating your front porch such as tabletop retractable banners are also suitable for home events. Even though they are intended for indoor use, their short-term placement on banquet tables outside is quite fine. You can set one on each table with a message to welcome your guests to the party or to thank them for taking part in one of your most memorable days. They will give your guests a warm feeling and let them know that you appreciate their presence.
Front Porch Decorating Tips
Apply your most creative ideas with a solid strategic approach. Follow the smart tips below on how to decorate a porch to ensure privacy, allow natural light in and save space at the same time.
How to Decorate a Front Porch to Allow Daylighting
The benefits of natural lighting for humans are irrefutable. So decorating a porch without sacrificing sunlight is a win-win solution. Let's dive in deeper to explore how we can achieve that.
1. Use transparent solutions to let in natural light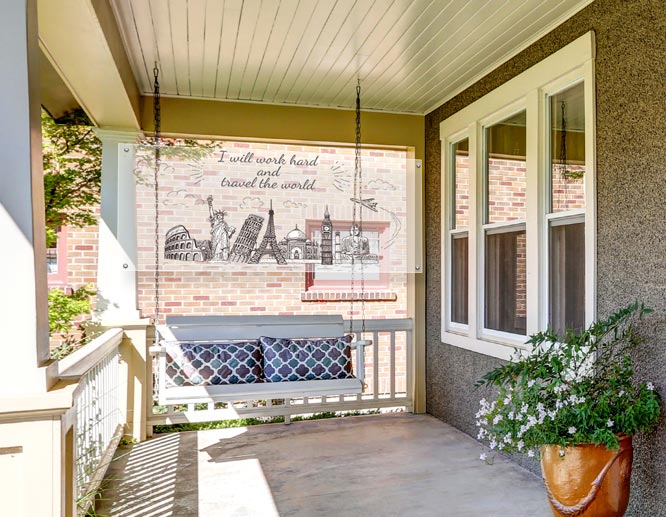 The use of transparent solutions such as clear acrylic signs is perfect for ensuring stunning graphics and light penetration. So, when these items are hanging from the pillars of your porch, they will maintain visibility and allow natural light to pass through. Look into these customizable decoration sign templates if you're interested. Use the ready-made templates or make some changes to your liking. Have you already visualized the overall appearance of your display with the design tool? If not, head over to the platform and have some fun.
2. Get clear decorative graphics for a neat look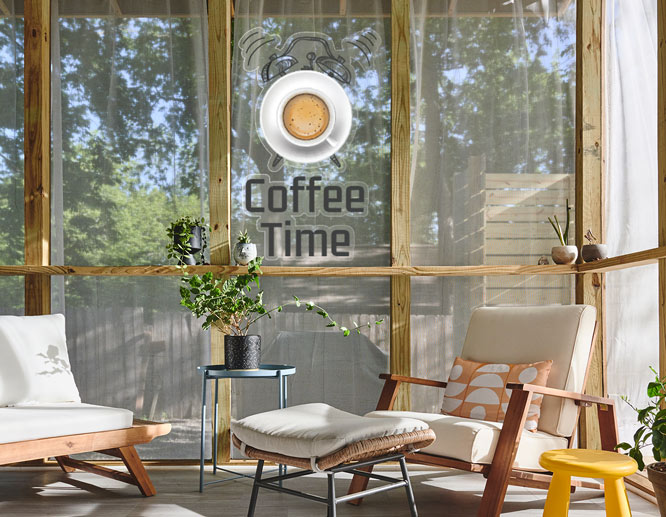 Apply clear and frosted variants of home window decals to allow visibility and natural lighting into your rooms. Low opacity front porch decorating ideas are suitable in this case. For example, you can adhere them to the front window between the house and the porch. It will create a playful mood, maintain visibility and allow light to enter the house.
How to Decorate a Porch With Space-Saving Techniques
When you pursue the goal of adorning your premises, saving space is one of the best strategic approaches. Want to know how to decorate a front porch to save space? Follow the tips below.
 
1. Inspire motivation with attractive hanging displays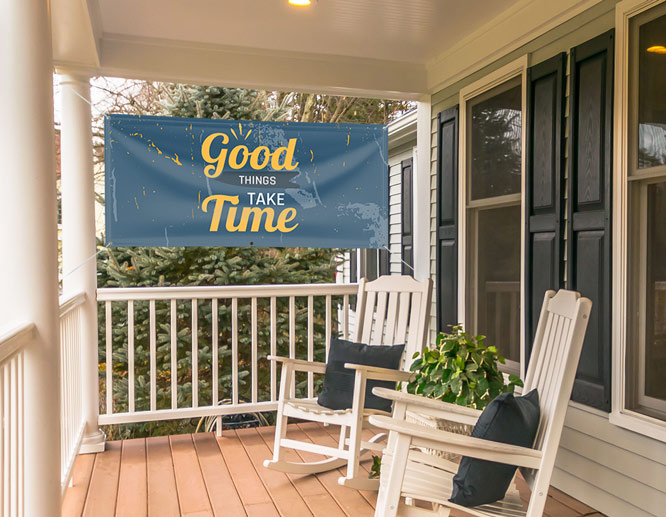 You can get your favorite motivational quotes printed onto hanging displays to save space. Hanging durable and wrinkle-resistant fabric banners will ensure a private corner on your porch. You can also attach styrene posters to the walls for illustration. The item is scratch-resistant and can easily withstand any weather conditions. To get the custom look of your displays, feel free to choose any template and customize them to your liking with our sign design tool.
 
2 Create a playful mood with catchy sticky graphics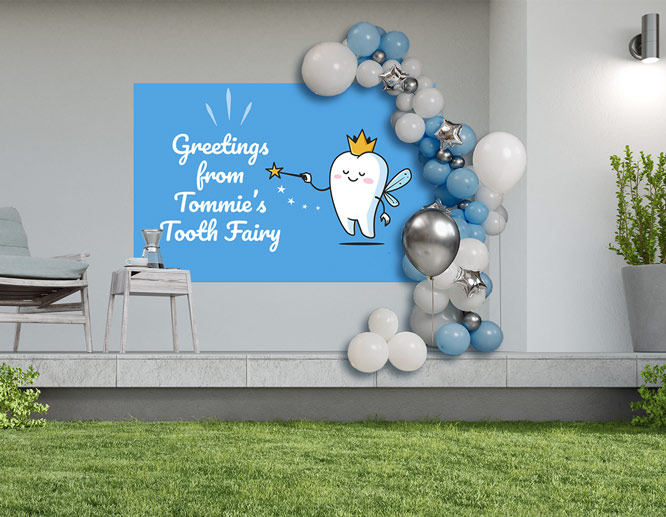 Other space-saving entry porch decor ideas include sticky graphics, such as custom wall decals. They are recommended for indoor use, but usage outdoors is also possible for a short time. You can also use their illuminated versions, such as backlit decal signs. The latter are sure to create an inspirational atmosphere on your porch at night. In some cases, patio decor ideas can be perfectly applicable to the porch as well. So, you can also check this article on how to decorate a patio. It will give you additional hints to supplement your outdoor porch decor ideas.
How to Decorate a Porch for Privacy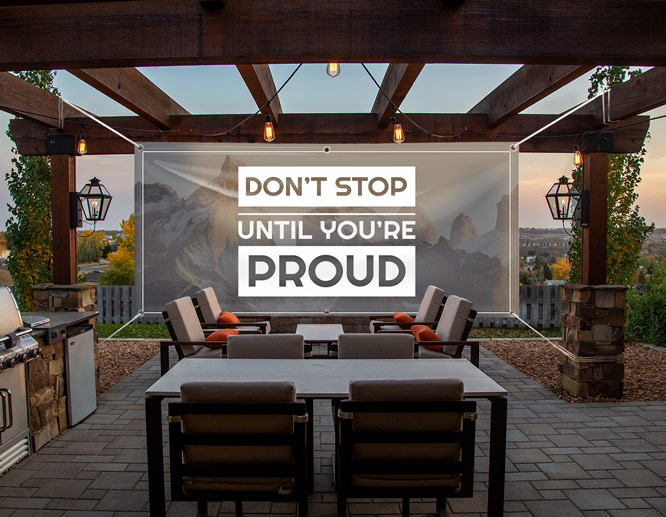 In the case of big porches, the need for privacy is more tangible. There is a lot of open space to cover so large porch decorating ideas for privacy are sure to guide you. Let's see how to decorate a front porch to ensure the desired privacy for your corner. One example is applying vinyl banners. Hang it up from the area you'd love to conceal et voila, you're all set. Using bamboo blinds is also among the natural-looking large porch decorating ideas that ensure privacy.
Nature-Inspired Front Porch Decor Attributes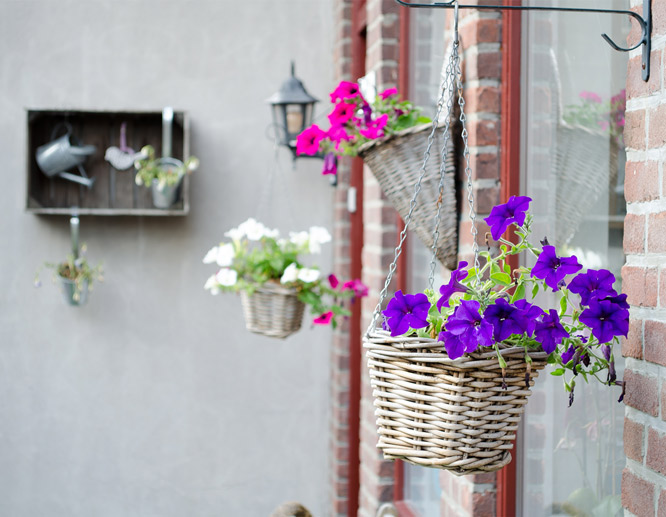 Gardening and other natural elements are exhilarating, aren't they? Nature improves our mood and has a favorable impact on our wellbeing. There are many ideas inspired by nature on how to decorate a front porch. For example, you can adorn your porch with garden beds, potted flowers and other green plants. You can also use them strategically by hanging them overhead to save space. In addition, lay some gravel where appropriate to supplement the natural look.
To Wrap It Up
A porch is a place to spend free time and chill, so make it a warm and inspiring place. You can have a cup of coffee while hanging out with your friends and family or just enjoy your time alone. There are also cute outdoor porch decor ideas to use during home events. Just make sure to combine creative ideas with helpful tips. This way you'll maintain visibility and let in natural light while ensuring a private corner for leisure. There are also several strategic tips that will help you save space such as hanging displays and potted plants. With the playful ideas and strategic tips we've provided mixed together, you'll enjoy the pleasant and comfortable setting.