Happy Fall Y'all!
Are you waiting for Thanksgiving as eagerly as we are? If so, you're most probably looking for some special decor items. 
Want to set the mood for the occasion but don't know how? We have you covered! Check out some of the Thanksgiving sign ideas we offer for both house decor and different businesses and organizations. Get nice decorations to show how thankful you are for the blessings you have.
Thanksgiving Signs for House Decor
Home sweet home. A place where family members get together on this occasion is expected to radiate warmth. Bearing this in mind, we've prepared Thanksgiving sign ideas that'll help make your place festive and more unique.
So, let's move on and explore our Happy Thanksgiving signs.
By the way, did you know that Franklin D. Roosevelt wanted to move Thanksgiving holiday back a week?
1. Thanksgiving Yard Signs
Thanksgiving is all about sharing and being grateful. So, why not delight neighbors during this heartwarming holiday by posting unique Thanksgiving yard sign? The signs are portable and perfect for open spaces with several installation accessories you can choose. Corrugated plastic signs and sandwich boards offer a wonderful way to spruce up your yard no matter the occasion.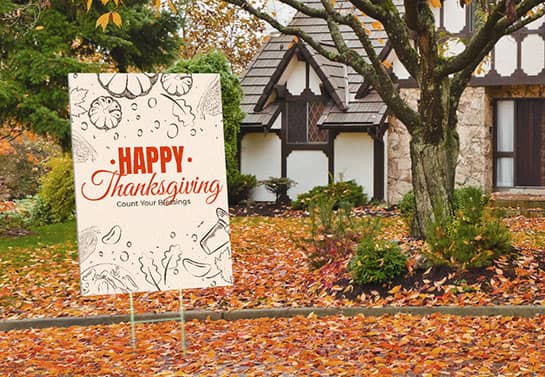 As for the design, take a look at our Thanksgiving sign templates, or go on and make your own Thanksgiving yard sign portraying any autumnal scene with our sign design tool.
2. "Welcome" Thanksgiving Porch Signs
Let your front porch be inviting. Get a Thanksgiving welcome sign in the form of a hanging fabric banner. It can serve as a Thanksgiving porch sign perfectly because it's durable and UV protected. Luckily for you, its installation is quite easy to figure out. Yet, if fabric isn't the right fit for the welcome Thanksgiving sign you envisioned, check our vinyl banners. They're eye-catching and share almost the same qualities. Use our templates to order a Thanksgiving porch sign or get creative and make your own personalized banner.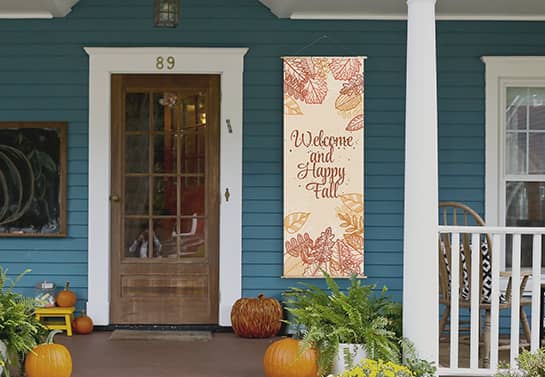 In case you want a few other banner ideas for the occasion, take a peek at our Thanksgiving backdrops.
3. Themed Welcome Signs for the Front Door
Think outside the box and welcome your guests with a creative decorative item. Order a wooden sign in the shape and size tailored to your needs. With your Thanksgiving wood sign you can go for regular or double-sided printing options. Moreover, you can choose from different cutting options for your Thanksgiving welcome sign.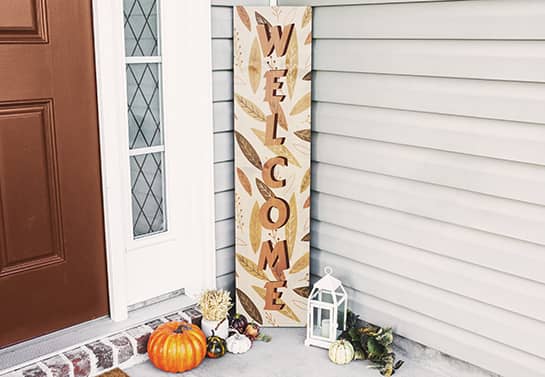 4. Sticky Front Door Happy Thanksgiving Signs
Looking for an esthetic and unusual idea for your front door decoration? Check out our vinyl lettering. Vinyl letters are resistant to all types of weather conditions ranging from extreme humidity to intense sunlight. These stickers don't fade and maintain their original look for a long time. So, what are you waiting for? Get your personalized vinyl lettering as a sign for a Happy Thanksgiving. Type in something sweet like "Hello Pumpkin" or any congratulatory note in our design tool. Make the necessary adjustments to your Happy Thanksgiving sign and proceed to check out. Quite simple, isn't it?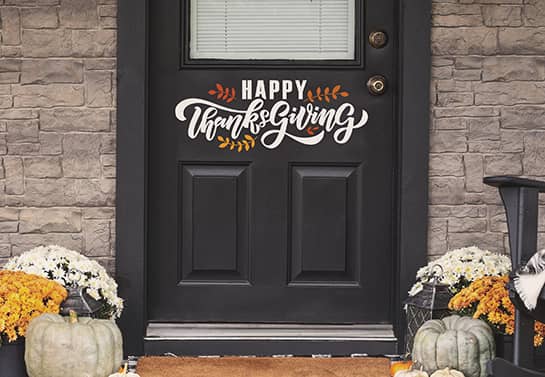 5. "Give Thanks" Wall Art
Indoor decorations are among the most popular when it comes to Thanksgiving. Get a one-of-a-kind Thanksgiving printable sign by ordering a wall decal. These are affordable and perfect for long-term use, and make suitable wall art. If you're worried about leaving stains on the surface, have no fear. These stickers are easy to apply, easy to remove, and leave no trace. Here's a tip to make your life easier. Clean the surface before applying the decal to avoid getting air bubbles under it. As for the design, use our ready-made templates or let your creative juices flow. Make your own DIY Thanksgiving sign with our design tool.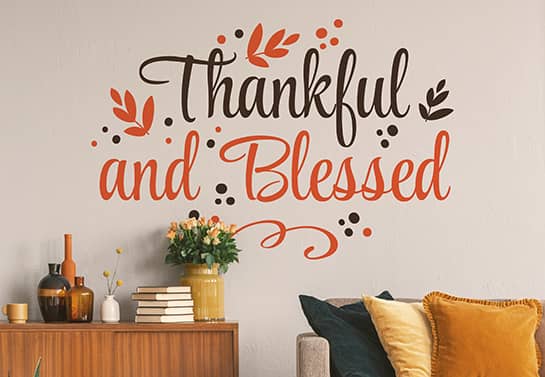 6. Tabletop Thanksgiving Printable Signs
If you pay attention to small details, you'll like the idea of cute knick-knacks. A rustic Thanksgiving printable sign will add a nice touch to your room. Decorate it with a turkey or any other Thanksgiving symbol. Use this type of acrylic signs as a house decor item or put it on the dining room table as a centerpiece.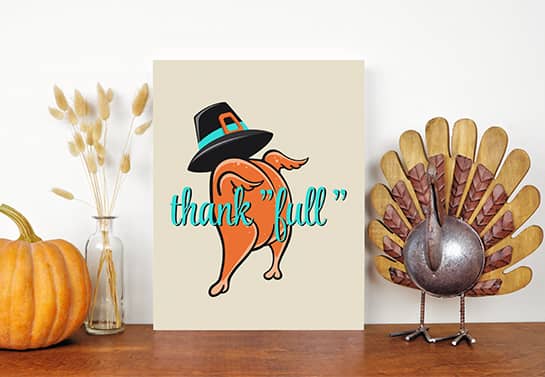 Can you believe that turkeys were worshiped as gods in 300 B.C.?
Thanksgiving Signs for Businesses and Organizations
Even though Thanksgiving is considered a family holiday, Thanksgiving Day signs are found everywhere. On the fourth Thursday of November, office buildings, stores, schools, and universities transform into magical spaces. You can see Thanksgiving lawn signs, beautiful Thanksgiving metal signs of different shapes, and much more. If you're thinking of setting up unique decor items in your organization, keep reading.
7. Thanksgiving Store Sale Signs
If your business is going to be open on Thanksgiving and you want to surprise your customers with sales, then you'll love making a marketing move with services we offer. Give some thought to decorating your store and make highly visible announcements. It's fairly common for people to forget to buy some essentials in advance. Benefit from this mishap and place a Happy Thanksgiving sign to announce your sale. Use static clings as an advertising medium and order the size you prefer. Note, they're good for both decorative and promotional purposes. Just stick them to the inside of the glass facing out and you're all set.
Check out other signs to show that you're open for Thanksgiving.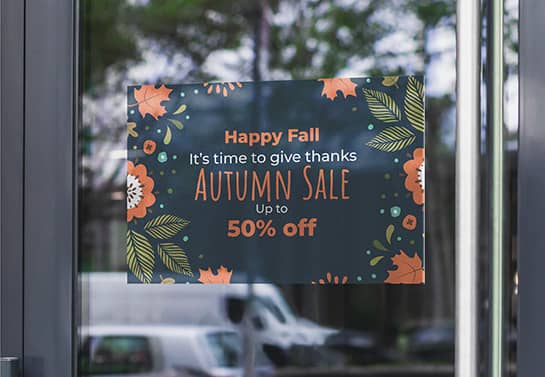 You can easily customize all the templates displayed here with just a few clicks. Change colors, texts, elements, backgrounds, upload personal images and beyond!
8. Thanksgiving Office Cubicle Decor Signs 
Tell your colleagues or employees how thankful you are by decorating their cubicles. Prepare themed Happy Thanksgiving signs to spread the holiday spirit. Get a sticker with a Thanksgiving joke, but a simple "Thank You" works just as well.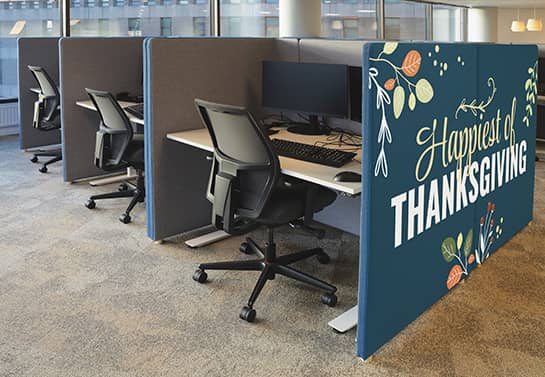 9. Happy Thanksgiving Church Signs
Thanksgiving church sign choices require a delicate approach. Choose a modern and elegant way to share the important message and get an aluminum sign. It's perfect for exterior use because of its durability and can serve as a Thanksgiving porch sign as well. Choose the size, type, and color of your sign to grab people's attention from a distance. Head over and pick one of the many installations available as soon as your mind's made up. Install your Thanksgiving church sign with the help of standoffs or have it mounted on the wall. If you can't find the right template, it's time to improvise.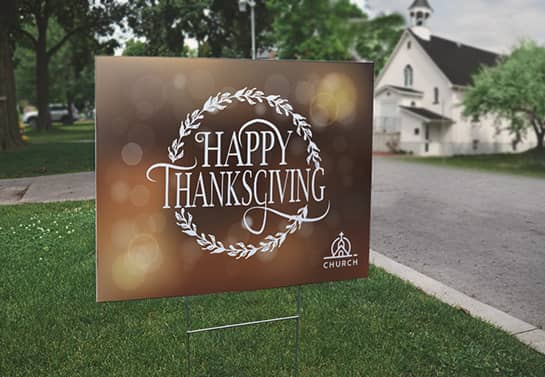 Enjoy the feasting! Happy Thanksgiving!