When speaking of decorations, most people skip past the floors. While it takes rare insight to address them at all, they are of much importance. Considering how little press they get, it's not easy to decide which of the floor decoration ideas will suit you best. That's why I have gathered some of the top suggestions here that will work great for your house or workplace.
In this article, I'll speak about different kinds of floor decorations. We'll go over floor decals and stickers to area rugs and floor lamps. I'll also cover ideas on how to integrate floor decors and accessories for your business. The latter is very important for safety purposes, especially during pandemics like COVID-19.
Floor Decoration Ideas for Your House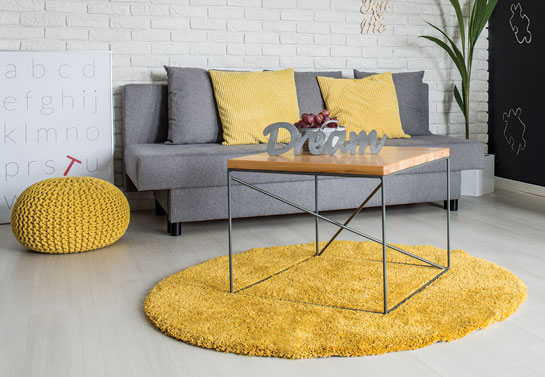 The flooring of your house has a huge impact on its overall appearance. Whether you have a five-star floor or one in need of a repair, there are a few ways to level up its appearance․
Here are some cool ideas to help you make the floor more appealing and even cover up damaged areas.
Kitchen Floor Decorating Ideas
Whether you are a huge fan of cooking or eat out most of the time, the kitchen is often the place to be in every house. That being so, you need to thoroughly consider its aesthetic. Besides the right furniture and accents, you should also decorate the floor. Kitchen floors are most frequently made of tiles so these floor tile decoration ideas will embellish them. Do you have a wooden floor in your kitchen? The first idea is one of the coolest dark hardwood floor decorating ideas!
Idea 1. Use tasty food-themed designs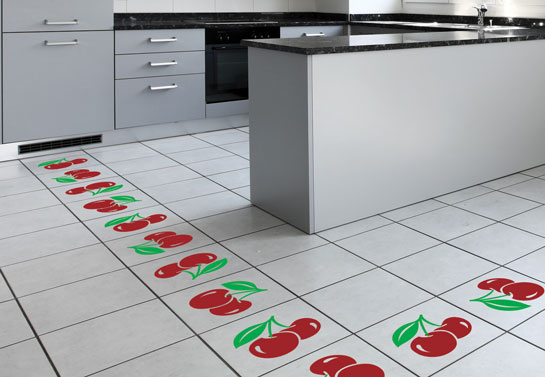 Dull and one-colored tiles will turn into unique ones with this simple trick. Choose them depending on the color scheme of your kitchen's interior. Get colored or black and white stickers with silhouettes of your favorite foods. They will look great on alternating tiles. They'll come in handy if you need hardwood floor decorating ideas for your kitchen as well. This option is fun but be careful not to overuse it. Otherwise, this tasteful flair will turn into a sour one quick. Here is a sweet cherry-inspired example from my favorite collection!
Idea 2.Cover up the tiles entirely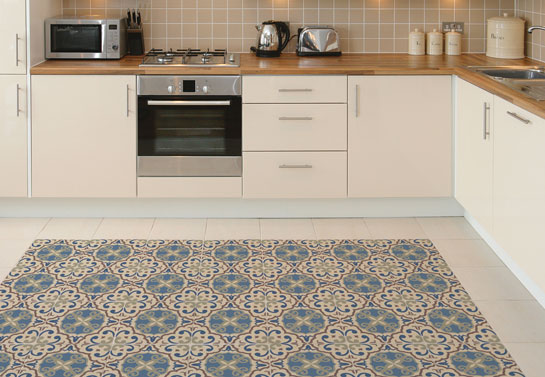 If your tiles have lost their initial look, you can fully cover them up with stickers. Choose any pattern to your liking. You can also split a picture into the number of tiles you want to cover in motifs. You can even recreate the initial image or pattern on your floor. This option is great to change the overall look of your kitchen. The designs won't last as long as new tiles but they are drastically cheaper and easier to apply. Make sure to also use a grout pen for stained or brown grout.
Idea 3. Bring nature in to nurture your kitchen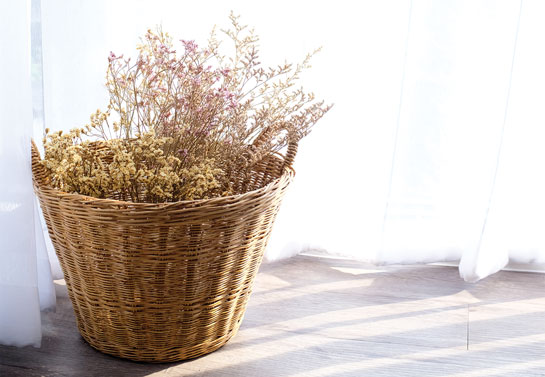 In addition to tile, other kitchen floor decorating ideas like a basket can add the right charm. It can be filled with anything to your liking from flowers and wheat spikes to fruits and vegetables. Not only will the basket decorate your kitchen but it will also help you keep things organized.
If you're not into grinding your own wheat for flour, feel free to go on with artificial plants and grocery goods. These will create longer lasting decor.
Bathroom/Laundry Room Floor Tile Decoration Ideas
Decorating the bathroom is not an easy task. Most bathrooms have a limited space which won't fit all of your decor ideas. Be careful not to cross the line and shower the bathroom with inappropriate embellishments. Too many elements mixed together will have a ridiculous end result. Simply decorating the floor of your bathroom is the right way to go. Here are some ideas to use.
Idea 4. Change the patterns of bathroom tiles without replacing them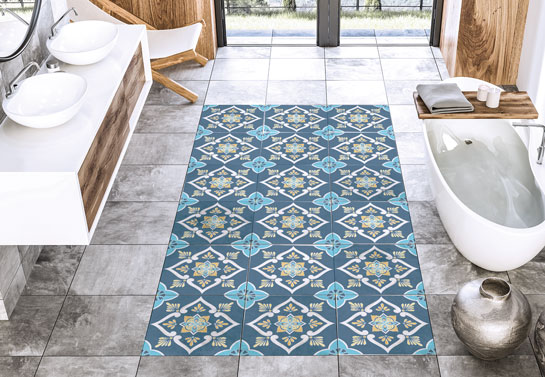 Replacing old tiles that are out-fashioned or have lost their fresh look is an easy decision, especially if you have a rather exciting alternative. Cover the surface of each tile with a glossy sticker.
This type of floor decoration is great to change the overall appearance and style of your bathroom. Here is my favorite Romanesque inspired example.
Not sure where to get this kind of decor for your bathroom with a pattern you like? Use our free design tool to upload the images. Customize them easily and order online right away.
Idea 5. Get epoxy flooring right over the tiles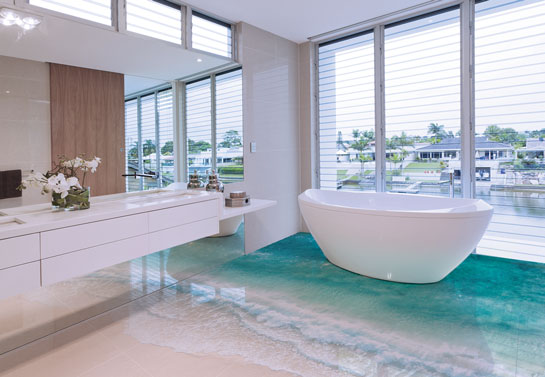 Get epoxy flooring done or DIY for an outstanding style for the bathroom floor. You won't even need to remove the old tiles as the epoxy will cover up and bring your old ones back to life! Making an epoxy floor yourself is not as easy as it may sound. We recommend professional help at least in the form of video tutorials but you can give it a try if you're feeling crafty. Here is a beach-themed epoxy floor design I like a lot!
Entryway Tile and Wood Floor Decorating Ideas
A properly decorated entryway can liven up even a groggy Monday morning. It's also your chance to amaze your guests as soon as they enter. Here are some great ideas for your entrance floors.
Idea 6. Add a Short Quote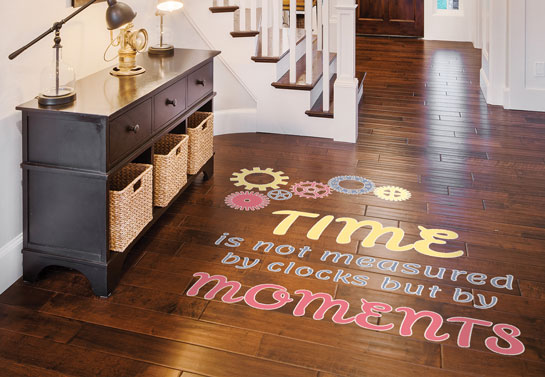 A short quote will brighten up your day and get you motivated. It's also a unique way to decorate the floor of your entryway. You have two options for using decals here. First, you can use cut-out letters to spell the quote. Second, you may get a large one-piece sticker with the saying and lay it down in one go.
Idea 7. Use the blank staircase surface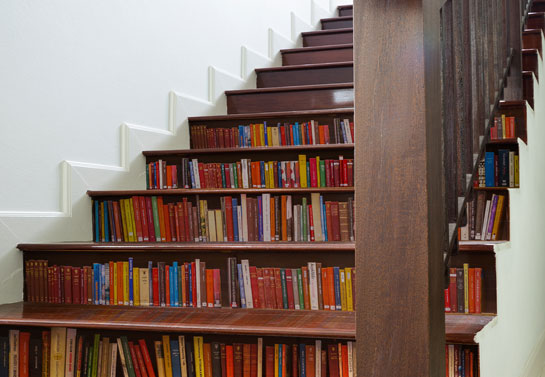 Many house entryways have staircases nearby with lots of blank floor surface. Make that area more appealing by adding decals that recreate familiar images. The scene could be of a natural landscape, bookshelves, nice patterns or anything else to your liking. You can also stick letters on the risers made of vinyl to convey a message to anyone right from the entrance. Here is a nice example of a staircase wood floor decorating idea for inspiration.
Want to create a design like this but not sure where to start? Use our free sign design tool to turn this and other ideas into reality without a hitch. Order online and get your decor shipped out the next day.
Living Room Floor Decorating Ideas
The last but not least important room floor on our list to decorate is the living room. There are a lot of living room floor decorating ideas out there. Choosing the best one doesn't have to be a challenge and I can help you make the correct decision. I have gathered some of the best tile and hardwood floor decorating ideas for the living room.
Idea 8. Decorate the baseboards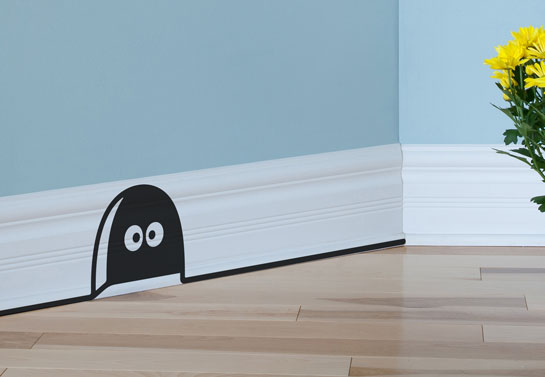 No matter what kind of flooring you have, it's a good idea to decorate those dull baseboards. You have endless possibilities to decorate baseboards with thematic stickers to match the overall style of your room. You can choose an elegant pattern or go creative as I did in the picture below.
Idea 9. Use area rugs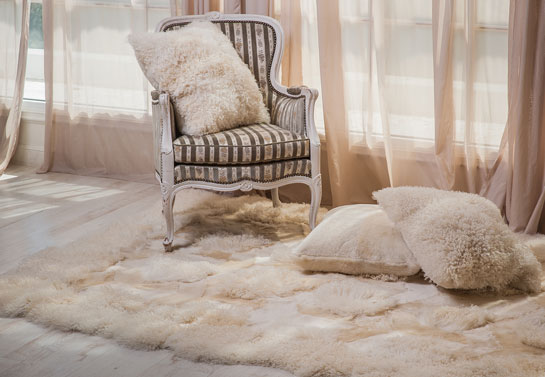 Area rugs are not the cheapest floor accessories but they are essential and well worth a try. They help you expand or contrast the space visually and can help create a cozy corner in a large room. Choosing a light-colored area rug is one of the best dark hardwood floor decorating ideas.
Choosing a faux fur rug is a good choice if you are looking for ideas on how to decorate a living room with tile floors. Tile floors in a living room set a colder atmosphere while faux rugs will help you fill it with warmer vibes.
Idea 10. Add natural items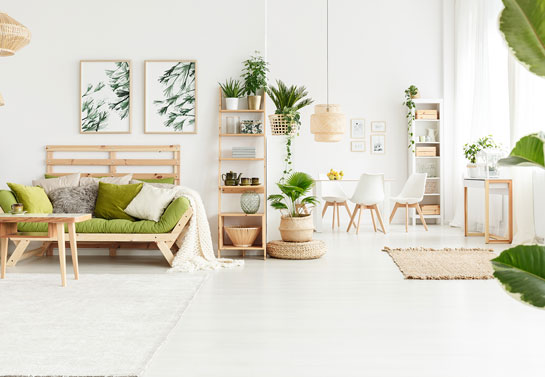 If you want to know how to decorate a living room with wooden floors, I'd suggest you go with natural elements. Plants with wood, stone, or clay pots are great to start with.
Floor Accessory Ideas for Your Business Location
Floor accessories are not only for your house. You can also use them for business marketing and safety awareness purposes.
Business Location Floor Accessory Ideas for Emergency/Safety
Safety notices on the floor are no less important than decorations. In fact, they are crucial during pandemics like the Coronavirus. Here are a few examples of how you can use floor notices to convey an important message.
Idea 11. Designate fire and emergency exits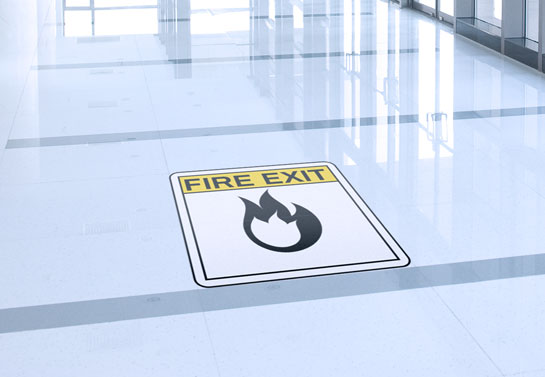 Symbols for fire and emergency exits must be in visible places as required by building codes. Be on the safe side by adding such stickers on the floors of your premises. People may need messages on the ground in case they have to scrawl if the building is filled with smoke, for example. Though more commonly, these will be useful when they're looking down on their phones.a
Idea 12. Help people keep social distancing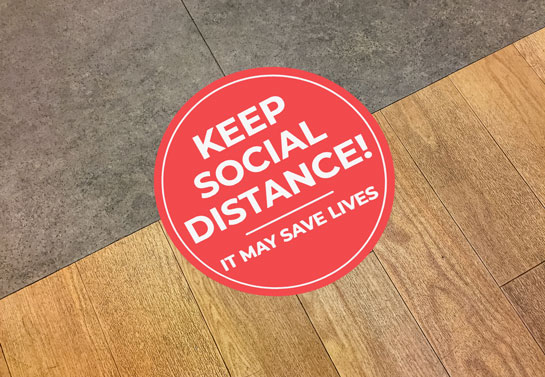 Nowadays you will need to instruct people on keeping special rules for a certain period of time. AsCOVID-19 continues to spread, people need reminders to keep a social distance. These messages work especially well when you have them on the floor of your place of business.
To create your own safety notice check out our Safety Templates. Choose the one that suits you best, customize if needed, and order online
Idea 13. Highlight screening zones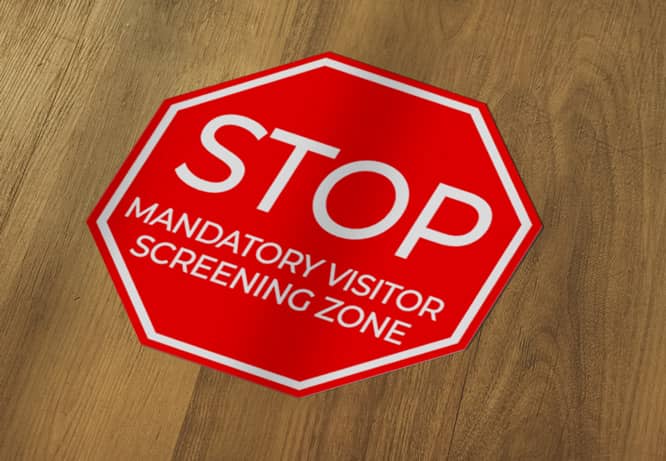 These days, you may even need to screen people entering your business. This may include measuring temperatures or checking for other symptoms specific to illnesses like COVID-19. Prepare people beforehand by adding a notice on the floor.
Idea 14. Warn about hazards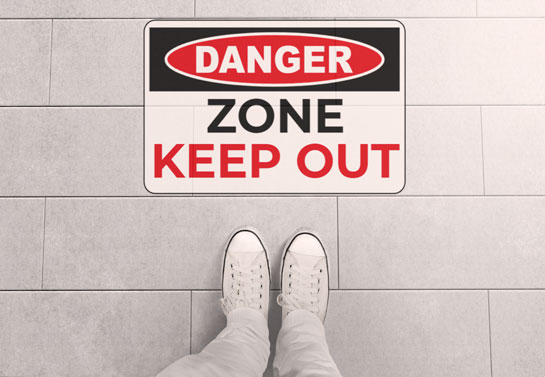 It's essential to warn people about hazards of any kind, especially in the workplace. This will help your employees and customers avoid dangerous situations. Here is an example of how you can do that.
Workplace Floor Decoration Ideas for Marketing Purposes
The way your business looks is your chance to impress your customers. Even if you don't usually have customers at the office, decorations will help you keep the team spirits up. Here are a few ideas for your business interior.
Idea 15. Stress on your brand identity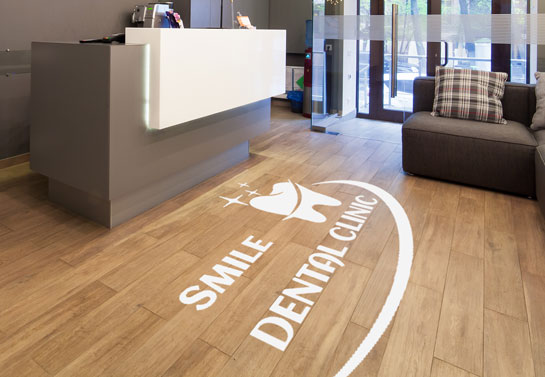 Get a decal of your logo or slogan and attach it to the floor in a place where everyone can see it. This idea will help you brand your business location effectively. It will also turn the empty floor space into a useful advertising platform․
Idea 16. Motivate the team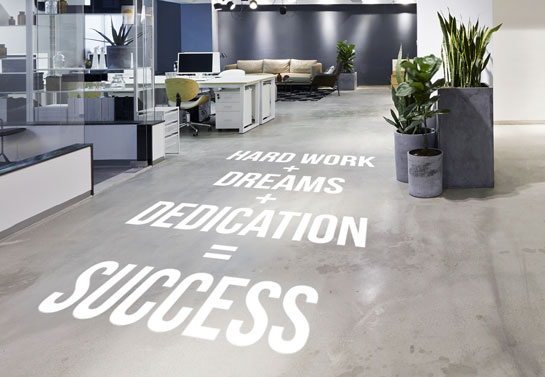 Motivate your team with a quote or two of your shared vision. Reminders of inspiring goals and dreams will help to reduce stress. This will also help you make the space more appealing to customers and add to the strong image of your company.
Idea 17. Use your main product to decorate the floors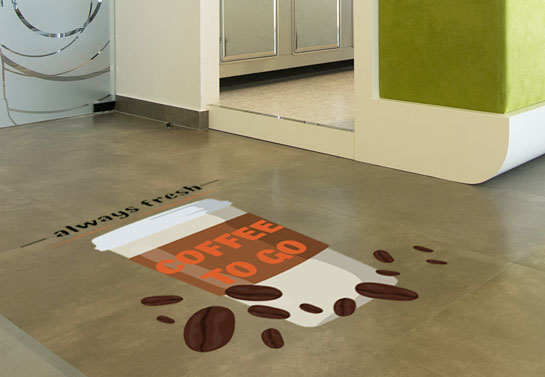 This idea won't work for every company but it's a great one for those in the production sector. You can decorate the floor of your business with a 2D model of your main product. This will boost your sales, add a cool visual element and raise brand awareness.

With these floor decoration ideas you are ready to transform your home or workplace. Head on to our free design tool to create your custom decor and have it delivered to your doorsteps.