Canine grooming is an important service for your furry pals. It's an essential part of every good pet owner's routine. With the help of promotional dog grooming signs, pet salons can present all the services they offer for their four legged clients.
Professional sign printing can help you get pet grooming signs to boost your business. We offer all the necessary products needed for advanced promotions. From aesthetic acrylic signs to resilient window decals, these mediums will help you establish exquisite branding campaigns.
Dog Grooming Decals
Get crafty with the adhesive dog grooming sign solutions presented below. Spread information about your pet care services and promote them with custom signs.
1. Dog Grooming Decals for Storefront Advertising
Outdoor advertisement is the first step in letting customers know about your business. Cover your salon's facade with dog grooming window decals or wall decals. For round-the-clock promotions, backlit decals will be a bright choice.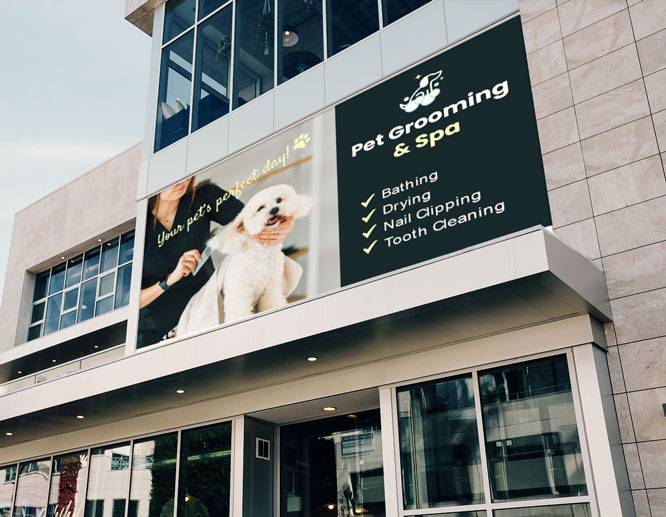 Browse our personalizable pet grooming sign templates. Choose your favorite visuals for creative dog grooming salon window decals or upload your own images.
2. Mobile Dog Grooming Signs
Some of our furry friends dislike visiting pet shops. In such cases, groomers can go over to the customers and groom the fussy dogs at their homes. Mobile dog grooming services are viral nowadays. Why not advertise your mobile business on-the-go with catchy visuals to attract local clients.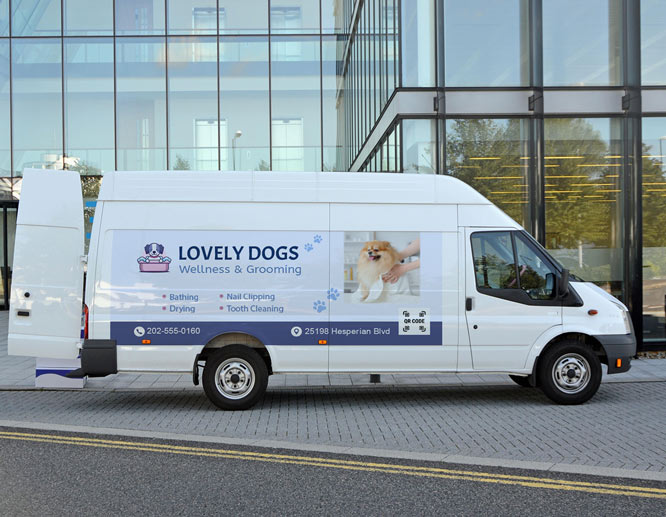 Make use of our sizable car decals to create a striking dog grooming sign. You can wrap your vehicle in full marketing visuals or cover it with smaller stickers.
Dog Grooming Banners
Large pet grooming sign solutions are a must when it comes to big celebrations. Choose an appropriate medium and get artsy with your product design.
3. "Coming Soon" Dog Grooming Banners
Are you starting a dog grooming business and want to pique the curiosity of pet owners? Present your grand opening with large vinyl banners. Let your dog grooming sign vibe up the neighborhood so local pup owners flock to your door.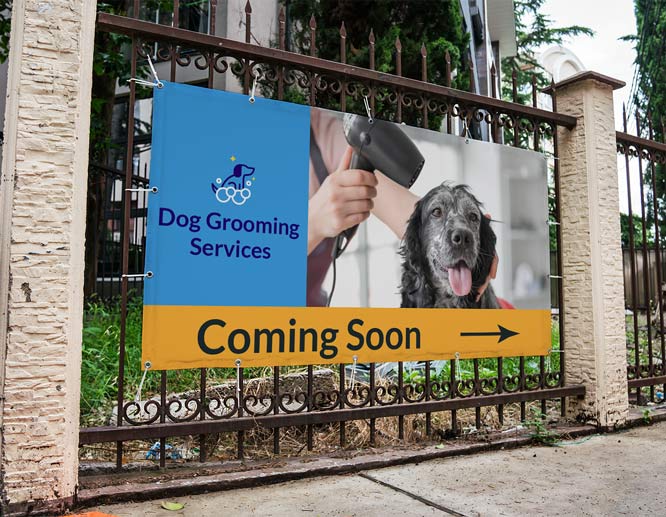 Did you know that often, long-haired pets suffer from infections and disease when they're not periodically groomed?
4. Dog Groomer Appreciation Day Stands
One of the first animals to be domesticated are dogs. They have developed a strong bond with humans spanning centuries. As people started to get more serious about taking care of their canine sidekicks, in-demand specialists like veterinarians and dog groomers became popular.
Now we even celebrate International Groomer Appreciation Day. It's the perfect time to throw a party for your dedicated team. Large party backdrops will take your event to the next level. They'll serve as a wonderful centerpiece and bring people in for photoshoots.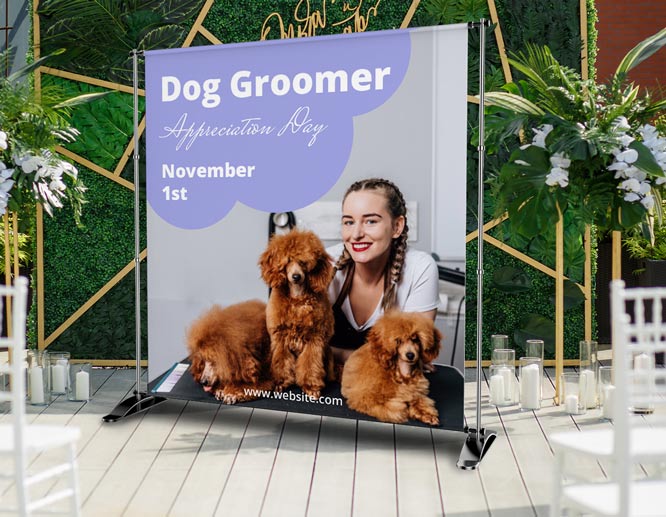 Personalize your product from scratch using our sign design tool. Add texts, illustrations, backgrounds and other features or upload ready-made images.
Funny Dog Grooming Sign Ideas
Dog salons are for bathing and grooming pets but they're also known for having a good sense of humor. They're pros at entertaining the animals and their owners with all kinds of tricks including funny dog grooming signs and custom decorations.
5. Creative Dog Grooming Certificates
Among furry customers, there are those that run and others who enjoy their first wash, fluff dry, nail clipping and beauty procedures. Reward these lovely creatures with "Puppy's First Groom" certificates for their good behavior. Their pet parents will appreciate the gesture. Present the award on quality PVC signs or get them on foam board printing materials.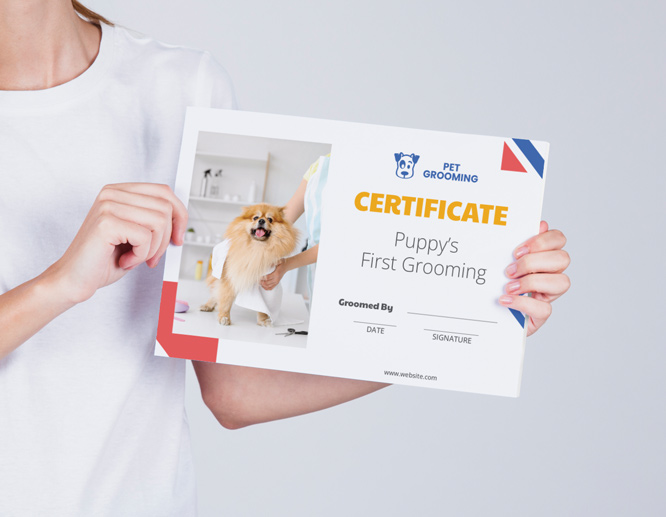 Funny dog grooming signs such as X-stand banners with thematic illustrations are another crowd pleaser. The stand can serve as a small backdrop for fluffy puppies to take photos of their freshly groomed fur.
6. Dog Grooming Signs for Lobby Decoration
Turn your lobby into the focal point of your salon by decorating it with appealing visuals. The image shown below illustrates all dog grooming services in one photo. You can bring it to life with a variety of rigid and soft products. These will level up your reception wall and enhance customer experience - for doggos and humans alike.
Choose from our modifiable sign templates if you're looking for dog grooming sign ideas. Redesign them in minutes to match your vision or upload your own files.