If you're looking for contemporary home office decor that screams fresh and fashionable, you're in the right place. This blog post will give you 10 modern home office decor ideas that will help you turn your workspace into a personal haven.
Your in-home office should be a sanctuary where you can get work done while feeling relaxed. Understanding the basics of contemporary decor will help you achieve just that.
After reading this article, you'll be equipped with home office decor ideas to bring a stylish workspace to life all on your own. Let's get right into it!
Follow these 2020 contemporary home office ideas!
Tip #1: Create a nice backdrop for your video calls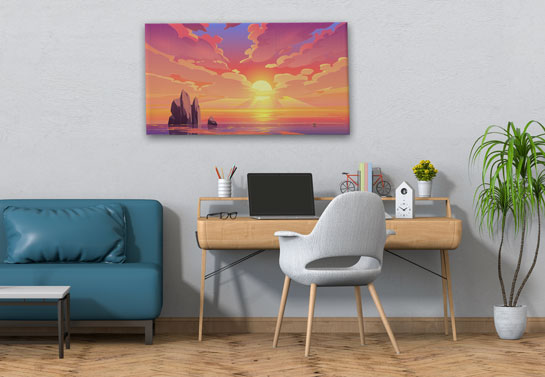 You spend most of your days at your home office so it might as well look nice. Contemporary design favors spaciousness over clutter. Your goal is to make your office look sophisticated with a hint of minimalism.
To add warmth to your home office, decorate your walls with canvas prints or gator board signs. Play by the contemporary decor guidelines and don't go crazy with the design. An abstract or monochromatic print would both be suitable options. These cool home office decoration templates can also do the trick!
Here's a tip: place the artwork behind your chair to have a nice background when you're on video call. Creating aesthetically pleasing backdrops is one of the top home office decor trends for 2020.
Tip #2: Add shelves to your contemporary home office to accentuate horizontal lines
Accentuated lines and geometric shapes define contemporary decor. Think of your home office as a graph paper whose lines are waiting to be revealed. Use shelves to add geometric accents to your trendy home office. The simpler the design, the better.
Floating shelves work wonders since they don't take up too much wall space. Use your shelves to store books but don't overcrowd them. You can leave some room for succulents to add more visual variety.
Tip #3: Let people know you're busy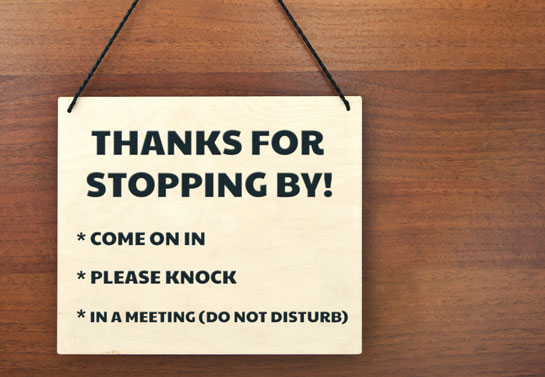 Working from home is ideal if you want to spend more time with your family, but sometimes it can be a burden. Working from home doesn't mean that you're available all the time.
Inform people about your working hours by placing a wooden sign with a chalkboard surface on the door. It can serve as a decorative piece for your contemporary home office. It's also functional as it lets people know when they can come in and when they can't. This door sign is a 'two birds, one stone' solution if you ask me!
Tip #4: Print inspiring words on the wall to get motivated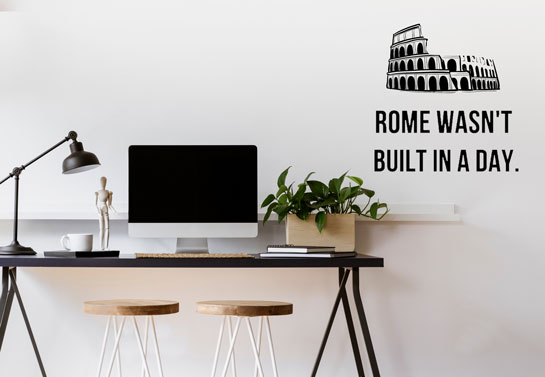 One of our favorite modern home office room decor ideas is placing vinyl lettering stickers on the walls. If there's any quote that motivates you to work harder, why not utilize the empty wall space to display it? This way, you'll have a constant reminder of why you're doing what you're doing.
If your home office is small, keep the quote short and sweet; one sentence will do. If you're working with a large space, you may add lengthier texts to your walls. Additionally, you can hang acrylic photo prints or foam board printing to complement the message you want to convey.
Tip #5: Make your modern home office wall visually captivating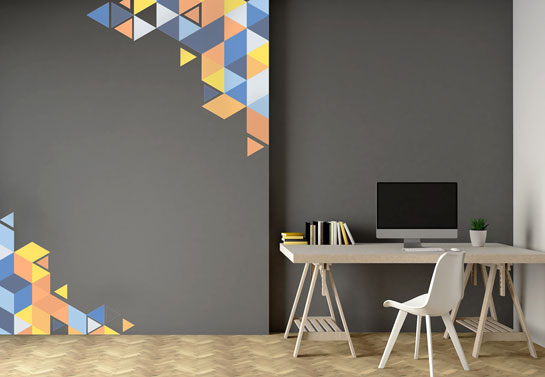 Keep your walls tasteful with wall decals. You can use geometric shapes that complement the contemporary decor aesthetic.
These decals are the perfect solution for decorating your office because they are easy to apply, maintain, and remove. It's one of our favorite contemporary home office decorating ideas.
Get a grasp of the basics of modern home office decor
Tip #6: Embrace lines and geometric shapes
Lines and geometric shapes are essential features in contemporary spaces as they accentuate the interior and don't take up too much space. You can highlight lines in your modern home office with shelves, canvas prints and decals. Notice how the frames and plants have been arranged to create parallelism in this modern home office set-up.
Tip #7: Don't go crazy with the colors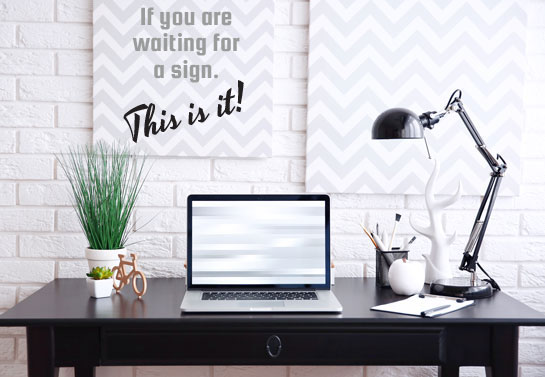 Modern home office decor strives for elegance and open space. Stick with neutral colors or white and black. Play with white and neutral tones to make your home office look more spacious. The use of light colors is a vital component of small modern home office ideas.
If you want to go with black, you need to know that a general rule of thumb is to use bold colors for one accent wall only or else your home office will feel claustrophobic. Avoid painting your wall black if your home office is small. Instead, get yourself black furniture and accent the pieces with smaller decorative elements like custom acrylic signs or pvc printing. If you are more into rustic home offices, check out this article.
Tip #8: Go with a subtle floor
In modern home offices, floors should be simple and refined. Wood and tile work very well as they don't grab too much attention. Should you want to add a carpet, either choose one with a minimalist pattern or a plain one with interesting texture. It'll usher a sense of luxury into your home office.
Tip #9: Choose the right type of lighting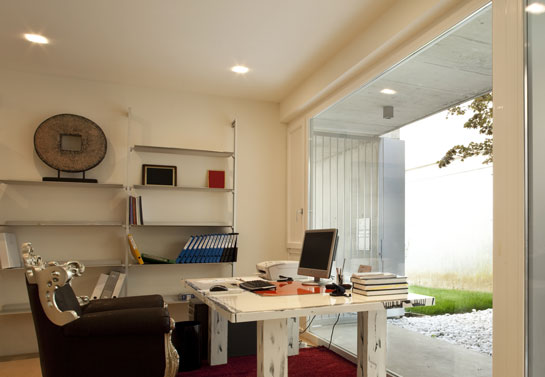 Recessed lights are installed into an opening in the ceiling. They work best in contemporary home offices because they are subtle and make the ceilings look smooth and sleek. You can choose to go with a plain fixture or one that matches your furniture.
Since recessed lights don't cast a wide area of illumination, you will need to arrange several of them to ensure adequate brightness. Remember to place a few above your desk to see better in the evening.
Tip #10: Invite nature to your home office
Keeping an indoor plant is all the rage and for excellent reasons. Not only do plants improve air quality but they also invite nature into your home.
Considering that a contemporary home office mostly consists of neutral tones, an indoor plant will add a much-needed color splash without violating the aforementioned design fundamentals.
Get a succulent if you want to add a touch of life to your desk or a snake plant if you prefer something bigger.
Remote work is getting more popular and we can see why. It offers a work-life balance and it also allows you to work in an environment that best suits you. Give your home office a contemporary makeover to encourage productivity. Use our sign design tool to personalize your home office to the max! There's nothing like calm colors and graceful design elements to get you in the mood for a successful workday.