It's time to think about all the blessings that we have, be thankful and... well, eat turkey. Thanksgiving is one of the most popular holidays in the United States and we all love getting ready for it. 
As most businesses are closed for the holiday, these closed for Thanksgiving signs are must-haves. As a bonus, you'll also find open for Thanksgiving Day sign examples just in case you change your mind. You can create and order yours with just a few clicks via our design tool.
Business Closed for Thanksgiving Signs
Businesses, like people, need to be prepared for holidays too. We've already covered the full collection of signs for a thrilling celebration for Halloween. It's time for Thanksgiving business signs!
While you can always use a standard closed note, we offer custom Thanksgiving closed signs for businesses and organizations. Below, find specific signage for each type of business. Scroll down for even more signs if your business doesn't belong to the mentioned spheres. From window decals to hanging signs, we have all the options you may need for a "we will be closed on Thanksgiving" sign. 
Office Closed for Thanksgiving Sign
An "office will be closed for Thanksgiving" sign should be a mixture of elegance, creativity and holiday warmth. Funny turkey-shaped signs may not be exactly what you need. Instead, you can use an autumn-themed design for your office closed for Thanksgiving sign featuring holiday symbols like pumpkins. Take a look at the one we have below. PVC signs are your ideal choice for a hanging office closed for Thanksgiving door sign.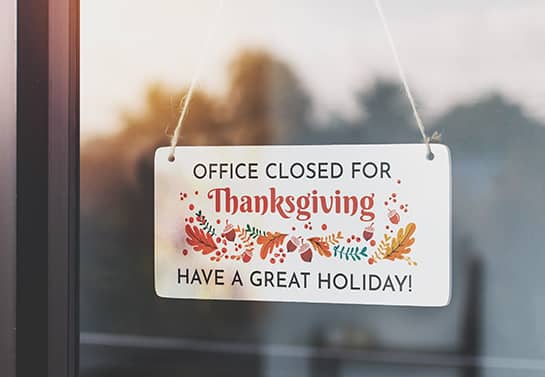 Did you know that Sarah Josepha Hale is known as the mother of Thanksgiving? She lobbied state and federal officials to make the day a national holiday.
Restaurant Closed for Thanksgiving Sign
When it comes to restaurants, make it even funnier than a formal office closed for Thanksgiving sign. Food-themed graphics are a winner in this case. A hilarious quote will spice up the design. You can also ask customers to contact you for a cool turkey recipe or anything else. If you're looking for a long-term solution, choose static clings to easily store and reuse your sign.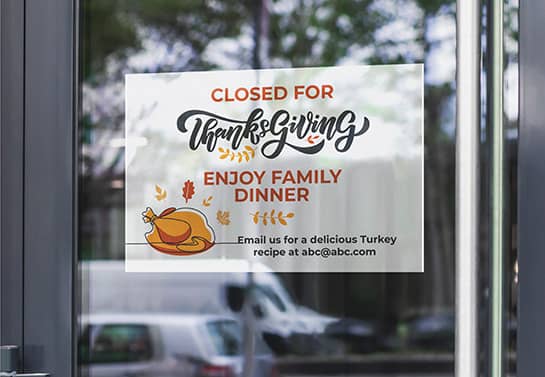 Store Closed for Thanksgiving Sign 
You have the option to use the closed for Thanksgiving sign for promotional purposes as well. Black Friday falls on the next day of Thanksgiving, so it'll be a great idea to kill two birds with one stone. A combination of both the store closed for Thanksgiving sign and the Black Friday promotional graphics is your best choice for this purpose. Get a display to remind people about the biggest shopping event of the year. As for the Thanksgiving store closed sign, you can use vinyl banners with different constructions and mounting options. Larger retractable banners will provide space for mixed signage to capture more attention. Lightweight sandwich boards are another effective tool for communicating your announcement to the passersby.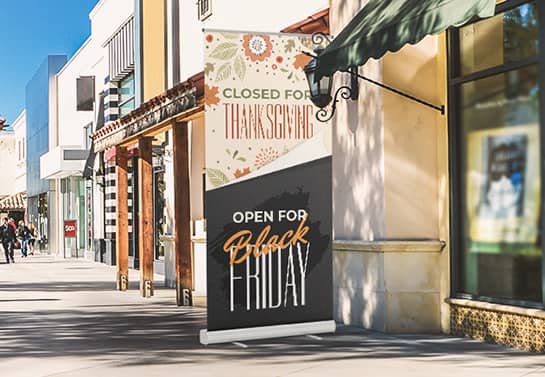 Get more Thanksgiving banner examples for a warm celebration.
Thanksgiving Closed Signs Applicable for all Businesses
If your business doesn't fall in the above categories, we have you covered in this section. Take a look at these business closed for Thanksgiving sign examples and choose the one you like most. 
Happy Thanksgiving Closed Sign
Whether you're looking for a store closed for Thanksgiving sign or for any other business type, you can go with this one. Wish a happy Thanksgiving and add a short note regarding holiday business hours. This Thanksgiving Day closed sign will work for any type of organization.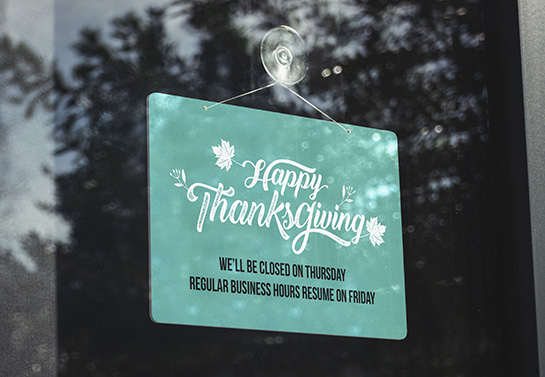 We have more Thanksgiving signs for you to choose from. Select your favorite and order via our design tool.
Turkey-Shaped Thanksgiving Day Closed Sign
You don't always need to specify the reason your organization is closed with just a text. A turkey shape is a good hint, isn't it? Get this minimalistic Thanksgiving Day closed sign for a creative announcement.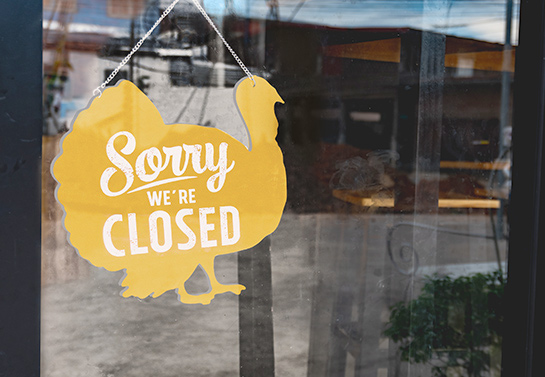 Go to our design tool and easily create your own closed for Thanksgiving signs. We have a huge range of ready-made templates you can use for your signs at no extra charge. You can also use the available elements, backgrounds and upload your own images to create your design from scratch.
Bonus: Open For Thanksgiving Day Signs
Did you choose to work on the holiday? If so, then you certainly need an open for Thanksgiving Day sign. Since most businesses are closed for the holiday, people may think yours is closed as well. Let customers know they're part of your big family and you want to celebrate with them by keeping your business open on Thanksgiving Day!
Open for Thanksgiving Sign
Use signage to inform customers that you're open for the holiday. Thematic designs and easy-to-read captions are sure to capture attention. Go for foam board signs or gator board printing to hang on your door. The materials are lightweight and work well for displaying vivid graphics.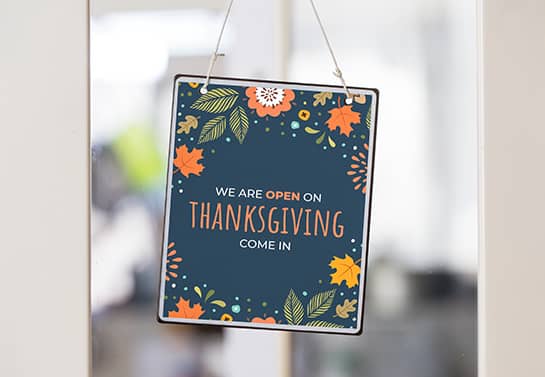 Check out our Thanksgiving sign templates that can be fully customized through our tool. 
Thanksgiving Hours Sign
Even if your business is open, your operation hours may change for the holiday. Use a Thanksgiving hours sign to showcase this information to your customers. Make it more eye-catching by adding thematic design elements. Vinyl lettering is a good option for this purpose. It's easy to apply and remove once not needed anymore.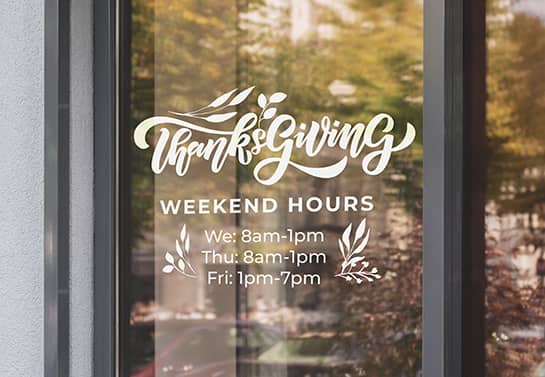 All of the above-mentioned signs are easy to make with our free design tool. Click on the images to see the respective templates. You can also create your closed for Thanksgiving sign from scratch with the powerful features of our tool.
Have a meaningful Thanksgiving Day!