If you're looking for decor ideas that will achieve a sense of sophistication, look no further. The traditional workspace of your dreams is only a few classy home office ideas away.
Common elements found in traditional home offices are bookshelves, wooden desks and timeless works of art. You also can't go wrong with a comfortable reading chair placed by the window or the fireplace.
Check out these 10 traditional home office decorating ideas to easily decorate a posh workspace right at home.
Explore these traditional home office decorating ideas
Tip #1: Hang an office sign on the door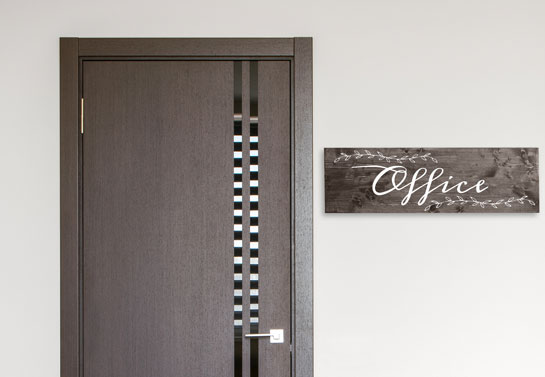 If you're running a home-based business and have clients coming over regularly, consider placing an office sign on or near the door. Hang wooden signs, pvc signs or aluminum signs to help visitors find your office without confusion. Also, make sure your office is on the first floor or near the entrance hall to protect the privacy of your home.
Tip #2: Decorate your walls with impressive art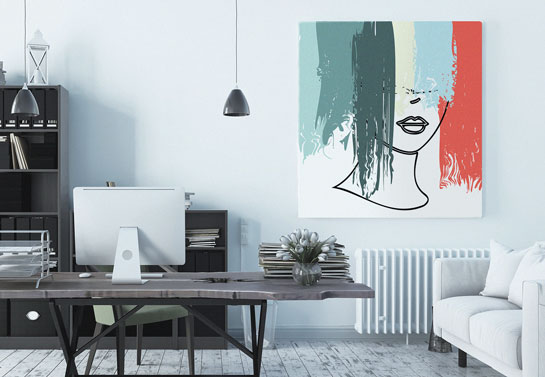 Elegant home offices are characterized by high-end furniture and impressive artwork. Distinguish your walls with mesmerizing canvas prints or gator board printing. If you so wish, show your visitors that you're in vogue by featuring works by contemporary artists.
To take it a step further, consider using our intuitive design tool to customize your own illustrations. Make sure to add this option to your list of home office decor tips.
Tip #3: Print patterns on the walls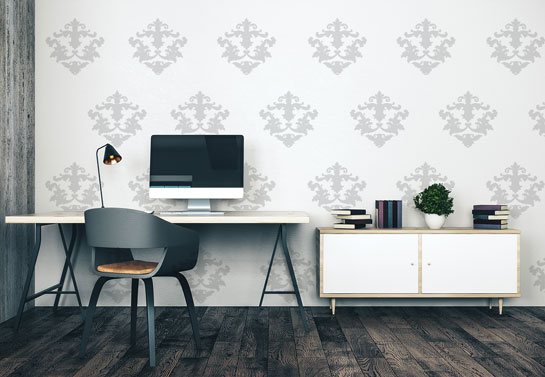 Don't be hesitant to adorn your home office with floral wall decals. Well-thought-out decorative motifs can breathe life onto dreary walls.
Since decals are easy to apply and remove, you can give your home office a quick makeover whenever you feel like it. This idea will bestow a sense of luxury to your traditional home office.
Related: A Quick Tour of Fundamental Home Office Decor Ideas.
Tip #4: Frame pressed flowers to admire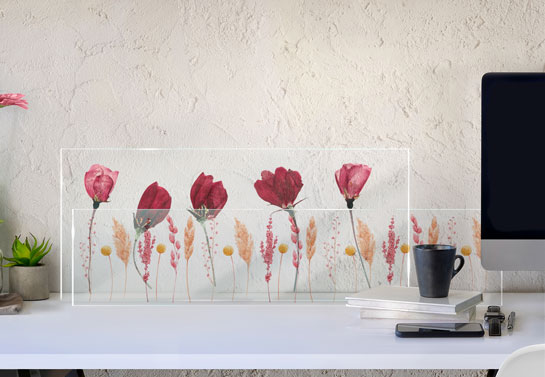 There's an endless list of classy home office ideas for decorating your ideal space. Instead of fresh flowers, go with a longer lasting original by placing pressed flower acrylic signs on your desk.
Nothing beats the blush tones and romantic feel of dried flowers. They will usher elegance and allure into the office. Give the frames a brass finish to elevate their appeal.
Consider these elegant home office decorating ideas
Tip #5: Use an antique armoire for storage
Keep the interior decor chic with a vintage armoire for storing your files. Antiques establish a time-honored element that every traditional home office needs. Refurbish the armoire to match the style and color scheme of your elegant home office decor.
Tip #6: Refine your home office with a classic bookshelf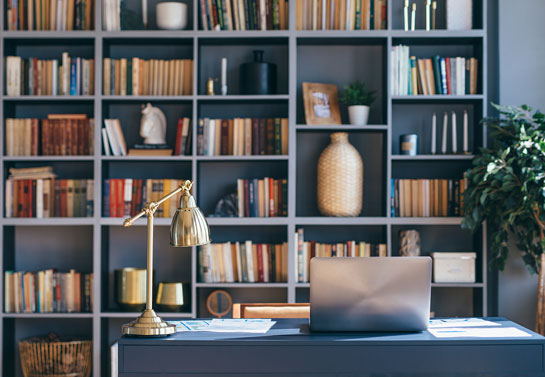 Your traditional home office decor won't be complete without a classic bookshelf. It's an enduring piece of furniture reminiscent of a beloved old library. Fill up the bookshelves with your favorite titles. Immerse yourself into a book while relaxing in a lounge chair.
Transform your home office into a scene from tales immemorial by adding a ladder near the bookcase. These home office library decorating ideas will enchant your traditional home office decor.
Tip #7: Adorn your elegant home office decor with picture frame molding
You can instantly upgrade your home office decor with picture frame molding to accentuate your walls. The architecture of your home office will look instantly more cultured and exquisite. Contemplate using the molding as the framework for arranging actual canvas pieces.
Tip #8: Achieve elegance with a leather chair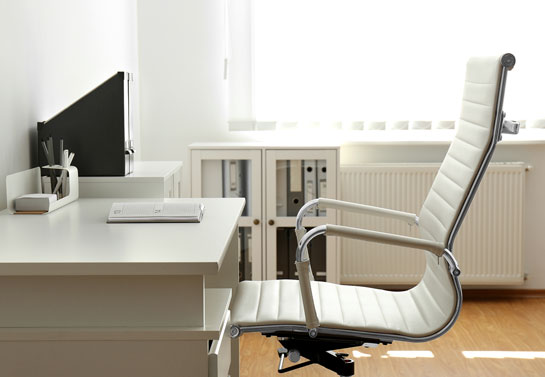 Plastic chairs have no place in a traditional home office. You're obliged to get a leather chair or a fabric armchair to perfect an elegant stylistic approach. Add these quintessential tips to your list of traditional home office decorating ideas.
Tip #9: Accessorize with traditional home office decor
Don't be afraid to load your office with interesting accessories such as lamps, rugs and a window seat. Go bold but remain cultivated with the colors and designs. Always remember to maintain a good balance so as not to overwhelm the decor.
Tip #10: Add an ornate writing desk as the final touch to your elegant home office decor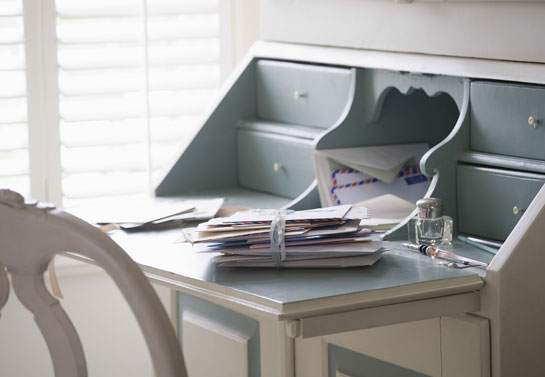 You can go baroque all you want while decorating a traditional home office. Adorn your decor with a traditional writing desk. These are not only magnificent but also practical as they have many drawers. Consider protecting your desk with a glass cover.
We've highlighted all you need to know about decorating traditional home offices. Integrate some or all of these elegant home office decorating ideas to elevate the design of your workspace. Now that you know the most striking home office library decorating ideas, it's time to bring them to life! Check out these home office decoration templates for even more inspiration.