If you are looking for business window decal and decor ideas then you know how important they are. Window decals and accents are your chance to allure and make a good first impression.
Here is a collection of window decoration ideas for stores, service vehicles, corporate offices and other types of business for 2020.
Business Window Decorating Ideas
You may have various goals in mind when thinking about decorating your windows. At the end of the day, the underlying purpose is to give your business a boost. These decoration ideas will generate attention and enrich your windows simultaneously.
Product or Service Displays
One way or another, you need to showcase what your business is all about. In all practicality, you may not be able to display the real life products or services you provide. Yet, you can always go with graphics that feature them. Here are two examples of what that will look like.
Idea 1. Feature Your Main Products
Are you serving the tastiest coffee in town? Or maybe you sell extraordinary hats? The passersby should be aware of your best products. You can choose a number of styles such as silhouette graphics or go full-color. Here is an example for a shoe-shop.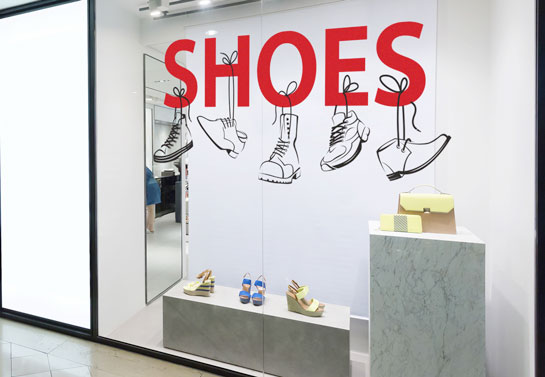 Idea 2. Showcase Your Services
Among a range of business window decal ideas, artistically displaying your services is one of the most effective. In this case, I'd advise you to emphasize the feeling of satisfaction your customers will achieve through your offer. What do you think of this nice example for a cafe?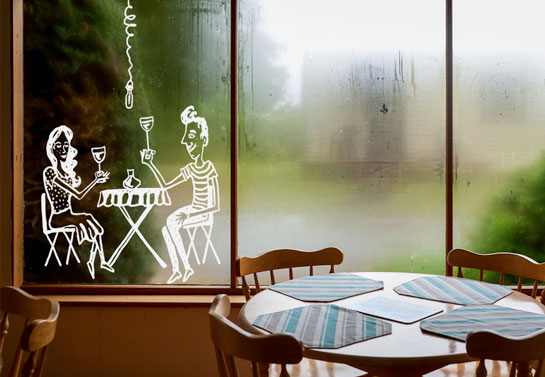 Office and Store Window Decorating Ideas for Each Season
Each season brings with it a unique mood. Your business windows should be decorated in the same spirit. Coming up, I've got examples for the whole year ahead.
Idea 3. Blossom With Spring
Spring comes forth with a burst of flowers. When it's not an easy or cheap task to use natural flowers, go with adhesive decors instead! Choose the colors and types that suit your brand best and use them to beautify your storefront.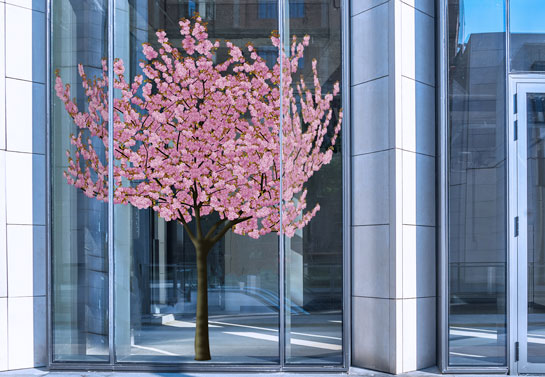 Idea 4. Have Fun With Summer
Summer is all about fun so your brand should evoke it as long as you want to keep your customers happy. Here is an example of how to decorate a shop window for summer. You can use this idea for any business!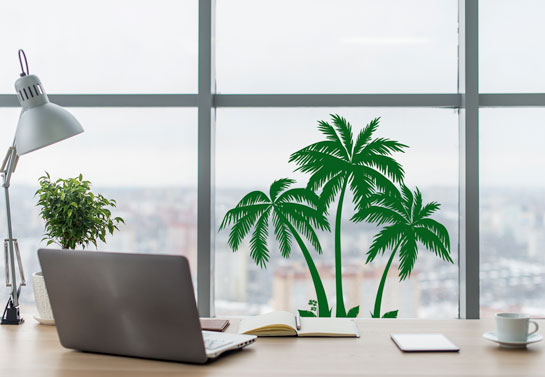 Idea 5. Get Romantic With Autumn
Fall comes with romance… and decorations! Keep up with the spirit of autumn with window graphic ideas of falling red and gold leaves, rainy weather and all the festivities related to the season. Get inspired by this example!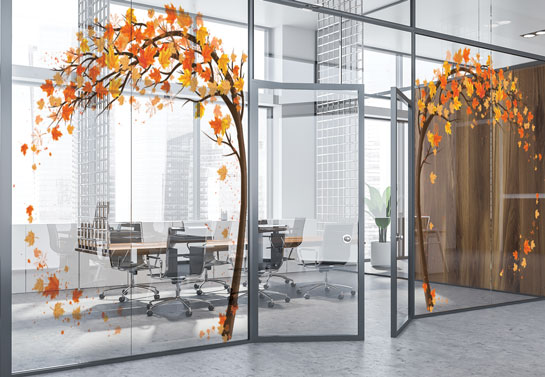 Idea 6. Celebrate With Winter
The most wonderful time of the year is also the busiest time for customers. Make them feel that you are in a celebratory mood as well so they feel welcomed. Here is an example of how to decorate a storefront to warm up the cold days and invite freezing customers into your store.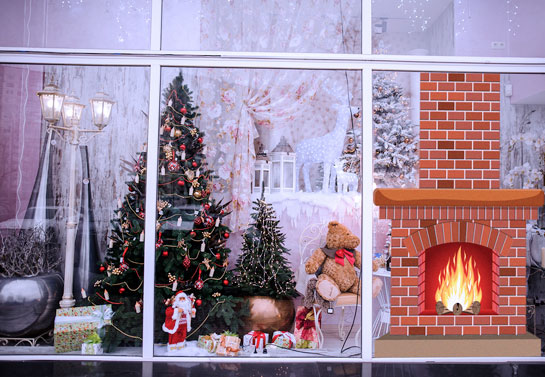 Read our article on Holiday Window Decorating Ideas to discover cool design tips for the holidays.
Business Window Decal Ideas to Highlight Brand Identity
Would you ever confuse the CocaCola logo with something else? Not likely. This is the result of strong marketing strategies which includes placing their logo everywhere! The windows of your business location are a great start to getting exposure for your brand image. Business window decorating is an effective marketing technique for modernizing your business this year. Here are store and office window decor ideas that will get you recognized.
Idea 7. Showcase Your Logo
A good logo deserves to be in a visible place. It should be displayed on your windows along with other graphics. Not only will it decorate your windows but also be a great marketing tool to help customers take notice of you. To bring this idea to life, upload your logo to our design tool, select the medium, size, color, elements, and customize anything else you like. Once you're done, order on the spot.
Get your design inspirations from a logo maker in case you don't have a logo yet.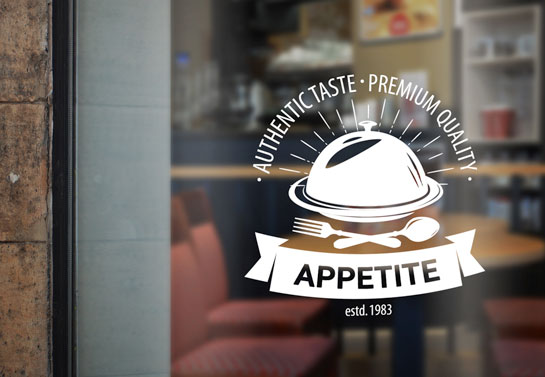 Idea 8. Print Your Brand Name and Slogan
Your logo doesn't always fully represent what your company is about. Especially if you are a new business owner, you should consider getting your brand name and slogan printed along with it and apply it to your windows.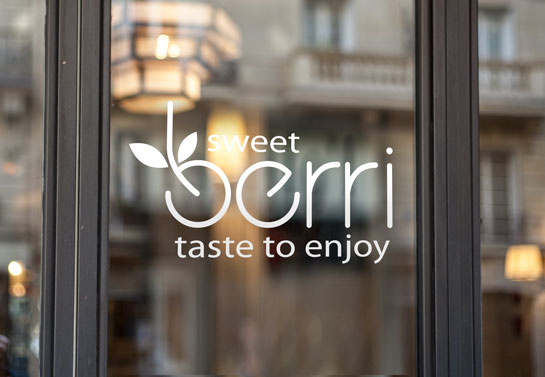 Read our article on Window Decorating Ideas for awesome ways you can use them for your home, car and elsewhere!
Funny Welcome Ideas for Decorating Store Windows
Your store windows should be as welcoming as possible while remaining tasteful. Adhesive decors are very handy in this case and look attractive, too. Here are examples of funny quotes for the windows or doors of your business location that your customers will love.
Idea 9. Let Customers Know You Are Awesome
When it comes to captivating the passersby, vinyl lettering is a great choice. It doesn't look like an ordinary sign and comes off much more classy. The font, color and size should be made to embellish the image of your brand. Here is an example.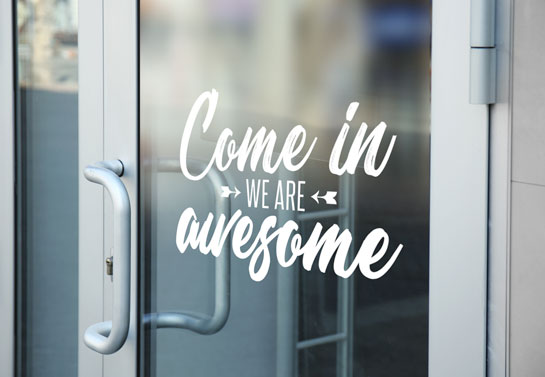 Idea 10. Welcome With a Funny Quote
As you may need to change the placement of your welcome sign from time to time, static clings are a great solution. A funny quote like in the example shown will make an ideal greeting. It will make customers remember you so that they come back as soon as they're in need of your products or services.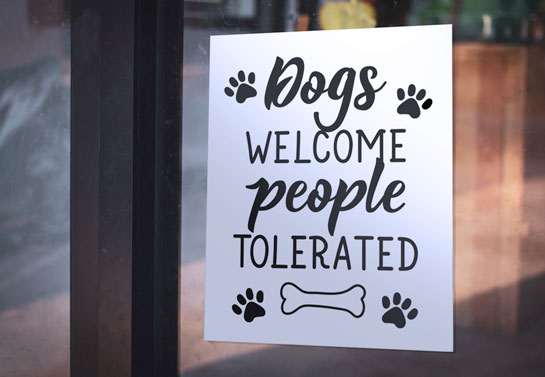 Do you have another quote in mind? Create it online with the help of our design tool and enjoy the perfect results. The user-friendly interface will give you a wide variety of backgrounds, fonts, colors and elements to choose from.
Decor Ideas to Showcase Sales and Promotions
Do you have a seasonal sale coming up? Do you need to spread the word about promotions? Do it right with these artistic window decoration ideas for stores.
Idea 11. Announce New Arrivals
People are always curious about novelties. Be it a new product, collections or maybe an addition to the services you offer, you should feature it on your windows. The design may be related to a season, holiday or be a plain notice about the new things you're offering. Here is an example.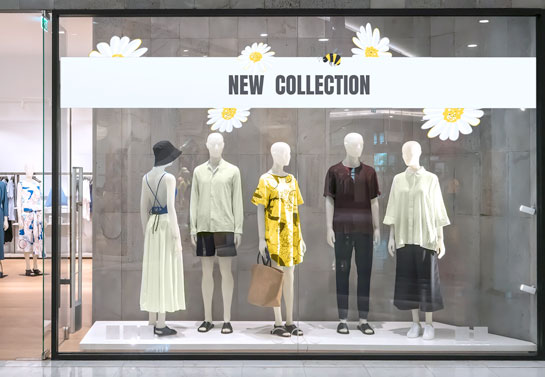 Idea 12. Highlight Sales and Specials
Sales and special offers drive a lot of foot traffic into stores. People who never had an intention of buying your products or using your services may come in if they see that there's a sale going on. This is why it's important to have them displayed in a visible area. Choose a design that's suitable for decorating and promoting your brand at the same time.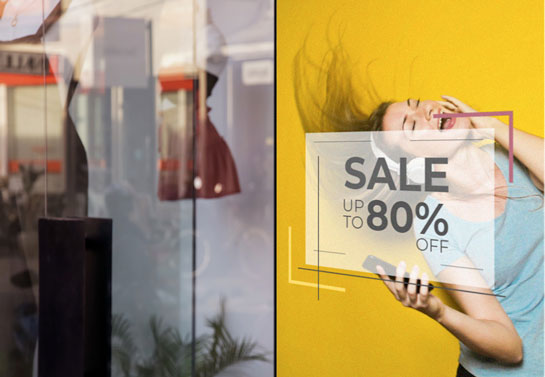 Window Graphic Ideas to Create Privacy in an Artistic Way
Sometimes you need to decorate your windows in a way that can also give you privacy. This is especially true when it comes to office window decor ideas. The following suggestions are ideal for those who need seclusion and natural light at the same time.
Idea 13. Create Geometric Shapes
Frosted window decals are perfect when it comes to your peace of mind. To make them look interesting, you can have them cut into geometric shapes and apply them together in a way that will create a pattern. Here is a hexagon-inspired example.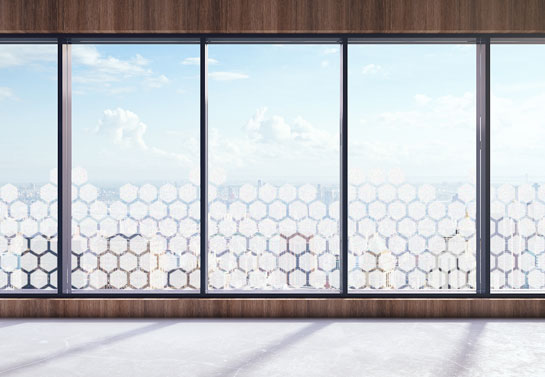 Idea 14. Use Large Window Graphics
Get visibility from one side with perforated window decals that have specially printed graphics to create this effect. Showcase your products, services, designs or anything else you need on your windows. Enjoy the one-way visibility from the inside.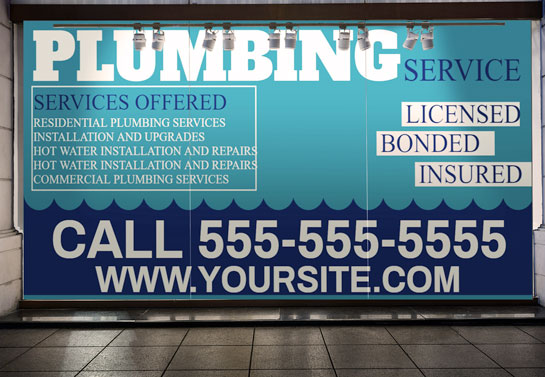 Bring these cool ideas to life with the help of our designer decoration templates. Customize your visuals and order them right away.
Bonus Business Window Decorating Tips and Highlights
Choosing the right concept for window decor is not always enough. Here are effective tips and important pointers to help you get the most out of the business window decorating ideas described above.
Tip 1. Remember That Lighting Is Key
However beautifully you decorate the windows of your store or office, they need the correct lighting to look their best. Consider this in relation to the time of day and your indoor lighting fixtures. Also, since the vinyls create a translucent shade effect, study how each color refraction can influence people's mood before making a choice.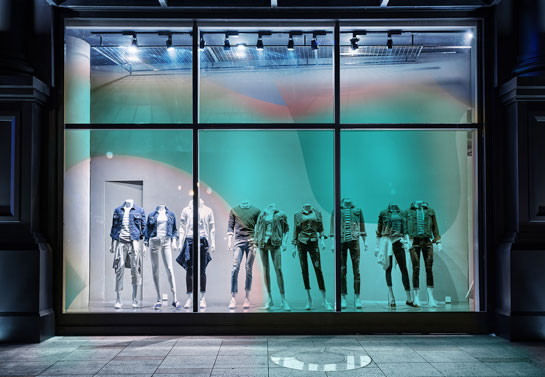 Tip 2. Keep Things Simple and Clean
Although you may want to apply a range of the ideas mentioned above, make sure they are all consistent with one another. Otherwise, your windows will look harsh and not as stylish as they should.
Tip 3. Change the Storefront Frequently
Make sure you refresh the look of your windows regularly but not too often. Find the golden mean so that people get neither confused nor bored.