What the world really needs is more love and romance. This article is about beautiful things for the people you love! You and your loved ones (pets included) deserve a real makeover for the romantic holiday. They're a must-have along with gifts, dinner or a party with friends. 
Let's go on a journey around the house to decorate every corner with Valentine's day room decoration ideas. 
What the world really needs is more love and romance. This article is about beautiful Valentine's day decoration ideas that will bring joy to the people you love! You and your loved ones (pets included) deserve a real treat for the romantic holiday. Valentine's day decoration ideas are a must-have along with gifts, dinner or a party with friends.
Let's go on a journey around the house to see how sign printing can help with Valentine's day room decoration ideas in 2023.
Valentine Decoration Ideas to Set the Mood in Your Home
Here's a fun fact for you to get into the right mood before taking a look at Valentine's day decoration ideas. The Catholic Church recognizes at least three different saints named Valentine and I think you'll enjoy their stories.
Valentine's Day Decoration Ideas for Walls
Big, empty walls are perfect for large custom signs. Be they acrylic signs or images, large decorative pieces can change the whole atmosphere of any room. This is your chance to establish a nice environment of love and excitement. I have four exciting Valentine's day room decoration ideas for decorating your walls this year.
Idea 1. Create a Memory Wall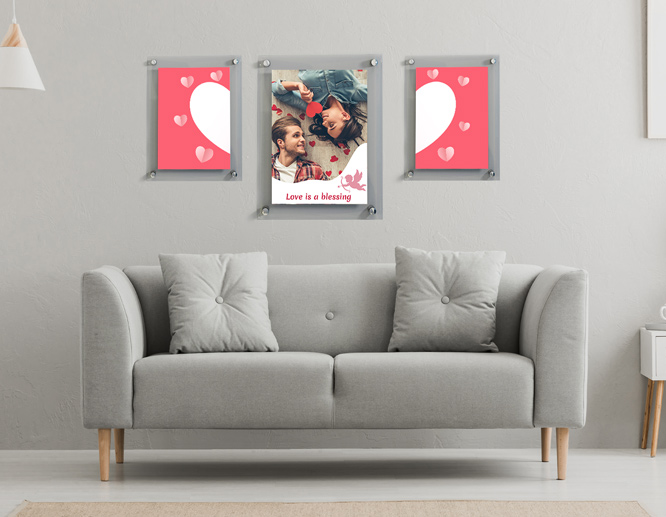 A simple photo can bring back all sorts of warm and fuzzy feelings. Create a wall of "sweet memories" with acrylic photo prints to display your happiest moments. Hang them up in a cool arrangement. You can also establish a statement wall with your favorite quotes or even names in a frame. The more sweet details you add, the better. Btw, according to Time Magazine, "On average, 220,000 wedding proposals are made each Valentine's Day." Maybe it's your time.
If you get that proposal, come back to read our article on How to Make Your Own Wedding Signs!
Idea 2. Create Your Own Art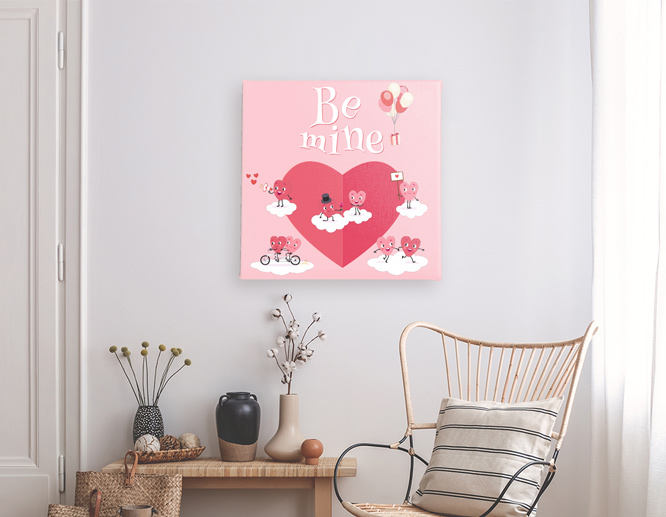 The Valentine's day decoration idea I described above is one of my favorites but the downside is that you have to make a lot of holes to hang all those frames. This is where prominent custom canvas prints act like a nice alternative to a photo gallery. Choose one of your favorite pics, a work of art, a quote or anything else. This way you can decorate the wall of your room on a more permanent basis.
Idea 3. Give the Walls a Makeover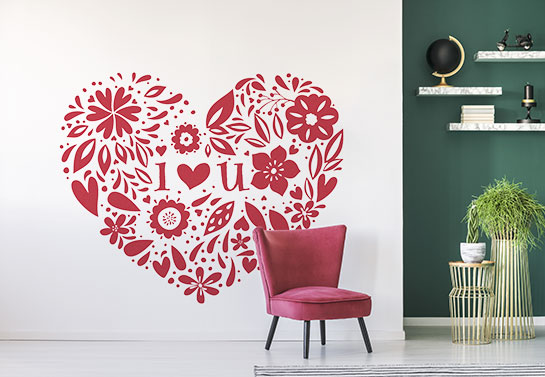 Are you up for a real makeover? Cover the whole wall or a part of it with large thematic wall art decals. These custom wall decals will display stylish visuals without the need to worry about drilling holes or ruining the paint. These well-thought-out romantic room decoration ideas depicted on living room wall decals can serve even after  the holiday is over.
Idea 4. Include Line Drawing Art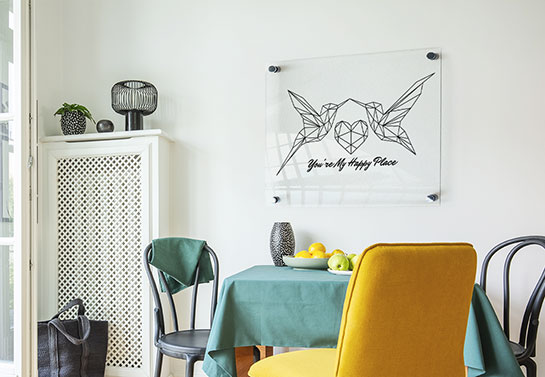 You might have the misconception that Valentine's day decoration ideas are only about hearts and flowers in red and rose. I think they're about the feel of love in the air, however that may look. Explore different wall art ideas to find nice decor that will beautify your space after the holiday, too. This image of adoring birds is a good example. It will make a cool Valentine gift, won't it?
Check out our Valentine templates and use them for free on our design tool to order your own decorations.
Idea 5. Create a Warm Welcome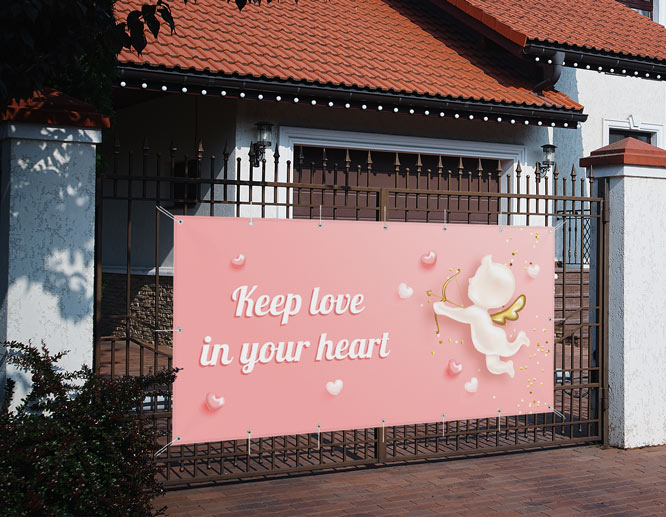 Want to surprise your loved ones with unusual valentine decoration ideas? Set up a romantic mood right at the doorstep. Custom vinyl banners with themed illustrations will be nice welcoming decor on your fence. In case this is not a practical option for you, decorate your front door with personalized party banners. Radiating warmth and love, such valentine door decoration ideas will surely sweep your loved ones off their feet.
Valentine Decoration Ideas for the Mantel/Shelf
Shelves are useful for more than just everyday decor and knick-knacks. There are tons of Valentine's day decoration ideas for the mantelpiece of your living area. Here are some ideas which are going to become your favorites.
Idea 6. Create a Cozy Atmosphere With Natural Items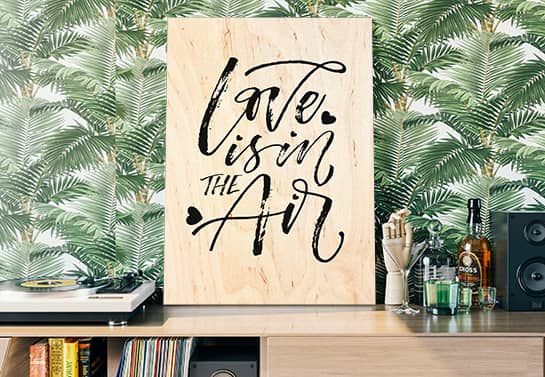 Small, pretty wooden signs always look stunning on shelves. Your favorite quote or design printed on a wooden board will give your shelves the charm they're missing.
You can go with metal photo prints as an alternative option.
Idea 7. Pick Vintage Decorations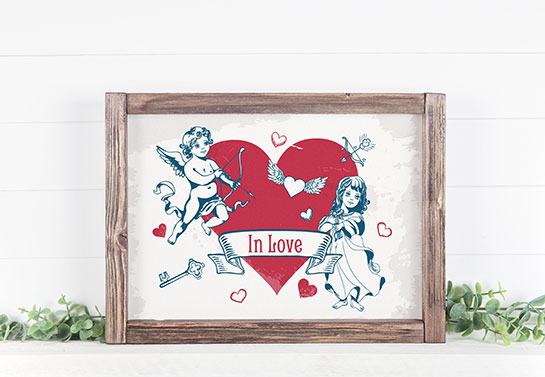 Vintage images can also be printed on a wooden board to give your shelves a retro look. They'll add an air of sweet nostalgia and you can even leave them on the shelves after the holiday is over. If you're more in favor of modern Valentine's day room decoration ideas, other materials will be just as perfect.
Idea 8. Feature the Love Tree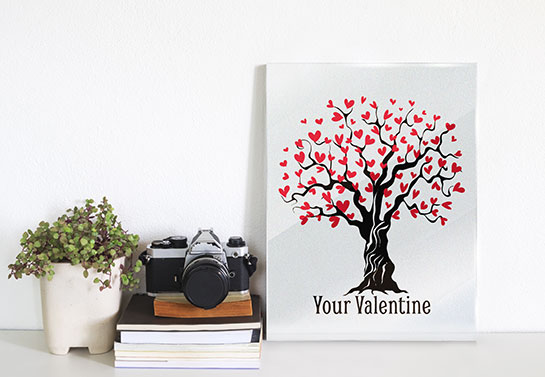 A Valentine tree decor will be a great complementary element to other Valentine decoration ideas. There are beautiful designs with different colors and styles depending on the overall theme you're aiming for. Here is one you'll love printed also on acrylic.
Idea 9. Use Unique Garlands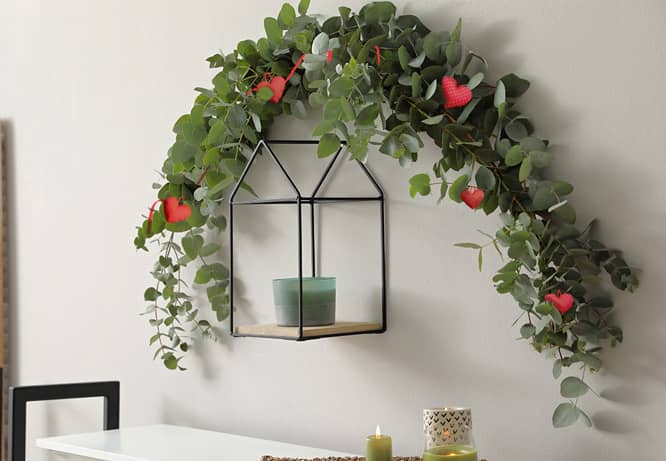 You should also consider decorating the edges of your shelves or mantel when thinking about Valentine's day room decoration ideas. Just make sure you go with an exquisite garland. There are so many creative options out there. Put in the effort to find one that will amaze your special guest.
Valentine Door Decoration Ideas
As they say, there's no substitute for a good first impression. That's why you should be selective when it comes to valentine door decoration ideas.
Idea 10. Use Short Quotes for the Doors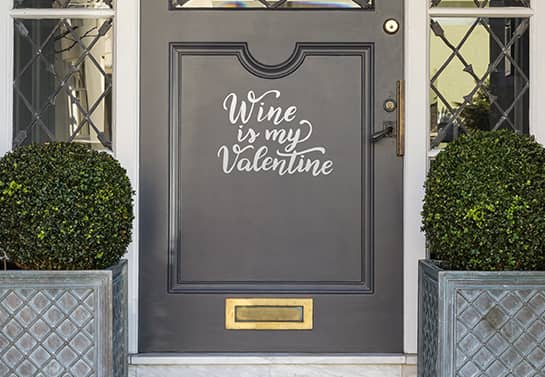 Using vinyl lettering gives you full freedom to come up with personal Valentine door decoration ideas. You can have any quote written with a custom design to greet your special guest(s). The adhesives are easy to apply and take off without damaging the door. They won't cost you a fortune, either. Here's one of the Valentine's day decoration ideas to inspire you.
Idea 11. Get "Welcome Home" Decoration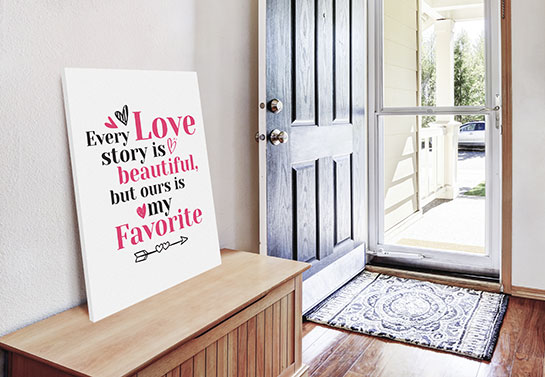 A classy piece of decor can be placed near the door to welcome guests. You won't have to stick or hang anything. With gator board printing and foam board printing, you can reuse the decorative item next year or even in other areas around your house. It will complement other Valentine's day decoration ideas and it'll stay in style. Here's one you'll like.
Idea 12. Hang "Welcome" Decor Items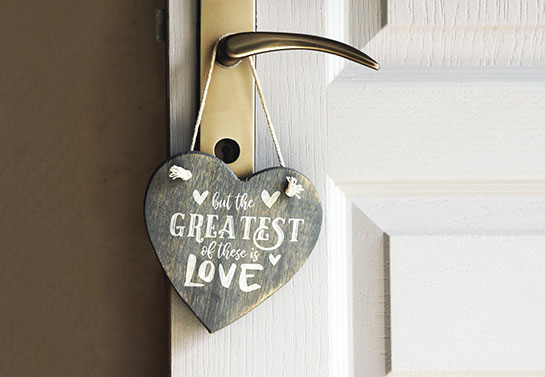 A Valentine's Day hanging decor piece is another nice option for the door. Such Valentine decoration ideas give you a chance to experiment with the design. Choose the traditional heart shape or get creative with its customization. The decor can also contain the name of your beloved or your favorite quote.
Idea 13. Don't Forget About the Doormat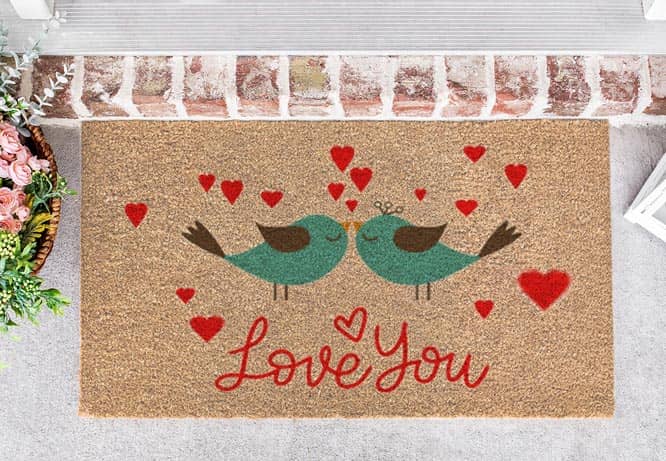 While this isn't a main element of a Valentine's day room decoration idea, it will surely tie the theme together. Small elements that match your overall style can add a nice touch here and there.
Valentine Table Decoration Ideas
Romantic decorating ideas for Valentine's day aren't limited to large decor items.Supplement your Valentine backdrop ideas with table decorations. Delicious food and fine wine are a good start but the presentation is just as important. Simple flower decorations are always welcome but I have other ideas to give your dinner table a sparkling look.
Idea 14. Use Place Cards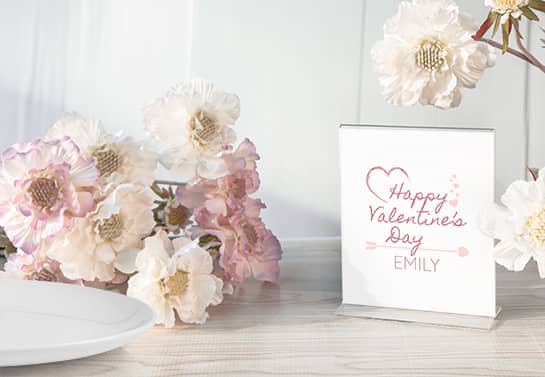 Are you throwing a party and want to have everyone seated in the right places? I have a Valentine table decoration idea that will do the trick and become a cute keepsake, too! A place card made of acrylic is one of the cutest romantic decorating ideas for valentine's day. Have "Happy Valentine's Day" printed onto it along with the name of your guest. Each item should be placed where you want that person to sit. This is a great way to break the ice and kick off a memorable Valentine's party.
Idea 15. Get Creative With Napkin Folding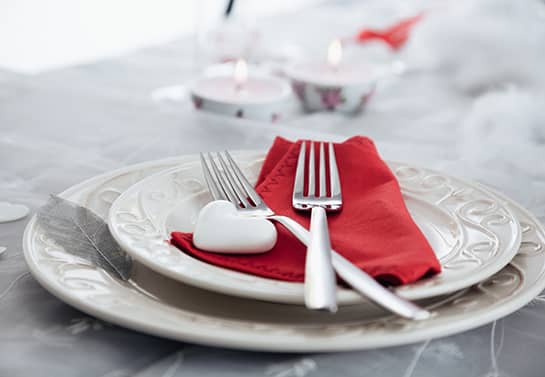 There are hundreds of ways to fold a napkin for each holiday and Valentine's is no exception. Such Valentine table decoration ideas will amaze your guests with their details.
Idea 16. Place Candles for Illumination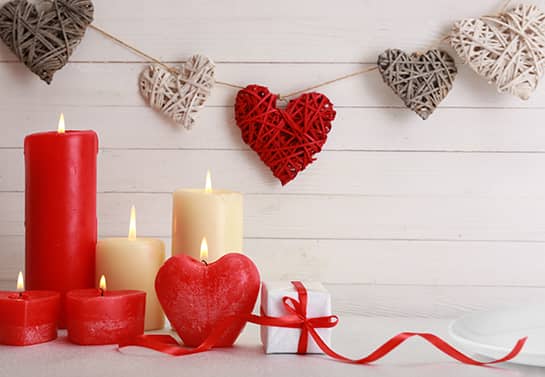 Candles are a must when it comes to Valentine centerpiece ideas for a romantic dinner. You can choose any color and shape you want. Put them in the center of the table for even lighting. The good thing is that you can couple candles with other ornaments like little gift boxes. This is what a nice setting will look like.
Idea 17. Get a Thematic Table Runner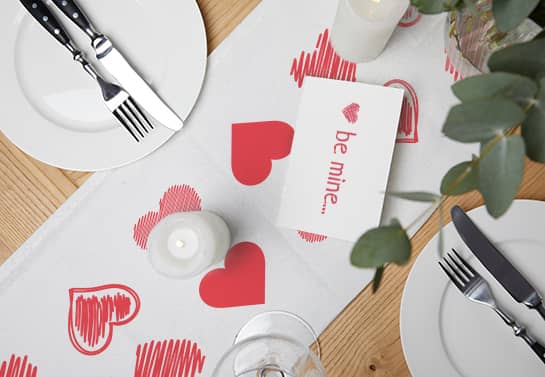 Another great Valentine centerpiece idea is a table runner. With or without a tablecloth, a Valentine-themed runner will give your table an elegant look. Make sure to choose a style and colors that match your tableware. Draw inspiration from the example I've provided.
More Romantic Room Decoration Ideas
Still feel like there's something missing in the room? Get more Valentine's day room decoration ideas you can use to fill in the gap.
Idea 18. Create a Photo Zone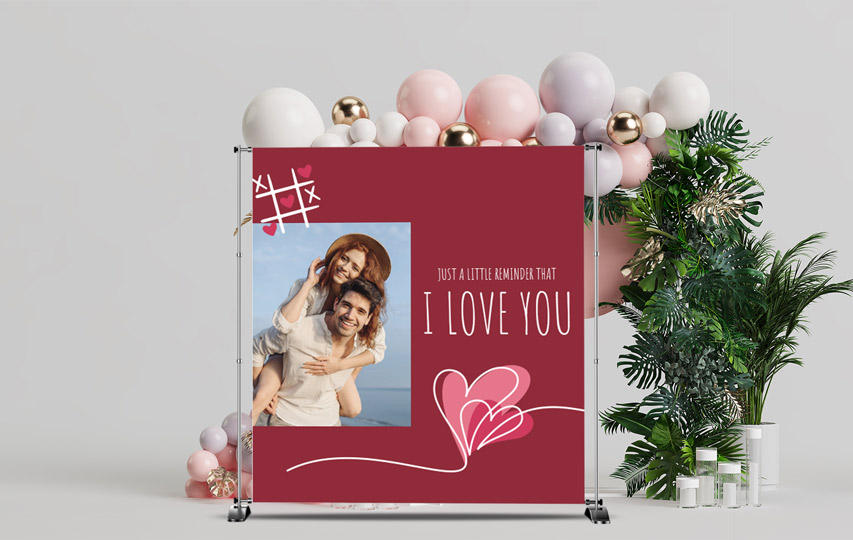 Throwing a Valentine's Day party for your friends and family requires a photo zone. You'll need some stunning Valentine backdrop ideas for this. Ordering a personalized step and repeat banner will be a good option. Choose Valentine-themed fabric banners for instance, and your guests will be sure to have a blast taking creative photos. There are many party backdrops to choose from so you'll easily find creative Valentine backdrop ideas that fit your style.
Idea 19. Snap a "Selfie"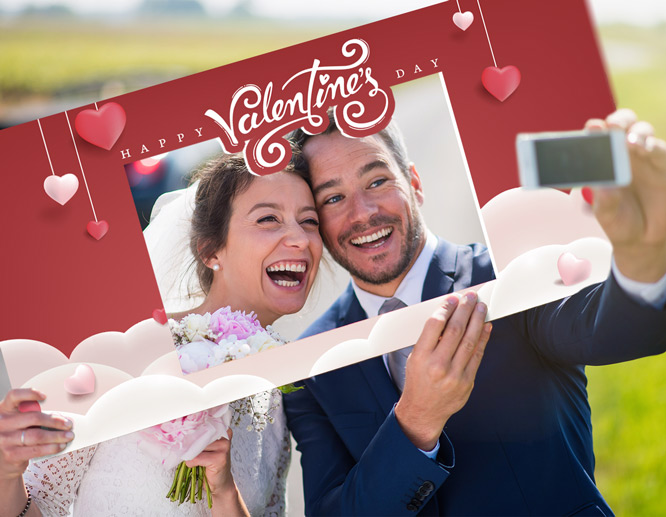 New photo trends are getting popular for Valentine's day parties too. If you're looking for something other than valentine backdrop ideas, themed selfie frames fit the bill. Decorated with lovely messages and the holiday's colors, these items will become some of the most popular Valentine decoration ideas among your guests.
Idea 20. Involve Valentine Balloons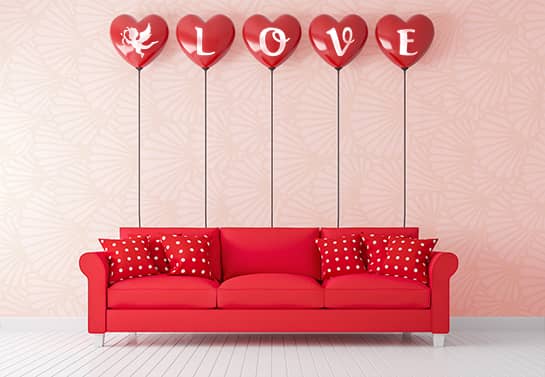 Balloons aren't only for kids' parties. There are lots of cute Valentine balloon ideas that can serve well as romantic room decoration ideas. Choose colors that best match your interior and have them printed to spell classic love notes like "Be Mine." In fact, they can be used as alternatives to Valentine backdrop ideas. Spread around lots of balloons to fill the room with a fun, festive vibe.
Idea 21. Use Adhesives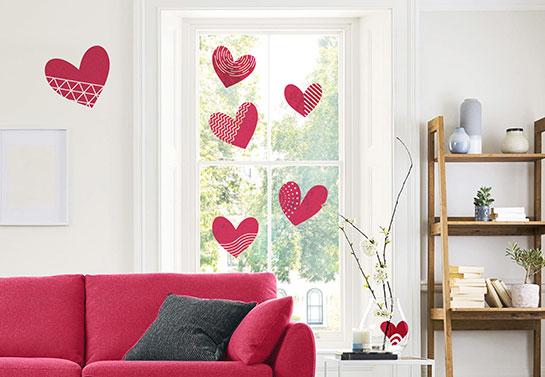 These window decals are a must when it comes to Valentine decoration ideas. They can be used on doors, walls, wine bottles… you name it. Easy to apply and remove home window decals are ideal as Valentine's day room decoration ideas. They require little effort and look appealing.
Idea 22. Embrace Floral Decor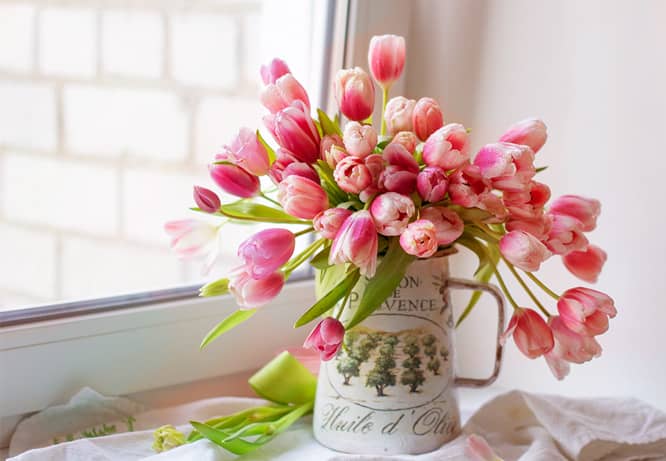 From a simple vase full of roses to extravagant bouquet arrangements, you can go with any floral Valentine's day decoration ideas without offending your loved one. All flowers are winners. Yet, flowers are not only table-bound. Red or rosy blooms in the form of an image will add an appeal to the room whether they're mounted on a wall or placed on a shelf.
Did you know that over 250 million flowers are harvested for this day?
DIY Projects for Your Romantic Room Decoration Ideas
Are you fond of crafting your own projects? Here are some Valentine's day decoration ideas that make for easy and stunning DIY pieces.
Idea 23. Create a Heart-Shaped Wreath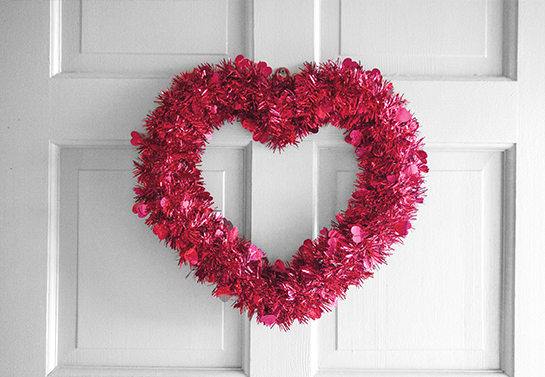 Hand-made wreaths aren't just for Christmas. They're one of the easiest DIY valentine decoration ideas that will set a romantic mood in the room. Get the items you like at a craft store and make the wreath yourself. Flowers, candies, ribbons or anything else you fancy can be used for the wreath. Need an idea to start? Here's one that's a piece of cake to craft. Basically, it's made of a heart-shaped metallic base adorned with a garland.
Idea 24. Use Wine Bottles to Make Decor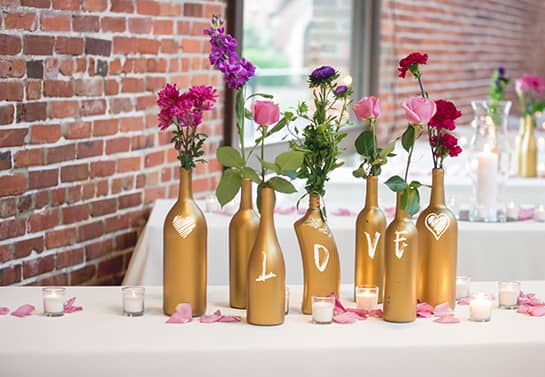 For this Valentine's day decoration idea, you'll need wine bottles, paint and artificial flowers. Start with painting the bottles gold. Once they're dry, take a brush and write down each letter of the word "LOVE" on them. Then let them dry completely overnight. The next day, put flowers or other ornaments in the bottles. That's it! You have a creative DIY Valentine's decor collection you can use for your tables or shelves.
Before we head to DIY Valentine's day room decoration ideas, here is another fun fact about Valentine's Day. Two European countries, Estonia and Finland, celebrate Friends Day on the 14th of February instead!
Idea 25. Craft Rustic Art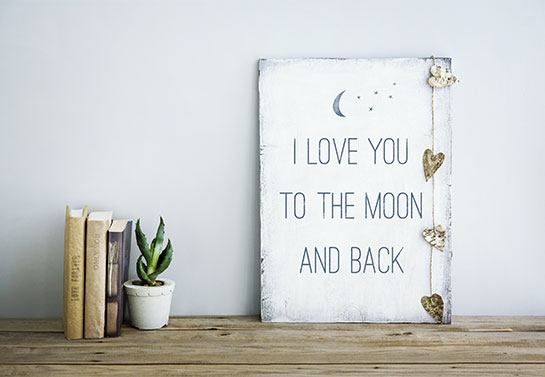 A rustic artwork made of wood or custom aluminum signs will create a homey atmosphere. They can hang on the wall or door, decorate your shelves, mantle and so on. They can set the tone for your Valentine decoration ideas and overall theme. I have a step-by-step guide on how to make wooden signs for yourself. Roll up your sleeves for some fun!
Idea 26. Make Valentine Garlands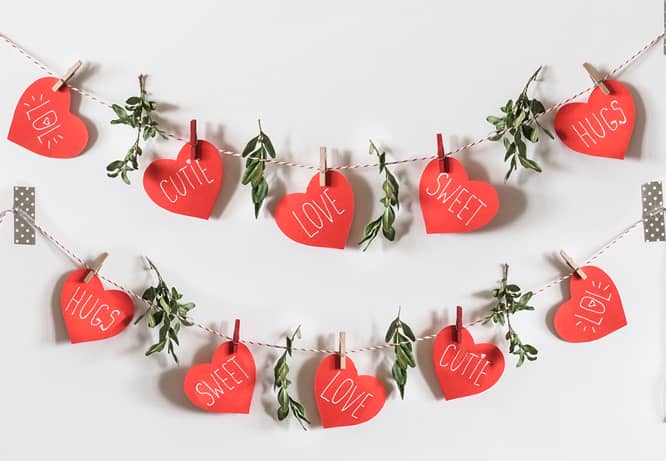 Heart garlands are a timeless trend in Valentine decoration ideas. They're so easy to DIY that they don't even require guidance beyond a picture! Just hang them on the windows, walls, shelves or anywhere else and voila, you have the Valentine mood all set! Check out our holiday decorating ideas for windows for more ideas.
Idea 27. Use Little Wooden Cubes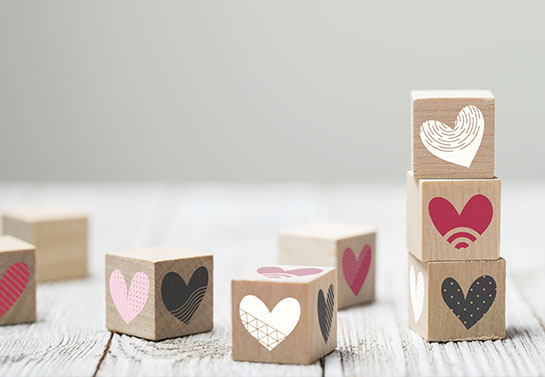 Sometimes there's a missing piece in the decorated room. You may need more Valentine decoration ideas to complement other decor. Little boxes or cubes of different shades with heart drawings on them can add the finishing touch. You can also go with sticky products instead of drawings to be sure they look just perfect.
Idea 28. Customize the Balloons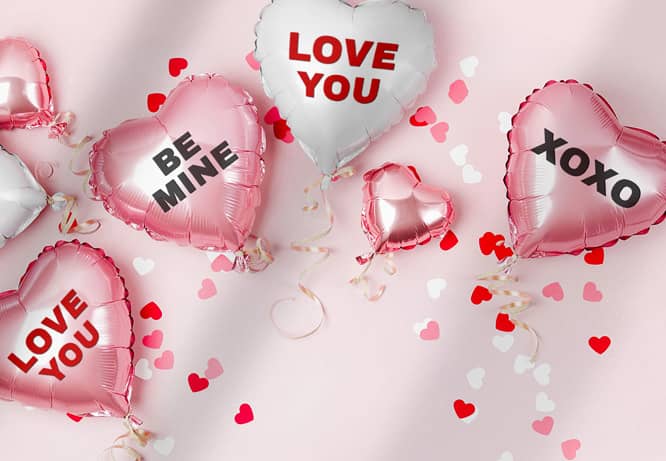 Custom Valentine balloon ideas are not so hard to craft if you know how to work with sticky products. You only need to get ones with the text or images you want and transfer them onto the balloon. Just make sure to choose designs that fit and be careful when removing the transfer tape.
Idea 29. Frame Handwritten Letters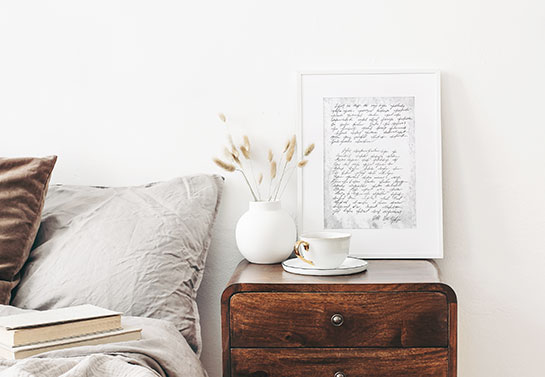 Handwritten love letters are not a thing of the past. In fact, their nostalgic quality is what makes them perfect for modern romance. You can write one and frame it, turning it into a classic piece of Valentine's day decoration ideas. You can also get the letter printed on wood, canvas or acrylic to make sure it stands the test of time.
Idea 30. Shape Wires Into Hearts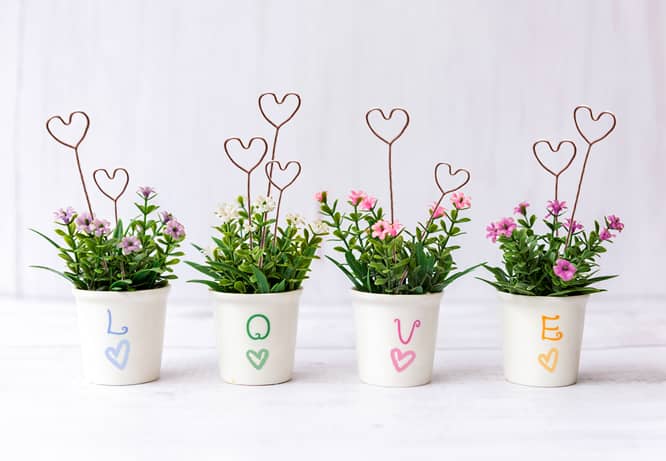 DIY wire hearts could be your thing if you want to liven up the space with Valentine's day room decoration ideas. They're super easy to make and can be used in your flower arrangements, on the table or anywhere else you like.
Idea 31. Use Jars as Candle Holders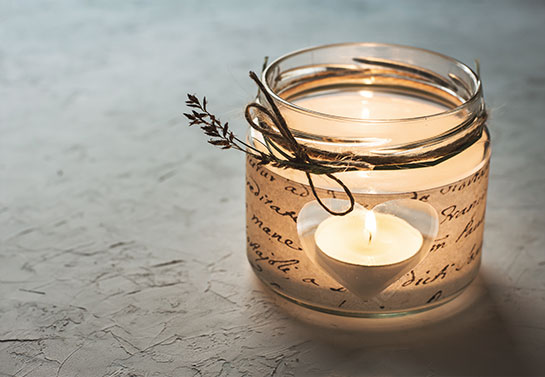 No list of romantic room decoration ideas is complete without candles, right? You can easily turn a mason jar into a dazzling candle holder by painting it and leaving transparent heart-shapes for the light. Give it a try and feel free to get creative with the design.
Idea 32. Craft Thematic Wall Art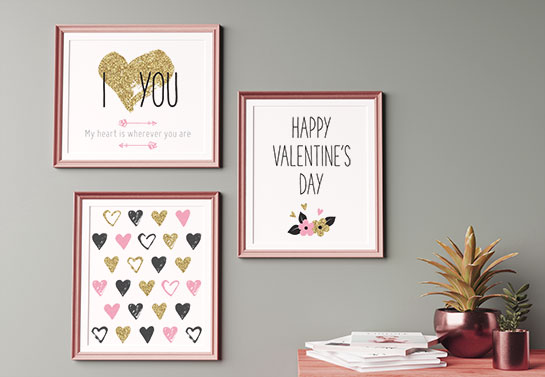 Make use of blank canvases and your imagination to create wall art for the holiday. Pom-poms, glitter, doilies… There are countless artsy and romantic decorating ideas for Valentine's day. You can also get a canvas with your favorite design for a more classy aesthetic.
Go with paper poster printing as an alternative option.
Bonus: A Sample Project With Valentine's Day Room Decoration Ideas
Do you want to see how a whole room will look after incorporating some valentine's day room decoration ideas? Here is an example from a few of the above ideas. You can always play with the colors and styles to match your personality․
Ready for a romantic overhaul? Check out our sign design tool for ready-made decorations as well as elements for crafting creative projects. You can find and customize lots of cool sign templates for your designs. You never know what tomorrow holds, so go ahead and fully express your love this Valentine's Day.