Impressive living room wall decals will feature at the top of your list if it feels like your home needs mind-blowing decor elements. The living room is a place to relax and socialize. Decorating it with lively nature scapes, inspirational quotes or graphic solutions will render the room more elegant.
Different Types of Large Living Room Wall Decals
Use different sorts of striking living room decorations to set the mood you desire. Word out a motivational quote that sparks inspiration or create an inviting mood with welcoming messages so your guests feel at home. Use a combination of texts and illustrations or make the living room a picturesque place with images. For example, use custom wall decals to include some colors or scenic imagery to your home. You could also pick other cute living room wall decal ideas from the wide collection of home wall decals.
Wall Decal Sayings for Living Room Decoration
You can't overstate the role of motivation in our lives. Most people need some sort of stimulus to keep going. So, why not leverage wall decal sayings for living room embellishment to keep a source of inspiration in sight? Bring this idea to life with popular vinyl wall sayings for living room decor. Let's dive deeper to explore different vinyl lettering solutions.
1. Motivational Quotes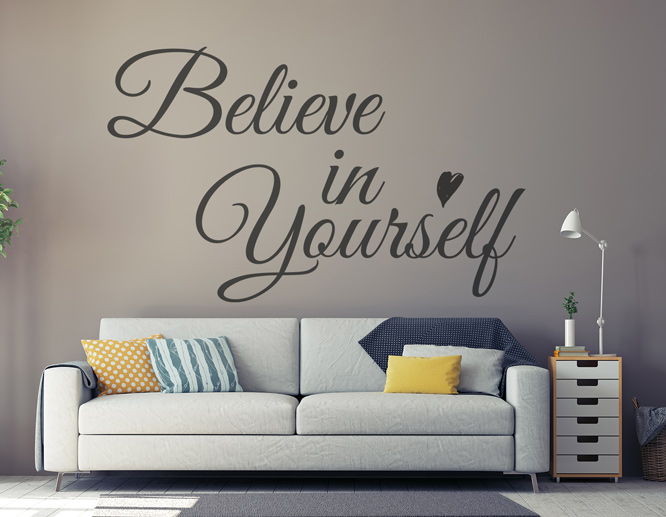 Motivational quotes will lift your spirits instantly. So pick your favorite quotes and feature them as wall decal sayings for living room decorations. Custom-made PVC printing is yet another great means of displaying your favorite lines.
2. Joyful Quotes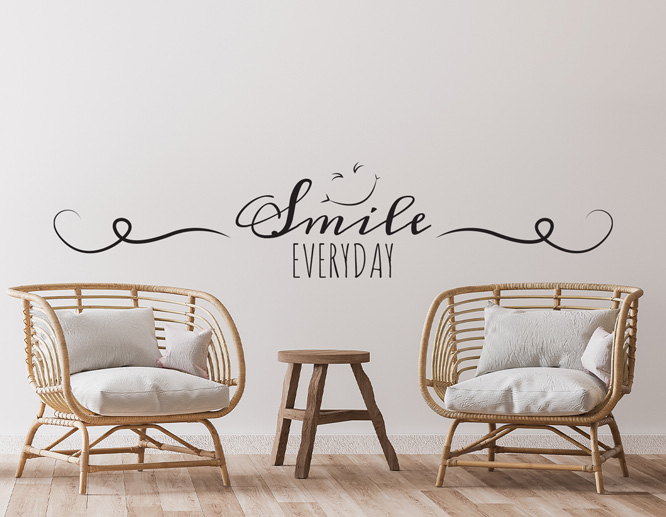 They say that you're never fully dressed without a smile. So how about you set up some playful sticky graphics on walls which will put a smile on your face every time you look at them?
Living Room Wall Decals With Graphical Solutions
Use wall art decals to adorn your living room with fun illustrations that give an artistic touch. Be it imagery or text-based graphics, they'll surely give the setting some extra charm. If you need some ideas or base designs to help you create your perfect large living room wall decals, take a look at our wide variety of customizable decoration sign templates.
3. Plain Graphical Solutions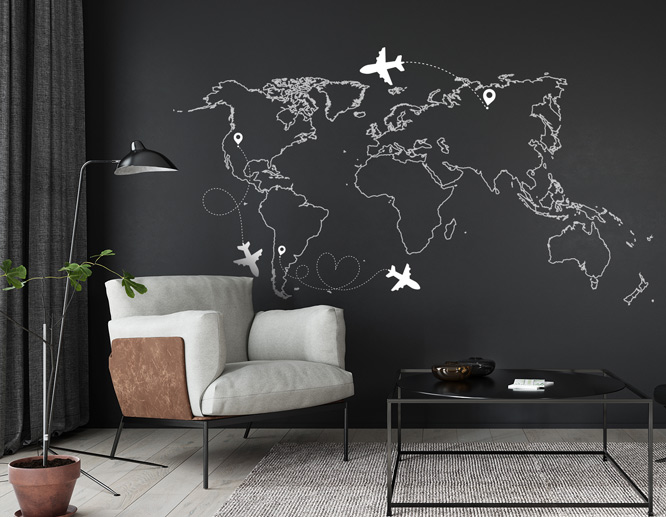 Fond of traveling? Use living room vinyl wall decals featuring map outlines, planes and other related illustrations.
4. Graphical Options With Appealing Texts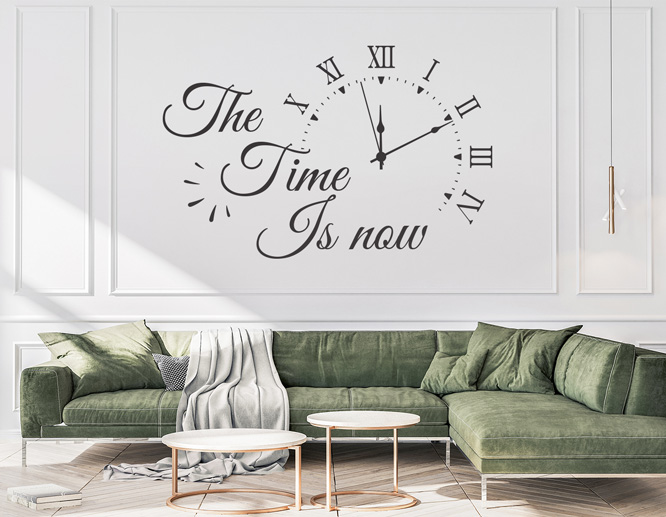 Do you wish your graphics were more appealing? Add a simple but inspiring text to it. For instance, you could have a small text like "The Time Is Now" beside a clock-shaped image.
Living Room Wall Decals With Photography
What if you could upload your personal photos or your favorite pics to a platform, save them and then order them as finely made living room vinyl wall art? Embrace your memories and admire your favorite pics by having personal photography, beautiful landscapes or other nice depictions printed onto living room vinyl wall decals.
5. Personal Photography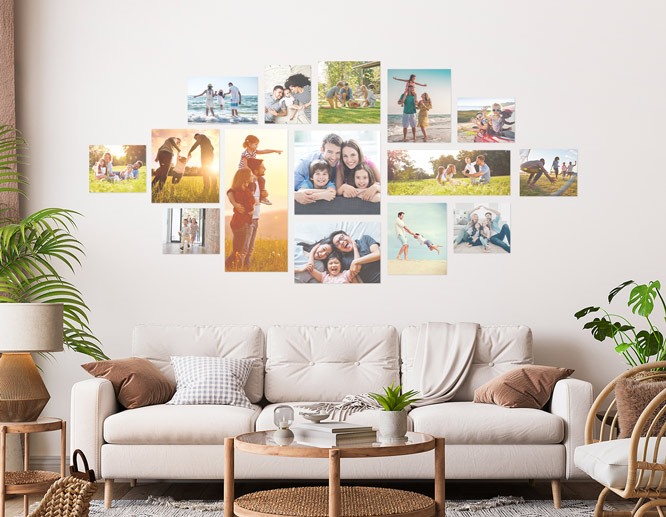 Apart from plain personal photos, you can upload photo collages to convert them into sticky items for the wall. Then, get in touch with our support team and let us restyle them into stunning living room vinyl wall decals. Make use of acrylic photo prints if you wish to give them the look of framed photos.
6. Your Favorite Pictures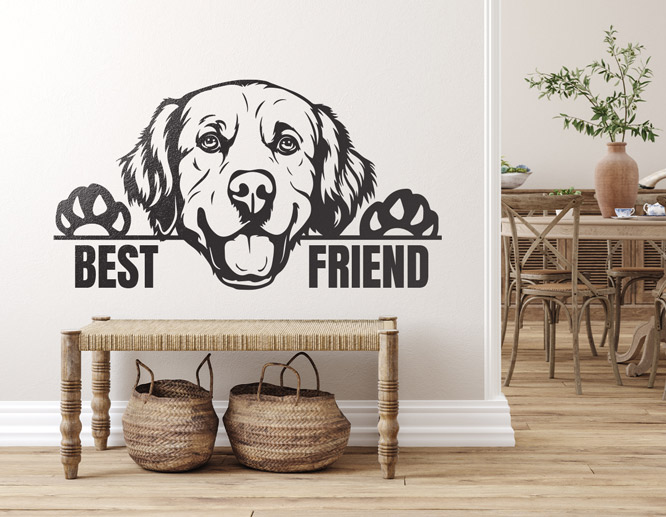 You can display any picturesque scenery or a cute puppy picture in your house. Head over to our website to bring your most creative living room wall decal ideas to life in a few easy steps.
Popular Themes for Living Room Vinyl Wall Art
You can envision any of the numerous living room wall decal ideas in your mind and bring it to life with ease. Also, browse through some highly-demanded themes to make stunning living room vinyl wall art solutions. As an alternative to the flat sticky variants of wall decors, foam board printing or gator board signs are also great for creating an artistic look. You can even make use of both sticky and voluminous decor solutions such as self adhesive foam boards which will ensure hassle-free installation. For even more exciting themes and strategic tips, check our article on how to decorate living room walls.
Abstract Style Living Room Wall Decals
The origin of abstract art goes back to late 19th century Europe. Imagery portraying full or partial departure from reality became the focus for many avant-garde artists of the era.
7. Abstract Painting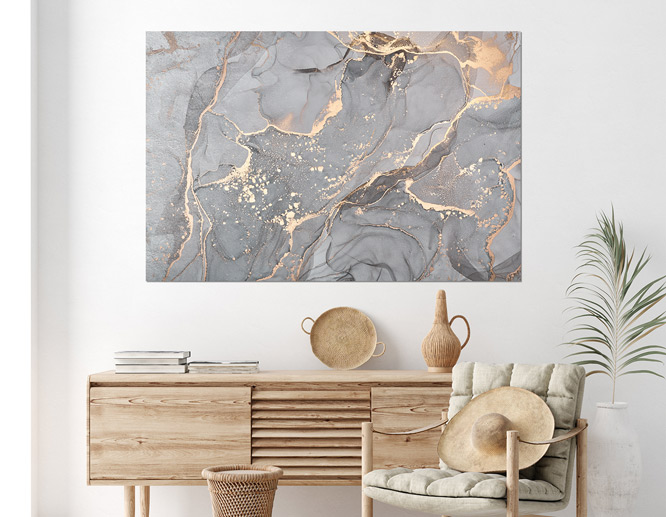 If you're fond of the abstract style, think of wall transfers to delicately depict your favorite art piece and transform your house with large living room wall decals.
8. Collage of Abstract Art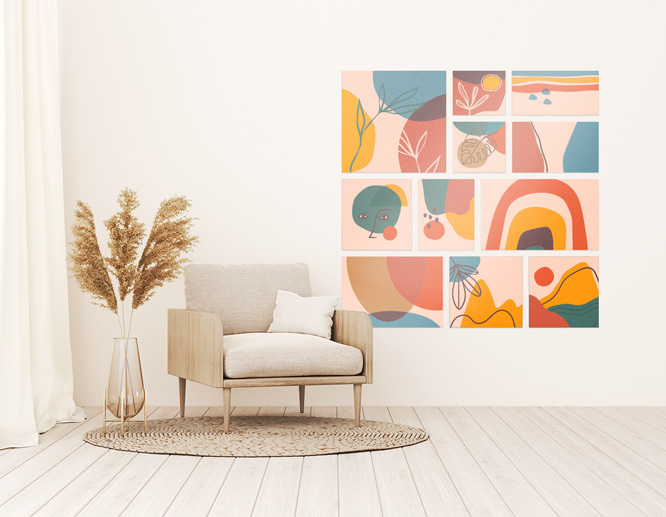 Besides plain images, other living room wall decal ideas, such as a collage of abstract art on custom canvas prints, are also worthy of consideration. Once the collage is ready, insert the file to our sign design tool, save it and let our team of experts process it. After printing, you will have an amazing piece of abstract artwork. It will end up as a set of living room vinyl wall decals and will pique the curiosity of people with its exquisite looks.It will end up as a set of living room vinyl wall decals and will pique the curiosity of people with its exquisite looks. You can also go for other mediums like custom acrylic signs or metal photo prints.
Nature-Themed Living Room Wall Decals
If you admire nature scapes, you're sure to draw inspiration from the nature-themed variants below. Let's dive deeper to explore them.
9. A Tree With Falling Leaves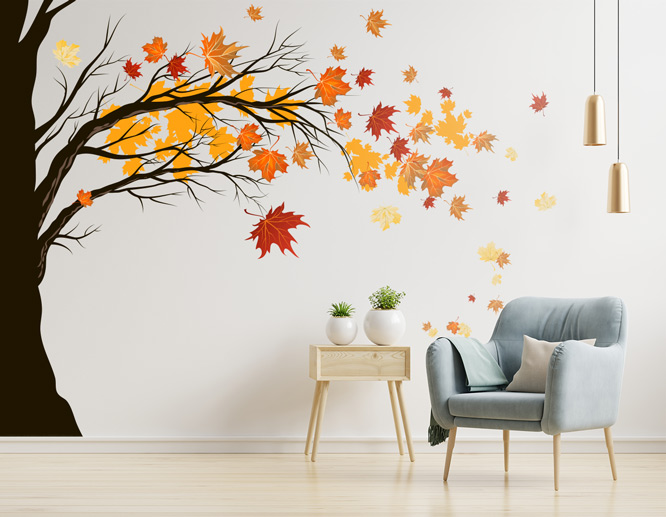 You can portray a tree with leaves blowing in the wind for a dreamy atmosphere at home. Delicate decors of this type are sure to level up both modern and retro style home designs.
10. Family Tree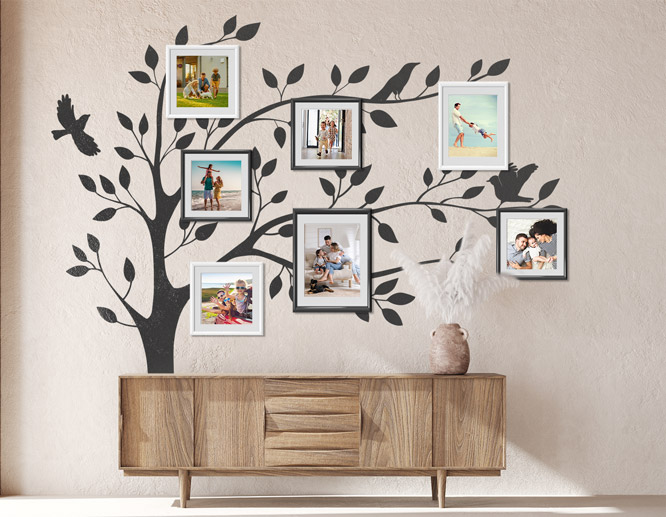 Interested in your family origins and ancestry? Large living room wall decals with a family tree are just what you need. Surprise your family with the image of a magnificent family tree. Adhere portraits of your family members around the tree to give your family tree wall decals a more personalized touch. There are even ready-made sign templates you can customize to your liking.
11.  Waterscape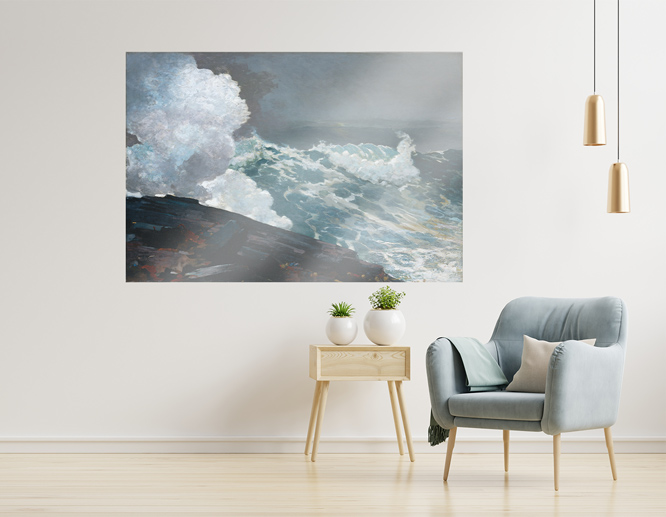 Be it scenes of rivers, lakes or vast oceans, an image of water will add a touch of serenity to your house. Imagine Winslow Homer's Northeaster or other world-famous artwork printed onto living room vinyl wall decals or custom aluminum signs.
12.  Path to the Forest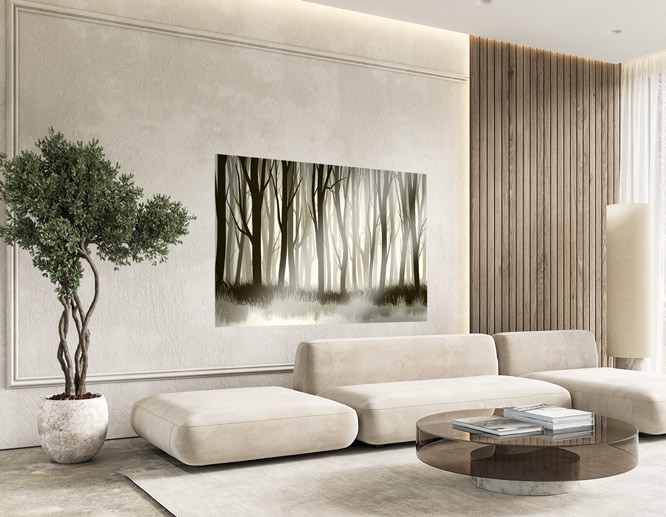 A view of densely forested areas is rather popular for creating large living room wall decals. It'll take your breath away and add some freshness to your home.
13. Lively Birds, Flowers, Butterflies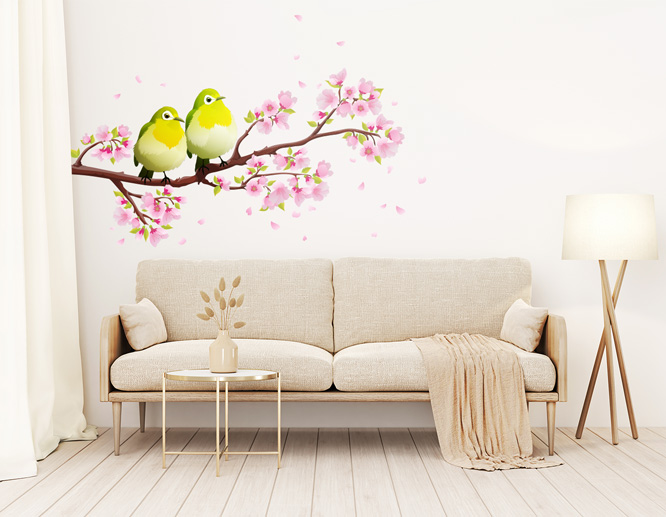 Cute pics like these will surely spruce up your living room. They'll cheer up both your guests and family.
Seasonal Living Room Wall Decors
Living room removable wall decals with seasonal themes will embellish the setting with lovely nature scenes. Adhere natural-looking "out the window" landscapes onto the walls for a nice view. Get them printed as large living room wall decals and stick them to the walls - each for a specific season.
14. Spring Theme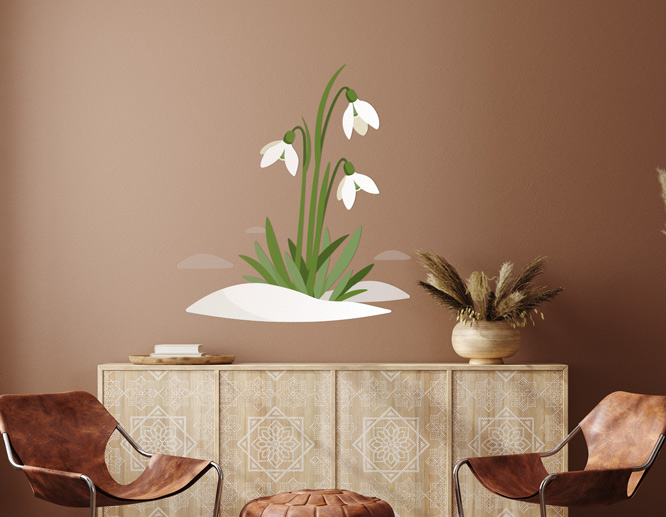 Adorn your living room walls with illustrations of blooming trees or snowdrops stemming from the half-melted snowy ground.
15. Summertime Theme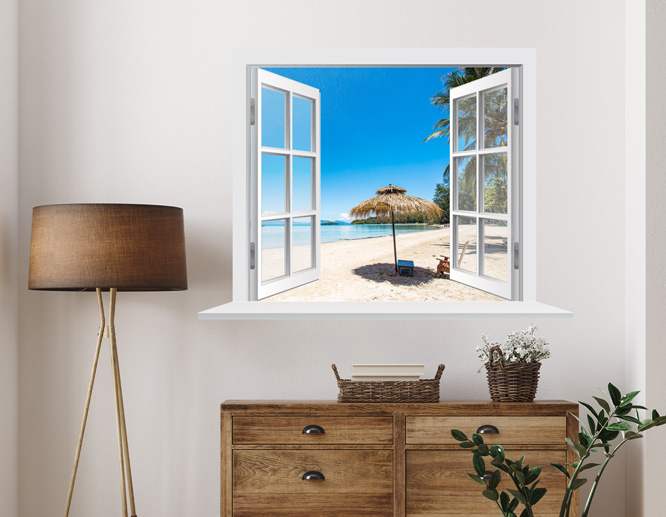 Decorate the main room in your house with summer themed attributes such as sunflowers, daisies, roses, blue skies, palm trees or anything else you associate with the season.
16. Autumn Theme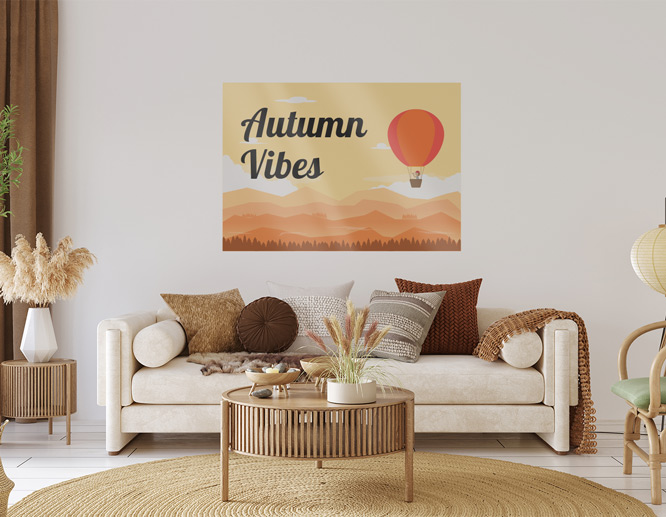 Once summer is over, you can easily take off living room removable wall decals and set up autumn-themed decorations. These items leave no residue once removed.
17. Winter Theme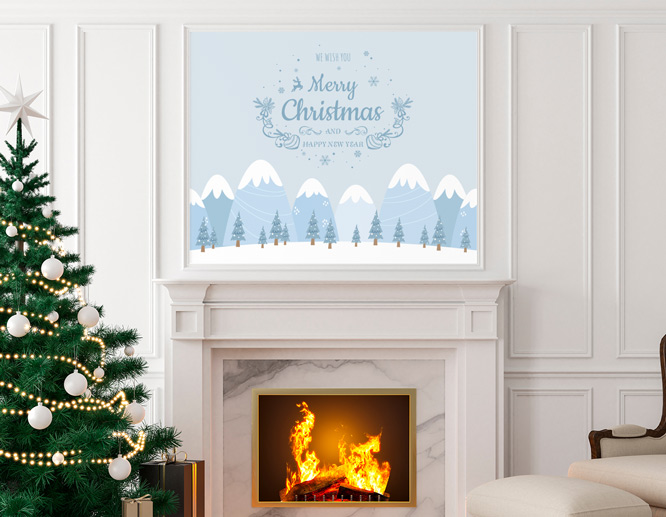 Similarly, make use of winter-themed decors such as pics with snowflakes or Christmas related imagery.
Pet Themed Sticky Items
Pet themed decors are among the most popular options. Apart from adhering them to living room walls, you can also use them as bedroom wall decals.
18. Colorful Wall Pictures for Pet Lovers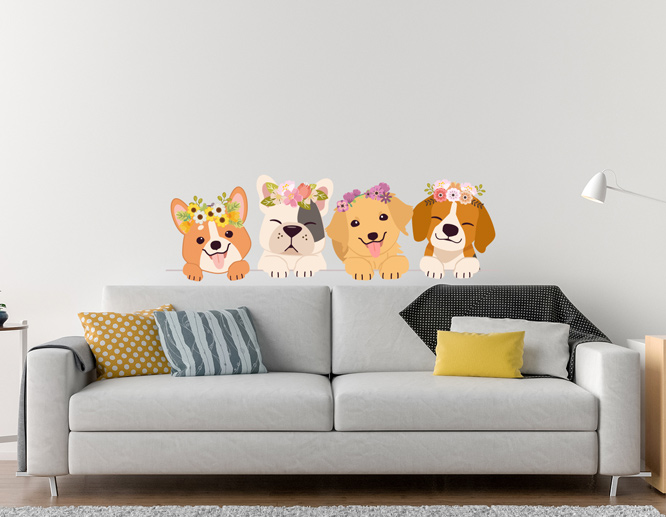 If you love pets, these colorful variants will certainly catch your eye. Apart from living-room wall solutions, there are sticky options for the windows. Check the Square Signs website to find out what types of home window decals are going to supplement your living room wall decor.
19. Cool Black and White Pet Images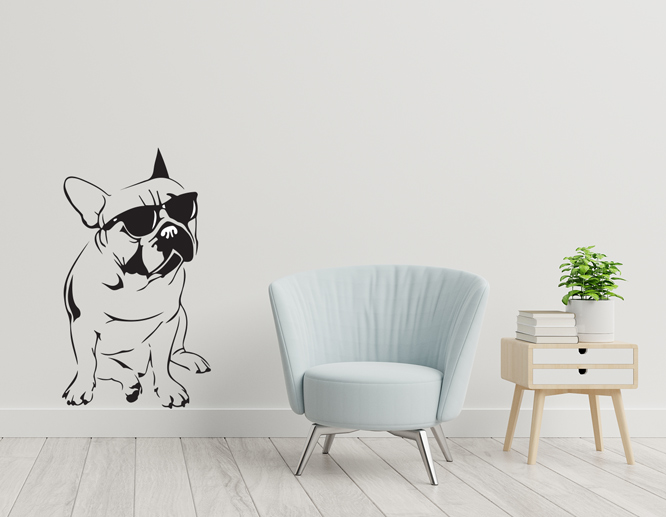 Black and white pictures of pets in different shapes and looks will lift everyone's spirits. Add fun texts next to the images to complete the whole mood.
Aqua-Themed Living Room Wall Decals
Aqua-themed sticky graphics look very elegant. You can shape them in different sizes by portraying an aquarium, a mermaid or plain beach waves.
20. Aquarium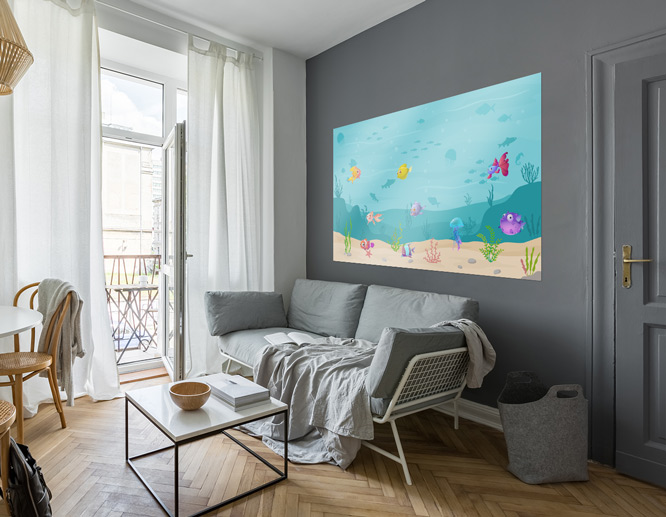 An image of an aquarium with colorful fishes of different types will ensure a calm atmosphere at home.
21. A Mermaid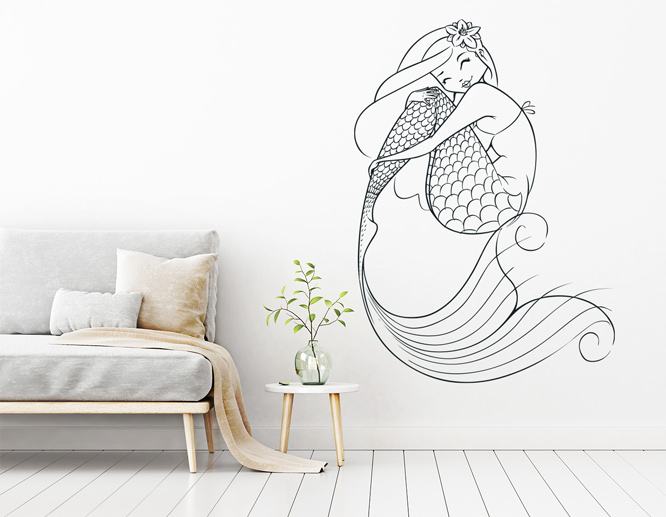 A mermaid is a fabled aquatic creature with the body of a human and the tail of a fish. Despite the fact that she's unreal, she's really a beauty, and that'll add some appeal to your living room.
22. Beach Waves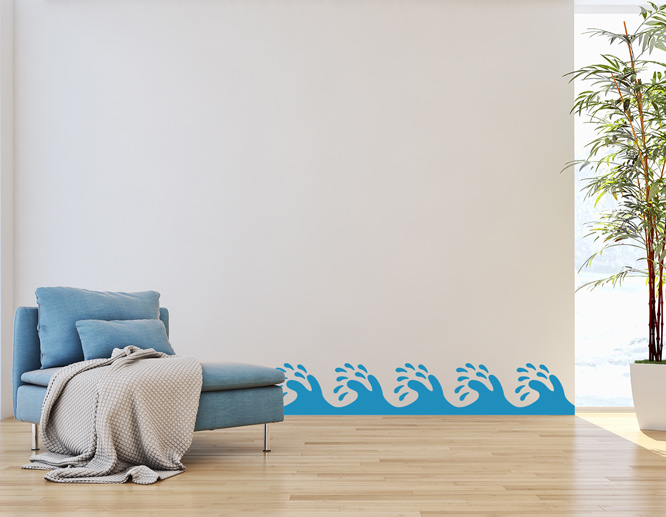 You can present beach waves in different ways. They can be like paintings or more like plain graphics resembling curly waves.
Summing Up 
Whether you're looking for ways to depict quotes or other types of large-scale sticky items in your living room, all of the presented variations are sure to spark your creativity. They'll liven up the setting and cheer up your guests and family. So, have you already chosen your perfect wall decor? Don't hesitate and find the perfect match for your house. Whichever variant you choose, it will leave you satisfied with its premium quality and elegant vibrant graphics.