Decorative media for schools might seem challenging to create. The school banner ideas we present in this blog will serve to motivate students and teachers alike. Read on to explore the various options you can use for different occasions and areas of the campus. You'll also find a quick guide on creating your own design and order it from Square Signs.
School Banner Ideas for Different Areas
Different campus areas require unique school banner ideas. Professional sign printing will bring your ideas and designs to life. Choose the style and mounting method that suits your needs. Explore the following custom signs along with tips on how to use them.
Classroom Banner Ideas
Your classroom banner ideas may serve different purposes. Here are a few that will boost participation and enthusiasm in the classroom.
Idea 1. Motivate With Visuals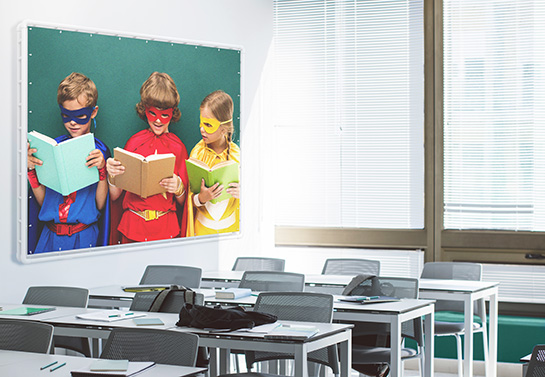 Motivating students with classic literary quotes doesn't always work these days. Place yourself in their shoes and find out what speaks to them․ Images of superheroes in an elementary school classroom may seem inappropriate at first but it'll resonate with students. You can help them relate to your lessons by displaying beloved characters on foam board printing or gator board printing as an alternative.
Idea 2. Educate Through Illustrations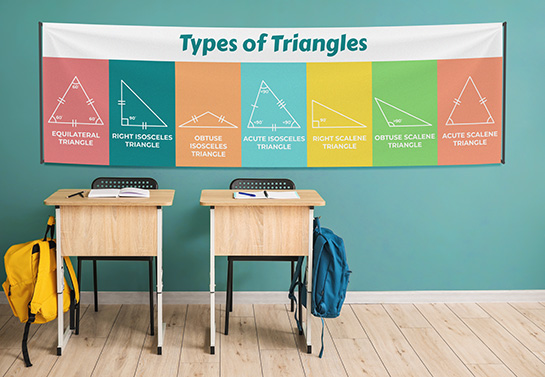 Learning is easier when students can see the information on the classroom walls. You can feature fundamental knowledge relevant to each subject on cute vinyl banners as a daily refresher. Classic examples are the periodic table and different types of triangles. Your classroom banner ideas can be fully customized for each of your lessons.
Idea 3. Create a Theme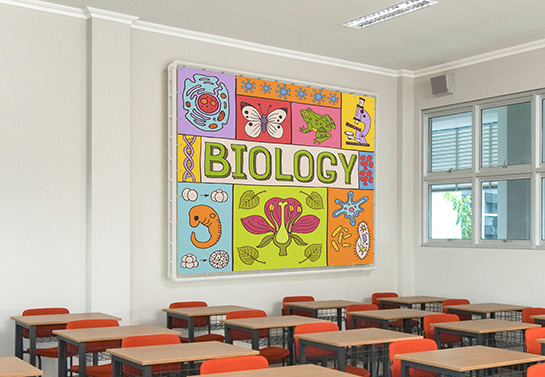 Similar to the idea above, you can create a theme for each classroom. The one below is for decorative purposes. Using classroom banner ideas like that will create a dynamic environment for students. Classroom design is considered built-in pedagogy. You can make sure that it has a positive effect on student engagement. Plus, it's an easy way to give the classroom a fresh look; you can switch between decorative ideas as often as you wish.
You can boost student engagement and performance with the above-mentioned ideas. Isn't that what every teacher strives for after all?
Click the image you like and use the design as a template for your order. You can also explore our education sign templates for more customizable options.
Remember to maintain an educational element which will be beneficial for the students when looking for classroom banner ideas. You have more freedom when it comes to corridor decoration. Here are some banner ideas for school decor you can use as a source of inspiration.
Idea 4. Highlight Special Moments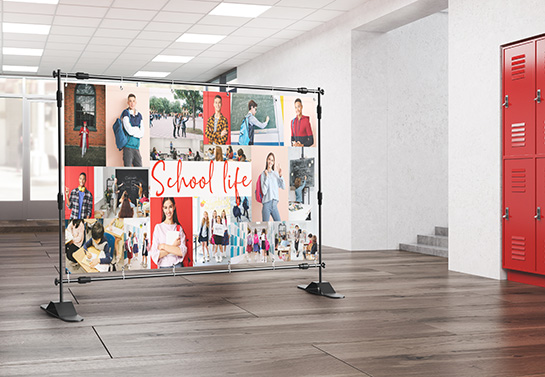 Create a memory corner featuring special moments of school life. Good examples include a snapshot of a buzzer-beater from a basketball game against a rival school or a favorite summer camp activity. Photos and a caption on step and repeat banners make for cool school backdrop ideas as well. Your students are going to love them for photoshoots.
Idea 5. Display Values You Promote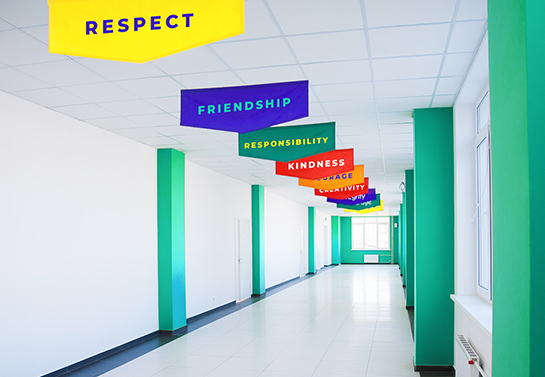 Friendship, respect, responsibility… You can instill these values in children from a young age. Hanging decor with expressions of wisdom or impactful words is one way to do it. Printing them in bright colors would make appealing school banner ideas for hallways. They'll embellish the hallway and educate students at the same time.
In a post-pandemic world, it's wise to integrate more safety notices in schools. Read our article on 10 safety signs to establish a healthier environment in your school.
School Yard Sign Ideas
The school yard is where you display information for students as well as the general public. If you're looking for sizable outdoor products, it's best to go with mesh banners as they can withstand harsh weather conditions. Here are two must-have school banner ideas to consider.
Idea 6. "Welcome" With Your School Name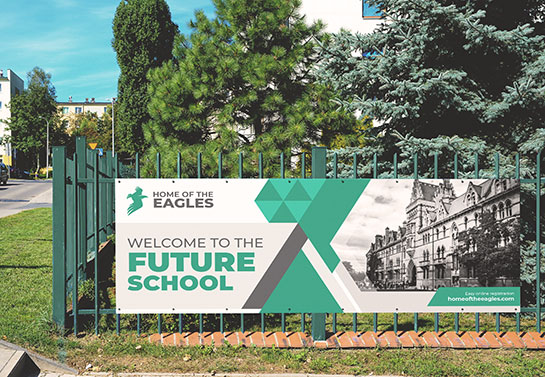 Displaying the school name and a welcome message is essential at every entrance. Depending on the premises, you may need to use different mounting options. Free-standing media are also available. Of course, you can go with monument signs as a more permanent and elegant solution.
Idea 7. Display Various Information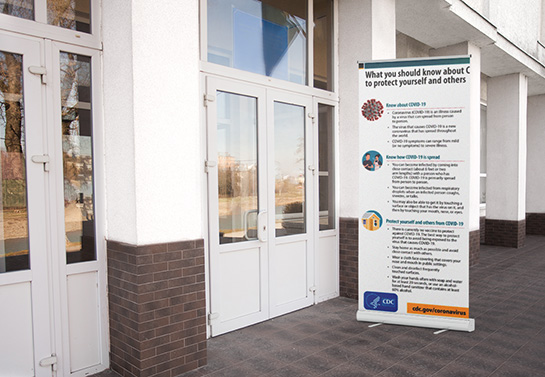 You may use our school banner ideas for different occasions. Outdoor media is great for displaying public information like registration days or fundraising events. Retractable banner stands are ideal for such occasions. They can be easily taken down and stored when you no longer need them. If you're looking for more, complement them with themed lawn signs.
Read on for more school banner samples for different occasions. We're going to cover them all, from registration to graduation. 
School Banner Ideas for Different Occasions
Fabric banners are used for various events and occasions. Here are a few school banner samples that will help you select the best option for your needs.
Walk to School Banner Ideas
Walk to School Day decor requires special attention. Schools from every US state participate in the event. It promotes the idea of walking or biking to school in order to bring about positive change. The benefits include fitness, community-building and environmental awareness. These walk to school banner ideas will help you boost student participation.
Idea 8. Promote The Event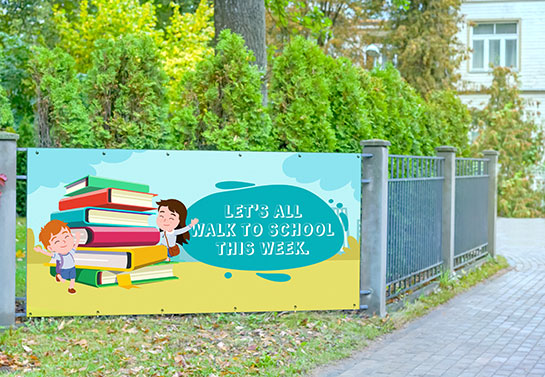 Does your school take part in "Walk and Bike to School Day" activities? Consider using promotional tool ideas. Make sure to use them in classrooms, hallways and any outdoor areas. This way, both parents and students will have access to the information they need for the event.
Idea 9. Give Reasons to Walk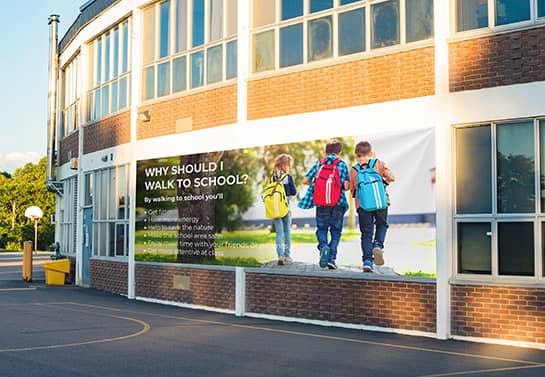 The benefits of walking to school may seem obvious but it's wise to tell people about the cause as a whole. Explore our school banner ideas to explain the main points and include the date of the event. It will bring everyone together for the walk.
School Spirit Sign Ideas
Spirit week is an opportunity to break the routine and engage students in new activities. School spirit sign ideas can also go beyond spirit week. They're used for decorating schools and inspiring students throughout the year.
Idea 10. Display Planned Activities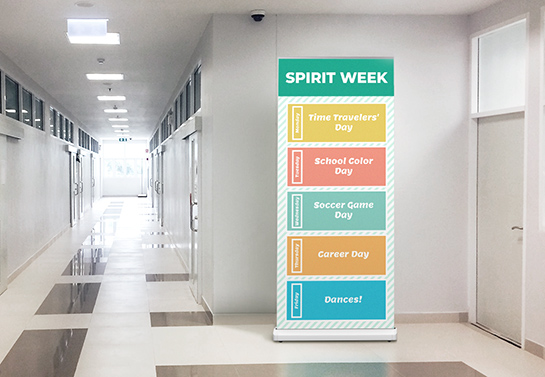 Spirit week should be full of excitement. Make sure to inform students of the upcoming events with cute paper poster printing. Knowing activities in advance will build anticipation and help them prepare for each day's theme. You may use sandwich boards to display the event schedule and relevant information.
Organizing parties for spirit week? Here are 16 unique party banner ideas for a rocking celebration.
Idea 11. Showcase the School Motto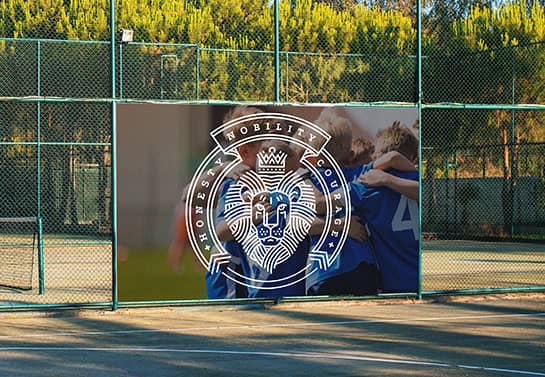 The school colors and motto are more relatable for students than the school name and logo. Adorning the halls with them will raise their school spirit like nothing else. Having a motto that unites students and creates a sense of belonging is vital to every school's identity. You may still implement the logo and motto in your school banner design.
Welcome to School Banner Ideas
Going back to school can be exciting for students, as well as their teachers and parents. But let's be honest - it's stressful at the same time. Make the day more exciting by using these school backdrop ideas..
Idea 12. Get a "Welcome Back" Free-Standing Structure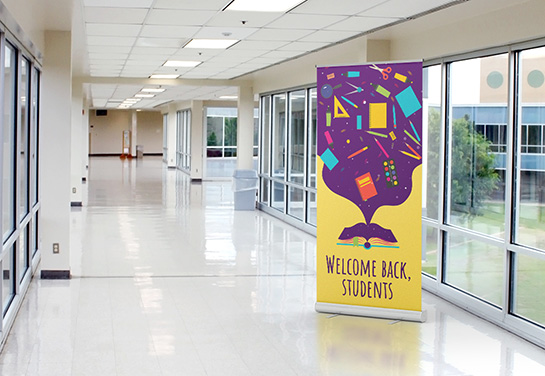 Welcoming school yard sign ideas are a must when students come back to school. Choose a design more suitable to your students' ages. You can also use PVC signs as an alternative.
Check out our blog on back to school banner ideas to find the best solution possible.
High School Sports Sign Ideas
Sports are a big cause for celebration, especially for high schoolers. Make the occasions even more exciting with these high school sports sign ideas. Students like DIY-ing their own placard for the games, so administrators can take care of bigger ones for the event.
Idea 13. Raise the Team Spirit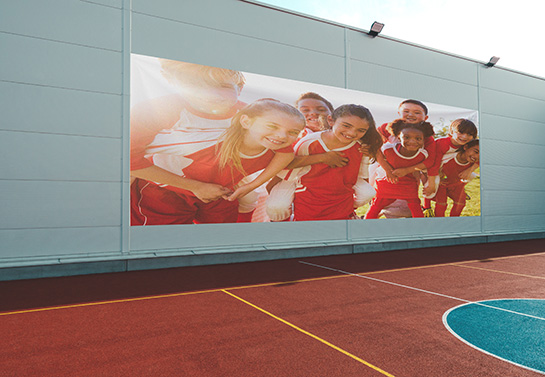 Feature a large photo of your home team players along with an encouraging quote. This will raise team spirit, encourage fans and intimidate rivals. For outdoor school banner design, consider using mesh. The porous material will prevent the wind from ruining the medium.
Idea 14. Make a Corner for Game Highlights

Capture the best moments from competitions and get them printed in a collage form. Be sure to update them with fresh images regularly. These tools will help engage students in sporting activities and encourage the players.
School Registration Banner Ideas
When registration rolls around you should try to attract students and parents alike. An eye-catching informative tool may be a turning point in their decision to attend your school.
Idea 15. Provide Vital Information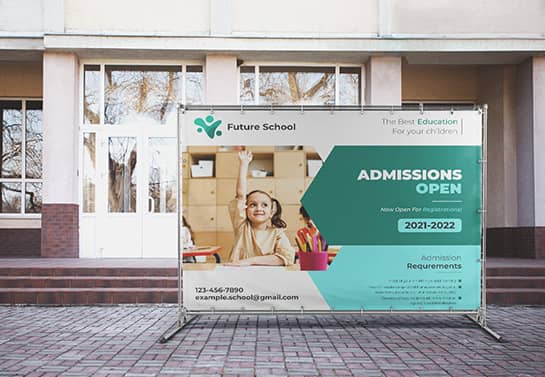 Choose informative school banner ideas to share details with the passersby. This includes the school name, registration deadlines, contacts and other appropriate info. Make sure to use eye-catching colors and designs. You can include memorable school photos in the design for a more relatable approach.
Idea 16. Advertise Your School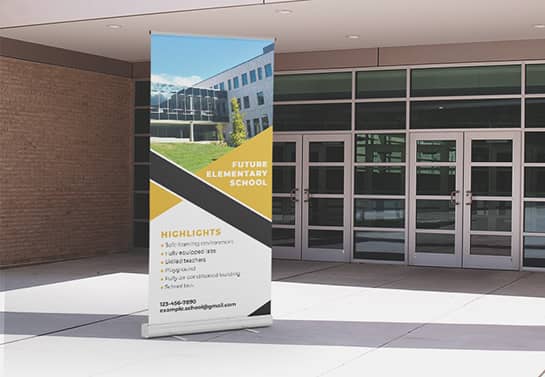 Why should people choose your school over others? Your announcement should also provide the answers to this question. Feature benefits, highlight photos from previous years and display major achievements. Use any of the suggested ideas to relay the reasons why your school is the best choice. 
Use our intuitive design tool to bring your creative ideas to life.
High School Banner Ideas for Graduation
Graduation is the most anticipated event of the school year. Make sure it turns out to be the best one for your students each year. These school banner ideas will help you accomplish the goal.
Idea 17. Congratulate on Graduation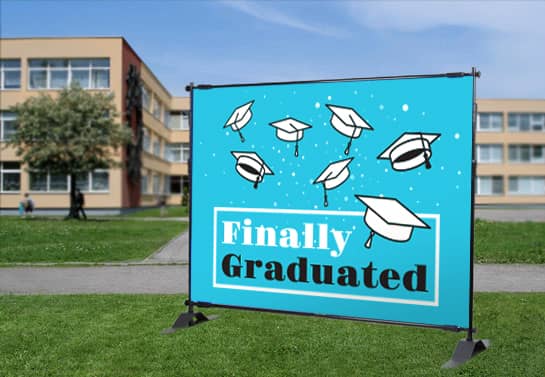 Congratulatory high school banner ideas are perfect for setting the right mood. You can display them near the entrance to greet guests and graduates before the ceremony.
Check out our sign templates to get through the design process quickly.
Idea 18. Give It a Red Carpet Feel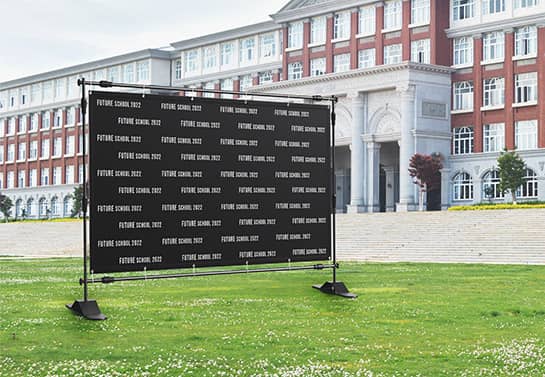 Make the day especially memorable by incorporating catchy school backdrop ideas. Imagine how excited the graduates will be to walk on a red carpet and take photos like real life superstars. After all, they are the stars of the year. Such school party backdrops can be used for the ceremony as well as any graduation party.
Idea 19. Give it a red carpet feel
Thematic decorative tools should adorn the school stage for the big culmination. Use large party banners with your school logo as a cool background for photos. You can hang string lights above the stage to make your designs look even brighter.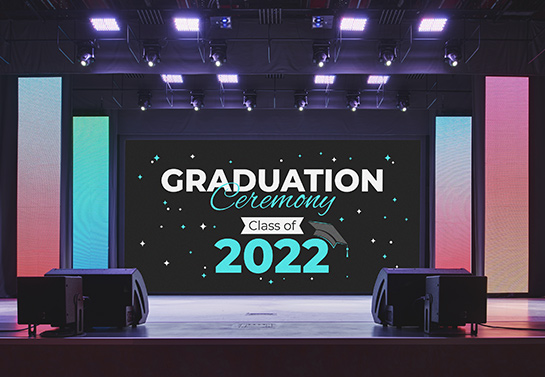 Check out our party sign templates for every occasion!
How to Make School Banners With Square Signs
We offer a sign design tool for creating any type of design. The tool is easy to navigate and you'll find all the features you need in the menu bar. Here are the steps to get successful results:
Choose the product you want to order at the top of the left-hand menu bar. If you're not sure what the best option for you is, read the descriptions on the respective product pages for more info or contact our support team for advice.

Go on and specify the size you want for your project.

Select features like the material, mounting and printing options along with accessories and so on.

Create your design. You can choose one of the free templates, upload your own design or create one from scratch using elements, backgrounds and your desired texts.

Once you're satisfied with the design, go ahead and add your order to the cart. From there, you can proceed straight to checkout.
If you need more help with the design tool, feel free to check out the tutorial video on how to use it.
All the listed products are available for order straight from our website. Go to the design tool now and unleash your creativity!