Easter is a lively occasion full of the colors and scents of spring. It's an invitation to enliven your gathering spaces for the season of love and new beginnings. We'll present multi-purpose Easter decoration ideas for home and church to cut back on waste. From wooden signs to wall plaques, we have everything you'll need for a real celebration. Let's stir the soul both at home and at church in a more enduring fashion. 
Easter Decoration Ideas for Home
Easter in popular culture relies on plastic eggs, packaged marshmallow peeps and other means of temporary fun. Though catering to children is important, we'll focus on nice Easter decorations that highlight the true meaning of the occasion.
Easter Wall Decoration Ideas 
Sensible wall accents can enhance the elegance of interior design. Allow Easter to usher in rebirth into your home with these everlasting and unique Easter decorations. 
Idea 1. Wall Quote: Bible Verses
Vinyl lettering is a cool way to display quotes for the occasion and beyond. They look great on walls and if you get them in stylistic prints, they can second as home decor after Easter.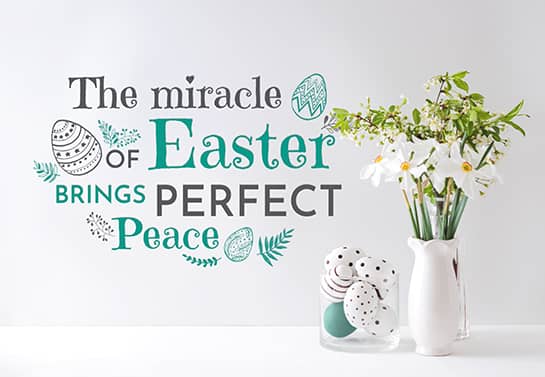 Idea 2. Wall Plaque: Home Blessing
Home blessing plaques are a thoughtful way to bless all your loved ones. These cute Easter decorations can be rendered on foam board printing, PVC printing and more for the patio wall or entryway. They'll certainly outshine any makeshift ornaments.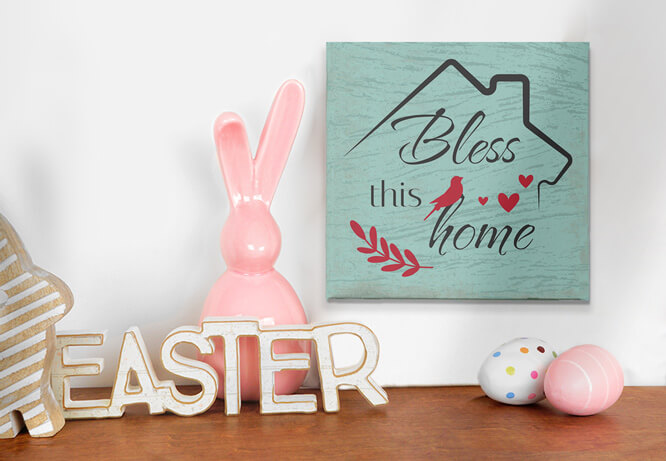 Idea 3. Wooden Board: Family Photo Wall 
Lasting phrases like "love is patient," or "you are loved" make a perfect heading for family photo boards. Get the images directly printed onto wood or hang them onto a wooden back piece with a string. Read our article, How to Make Wood Signs, for further instructions.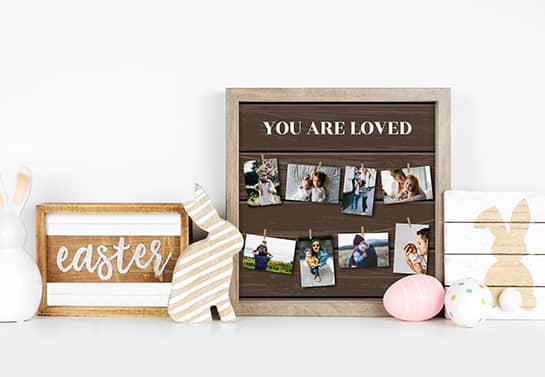 Idea 4. Hanging Garland: Feathers 
Garlands are typically temporary and whimsical. Still, they can be made timeless with the right touch. They can be the fountainhead for a range of Easter decoration ideas for home. Hang cut-out paper feathers with scriptural verses printed on the surface for the occasion to start.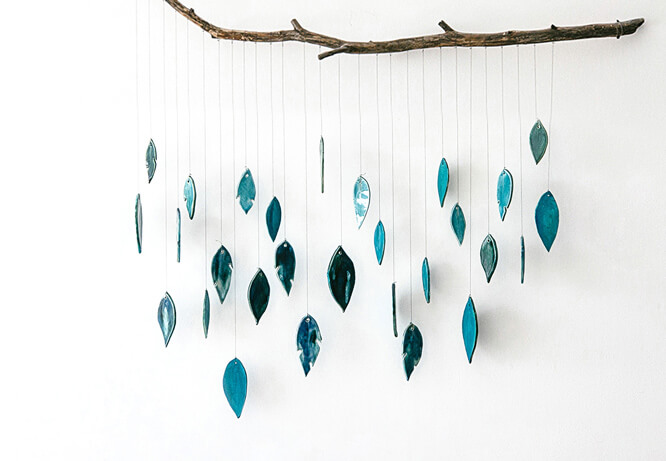 Easter always falls on the first Sunday after the first full moon following the spring equinox. That's a mouthful but in any case, it will be on April 4th in 2021 which is earlier than usual. Act fast to get ready for the holiday!
Easter Table Decorating Ideas
The Easter table is where loved ones gather to celebrate and spend the most time. The right Easter table decoration ideas are paramount for showing reverence for this sacred occasion.
Idea 5. Table Runner: Mild Colors and Lace
Burlap tablecloths are a timeless tip for how to set an Easter dinner table. Choose natural tones that will accentuate other Easter table decorating ideas. Print designs on them or apply actual lace for an added touch of elegance.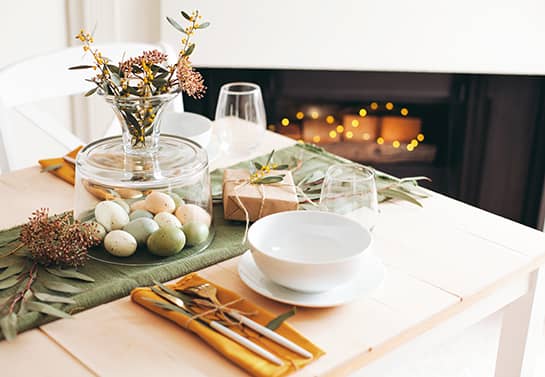 Idea 6. Plate Setting: Napkin Rings and Placemats
Easter table decorating ideas should include napkin rings, preferably with small crosses inlaid in the center. Blessings on the placemats can further embellish your Easter table decorating ideas, especially in old style cursive fonts. You may keep these to enhance the look and mood of your table for many dinners to come.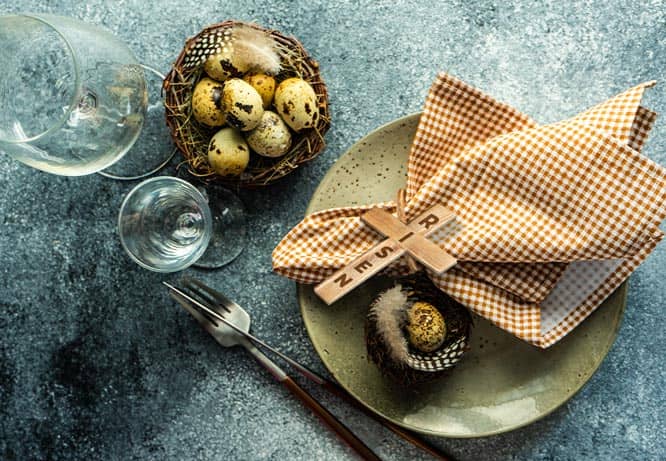 Idea 7. Nameplates: Personalized Keychains
Personalized nameplates serve as nice Easter decorations for the dinner table. They can later be used for the guests' Easter baskets. Shape them like doves or wings, then add holes to the tops for strings. This will allow guests to attach them to their baskets or keychains afterwards. Use gatorboard for the material to make them sturdy so they last a while.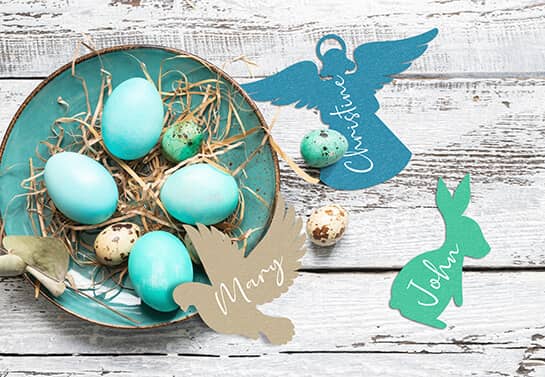 Easter Mantel Decoration Ideas
Gift bags, Easter baskets, crafts, flowers, prints… the works! The more festive, the better. The mantel is an ideal place to arrange any and all decorative ideas. Below we will get into how to decorate a mantel for Easter with ideas that can be reused annually, so stick around. 
Idea 8. Glass Vase: An Easter Terrarium 
Large glass vases with terrarium-style scenes inside make for unique Easter decorations on the mantel. Assemble eggs inside the glass to mark the end of lent, an empty cross, an Easter dove, a lamb and any other thematic elements. After Easter, simply store it away for later use. This way, you won't even have to think about how to decorate a mantel for Easter next year.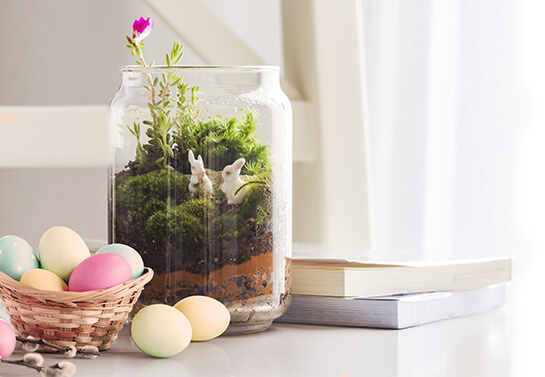 Idea 9. Baskets/Gift Bags: Angel Wing Accents
Easter baskets and gift bags for kids are typical when we're thinking about how to decorate a mantel for Easter. They go well below the mantel and provide another opportunity to get creative. Bunny ears and eggs are the go-to but why not add angel wings that can double as accents for other bags, too?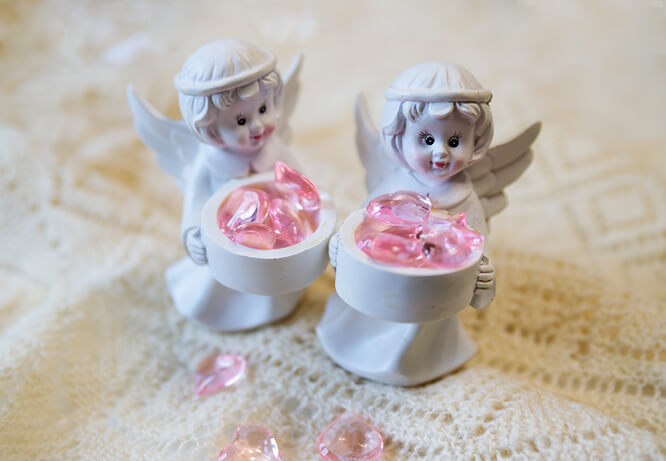 Idea 10. DIY Cross: Blood Red Eggs
Making a simple cross and arranging red eggs below it is a unique way to honor the blood of Christ. Red eggs are traditionally dyed with onion peels, so make sure you start saving them. This way, you make use of a wasted good and have an eco-friendly answer to how to decorate a mantel for Easter.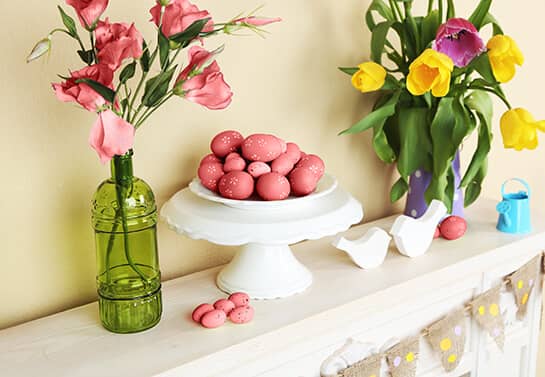 Outdoor Easter Decoration Ideas
Easter is a great excuse to get outdoors and enjoy the rebirth of Spring. Let's look at some decoration ideas that will set the mood for your neighbors as well as guests before they enter the home. 
Idea 11. Rustic Pots: Plants for the Porch
Wondering how to decorate the front porch for Easter? Outdoor space gives us a reason to celebrate the resurrection in perfect time for the coming of Spring. Excite your guests with rustic flower pots blooming with white lilies or red tulips. Then refresh them with seasonal flowers or branches year-round. Your neighbors will come to ask you how to decorate the front porch for Easter next time around.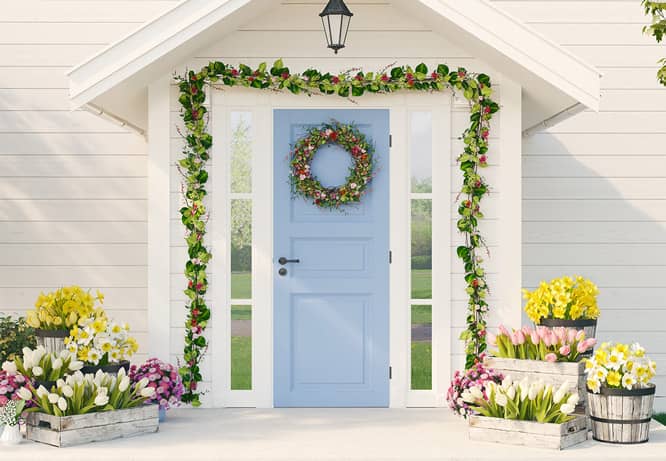 Idea 12. Wreath: Easter Front Door
Front door decorating ideas for Easter are for making warm first impressions. Welcome your guests with rustic Easter wreaths for a festive look. Add a cross and eggs above or among the flowers on your wreath but make them removable. This way you can combine front door decorating ideas for Easter and other occasions by replacing thematic elements.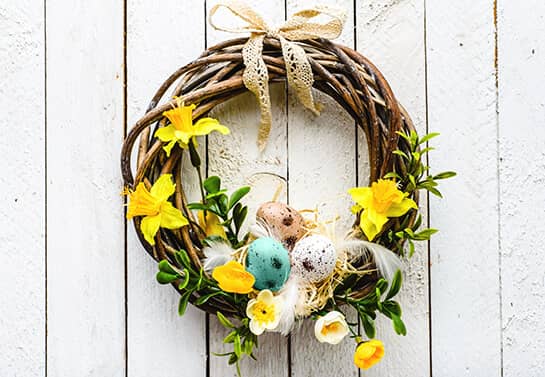 Idea 13. Lawn: Lambs Over Bunnies
Forget the bunnies this year and commemorate the lamb of God if you're in need of more authentic Easter decoration ideas for home. Ornamental lambs may be a little more difficult to find than rabbits but they do exist and their symbolism is long abiding.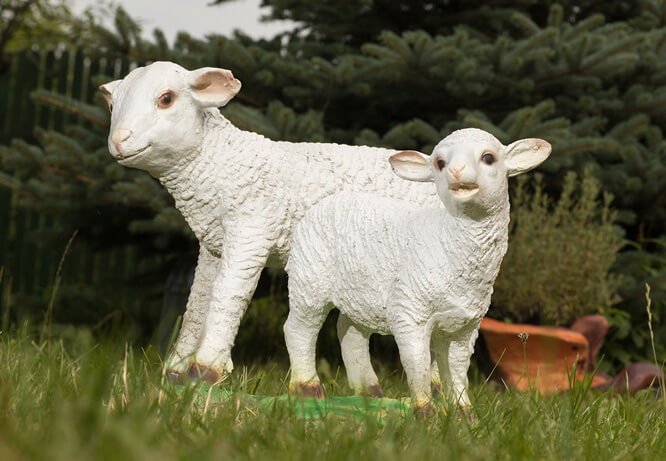 Did you know that Easter coincides with a Jewish holiday called Passover? You may be interested to know that lambs are also associated with this holiday. 
Idea 14. Trees: Feathers and Doves
The Easter tree is commonly decorated with eggs on branches or small artificial trees indoors. To change things up a bit, you can decorate your actual lawn trees. Use ornamental doves and feathers on a string, then reclaim them for the Christmas tree. Save these for the photobooth coming up, too!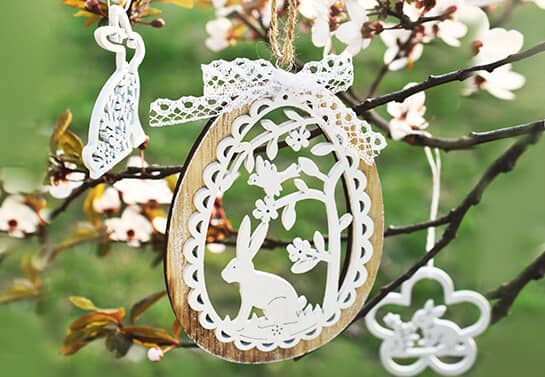 Easter Decorating Ideas for the Entertainment Area
Rejoice! Easter is a celebration of the most significant event in Christianity. It's a time to be grateful and share our joy. Here are some Easter decoration ideas for home to have fun with your loved ones and create new memories while commemorating the old. 
Idea 15. Photo Booth: Quotes and Costumes
All gatherings are an opportunity for group and family photos. Backdrops create a photo station without the expense of renting a professional photo booth. This way, you're assured of great lighting, multiple cameras to shoot, and creative ways to customize the background for any occasion. Get a telescopic banner with quotes, add fun props from previous decor ideas and enjoy awesome photoshoots for Easter or any other occasion!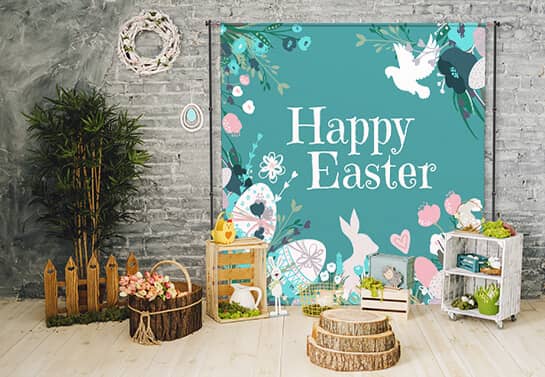 Idea 16. Egg Decoration Station: Natural Dyes
What's a list of Easter decoration ideas for home without colored eggs? Natural dyes are an easy, beautiful and healthy way to color your Easter eggs this season. Just follow the rainbow: blue = purple cabbage, green = kale, yellow = turmeric, orange = chilli powder, red = onion peel, pink = beets, purple = blueberry. Make it a game and remember to use these coloring tips to dye everything from frosting to DIY scarves!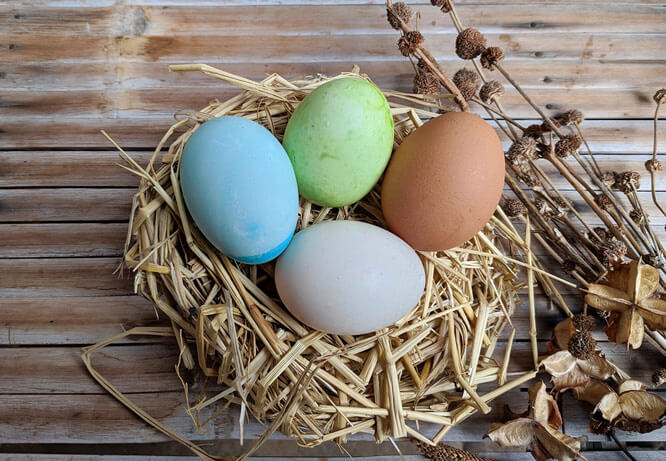 Idea 17. Invitation Card: Bible Quotes
Every good party starts with a good invite. Eggs and bunny rabbits are acceptable decorations when hosting children but otherwise, you can opt for a more biblical approach. There are many verses and quotes that would serve well for an invite so pick a personal favorite.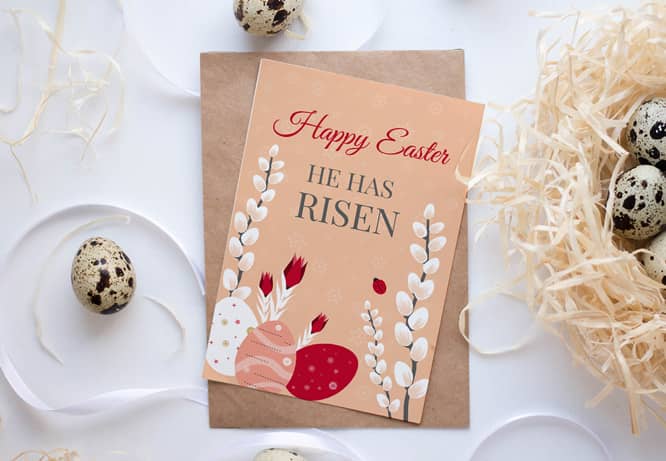 Idea 18. Egg Hunt: Adhesive Graphics 
Don't forget about the kids in your Easter decoration ideas for home. Make your egg hunt unique by using our customizable floor decals for clues. Footprints, angels, bunnies, words… anything you can think of is available and can be easily customized using our design tool. Make sure to check out our Easter templates, too! These playful images would add fun to a playroom any day.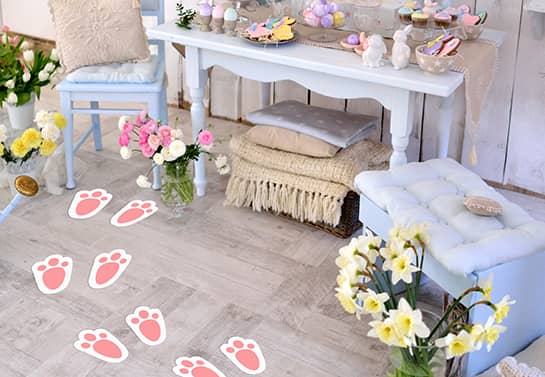 Idea 19. Greetings: Vintage Postcards 
There's just something about vintage Easter postcards. They are intricate, well-thought-out, and timeless. Getting them printed on wood would transform greeting cards into keepsakes worth keeping.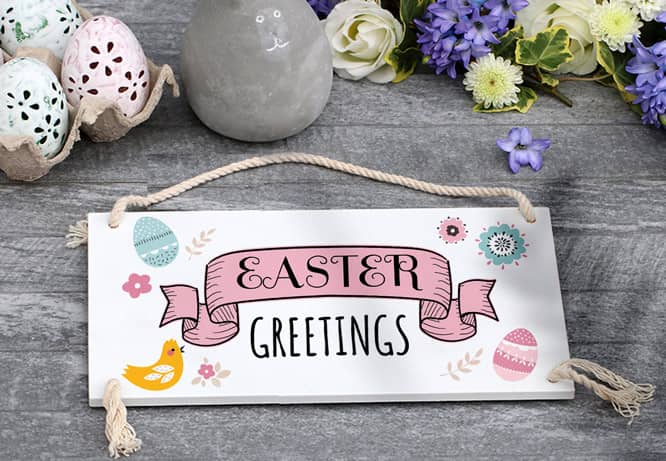 Excited about celebrating Easter? So are we! If you love all lively occasions like we do then don't forget to come back for cool St. Patrick's Day Decoration Ideas. 
Easter Decoration Ideas for Church
Let's look at a few Easter decoration ideas for church. The church is a place where Easter is celebrated year-round, so your decorations can be long-lived. People in the US planned on spending over 18 billion dollars on Easter in 2019. Investing in lasting decor is a smart way to cut costs and honor the occasion on days when we tend to forget. 
Easter Decoration Ideas for Church Interiors
The church interior is the ultimate place to embrace your Easter decoration ideas. It gives you the freedom to celebrate Easter to its fullest and with its actual meaning. If Easter bunnies don't seem so appropriate year-round, you can always go with more meaningful decoration ideas. 
Idea 20. Ceiling Decor Tip: Origami Flowers
The ceiling is easy to neglect when it comes to cute Easter decorations. Churches offer high ceilings and lots of space for grand ornaments. Beautify them with large origami flowers that will look dazzling under lights. They're perfect for any celebration so feel free to bring them back out as needed.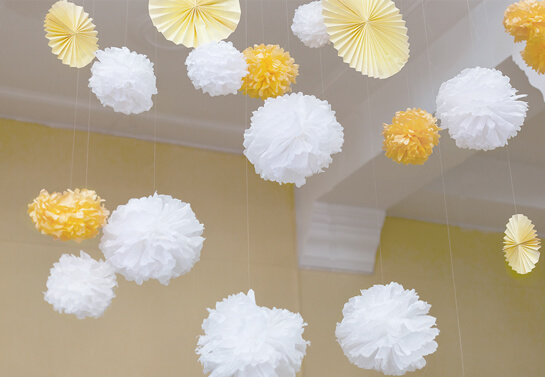 Idea 21. Easter Sanctuary Decorating Ideas: Illuminated Solutions
If your church has a chancel, you could customize a light-up sign with the name of the Lord or scriptural verses to light up the stage during worship. Choose different words or verses for different locations and you'll have a handful of Easter decoration ideas for church.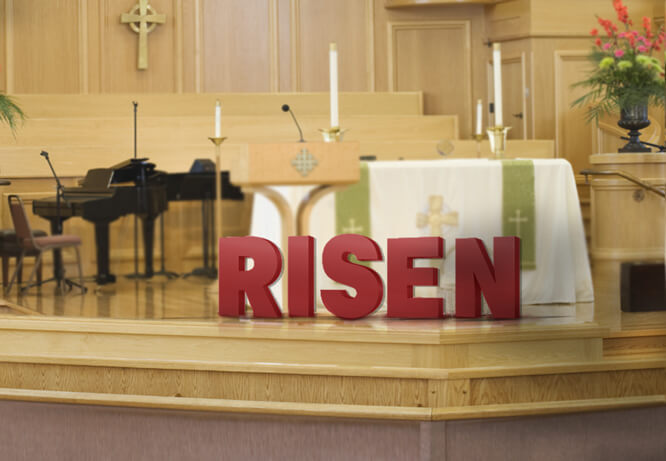 Idea 22. Wall Decor Example: Themed Displays
Banner stands with vibrant texts and graphics are an eye-catching way to decorate the entrance hall and spread the good news in a big way. Opt for x-stand banners, retractable banners, or other similar alternatives. These displays are long-lasting and simple to set up. You can also change the graphics and keep the same structure for future events.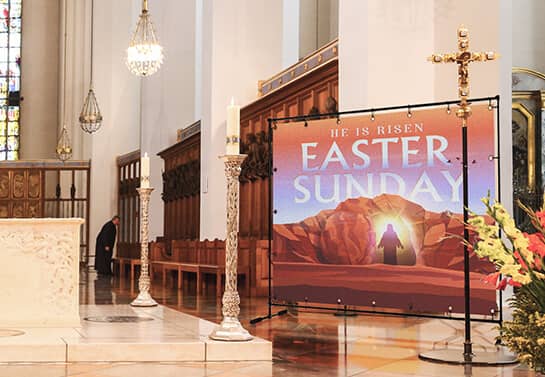 Customize your decor here!
Idea 23. Pew Decor Option: Doves on a String
Doves are reminiscent of the purity of Christ and serve well as Easter decoration ideas for church. An elegant way to decorate the back of your pews is with doves on a string, taking flight in unison. Save them to use again for everything from baptisms to weddings.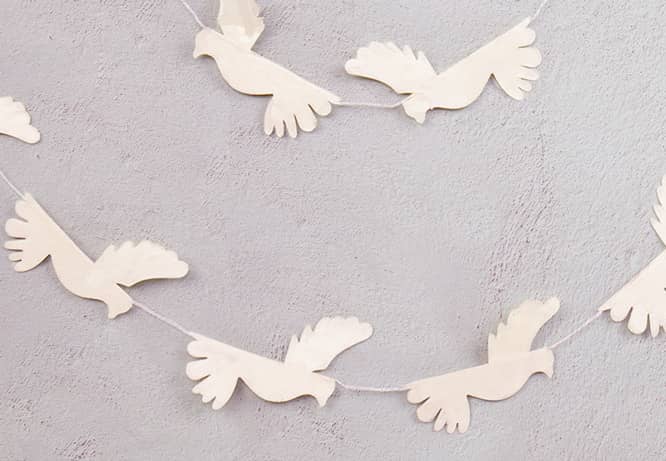 Easter Decoration Ideas for Church Exteriors
The church lawn plays an important function for visitors and passersby alike. It's the first thing that people see, offering an ideal opportunity to inspire the neighborhood. Let's take a closer look at nice Easter decoration ideas for the church yard. 
Idea 24. Side Wall: Easter Announcements
Mesh banners are perfect for the outdoors and can be customized to match all your other Easter decoration ideas for church. Announce service times, display Easter blessings or a deep-rooted mission statement.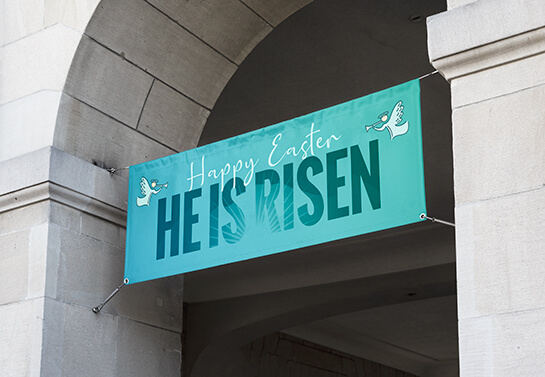 Idea 25. Church Sign: Quotes With Lettering
Church signs have gotten a lot of viral attention in recent years with the popularity of sharing their noteworthy or hilarious quotes on social media. Acrylic signs could help you write the next hit.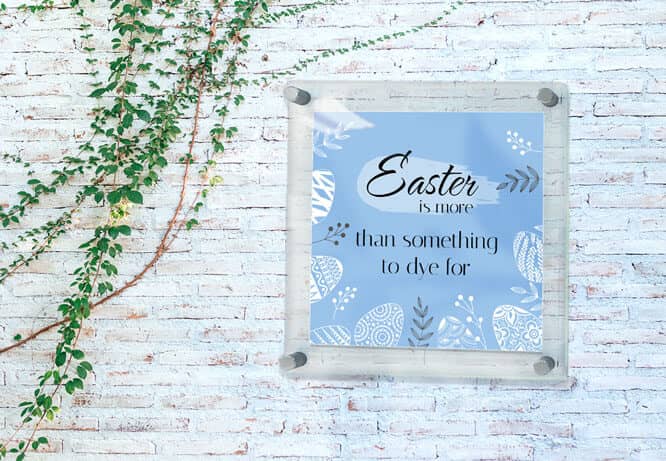 Idea 26. Window: Easter Graphics
Stained glass windows are an awe-inspiring feature of many churches. Decals for windows give you a chance to decorate your church windows without the time and expense of remodeling. You're also welcome to go with simpler designs like angels for the occasion.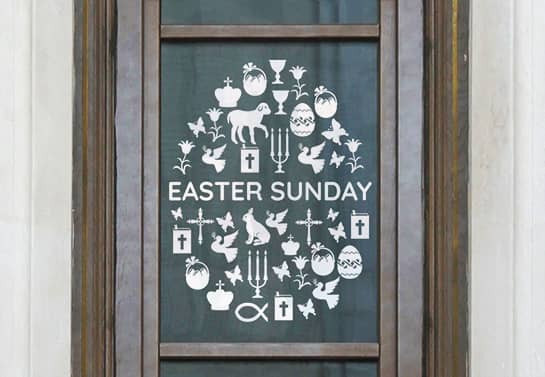 Easter is a good time to reflect on the promise of everlasting life that Christ offered us through his sacrifice. The least we can do is make our displays of reverence endure the test of a day. 
If you'd like to customize any of these decoration ideas for your home, get started now with our free design tool. Make sure to check out our Easter sign templates. 
Wishing you a very happy Easter!