Motherhood is worthy of being celebrated every day of the year because moms keep the earth spinning. It's a concept that's been upheld all throughout history. We all owe our moms a daily dose of contagious smiles and hearty hugs, to say the least.
Here, I've gathered Mother's Day sign ideas that can be used as gifts or decor for a cool party. Professional sign printing can help you create decorative elements with a wide range of custom signs.
Cute Mother's Day Signs
Here are some Mother's Day sign ideas which will warm your mom's heart and make for ideal gifts and decor. From pristine acrylic signs and custom aluminum signs to original wall decor, we've got everything you need.
Touching Mother's Day Plaque Ideas
Plaques are among the most popular decorative items for this holiday. Here are Mother's Day plaque ideas your mom will love.
Idea 1. Tell Her She's the Best
Moms often ask themselves if they're good mothers or if they do enough for their children. Tell her she's the best even when you don't get along with each other. Here's an example of rustic decor made of wooden signs. You can also use the words "Best Mom" for other similar Mother's Day plaque ideas.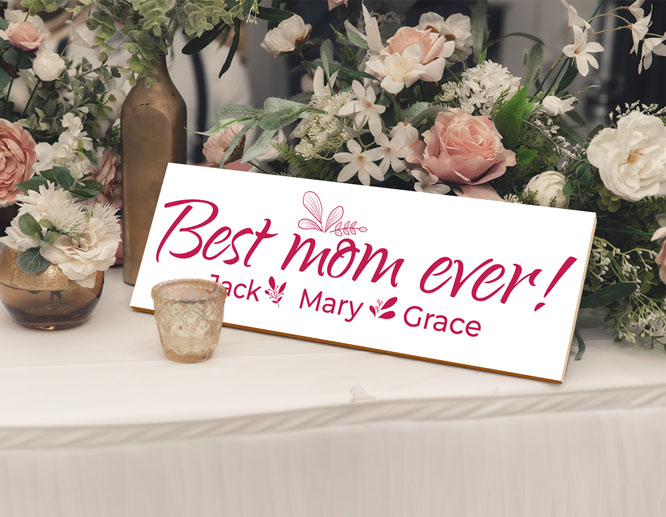 Idea 2. Define What She Means to You
The definition of a mom is different for everyone. She is a best friend, a wise advisor, the person who's always there for you. This gives you plenty of creative possibilities for Mother's Day plaque ideas. Get a set of printed plaques and place them in a gift box or go ahead and decorate the walls for a sweet surprise.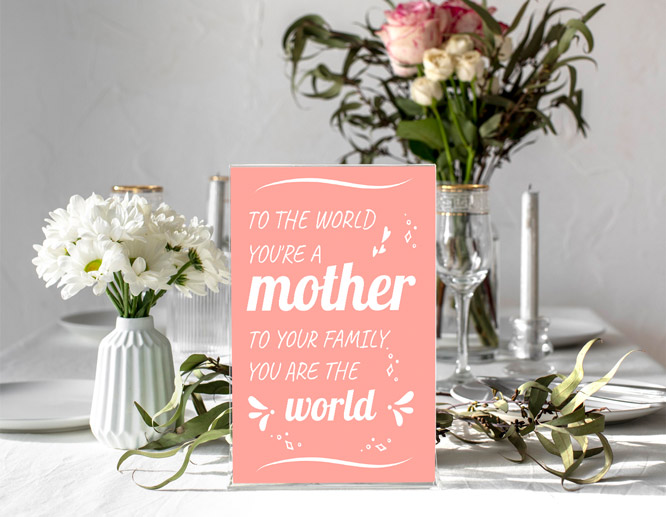 Idea 3. Don't Forget About Your Grandma
Grandmas are angels who appreciate your attention more than anyone on earth. You can always personalize Mother's Day plaque ideas for grandma or create unique items just for her.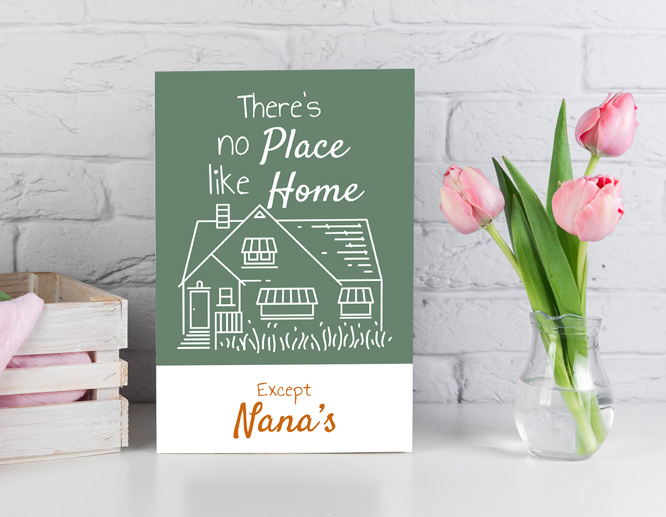 Idea 4. Tell Her She's in Your Heart
A cardiogram illustration that's made to spell out "Mom" or her name will top the list of cute Mother's Day signs. Let her know she's always in your heart.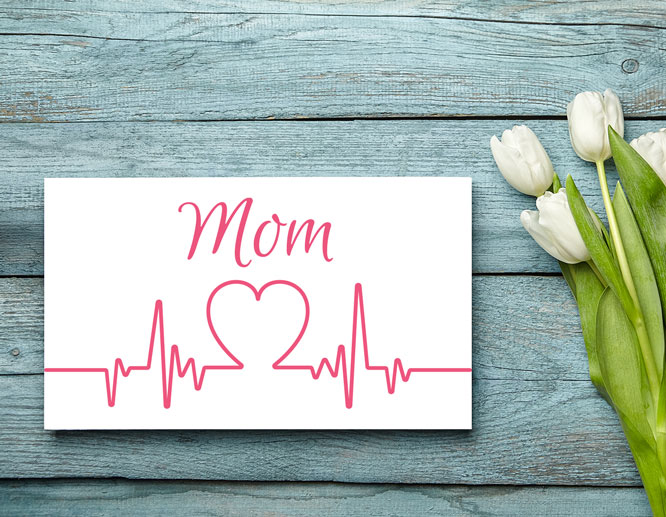 Idea 5. Celebrate Important Life Moments
Speaking of memories, there are more Mother's Day plaque ideas that'll remind her of the happiest moments you've shared. Add your and your sibling's names and dates of birth on a plaque. Use an interesting medium like wood prints or metal photo prints for a refined, long-lasting piece of decor.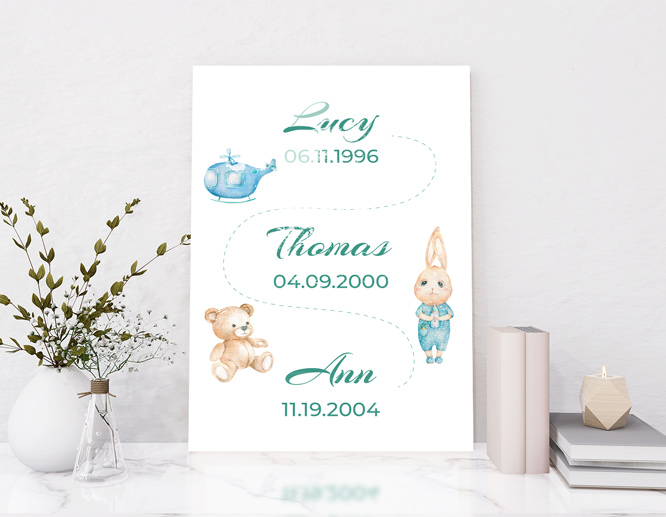 Create similar illustrations online with our sign design tool. It has thousands of templates, elements, backgrounds and other features for customizing your plaque.
Nice Mother's Day Wall Decor Ideas
Decorate the walls for a celebration with cute Mother's Day signs. The ideas below can be used even after the holiday to induce warm feelings.
Idea 6. Portray Your Photos as Wall Art
Get acrylic photo prints of the two of you together and set them up on the walls of your home. Every time you look at the photo, you'll both feel the bond that exists between you.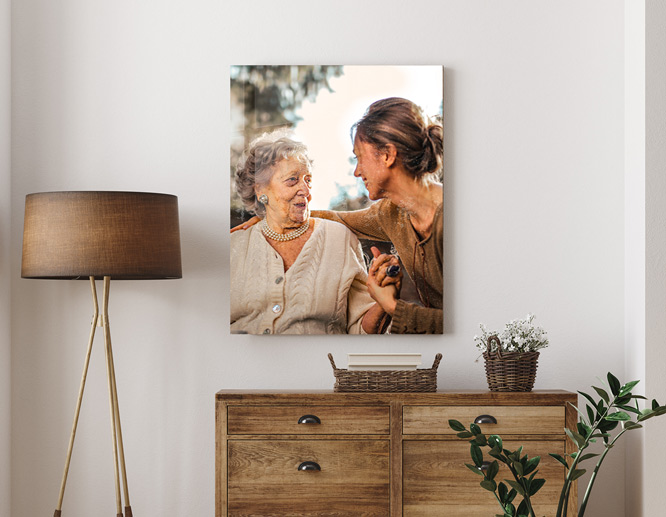 Idea 7. Get Animation Style Family Art
There are lots of tools that can create animated variants of your photos. Once you've converted your favorite photo, simply upload it to our design platform, customize it to perfection and place your order. You can create a whole collection of cute Mother's Day signs using this idea.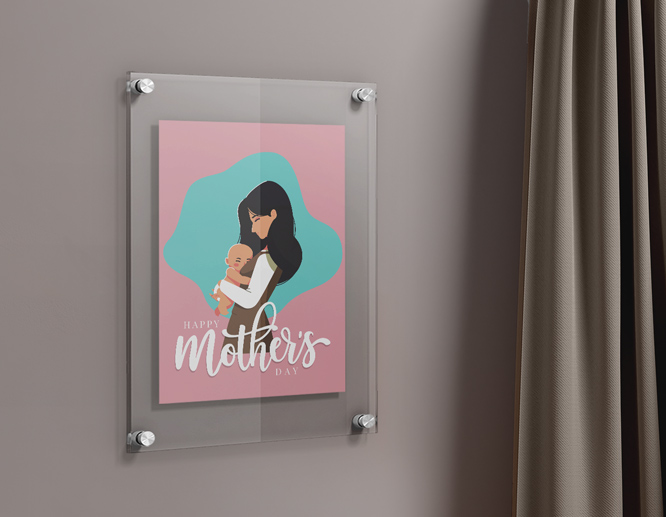 Idea 8. Use Minimalistic Wall Decor
Wall decals can be the base for a handful of Mother's Day background ideas. You can combine timeless designs and quotes to use as wall art after the celebration.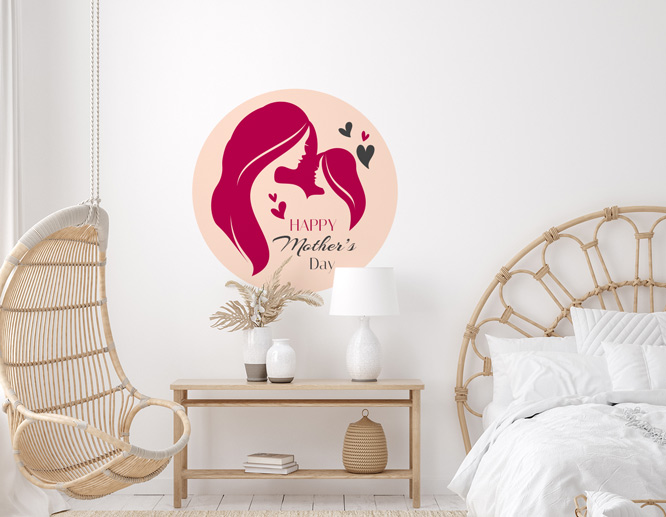 Idea 9. Show Her Your Appreciation
We don't always know how to tell or show our moms how amazing they are. One way to do it is with cute Mother's Day signs describing her with the words that best fit her. Choose designs which contain anagrams for "mother" to add a unique touch to your gift.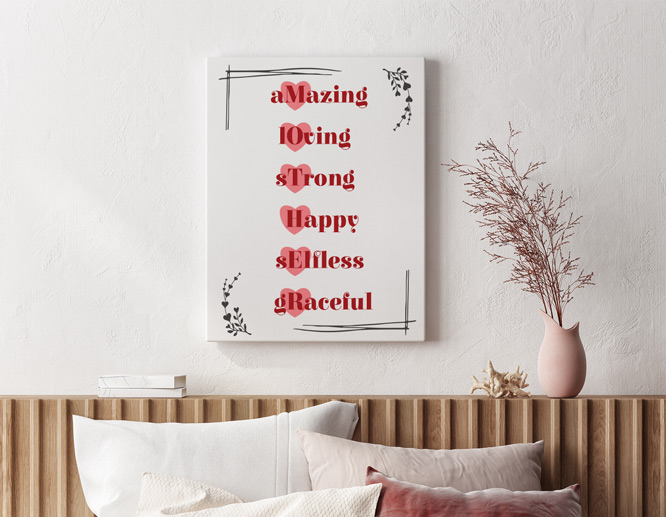 Check out our sign templates. They'll inspire you and provide appropriate designs for your Mother's Day sign ideas. Bring them to life with ease and order them directly from the tool.
Idea 10. Create a Family Photo Collage
Photos bring back memories. Pick the best snapshots of your mom and loved ones for a sweet memory board. Arranging them in the shape of a heart then adding quotes and special dates are all cute Mother's Day sign ideas for a photo collage.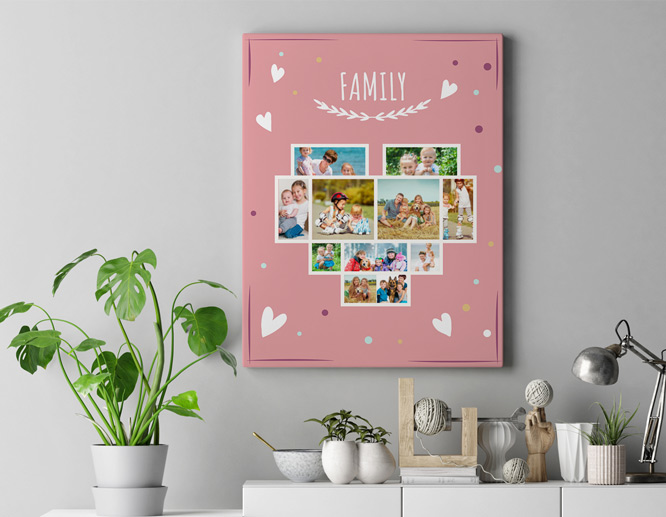 Idea 11. Make a Crossword Decor Piece
Moms have a way to add a twist to our lives, don't they? Remind her about how much fun she fills your world with using unique crossword Mother's Day sign ideas. Simply apply crossword letters and symbols onto rigid or smooth products. Take a look at this one for inspiration.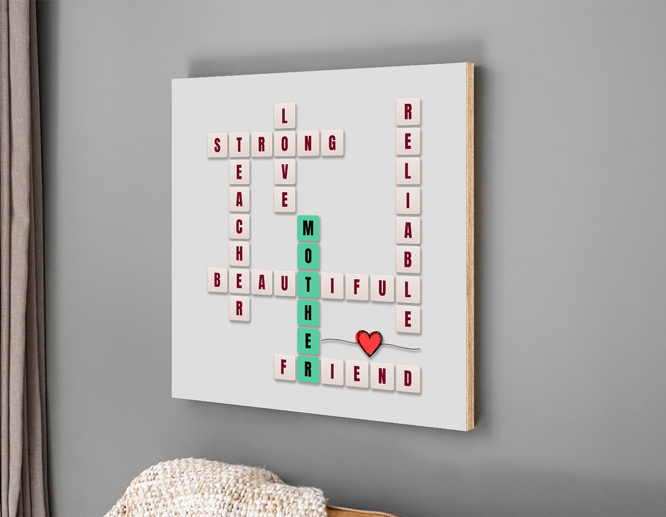 Do you like the idea of designing your own illustrations for gifting? Here are cool

Mother's Day woodworking ideas

to help you kickstart a DIY project.
Idea 12. Send Love from Wherever You Are
You and your siblings may not always be in the same place as your mom. Send her your love with custom canvas prints featuring a map of all your locations marked with hearts.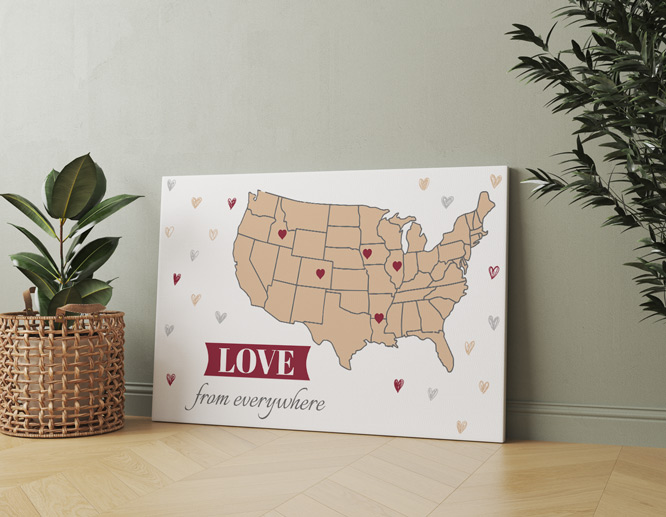 Idea 13. Gift Her Favorite Recipe Board
Cute Mother's Day signs can also make for functional gifts. Get a number of self adhesive foam boards with her favorite recipes that will always be at hand. She'll be glad to have a look at them whenever she forgets what ingredients to use.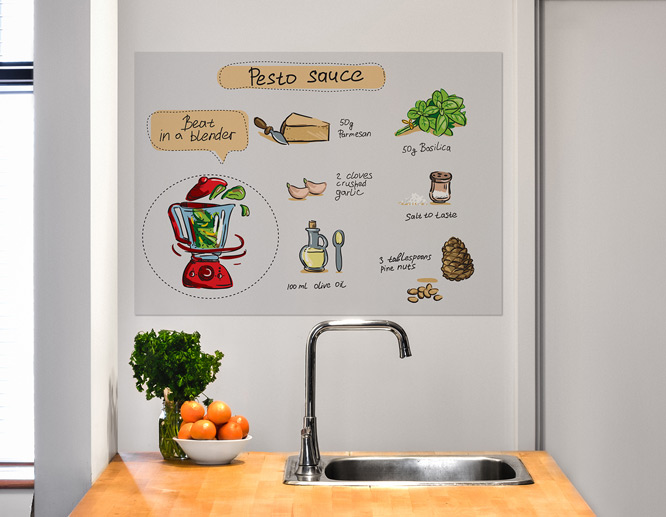 Before we get to more Mother's Day sign ideas, here's a fun fact. More calls are made on Mother's Day than any other day of the year. Another fun fact is that a call should always be accompanied by a cool gift. Below, we have a list of funny gift ideas for  Mother's Day which will be the cherry on top.
Funny Mother's Day Signs
Make the celebration even more exciting. Consider using these funny illustrations for Mother's Day.
Idea 14. Use Sticky Illustrations for Wine
Sometimes you might be the reason for your mom to have a glass of wine and forget about your mischief. Give her a laugh and turn this into a creative treat by gifting her Mother's Day funny signs. Get her a bottle of wine with some hilarious quotes on it.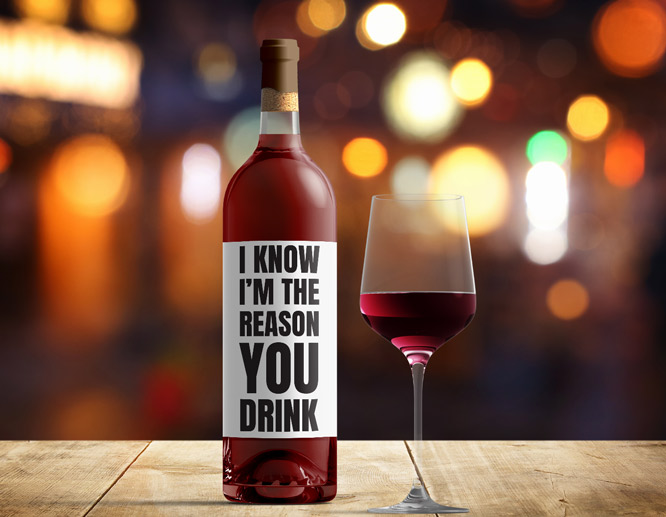 Idea 15. More Wine
When it comes to the topic of alcohol, Mother's Day sign ideas can go on and on. Get a personal quote displayed on framed or rolled canvas prints to gift her along with her favorite drink. You can even combine multiple drink-related Mother's Day funny signs for thematic party decor.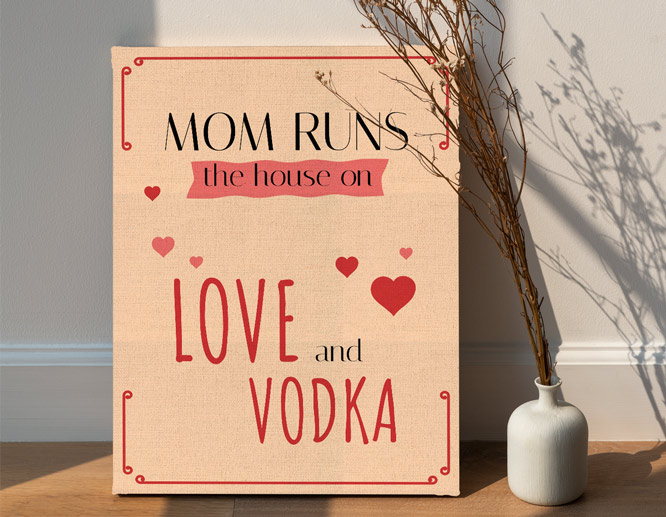 Here's how to make wooden signs in 3 steps if you want to craft your own Mother's Day funny signs.
Idea 16. Let Her Know She Did a Great Job
Who made her a mommy? You! Who made you the person you are? Well, admit it, she had a major role to play in your personality development. PVC printing is an excellent option to implement this idea.
Idea 17. Tell Her She's Loved Even When She's Mad
Do you remember trying to define what your mother means to you? Here's a funny spin on that shared experience. Combine this with other Mother's Day plaque ideas with humorous quotes to make your mom burst into laughter. You can choose foam board printing as a means to liven up this idea.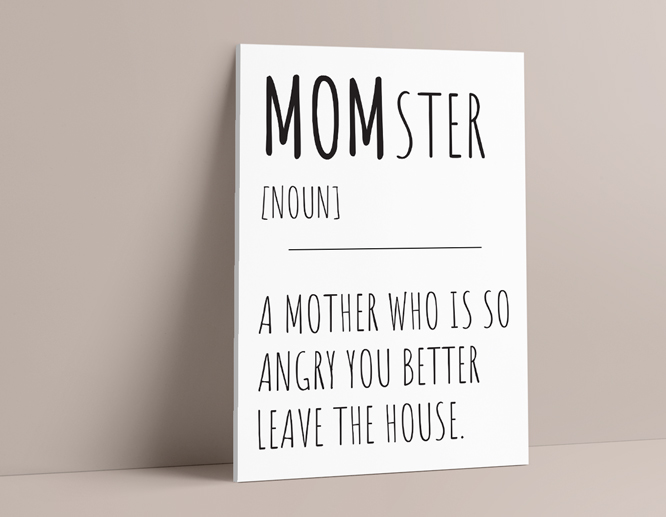 Idea 18. Give Credit to Mom's Superpowers
You've probably had that experience when you couldn't find something and your mom shows up with the item in her hand after spending a mere 3 seconds searching? That's a mommy superpower. Use the phrase "Nothing is really lost until mom can't find it" for a funny Mother's Day illustration.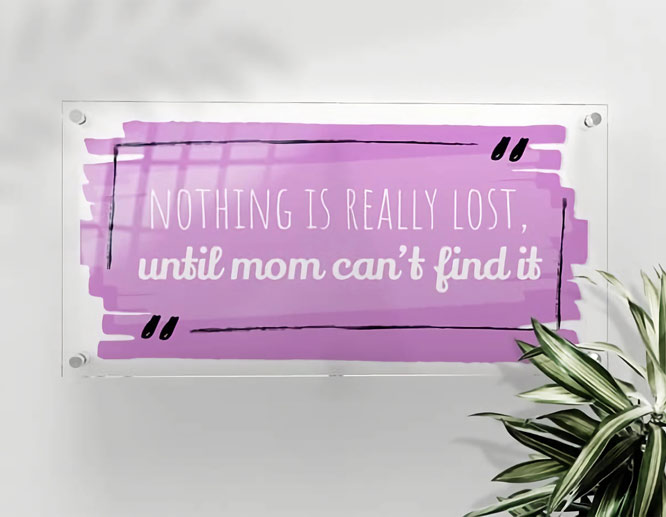 Idea 19. Turn Her Favorite Phrases Into a Photo Op
There are phrases that all mothers use and there are those that are typical only to your mother. You can make cool Mother's Day backdrop ideas with "that's-so-mom" sayings. Get a step and repeat banner with quote clouds that read "Because I said so" in response to "Why?". These party backdrops will become a favorite spot to take pics at the Mother's Day party.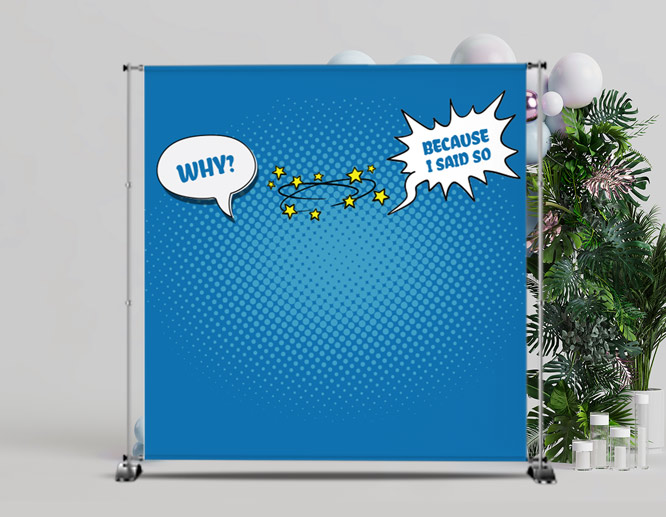 Do you need more Mother's Day banner ideas? You'll find a handful of cute Mother's Day backdrop ideas in the last section of this article.
Idea 20. Let Everyone Know Who's the Boss
Who's the boss in your family? C'mon, you can admit that it's your mom; at least on this day. Go ahead and get sturdy gator board signs to implement different Mother's Day sign ideas.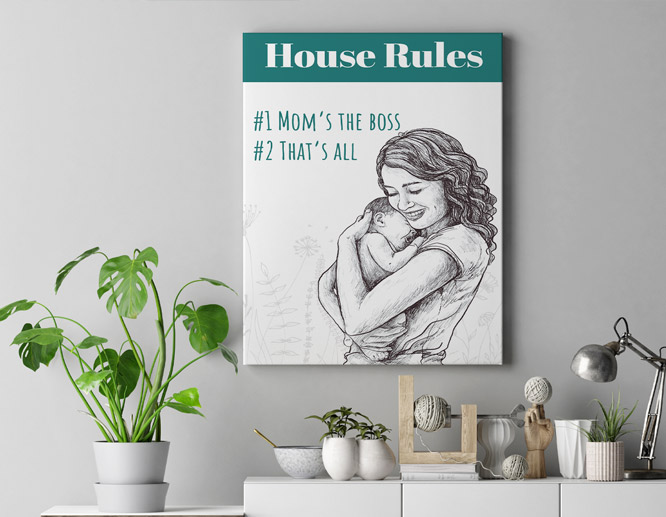 Did you know that Mother's Day was officially celebrated for the first time in 1914? It's now among the most widely celebrated holidays in the United States.
Read on for Mother's Day backdrop ideas to rock the special day.
Bonus: Mother's Day Backdrop Ideas
Idea 21. Embrace Floral Patterns
Flowers are a must-have for Mother's Day. Use Mother's Day banner ideas with floral imagery and fill the day with a warm, feminine atmosphere. Searching for a product to match the idea? You can't miss with our party banners.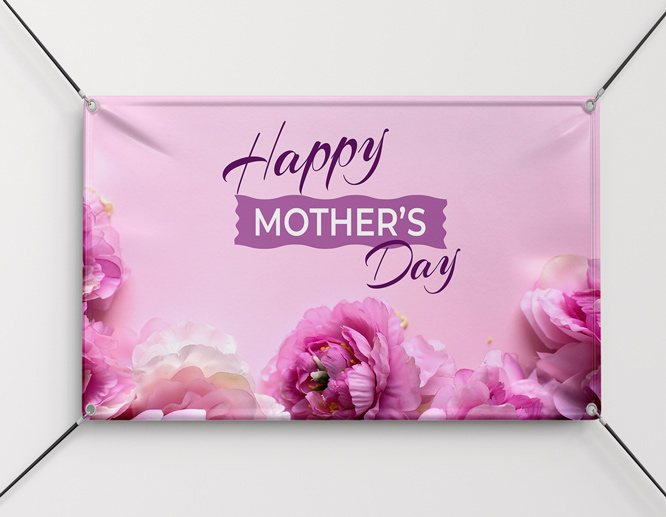 Idea 22. Accentuate Mom's Photo With a Line Drawing
Line drawings also make great Mother's Day backdrop ideas as decorative items and photo backdrops. An outline of a pregnant woman, a mom and baby or a mother and her child walking hand-in-hand will make cute Mother's Day backdrop ideas that you'll both remember for a lifetime.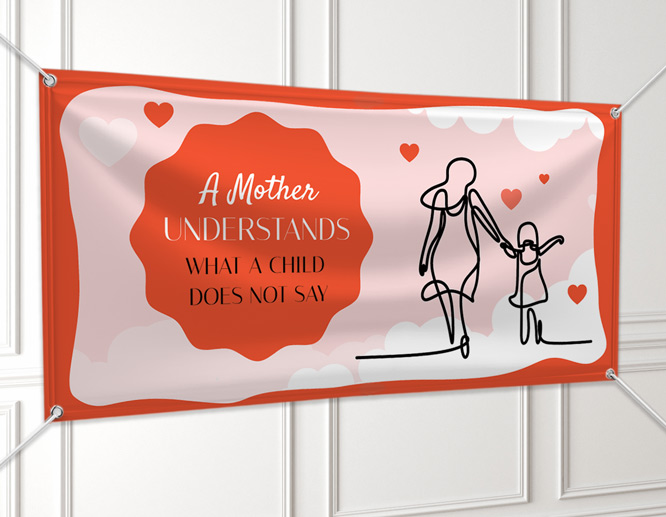 Idea 23. Color the Day With Warmth
Mother's Day backdrop ideas with warm colors will make your holiday party even more exciting. Choose a thematic pallet for your large illustration along with a nice quote. Read up on color psychology to set the mood you want.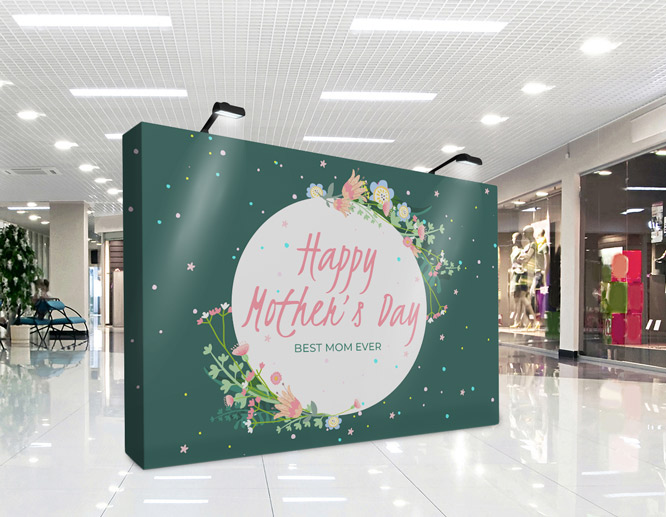 Idea 24. Decorate in Sleek Black and White
Speaking of colors, elegant black and white illustrations can also look amazing for Mother's Day backdrop ideas. They won't take up much attention but they'll add an air of sophistication to the room.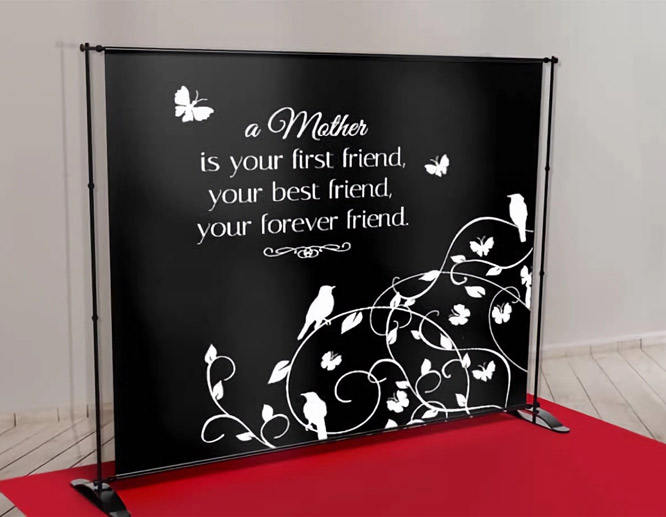 Idea 25. Celebrate a Lifetime of Motherhood
This holiday is all about celebrating motherhood. Mother's Day background ideas that showcase the theme of motherhood in its different stages would make ideal timeline wall art decals. Attach silhouette images of a baby girl to the wall growing up to become a mother herself one day.
Idea 26. Combine Sweet Words in the Shape of a Heart
It's never enough to tell your mama how amazing she is. Mother's Day background ideas give you yet another opportunity. Create a heart-shaped illustration with the words that describe her and use it for anything starting from Mother's Day banner ideas to a hand-written card.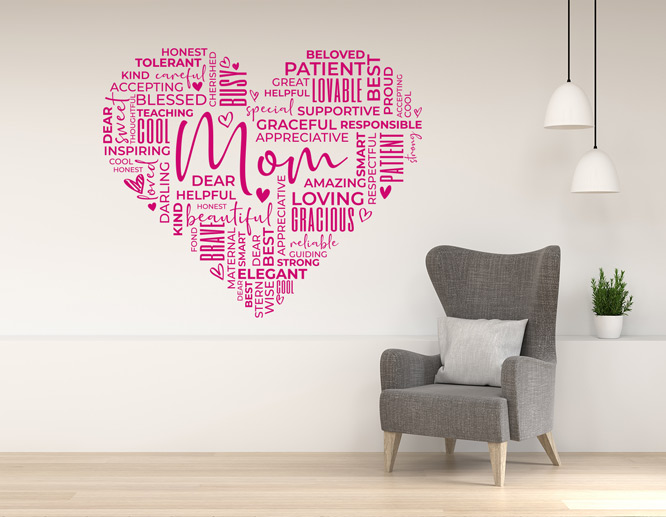 Are you ready to give your mom the Mother's Day celebration she deserves? Check out our Mother's Day templates and bring your coolest Mother's Day sign ideas to life for gifting and decoration.