Trade shows are the most anticipated and intriguing events for businesses. People have started going to trade shows again, so you'll need to let your imagination loose if you want to beat the ever fiercer competition. Trade show promotional items are must-haves if you're looking to reap success.
Let your inventive inner "marketing guru" shine by spicing up your booth decoration with carefully chosen graphics. Attract attention from every direction with visible graphics on products like retractable banners, pop up displays and many more.
Explore trade show promotional products further and select your perfect match. You're guaranteed to be a beacon of inspiration to your attendees. 
Best Promotional Items for Trade Shows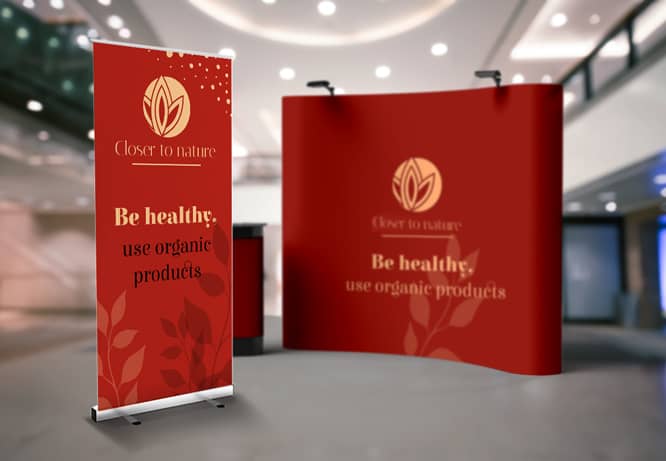 Business expos are all about highlighting your business and bringing in new customers. Bearing this in mind, it's no surprise that each detail in the design and every step in the preparation of your booth design is very intricate. 
Before you establish one-on-one communication you must guide guests towards your area. Represent your brand identity in its best form and communicate your message with style and clarity in order to succeed.
Read on to find the best promotional items for trade shows that can come in handy.
Unmissable Overhead Hangings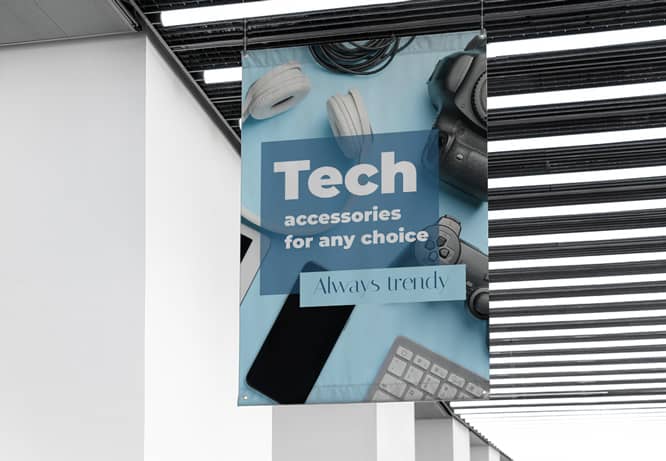 Exhibition promotional items are essential to help you reel people in towards your spot. Should you find yourself at the far end of the venue, decorating around your booth won't suffice. You need something to get people to see you from afar.
One good solution is suspending a large banner from the ceiling. Fabric banners are the best promotional items for trade shows in this case. Glare-free and durable, they guarantee your visibility by giving your message great exposure. Hanging a banner is doubly beneficial as it doesn't take up any more of your already limited space.
Not sure about the design? Check out our templates to draw some inspiration. 
Eye-Catching Trade Show Promotional Products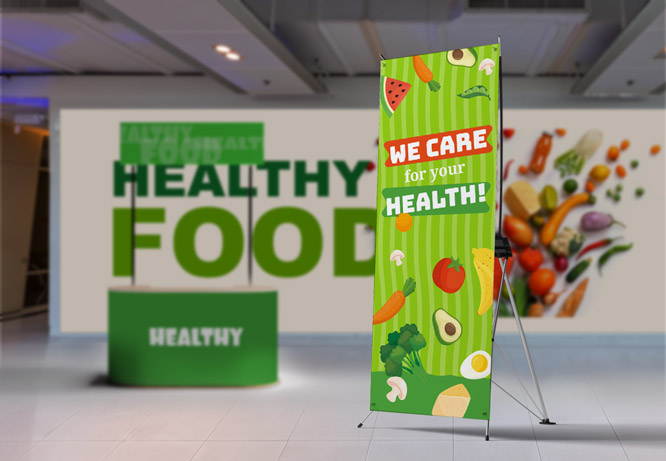 Suppliers, manufacturers and consumers alike await for these gatherings to get some insight into what's trending. Yet, for participants, these shows may incur some high costs. Look for alternatives to expensive and fancy exhibition promotional items. You can always find a more pocket-friendly item that helps you cut down on some expenses.
Popular for advertising and informative purposes, X-stand banners are cost-efficient options suitable for you. Yet, that isn't their only advantage. They're easy to transport and have a reusable stand. Run different campaigns just by switching the banners. With creative designs and catchy graphics, these promotional items for tradeshows are sure to pull attendees towards you. 
Explore the article covering Trade Show Banner Design for inspiration.
Simple Promotional Banners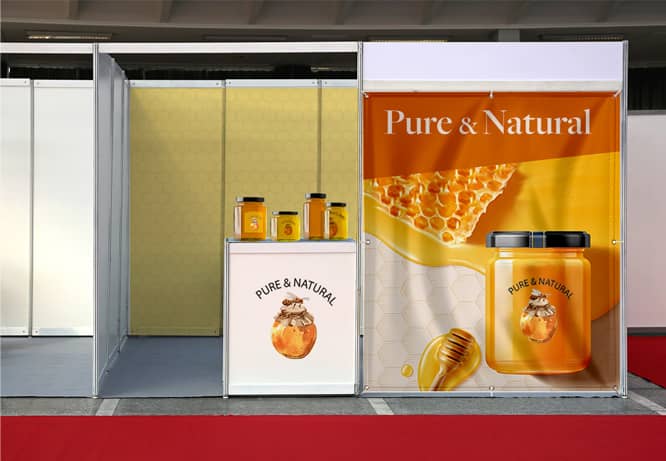 Less is more! We hear this phrase a lot. We also agree there's some truth behind the statement. You don't necessarily have to use intricate trade show promotional products to transform your trade show booth area into something magnificent.
Consider full color vinyl banners to complement the design you choose for your booth. Intended for both indoor and outdoor use, such banners highlight perfect graphics that single-handedly set you apart from the rest. With so many hanging accessories available, position them anywhere you want with ease. 
As for the graphics, head over to our sign design tool and design striking trade show custom promotional products. Experiment with elements, colors, texts and backgrounds to get the desired result.
Interesting Alternatives to Photo Booths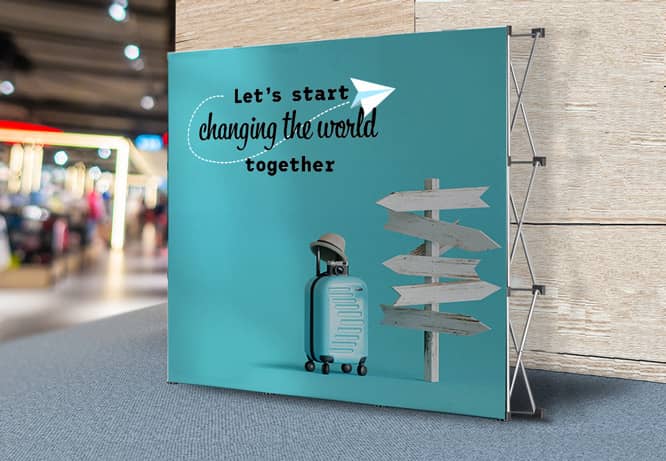 Attendees and participants alike try to establish an online presence at trade shows through posts they upload online. But how?
As a participant, if you want your images floating around different social media channels, you need attendees to help. Involve them in the process by adding a fun, engaging element to your booth design. Set the stage for a photoshoot without even placing a photo booth. Get a beautifully crafted backdrop to spread positive vibes. Make it even more appealing by adding the brand's motto or your favorite inspirational quote. Many trade show promotional items discussed in this article are handy. Figure out which one works best for you and grab onto new opportunities.
Outdoor Convention Promotional Products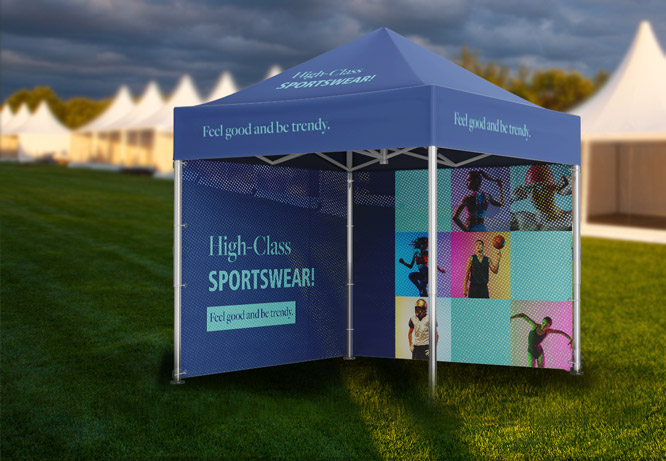 We are all in agreement that the pandemic has altered how we look at things. It impacted the choice of event venues too. As a result, outdoor events have risen in popularity, paving the way for outdoor trade shows as well.
This change of venue implies that as you go about laying plans for your booth design, you should take the weather into account along with other things. Be well-equipped to face all possible challenges with mesh banners and other weather resistant trade show promotional items.
Mark your presence with big fonts and striking graphics throughout the whole event and don't fear wind or rain. Produced of woven material, they're perfect for open air areas. 
Here are creative trade show display ideas to stand out in a crowd of brands. 
Imaginative

Exhibition Promotional Items 
Visibility isn't only about big fonts and bright colors. An innovative approach to exhibition promotional items can be the key to direct attendees' attention towards you. 
Trade Show Floor Plan Illustration Stands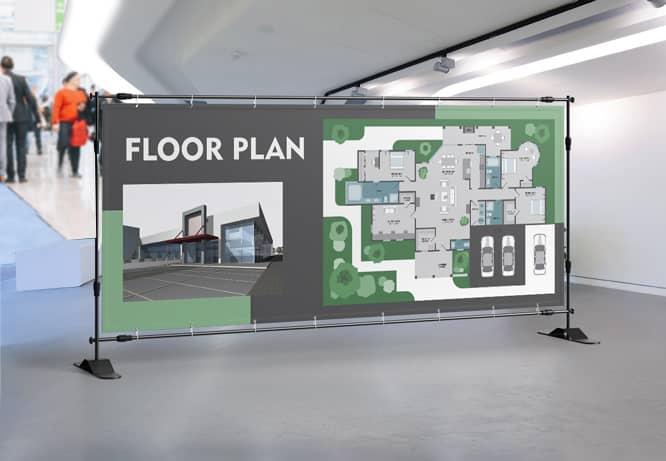 Large events such as trade shows require honed organizational skills and meticulousness.
Visitor convenience ranks high on the organizer's list of priorities. Consider displaying the floor plan near the venue entrance while organizing an event. This will be faster and more cost effective than printing thousands of brochures.
You can find various trade show promotional products suitable for this purpose.  Step and repeat banners are displayed at events, including trade conventions, to promote participants and their goods. Why not use them for informative purposes as well? They also serve you as a marketing tool, given their appeal.
Interesting fact: the first recognized trade show ever took place in 1851.
Booth Entrance Promotional Decorations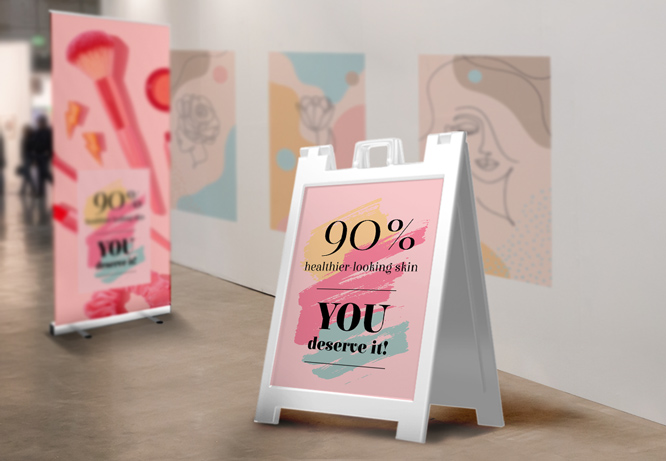 Directing people towards your spot is just half the job. Your next step should be to persuade people to stick around. You can better introduce them to your business and products. Get trade show promotional items to achieve that goal. Decorate the entrance and invite people in at once. 
Your goals and booth location can affect what convention promotional items you use. You can do anything: hang your logo from the ceiling or place a stand with a catchy hashtag near your booth. Or you can consider going old school and getting a sandwich board. Use its double-sided option to maximize your message's visibility and serve both advertising and informative purposes. 
In case you're more interested in achieving your advertising goals, have a look at our retail sale signs for every occasion.
"Why Not?"

Expo Promotional Items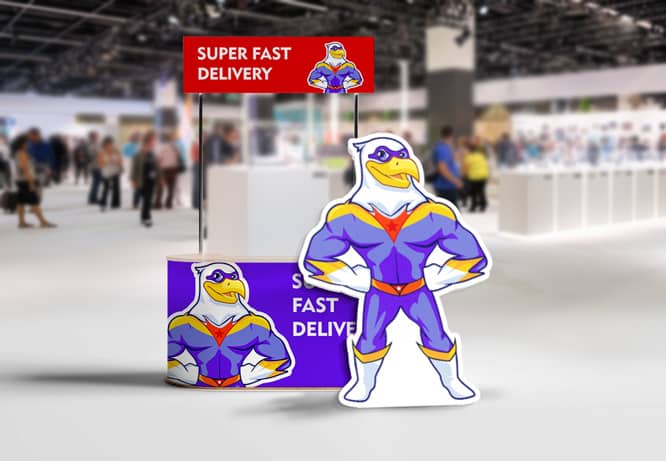 Trade show promotional items must be memorable and leave a long-lasting impression. To get that effect, use your logo or a mascot as a decor. Manufactured in the form of a life-size character, it can become an interactive element. Announce a photo contest which revolves around these designs on a preferred social media channel to draw some extra attention to them.
As for the product type, dazzling foam board signs just as well as gator board signs are ideal if placed in plain sight. They're durable and catch the eye with their superior quality printing. Combine it with other trade show promotional products and enjoy considerable exposure. 
Trade Show Booth Custom Decor Items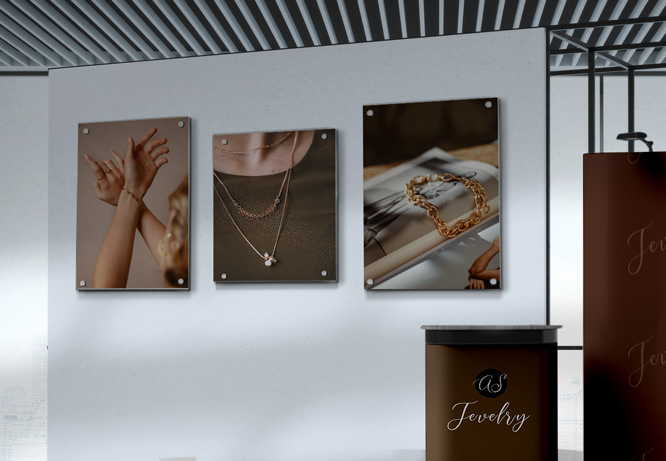 Think of a feature that will set your booth aside from the rest if you plan to increase your brand awareness during the trade show.
An empty corner allocated specially to discuss your offers can be quite intriguing. Your attendees will enjoy having a private talk with your brand representatives away from all the hustle and bustle. For the spot to better serve its purpose, make it inviting and comfortable. Adorn it with the best promotional items for trade shows, a possible seating area and some product samples.
In case your booth has walls, try aluminum signs or PVC signs. Used in modern interior decor projects, these graphics will add extra appeal to your space. Tell your story or heap praise on your product quality. Do that in a cute way and you'll kill two birds with one stone. You can display these durable, rust-proof trade show promotional items later.
Trade Show Fabric Structures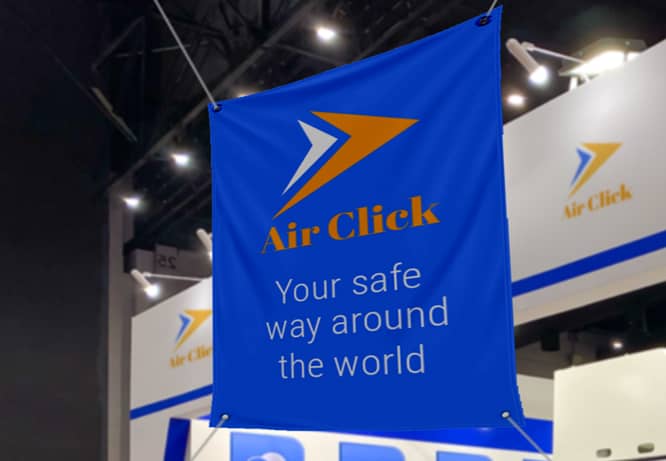 Fabric structures bring a special charm to any space they decorate. Many prefer them to other exhibition promotional items because of the advantages they provide. First, fabric structures are lightweight and easy to transport. Second, their flexibility makes it easier to implement many creative ideas.
Fabric structures can also be used to cover the walls of your trade show booth. This will allow you to add your own style to the venue architecture surrounding your area. It will also be a creative way for trade show participants to set up a special atmosphere for visitors.
Giveaway Convention Promotional Items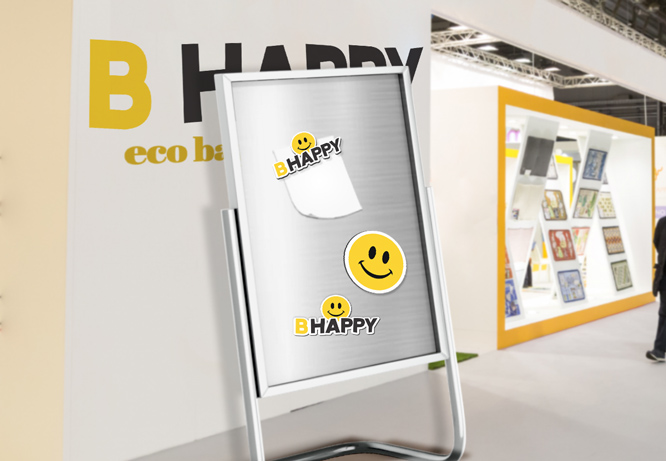 Last but not least are giveaway items that come in bags some people "hunt" for. Mugs with a brand logo, pens or eco-friendly products are among popular trade show promotional products you can arrange in a giveaway box. Yet, this doesn't mean you can't come up with interesting ideas to surprise your attendees.
Magnetic signs, for instance, can work best. Why? These convention promotional items are beneficial since your clientele can use them as decor elements as well. This feature makes them advantageous to your brand too. They'll provide you with constant advertising. 
Big events such as trade shows can be challenging. Yet, you can expand your clientele by displaying trade show custom promotional products to decorate your booth.
Plan every detail of your presentation using the trade show promotional items that best meet your requirements.