Extra space is a special treat for modern homeowners. With houses and apartments getting smaller, having a separate guest room and a home office is a luxury. 
To optimize the style and function of your spare room, you'll need to get savvy. The best of both worlds can be achieved by merging the guest and workroom together. Here are the home office guest room decorating ideas to make the space both cozy and productive.
Home Office Guest Room Decorating Ideas
Here, I've gathered 26 brilliant home office spare room decorating ideas. They will help you set up a warm guest room and a functional workspace all in one. 
Your versatile room is just a few home office guest room decorating ideas away.
Guest Room Ideas That Will Integrate Well With Your Home Office
Idea 1. Decorate Your Shelves With Art
The generic hotel room aesthetic is definitely not what we're aiming for here. Add a touch of character to the decor by adorning your shelves with canvas prints.
Printing your own photographs on canvas is a personable way to make your space distinct. This will encourage interesting conversations with your guests. You'll even get to brag about your photography skills a little. Make sure to add this tip to your list of spare bedroom office decorating ideas.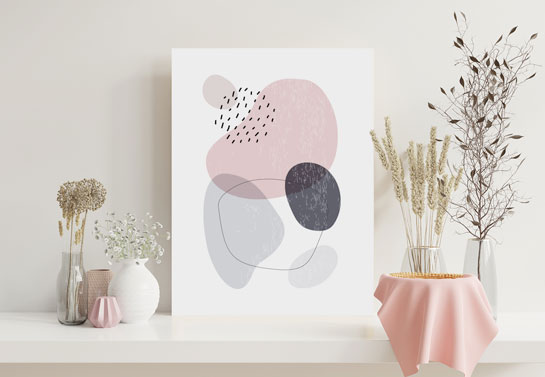 Idea 2. Make Your Guests Feel Welcome
Hang acrylic signs that read heartwarming messages to make your guests feel at home. This will be another reason for them to remember you as a generous and inviting host. Use our design tool to customize cool welcome signs.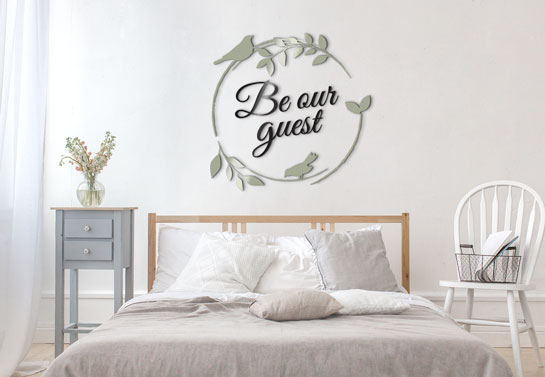 Idea 3. Display the World Map Printed on Canvas
A print of the world is a piece of decor that matches any interior design style. It's one of the decorating ideas for a study guest room that's always à la mode. Make it interesting by highlighting all the countries you've been to and those you're planning to visit. I bet this will keep your guests entertained or motivate you while you work.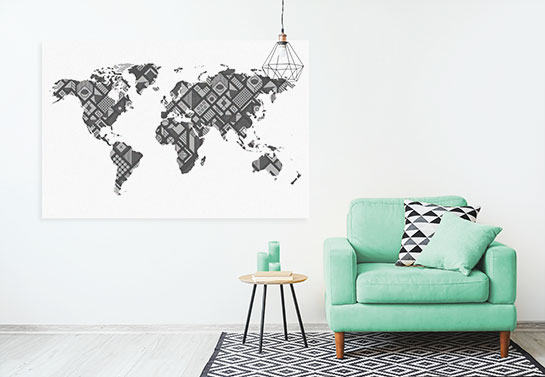 Idea 4. Get Yourself a Mirror
No bedroom can go without a mirror. Hang one on your wall to create a sense of spaciousness and make your guests feel seen. To make it home office-friendly, add an inspiring quote with adhesive lettering on it. Make sure its style goes well with the overall home office guest room decorating ideas you have in mind.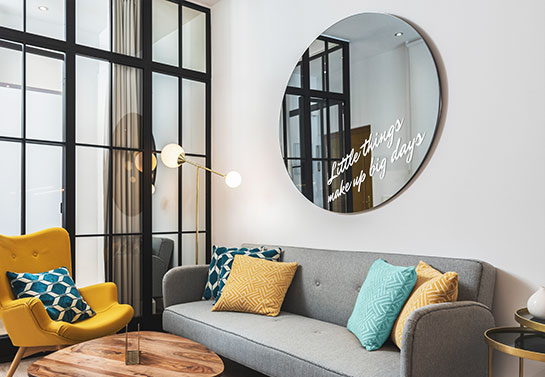 Idea 5. Introduce More Greenery
Plants are a breath of fresh air that will relax the atmosphere for both guest stays and long work days. Choose small ones like succulents or larger ones like a Ficus Benjamina depending on how much room you have. You can get specific with the pots and choose ones that match the interior of your room.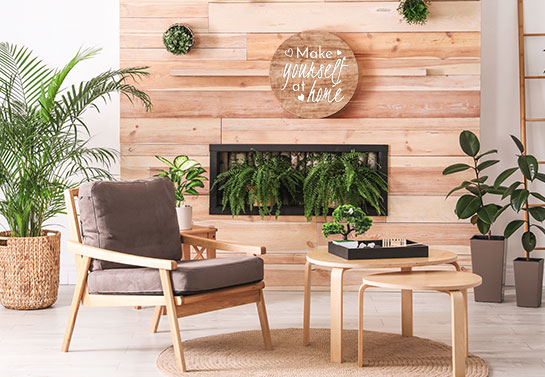 Idea 6. Put Books on the Shelves
Reading a book is always a good idea whether you want to take a moment from your work or entertain your guests. They make an ideal addition to spare bedroom office decorating ideas. Your room will look classier and it can even include texts for work research. Choose a few of your favorites and place them on shelves and nightstands. Keep it a secret but I always set shelves full of books as the background for my video calls.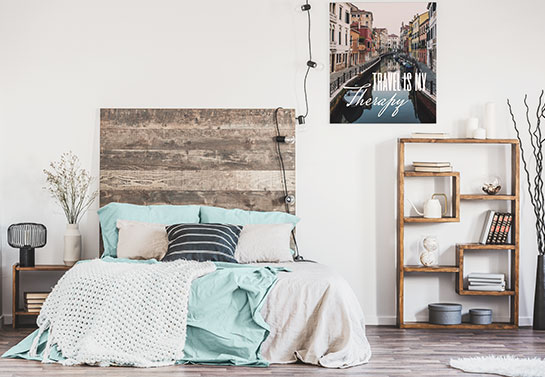 Idea 7. Have Some Fun With Your Decor
Quote prints have long been a favorite decor among interior designers. They're one element that show off your personality. As David Nightingale Hicks claims, "The best rooms have something to say about the people who live in them." Here is one example for dog lovers. Of course, you can use your own funny quotes that emphasize who you are and make your guests smile.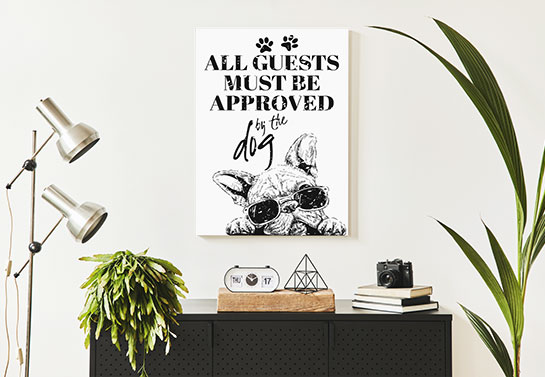 Idea 8. Choose Hanging Signs
Hanging signs are perfect as you can always replace or remove them when not needed. Here is an example of a quote print on wood that will give your room a homey feel when you welcome your guests.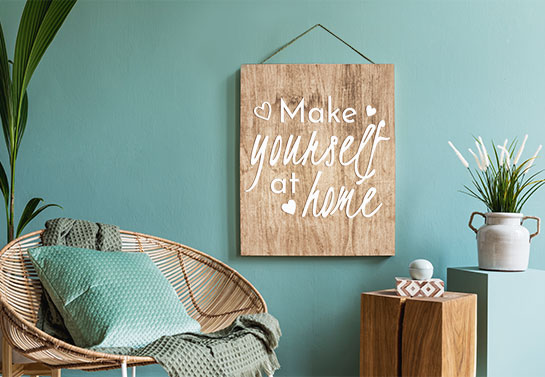 Idea 9. Include Decorative Wall Lights
"When working from home, good lighting is key," says designer Patrick Planeta. Lighting is the best way to set the mood in a bedroom and office space alike. Decorative wall lights are a nice feature to make your guests feel luxurious. In addition, get yourself a table lamp that will maximize your zone while working.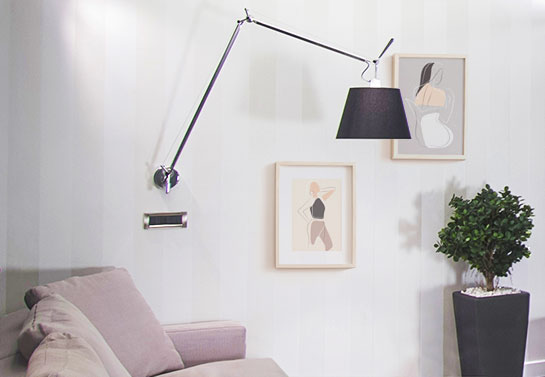 Idea 10. Involve Reminders of Where the Needed Utensils Are
When thinking of guest room ideas, don't forget that their main purpose is to make your guests feel at home. They might feel uncomfortable asking where the towels or other things they need are. Or they may be confused if they can use the toiletries. You might also just forget to let them know. Use stickers and leave kind notes for them. They don't take up any space and won't make additional clutter.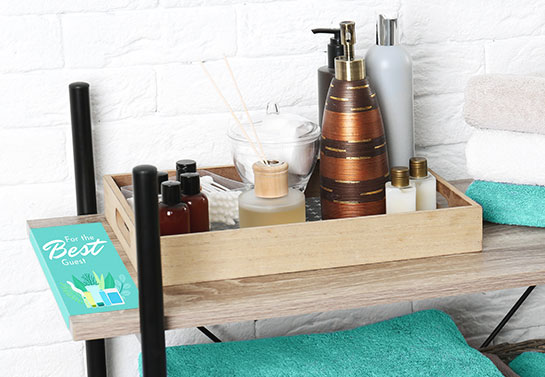 Idea 11. Don't Forget About the Floor
Footstep stickers may seem not to fit in the list of decorating ideas for home office guest room at first. But it depends on how you design them. You can choose the words "Enjoy Your Stay" instead of the common "Follow Me". Welcome your guests with a sense of humor and a kind note to show them their section of the room.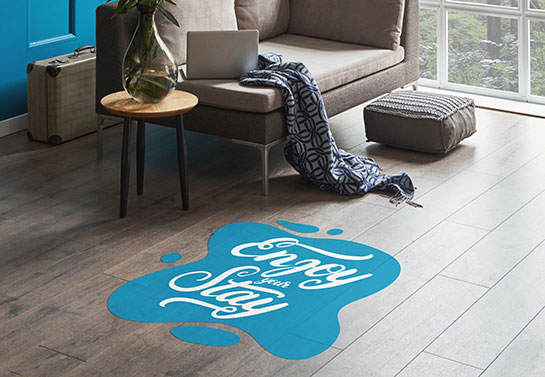 Idea 12. Play With Words
The power of words is undeniable. They can get you motivated for work or make your guests feel like they belong. Here is a mixture of the two for your guest room home office decorating ideas! Apply them to a place that will be near both the sleeping and working areas.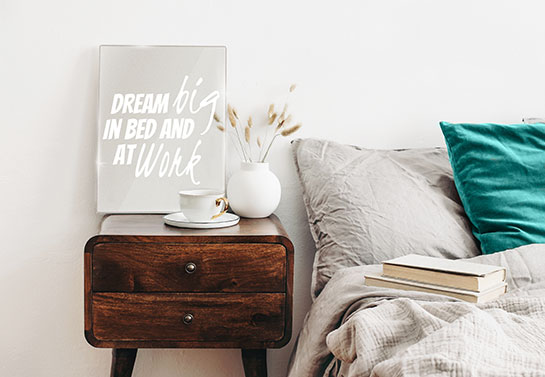 Idea 13. Embrace Decorative Shades
Shades are essential to any bedroom. The good news is, you can find plenty of decorative shades that will make the room more attractive and comfy at the same time. They also go well with other decorating ideas for a study guest room. You can open them whenever you need to let in natural light.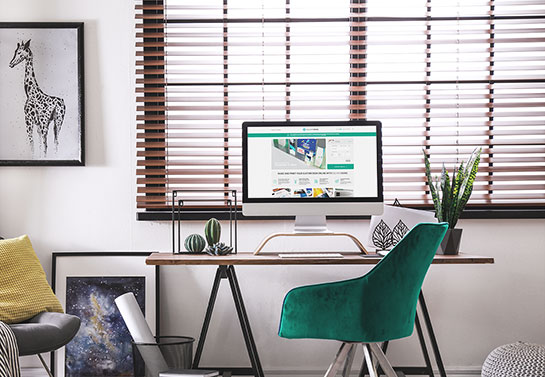 Idea 14. Embrace Geometric Artwork
Art has no limits. Neither do your options for decorating your guest room office. Geometric art on pvc printing is a great choice as it can complement both bedroom and workspace aesthetics. You can even create your own on our design platform.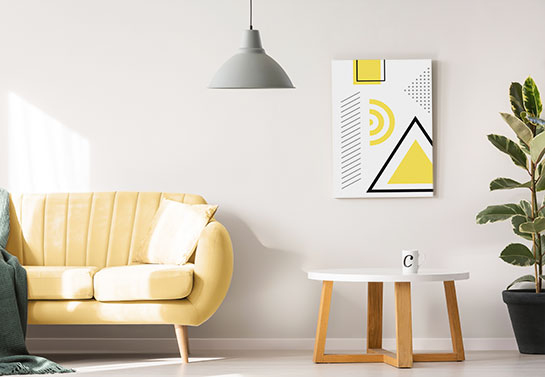 Home Office Spare Room Decorating Ideas Your Guests Will Love
Idea 15. Make Your Wifi Password Part of the Guest Room Ideas
Not everyone feels comfortable asking their host for the WiFi password. Relieve your guests of this burden by printing the password and network name on a wooden sign. Insert greeting texts with whimsical fonts as headers to make them feel wanted. Place one sign in the living room and the other in the guest room.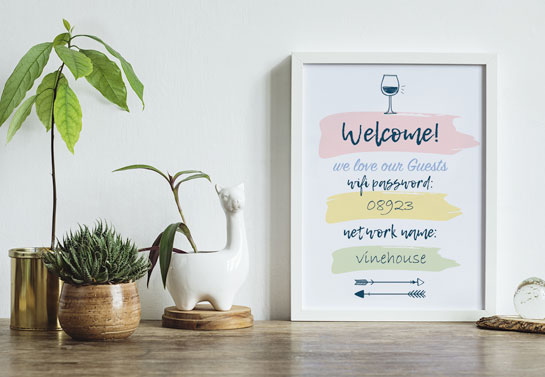 Idea 16. Print a Motivational Quote on the Wall
Home office spare room decorating ideas can be inspirational. Print vinyl lettering that reads a meaningful quote on the wall to start your workday on a positive note. Cheerful words and sayings can give you and your guests a boost of inspiration with every glance.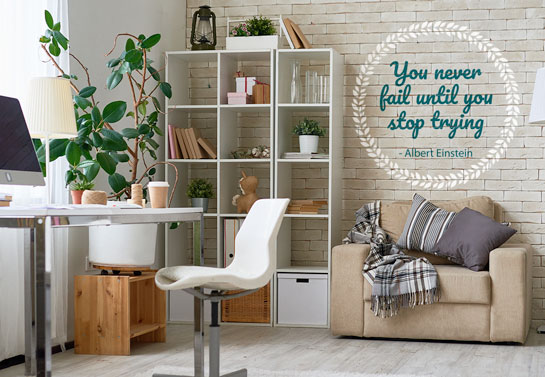 Idea 17. Get Wooden Decor Prints
Speaking of motivational quotes, there are a lot of ways to include them in decorating ideas for a home office guest room. You can get a wooden board printed with your favorite book or movie saying and hang it on the wall beside your desk. It'll give the place a farmhouse charm which, by the way, is a very trendy style this year.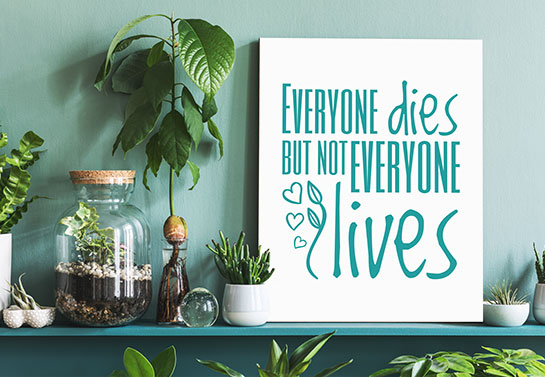 Idea 18. Apply Window Decorations
When looking for home office guest room decorating ideas, don't forget about the windows. A cute sticker that doesn't block the view and embellishes the windows at the same time will be a great addition to your office guest room ideas.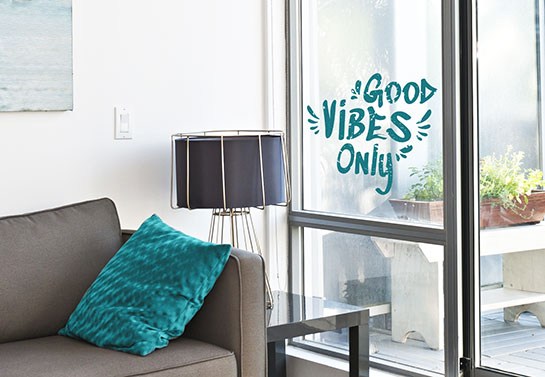 Idea 19. Separate the Working and Resting Areas
Use wall decals to visually separate different parts of the room. Working in a bedroom can test your motivation unless done right. This spare bedroom office decorating idea will give the feeling of a real home office. You'll also be able to choose different colors and patterns for each area.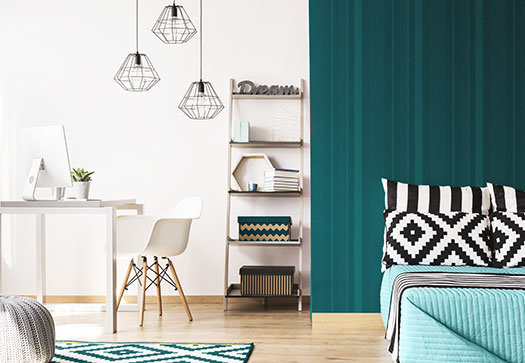 Idea 20. Hang Portraits of Celebrities
Each of us has someone we admire. Hanging their portrait on your wall is one solution for how to decorate a home office guest bedroom. A person who you aspire to be like will motivate you to work harder. Plus, the wall art will entertain your guests. You can either choose a traditional portrait on canvas or get creative with premium-quality acrylic photo prints. Adding an inspiring quote by them is another way to enhance this idea.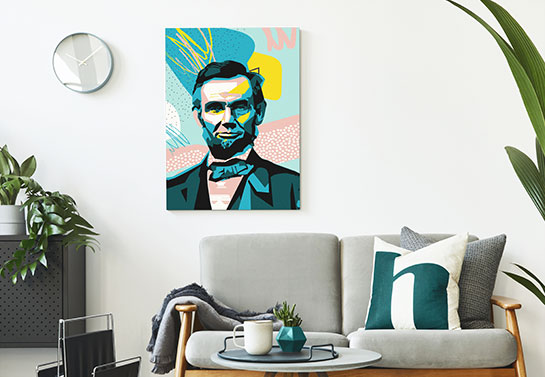 Idea 21. Hang a Clock on the Wall

Working from home is not easy for first-timers. The good news is, good preparation will make the process much easier. A clock on the wall will help with scheduling and adorn the space to top. Plus, it will go well with most of the home office guest room decorating ideas mentioned in this article. I'm sure your jetlagged guests will especially appreciate it.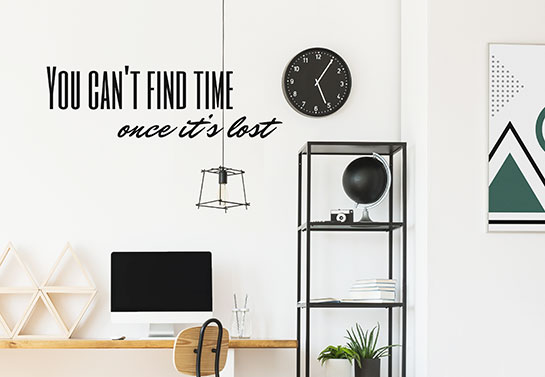 Idea 22. Print Images of Animals

Nature usually makes people feel more at ease and motivated. A great print option would be a few images of your favorite animals. The material choice is up to you. Foam board printing and gator board printing are my top picks.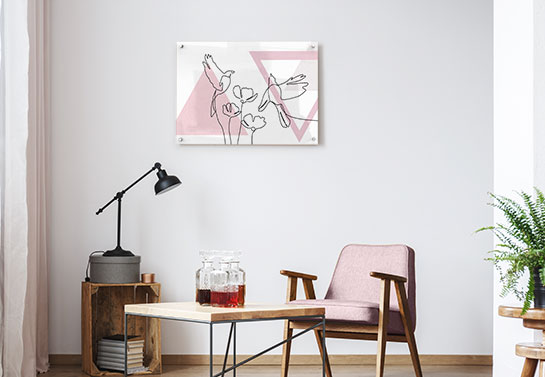 Idea 23. Bask in Natural Scenery
Don't limit yourself to animal pictures alone. Display vibrant prints of natural scenes that bring peace to you. In my opinion, there is no such thing as too much nature in a room. Give yourself the creative freedom to explore with different elements.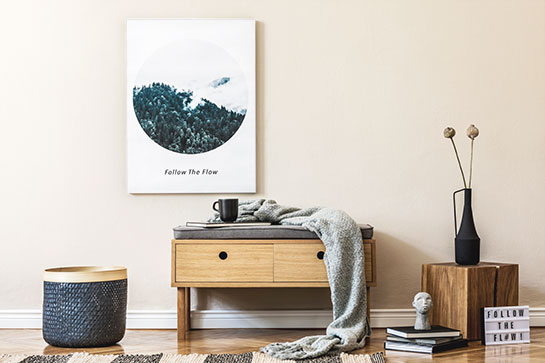 Idea 24. Include Your Children's Art
All children's drawing and art projects are precious to us. To make them last longer, frame them and hang them on your walls. For extra durability, laminate them or get them printed on materials like canvas. It will give the drawing a classy look and an extended lifespan. Trick your guests and ask if they know the famous painter. Who knows, maybe the next Malevich lives in your own home.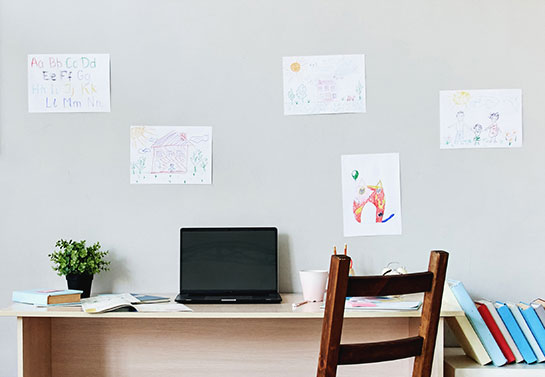 Idea 25. Create a Gallery Wall With a Dry Erase Board
You want your spare bedroom office decorating ideas to exude a personal style. A gallery wall with your favorite pieces of art will work wonders. Plus, you can make your dry erase board a functional part of it. Acrylic is the best material to make it look more elegant.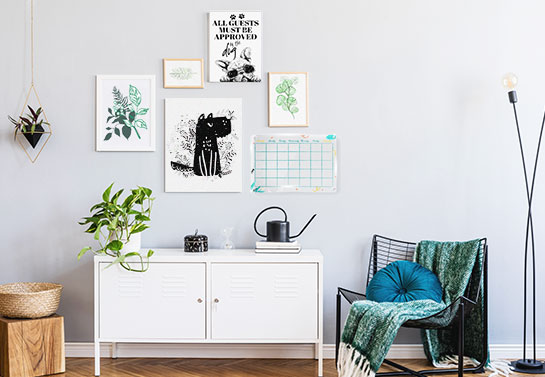 Idea 26. Use a Nice Calendar
Having a calendar in your home office is a must. It becomes especially useful if it has sections for notes. You don't have to stick with paper calendars. Use a material like opaque acrylic or blackboard paint on wood to match your interior style. Make it a useful part of your decor.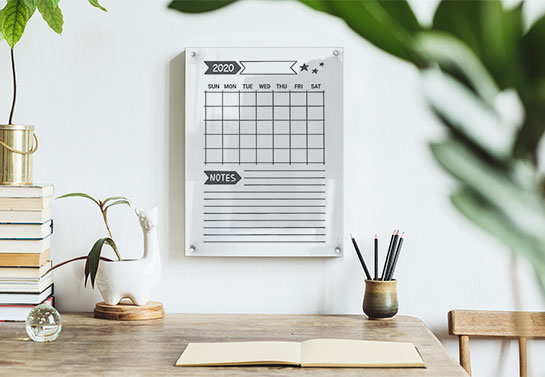 Get more home office decor ideas and turn a dull room into an inspirational workspace.
Bonus Tips: How to Decorate a Home Office Guest Bedroom
The home office guest room decorating ideas described above will make your room stylish and efficient. To bring it all together, I've included finishing tips for how to decorate a home office guest bedroom. Make your room practical and cozy with these office guest room ideas and tips.
How to Combine the Home Office with a Guest Bedroom
Get a Daybed to Save Space
It's okay if your guest room isn't large enough to accommodate a full-sized bed along with an office nook. Get a daybed to integrate comfort and pragmatism.

This way, your guests can get a good night's sleep on the daybed when they come over. Then, you can use it as a lounge area when you're not hosting anyone. 

Add a few colorful throw pillows to turn the bed into a couch and tie the other elements together. You get bonus points if the daybed has drawers in which you can store fresh blankets and linens.



Separate the Guestroom and the Working Area With a Bookshelf
Grant your guests a sense of privacy by separating the guest room and the office area with a bookshelf. It's important for your guests to enjoy peace of mind even when you may have to pull an all-nighter for a project while they're there. 

Using a bookshelf as a divider is an elegant way to section off the room. These decorating ideas for a study guest room will elevate the mood and functionality of your space. BTW, did you know that Victoria Beckham has huge bookshelves in her home office, too?



Hide Your Clutter in Drawers and Cabinets
You don't need to move your files out of your guest room every time you're hosting someone. Keep them secured in drawers that lock. This way, it's easier to prepare the room before your guests show up. 



Use Your Desk as a Nightstand to Save Space
Here's how to decorate a home office guest bedroom if you're working with a limited area. Get creative and double your desk as a nightstand using strategic placement.

Instead of a nightstand, position the desk near the bedframe and place a lamp on it that your guests can use for night reading. Check out these related traditional home office decor ideas for further inspiration.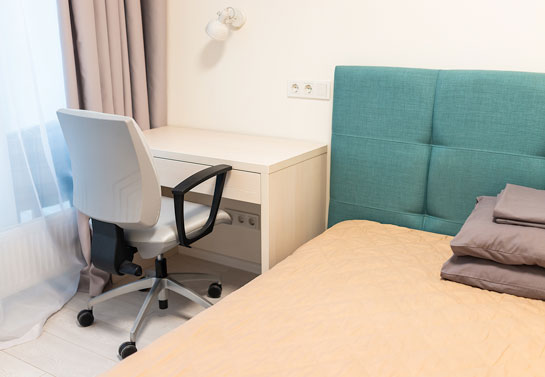 How to Choose the Right Colors for Office Guest Room Ideas
Soothing wall colors promote clarity and focus. The right color can also contribute to better sleep and relaxation. Our brains react to color on a psychological level. So what's the best mixture of colors for guest room home office decorating ideas? Keeping it neutral is an easy and wise choice. You can later add color to the room with decorative pieces to make it look more inviting and personable. 

When asked how to decorate a home office guest bedroom, people definitely have their favorites. 

We asked 105 people about their top color picks for home office walls. As it turns out, the majority of study participants preferred light grey. Take a look at the graph below to see the results.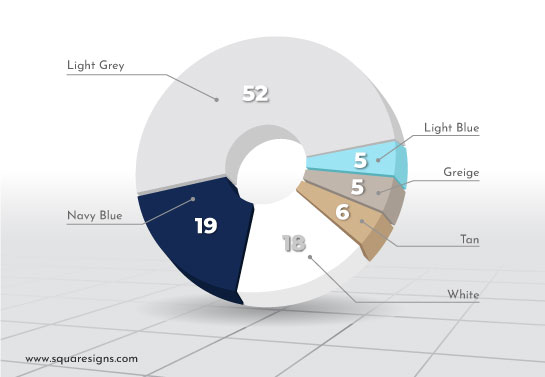 How to Make Your Guest Feel Welcome With Guest Room Ideas
Keep the Room Clean and Clutter-Free
Leave a nice impression and keep your mind clear for work with a well-kept guest room and office space. Get a wastebasket that matches the overall interior decor. Place it under the desk for a tidy look. This home office guest room decorating idea will maintain a clean and pleasant atmosphere. In turn, it will encourage you to put it to better use.
Provide a Basket of Toiletries and Candy
You want your guests to feel welcome and taken care of. Offer them a basket of toiletries containing essentials such as a toothbrush, toothpaste, body gel, razor - you get the idea.

Add a candy jar near the bed as a nice gesture. That way, they'll always remember you as the sweet host who pampered them with goodies. These are among the most heart-warming decorating ideas for a home office guest room.

Combining a guest room with a home office requires an open mind and an eye for design. Now that you know the trendiest decorating ideas for a home office guest room, you're ready to work some magic. Try coming up with spare bedroom office decorating ideas on your own, too. Check out these home office decoration templates for further inspiration. It's your turn to try these ingenious decorating ideas for a study guest room.