Your home office walls are blank canvases waiting to be adorned with creativity. These 20 office wall decor ideas will refine the style of your workspace so let's get to them. 
Home office artwork ideas can be a great source of inspiration for your daily tasks. You can amp your walls with quotes, flower wreaths, canvas prints - you name it! The possibilities are endless as long as you keep an open mind.
This article is packed with home office art ideas to inspire the workspace of your dreams. I'll also share important tips and highlights to optimize the decorating process. Reading the bonus section is a must if you want to pick out the right accent wall for your home office. 
Let's get started!
Cool Home Office Wall Decor Ideas for an Inspiring Workspace
Office wall art can be used for various purposes besides beautification. From boosting motivation to creating a relaxed atmosphere, these home office art ideas will help you create an astounding space.
Great Home Office Artwork Ideas for Motivation
Idea 1. Style Your Wall With Your Photography
If you have a love of photography, your home office walls are no less than a gallery space! You can exhibit your favorite work like a pro by printing photos on acrylic signs. Just like that, you can turn your office into a personal art museum.
These photos will give you a sense of satisfaction, especially if youre interested in photography yourself. It's a great way to remind and motivate yourself to practice your hobby more often!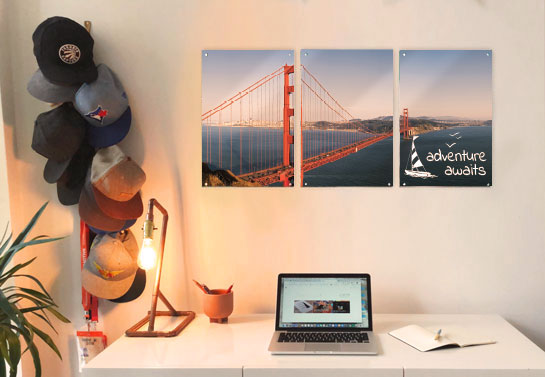 Idea 2. Get a Sign Printed to Motivate You
We all need a little push from time to time. A reminder of the dreams you want to achieve or why you do whatever you do will help you go further no matter how hard it gets at times. A printed wooden sign hanging on your wall is an ideal solution. See the example below.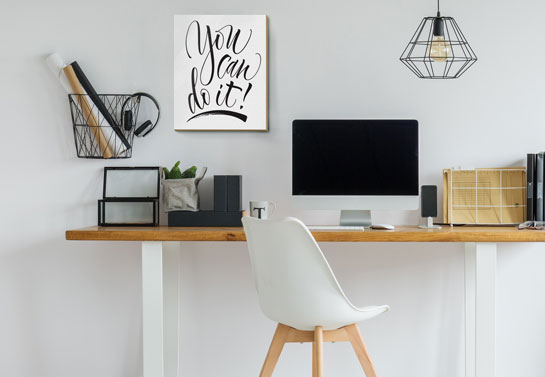 Idea 3. Use Inspiring Quote Prints on Your Walls
If you don't want to hang signs just so you don't have to use additional space or drill holes, this option is for you. Use adhesive letters to feature your favorite quote on the wall instead. Not sure about what quotes to use? Here are a few examples:
Your only limitation is your imagination
Dream bigger!
Don't stop when you're tired. Stop when you're done.
Big days are made up of little things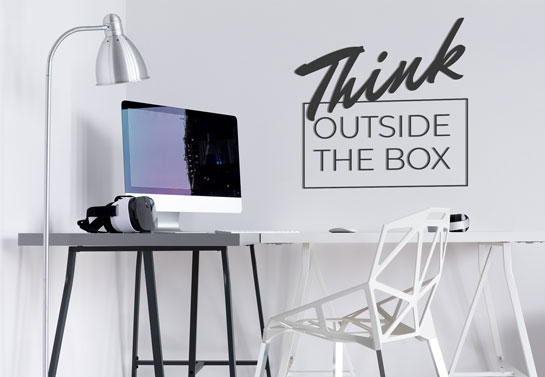 Idea 4. Feature Office Wall Art from Your Favorite Artist
Do you find inspiration in the artwork of Van Gogh? Or maybe you find yourself lost in the graffiti of Jean-Michel Basquiat? Get any masterpiece that speaks to you and feature it in print on a canvas or large poster. Artwork boosts creativity and helps reduce stress so you won't regret it.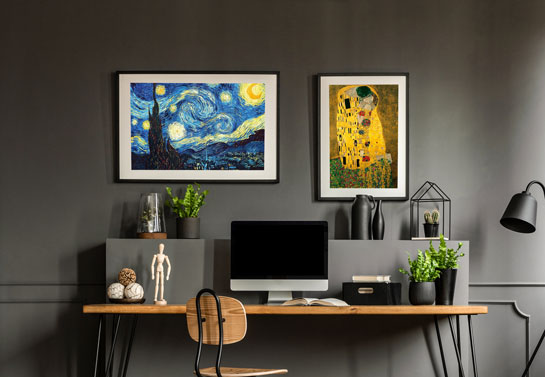 Easy Office Wall Decor Ideas for Better Organization
Idea 5. Invest in a Dry Erase Board for Notes
You know that feeling of forgetting an important thing you told yourself to make a note of, right? Sticky papers may be handy sometimes but they either get lost or create a mess which you want to avoid. A dry-erase board is a great alternative in this case.  You can make use of pvc printing or acrylic photo prints and use the extra space for notes. Remembering to write down your schedule or just ideas that come up during the workday will be easy and fun.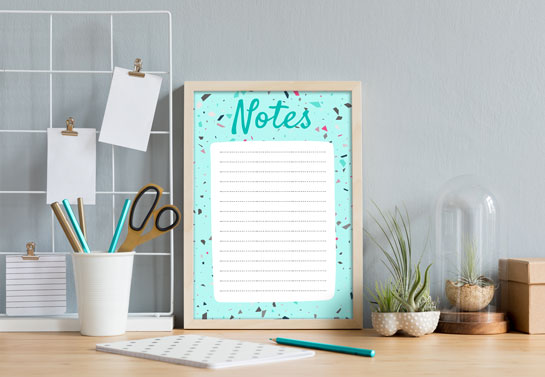 Idea 6. Hang a Calendar With Free Space for Notes
A calendar can actually make one of the coolest home office art ideas. A decorative calendar that has space on each day for notes is ideal so you can mark your deadlines, meetings or anything else. It's best to go with a blank calendar printed onto a dry erase board so you can reuse it as much as you want.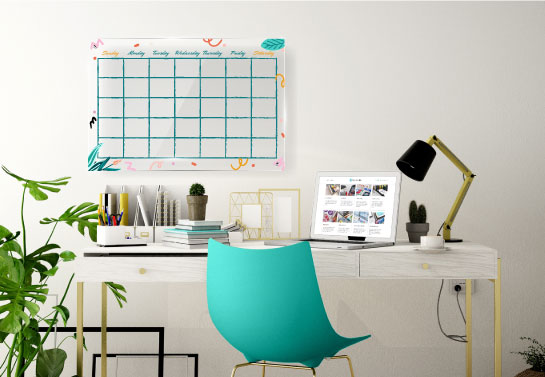 Idea 7. Put Multiple Clocks in Different Time Zones
A large wall clock is a must when it comes to office wall decor. In case you work with companies or clients in different time zones, it would be wise as well as attractive to put up multiple clocks showing the different time zones. This is a modern and stylish solution for better organization at your home office.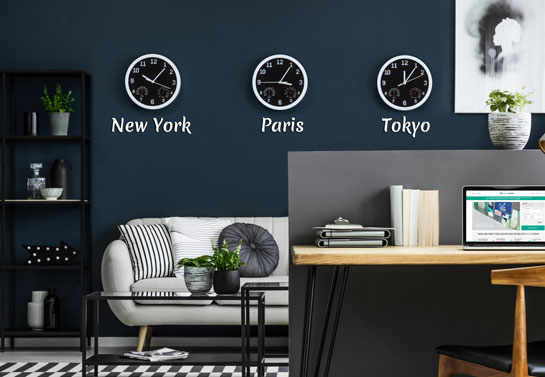 Idea 8. Go Minimalist With Floating Shelves
This is one of those home office artwork ideas that minimalists will love! If you're struggling to find space to add decorative pieces to your home office, try putting up hanging shelves on your accent wall. They're easy to set up and don't take up too much room.
Floating shelves are perfect for minimalist decor enthusiasts due to their clean look. The design hides any support brackets by inserting screws through the bottom of the shelf boards to make them look like they're hovering. This is one of the many elegant home office decor ideas that you'll need to check off your bucket list.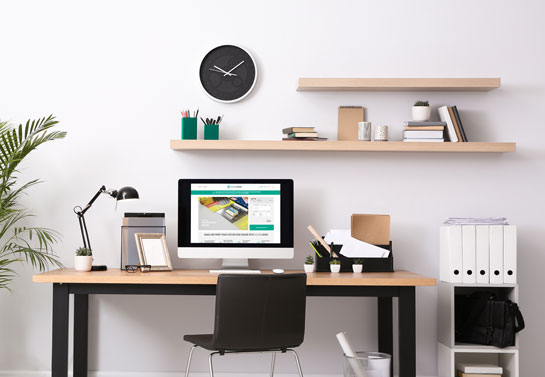 Cute Home Office Wall Art Ideas for Warm Vibes
Idea 9. Include Pet Pictures
Are you a cat or dog person? Or maybe you're a big turtle fan? In any case, including photos of pets is one of the best home office artwork ideas for warming up the environment.  You can use pictures of your own pets or order artistic pieces on foam board printing or gator board printing.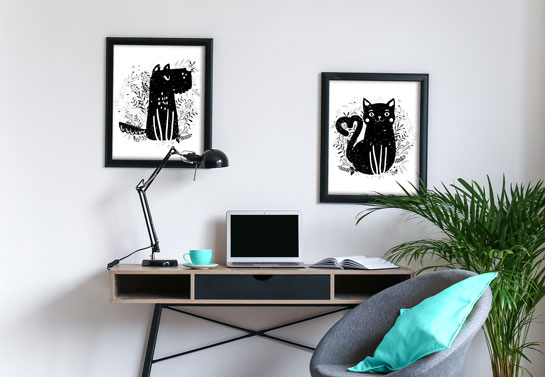 Idea 10. Place Books on Cool Shelves
Books always create a rich milieu. Pick your favorite books and put them on display on sculptural bookshelves. This will turn your accent wall into a work of art itself. Book covers are another element you can play to your advantage. Decide on a certain color scheme to give your bookshelf a contemporary visual appeal.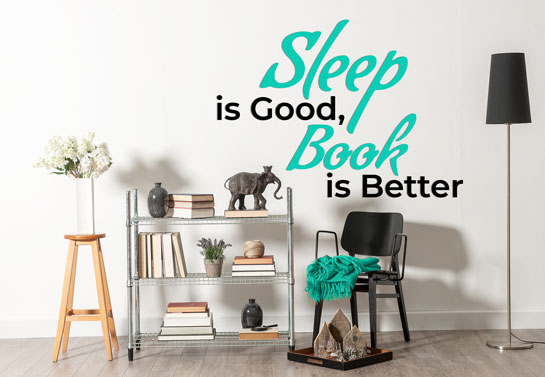 Idea 11. Use Graphic Wall Stickers
Wall decals are an ingenious method for decorating the walls of your in-home work space. Get creative with their design using quotes, images… in a word, use your imagination. These decorative stickers won't cost you a fortune so you can change them frequently to give your workplace walls a whole new look and ambience.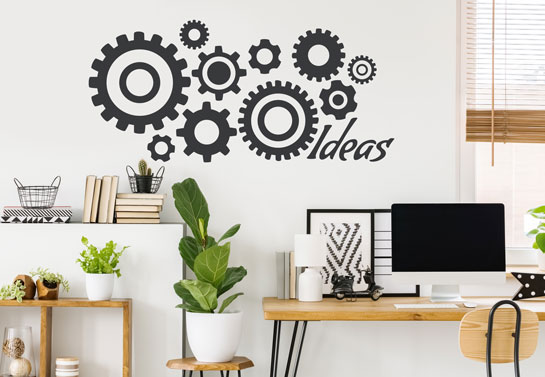 Idea 12. Display Your Family Photos
Print out your family portraits and display them on an accent wall. It's the perfect way to add a personal touch to your creative home office decor.
For a more original look, arrange several portraits together. Make sure they vary in size, as shown in the image above. Display them in an interesting manner for a more modern design.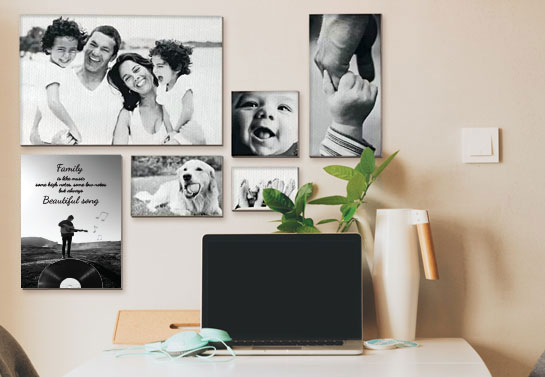 Creative Home Office Decor Ideas for a Natural Feel
Idea 13. Use Natural Prints
Office wall decor can incorporate therapeutic elements of nature into your environment. Use prints featuring plants, flowers or nature scenes to make the space more serene. You can also change prints according to the season. Take a look at the split canvas idea with leaf prints below.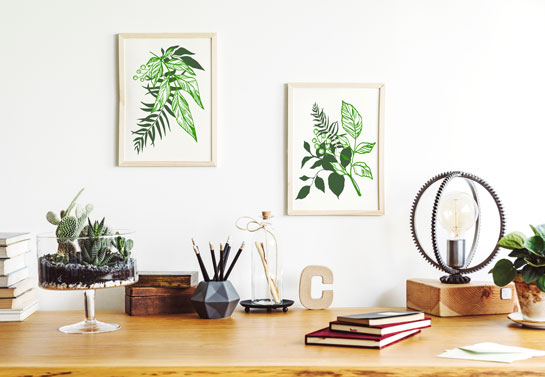 See these 22 Cute Canvas Ideas to Level-Up Decor for every room of your house. Canvases can be the features that tie together other interior design elements in your house.
Idea 14. Go With Floral Decor
There's no such thing as too many flowers. Decorating your office with real potted flowers can be time-consuming since they require maintenance to stay healthy and regular bouquets wither quickly.
At the top of the list for eclectic home office decorating ideas is garnishing your empty wall surfaces with artificial flower wreaths.
Hang flower wreaths on your wall to add charm to your cool home office decor. This addition will make your space exude the magic of a meadow in spring and inspire your workflow. It's easily one of the most elegant home office wall decor ideas you can try!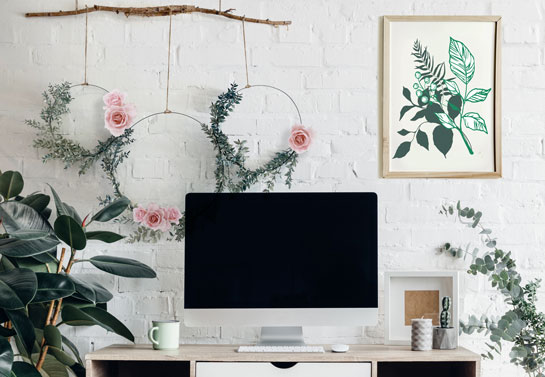 Idea 15. Go Green With Plants on Grid Walls
Plants add a vibrant touch to your office space and to top, they clean the air! It's a two birds, one stone strategy if you ask me.
Instead of placing the plants on your desk or shelves, try hanging them on grid walls. It's one of the most stylish ways to fill an empty wall area. Just make sure to research which are suitable for such an arrangement and enjoy bonus points if they're low maintenance ones like cacti.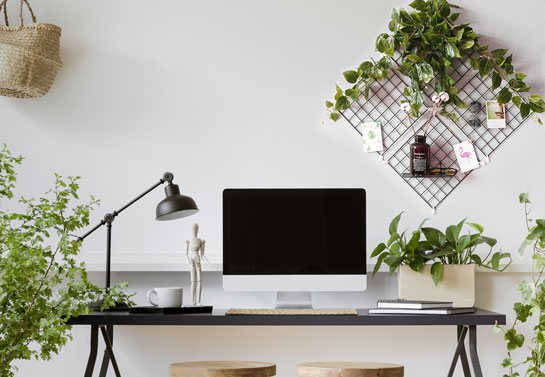 Idea 16. Apply Brick Wall Stickers for an Industrial Look
You can find industrial decor anywhere these days, from open restaurant kitchens to tech company halls. Apply this style to your home office by creating a faux brick accent wall. Hang vintage bulbs from your ceiling for a chic look and get on with the daily grind!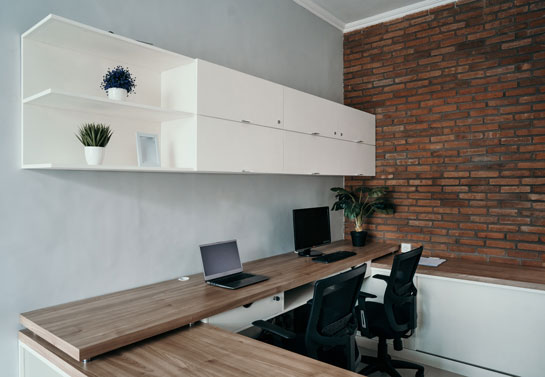 Fun Home Office Decorating Ideas for a Relaxed Atmosphere
Idea 17. Go With DIY Macrame Wall Art
Make your own macrame wall art to add a crafty feel to your office․ The process may seem challenging but it's actually one of the fun home office decorating ideas that anyone can try… or buy. Hang it in combination with other office wall art to create an accent wall.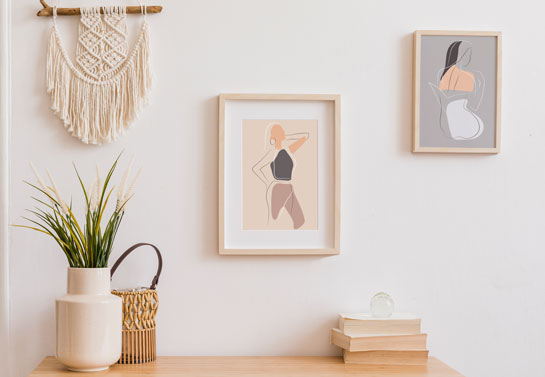 Idea 18. Go 3D With Origami for a Creative Home Office Decor Piece
Here's one of the coolest eclectic home office decorating ideas out there!
If you love making crafts, this one's for you! Create paper pyramids of different sizes and colors and assemble them in a geometric motif on your wall.
Making paper pyramids is fun and easier than it looks. Plus, you can find the supplies you need right at home or at the nearest supply store. It's a great family bonding activity so make sure to get everyone involved!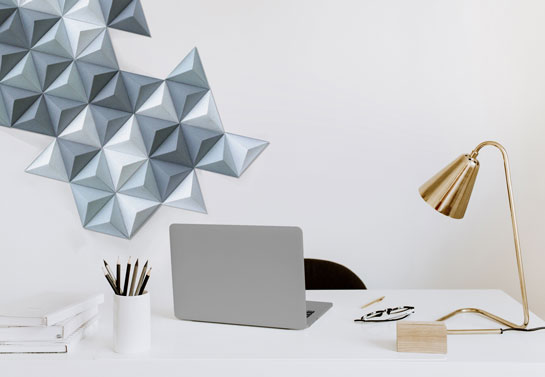 Idea 19. Display Funny Quotes
Sometimes all you need is a little humor to boost your energy. Feature a funny quote on the wall of your home office to personalize and give the room a relaxed feel. If you need ideas of quotes to use, here are my favorites:
Home Sweet Office
I like work. It fascinates me. I sit and stare at it for hours.
Eat, Sleep, Work, Repeat
Work Happens, Coffee Helps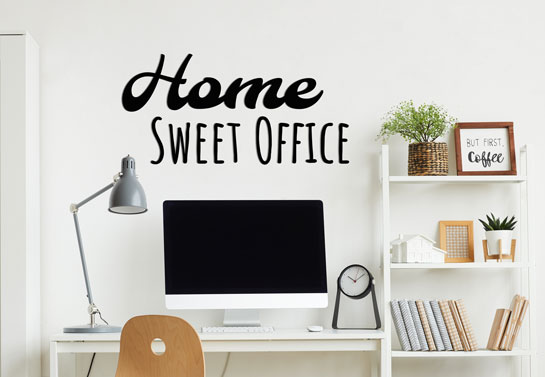 Idea 20 Use an Eye Chart to Decorate… and Maybe Check Your Eyesight
An eye chart can make one of the most visually intriguing home office art ideas. Simply get it printed on a material you prefer and hang it on your wall. Fill your home office with eclectic vibes and why not, check your eyesight from time to time.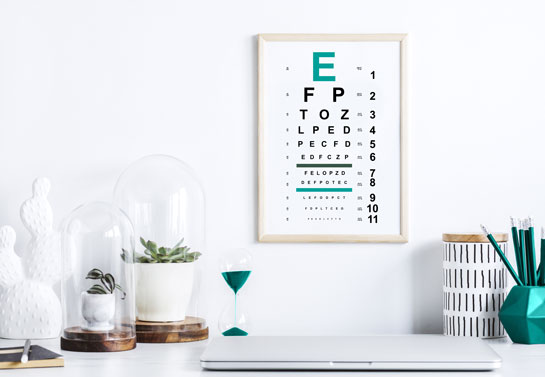 Check our home office decoration templates created by professional designers. Personalize your decors with a few clicks and get them delivered straight to your home office.
Tips and Highlights: How to Decorate With Home Office Art Ideas
The 20 ideas mentioned above will create the right setting in your home office. As sprinkling on top, I have prepared useful tips so you can make the most of both the decorating process and the final outcome. Here we go!
Tip 1. Use a Pinboard or Grid Wall to Mount Decorations
Chances are, you don't want to drill holes to hang or mount decorations on your wall. It's understandable. Instead, you can use a large pinboard so that you can mount decors with style and ease. Another option is to install a grid wall and use it for hanging your decorations. The extra layer will add depth and make your room look more visually pleasing.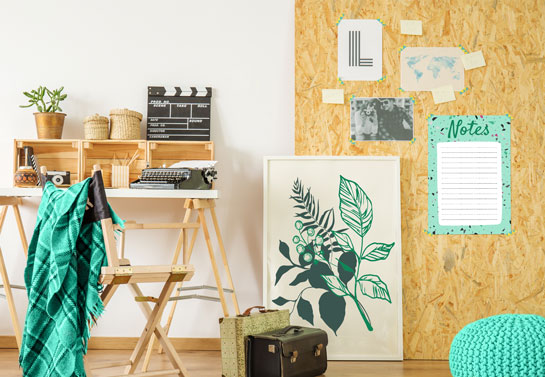 Tip 2. Paint Your Wall to Match Your Favorite Decor Accents
The process of creating art induces feelings of pleasure and satisfaction. So get excited and roll up your sleeves because we're going to paint a wall using tape.
Geometric wall painting is increasing in popularity and rightfully so. The striking effect is simple to achieve, on a budget nonetheless. This wall painting technique is one of the most refreshing home office wall decor ideas you can DIY.
To begin, stick tape in geometric patterns to outline your wall with the shapes you envision. Next, paint the various surface blocks within the tape perimeters using colors that match your cool home office decor. Once the paint has dried, remove the tape to reveal a stunning design.
Room color can impact your mood more than you know. Make sure to pick the right color for your home office by researching color psychology. These home office color ideas will also steer you towards the perfect color palette.
Voilà! Now you've got yourself a personalized accent wall.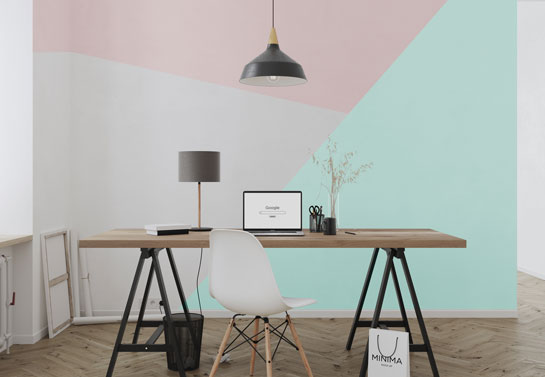 Tip 3. Use Cord Organizers to Tuck Away Wiry Messes
Cord clutter can ruin the whole look of your home office regardless of how beautifully you decorate it otherwise. Thankfully, you can use cord organizers and create cute patterns with them on the wall that complement other decorations. Get creative with the pesky wires or just tuck them out of sight.
Bonus Tip: How to Choose an Accent Wall in Your Home Office
With so many home office wall decor ideas and useful tips at hand, I know you want to start decorating right away. But before you dive in, a natural question should arise: which wall to choose as an accent? The answer is not very simple. Here are a few points to consider.
Check if there is a focal point in your home office. This could be a fireplace, in-built shelf or basically anything that drives your eyes to that wall upon entering the room. This is the most likely candidate for the accent wall.
If you have a room with no focal points then you need to create one. Choose a wall that has no openings like windows or doors. You'll also want to choose a wall that's narrower than the others if possible.
Don't put much stress on the wall you'll face when seated on your desk. Instead, make sure to furnish the room in a way that ensures you get a good light source while the accent wall preferably remains in view.
When you finish decorating, make sure to take a final look at the overall results from afar. To achieve the right balance between work and play, remember what designer Kerry Joyce told LA Times: "I want a home to feel collected and not overdone... If an item doesn't ring true, I'll take it out."
These home office artwork ideas will fill your workspace with unparalleled charm. Don't hesitate to revamp your walls, increase productivity and lift up your spirit!
Use our free design tool to create the most creative home office decor. Choose one of the templates, upload an image or design one from scratch. Have fun creating your decorations and order them right away.