Looking forward to trick or treating? Read this article to learn about the best decor items for the most anticipated holiday of the season. Pick the best Halloween banner of your choice to boo everyone around.
Halloween Banner Ideas for Different Celebrations
Halloween banners can be used for private as well as public celebrations. In both cases, you'll need creativity and a delicate sense of humor. If you're not sure what goes right with your plans, take a look at the Halloween banner suggestions we prepared for you. Select from the listed ideas or create a personalized Halloween banner with our sign design tool to turn heads with unique decorations.
Halloween Party Banners for Private Gatherings
Every private gathering is more than a celebration. You need something special and well-thought-out decorations. See the engaging Halloween banner ideas we narrowed down for you to set the right mood.
Idea 1. Spooky Halloween Banner for Celebration with Friends 
Are you the one in charge of a spooky celebration? Do your best to decorate your place so that your pals turn tail. Use a Halloween party banner with some scary notes as a prank, just like in the pic.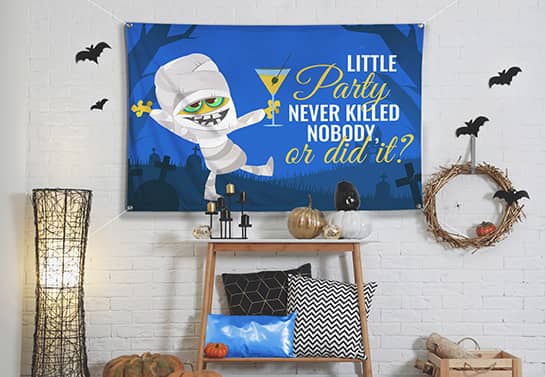 Idea 2. Halloween Garden Party Banner 
A garden party is always a great idea, especially in golden autumn. Being very durable, vinyl banners make a perfect decoration for such outdoor occasions. Choose from various hanging accessories available to complete the look of your Halloween banner.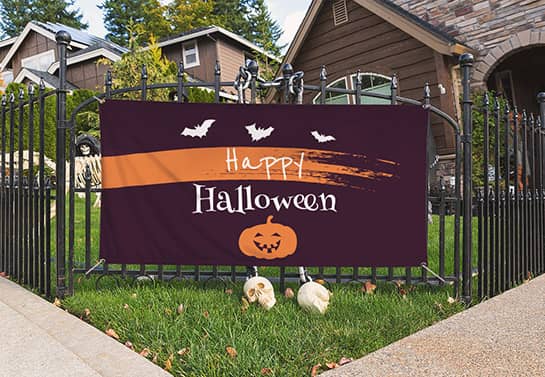 Idea 3. Office Halloween Party Banner
Don't want to deprive your employees of all the fun? Transform your office into a "haunted" venue on Halloween. Get a welcoming UV-resistant step and repeat banner with your company logo and scary Halloween graphics. Order a vinyl or fabric Halloween banner and keep the base afterward for future corporate events!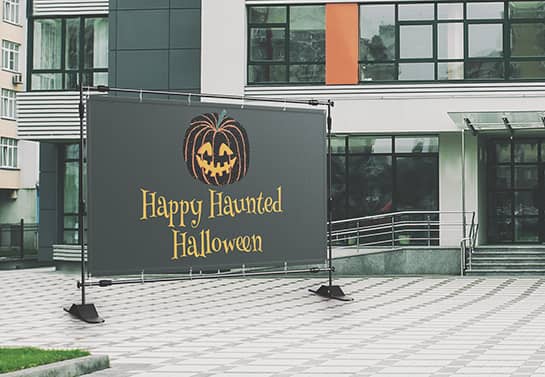 You can easily customize all the templates displayed here with just a few clicks. Change colors, texts, elements, backgrounds, upload personal images and beyond!
Idea 4. Top-Notch University Halloween Celebration Banner
Every university party has a photoshoot venue. Create a dark corner with themed banners made of durable fabric. Since the fabric doesn't reflect the light of the camera flash, you'll have quality photos to remember the day. Place your fabric Halloween banner either indoors or outdoors. As for the design, pick any background and go with the sing-song rhythm of Shakespeare, like we did in the picture below, or write your favorite riddle. Take a look at these Halloween backdrops in different styles to find more fun and creepy ideas.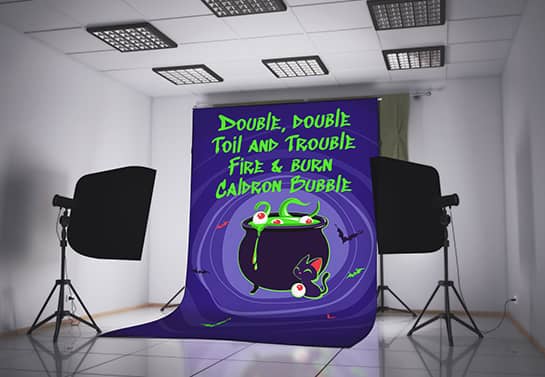 Halloween Party Banners for Public Events
Idea 1. Halloween Event Banner for Restaurants
Do you own a restaurant, winery or a café and want people around to celebrate Halloween? What's better than a Halloween sale banner? Get X-stand banners or sandwich boards to list Halloween specials and grab the attention of potential clients. You can as well place a traditional pumpkin Halloween banner to keep the spirit. Order these banners to cut down the costs of decorations! Keep the stand construction after the holiday and reuse it for upcoming events.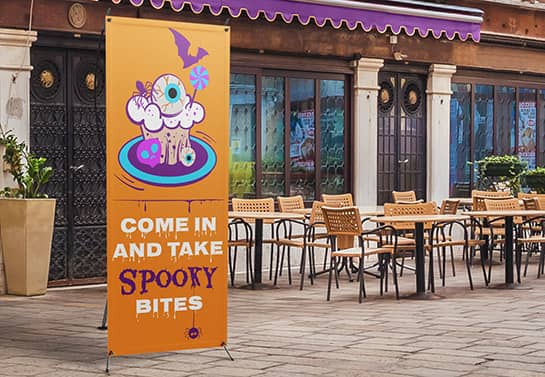 Idea 2.  Scary Festival Banner 
A huge festival needs a matching announcement! Mesh banner is the winner here. The weaved material of the banner is designed to withstand harsh winds, which makes it perfect for open-air events. Whether you're hosting a costume festival or a parade, get one to attract passers-by from a distance! 
See banner ideas for other occasions at Party Banner Ideas.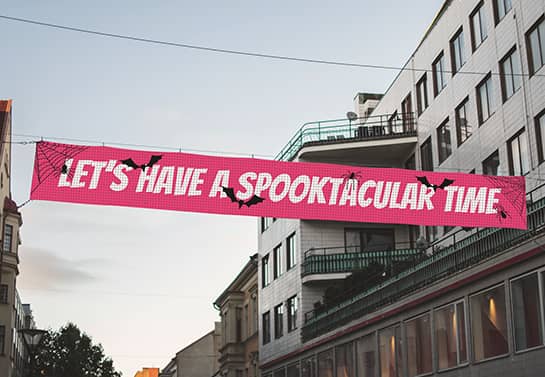 Did you know that trick or treating was firmly established in American culture back in 1951? 
Halloween Banner Design in Different Styles 
Already made up your mind about a Halloween banner type, then it's time to pick a style. Decide on the style using the following Halloween banner ideas. 
Creepy Halloween Banners
Halloween is all about ghosts, wizards and witches. So, it's no surprise creepy Halloween banners are the most widespread of all. Use black, white or red to ensure spookiness and "bloody" prints.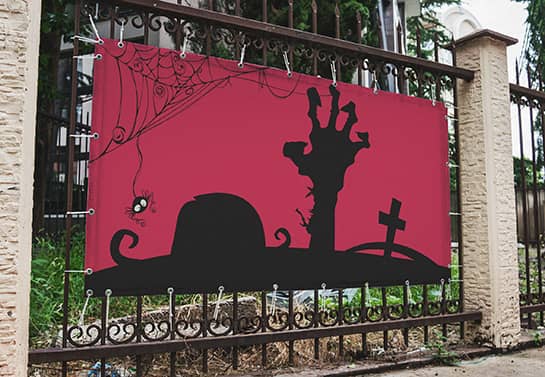 Cute Halloween Banners
Very few associate this holiday with cuteness. Yet, if you're throwing a party for kids, you'd rather be considerate. Keep in mind DIY cute Halloween banners. Kids will absolutely love thematic graphics with adorable Halloween characters on a fabric banner. Have a look at our Halloween sign templates to get inspired before you proceed.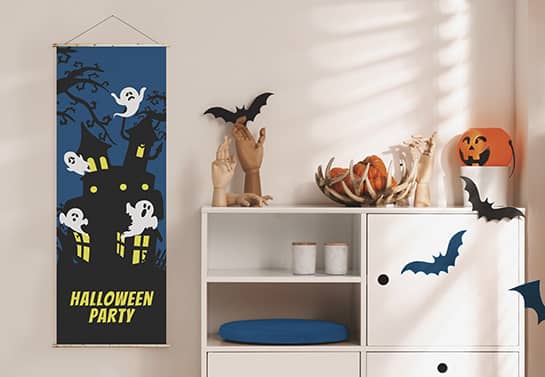 Bonus Idea: Combine creepiness and cuteness in a single Halloween banner. Order double-sided retractable banners also known as roll-up stands. Keep the perfect balance by displaying creepy graphics on one side and something cute on the other side. Add a finishing touch to the decor with cutouts of various eerie and adorable characters made from foam board printing or gator board printing. Find inspiration from our free artworks. 
Personalized Halloween Banners 
Promote your party with a personalized Halloween banner. Create something from scratch using our intuitive sign design tool or use our ready-made artworks and personalize them. If you run out of Halloween banner ideas, check out our article on Halloween Signs: Full Collection for a Thrilling Celebration for inspiration.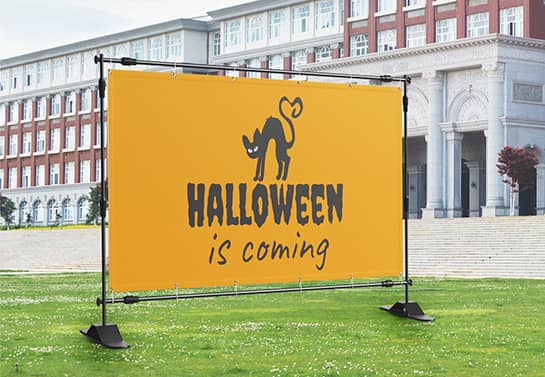 You can easily customize all the templates displayed here with just a few clicks. Change colors, texts, elements, backgrounds, upload personal images and beyond!
Learn more about how to use our design tool from the tips below.
How to Make a Halloween Banner with Square Signs
Our user-friendly design tool offers all the features required for creating a banner design from scratch. Follow these simple instructions to learn how to make a Halloween banner design within minutes.
1. Browse through our custom signs online and take a look at our product selection to find the one for your Halloween banner. You can also pick your desired banner from the left-hand menu bar of the design tool and start customizing it.
2. Specify its dimensions and other features, from printing and cutting options to accessories and beyond.
3. Pick one of the free templates or create your own design from scratch. Use our ready elements and backgrounds or even upload your personal photos. 
4. Once the design is ready, proceed to checkout.  For more information watch the tutorial.
Happy Halloween!