Boost Morale With These Festive Tips
The spirit of the holidays is all around us. Why not add some cheer to your workplace and make the most of it? To help you along, I've gathered amazing ideas on how to decorate the office for Christmas.
Here is an interesting fact before we get into the actual office holiday decorating ideas.  According to The Guardian, Christmas enthusiasts are determined to keep the lights on for 2022 despite the living crisis. So, get creative and start drafting your office Christmas decorating ideas.
How to Decorate the Office for Christmas With Office Holiday Decorating Ideas You'll Fall in Love With
Whether you're an employee or an employer, you'll want to know how to decorate your workspace for Christmas in interesting and fun ways. Here are the top 41 Christmas decoration ideas for your office that everyone will love.
How to Decorate Your Office Cubicle and Desk for Christmas
You likely spend most of your time working at a desk or cubicle. That's why you should make it as pleasant as possible. This is especially true during festive holidays like Christmas. I've got some bright and funny cubicle decorating ideas for you.
Idea 1. Looking for cool ideas on how to decorate an office cubicle for Christmas? Look no further! Turn your cubicle into a fairytale gingerbread house and wow your colleagues. Obviously, this will require a little effort, but all the best ideas do. Cardboard, self-adhesive colored paper, artificial snow and a few hours of crafting will do the trick. Moreover, you can decorate your cubicle in minutes with high-quality pvc signs. Why not? You deserve to have Christmas magic everywhere you go - even at work!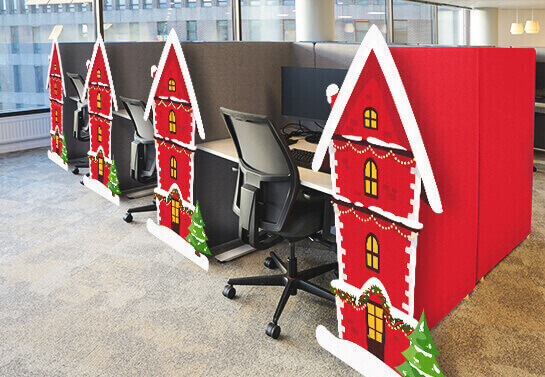 Idea 2. A free-standing PVC Christmas tree will make a great addition to your office cubicle Christmas decorating ideas. You can either go with a small one to put on your desk or choose a larger one to place beside it.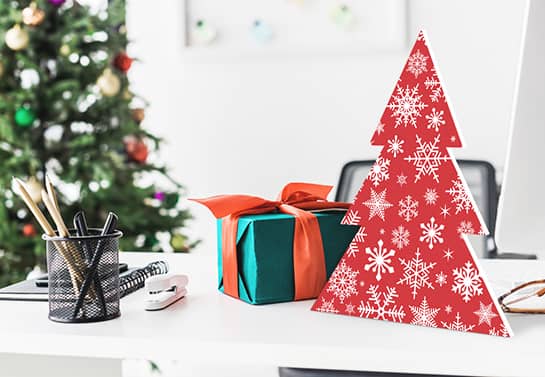 Idea 3. If you're looking for easy office cubicle Christmas decorating ideas, start by covering the cubicle walls with brick wall stickers. Then hang Christmas decorations like garlands and stockings to create a warm atmosphere.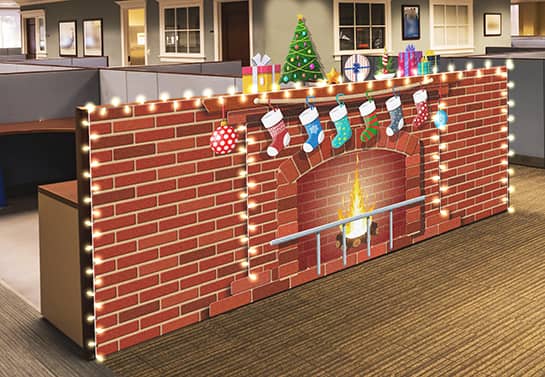 Idea 4. A Santa hat is a must for any Christmas decoration. But that doesn't mean it has to be a boring one. In fact, it can be a highlight of your funny Christmas cubicle decorating ideas. What if you put Santa hats on pictures of your coworkers and hung them from the ceiling above each desk or cubicle? The hilarious example below is one of my all time favorites. Choose sturdy materials such as styrene signs, for example, to ensure the decor maintains its appeal until the end of the holiday season.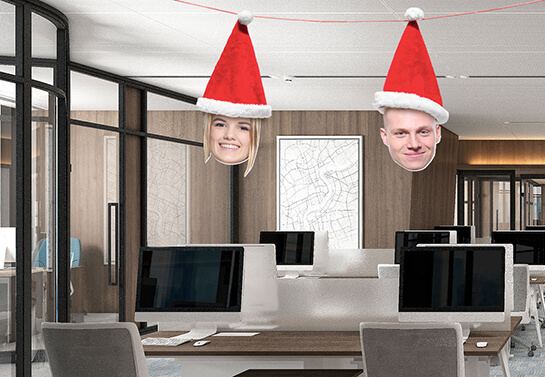 Idea 5. If you want simple but cute ways to decorate your desk for Christmas, you can just get a festive sign with holiday greetings on it. The medium can vary from wood-based to custom acrylic signs and you can use easel backs to place it on or near your desk.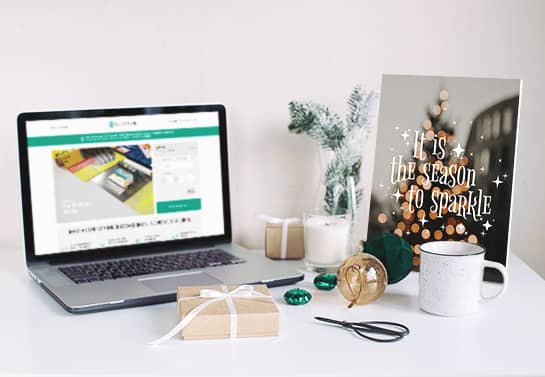 Idea 6. Have yourself a luxurious Christmas by warming your workspace with a fireplace! Making a faux fireplace around your computer screen isn't as difficult as it looks. One or two cardboard boxes, some wrapping paper, and any other decorations of choice are all you need. This is an ingenious office cubicle Christmas decorating idea that will integrate perfectly with your work area.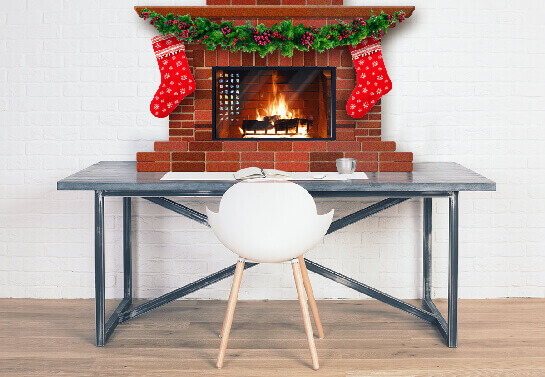 Idea 7. Fancy light strings will turn your boring cubicle or desk into a place you'll love to spend time in. Make sure to choose colors that won't tire your eyes when figuring out how to decorate the office cubicle for Christmas with lights. Mild yellow tones will work just fine.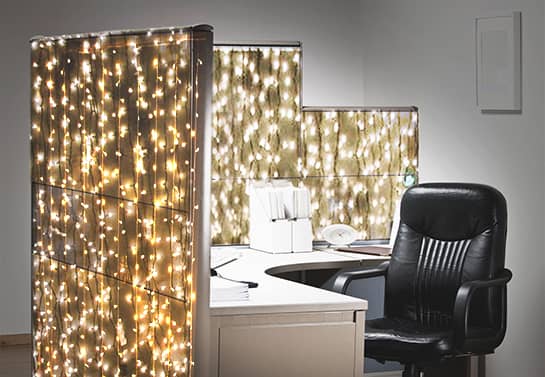 Idea 8. It's always a nice gesture to individually wish everyone on the team good tidings. But I'm going to advise that you skip the regular Christmas cards. What about combining office Christmas decorating ideas like pop-up signs and gifts to surprise them first thing in the morning? While most people toss standard cards in the trash, a custom Christmas sign could make for a long-lasting keepsake.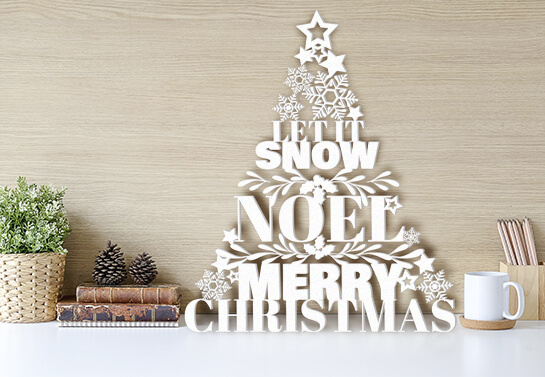 How to Decorate an Office Door for Christmas
What's the first thing you see as you walk into work? The door, of course! Give your office the holly-jolly look right at the entrance. Make it look like a magical wonderland or simply hang traditional evergreen wreaths - you have endless options. 
Idea 9. If you want to know how to decorate the office for Christmas and promote your brand at the same time, this idea is for you. Customizing your brand image is a great Christmas decoration idea for the office door. A Christmas ornament adorning your logo or company name is a great way to show off the holiday mood.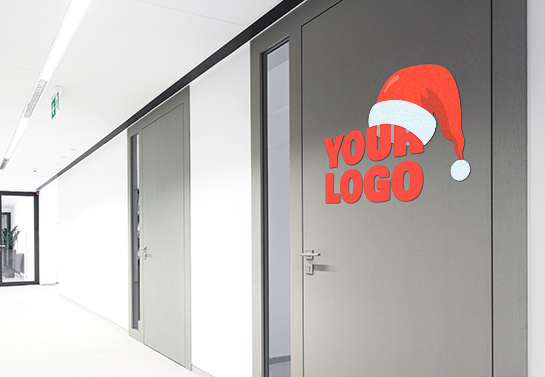 Idea 10. Take your wreath to the next level by making it a sweet treat! This is a simple office Christmas decoration idea that you can DIY. Make a donut-circle out of styrofoam or other similar material. Then get some of your favorite wrapped candy and glue it on. Of course, you may have to superglue it if your staff has a sweet tooth and you want the wreath to make it through the holidays! You can also use all sorts of different items to create any style of wreath you'd like. Just use your imagination!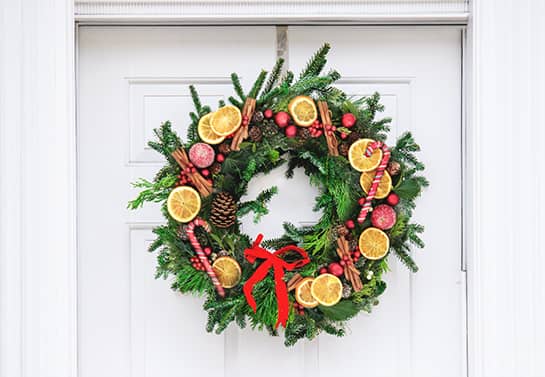 Idea 11. You don't have to stick to traditional Christmas wreaths. Instead, you can get hanging signs with original printed designs on them.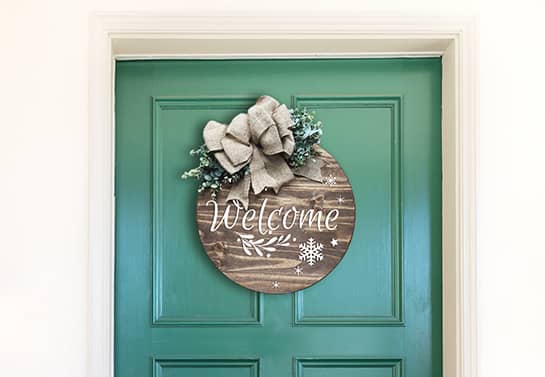 Idea 12. It's impossible to imagine office Christmas decorating ideas without a Christmas tree. The catch here is that it doesn't have to go inside the office - instead, put one right outside your door. Adding artificial snow will add a sense of magic to the atmosphere. If you really want to get creative, try something other than the traditional evergreen trees. Artistic styles work for businesses like music stores, coffee shops and other creative agencies.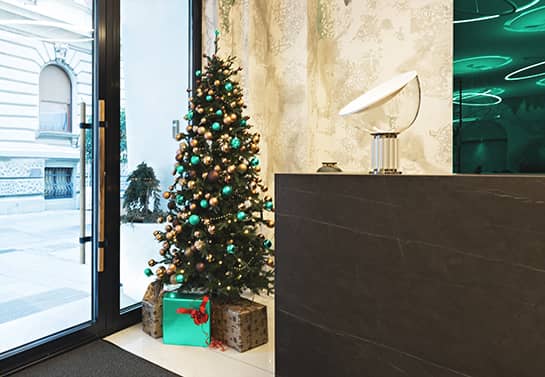 Idea 13. You may have already thought about putting ol' Saint Nick on your door. What about turning him upside down with his feet sticking out of a chimney chute? If you spend a bit of time and effort on it, you'll get a really cute Christmas office decoration that everyone will get a kick out of.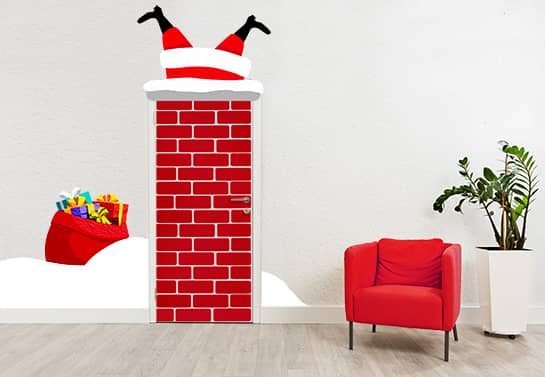 Idea  14. Turn your door into a huge gift box. To avoid using wrapping paper that can easily be torn and ruin the whole view, you can go with adhesive stickers like the one in the image below.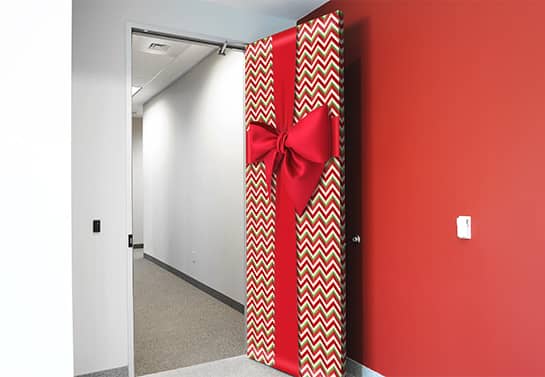 Idea 15. If you're still wondering how to decorate an office door for Christmas, welcome signs are an obvious choice. They can be made of various types of material to any specification you desire. You can always find a professional to design a custom one or you can also make it yourself online.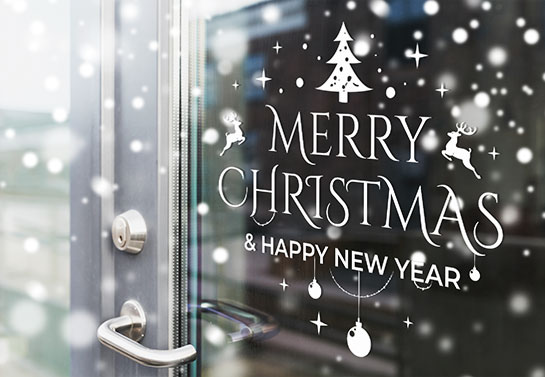 Do you need more exciting ideas to get ready for Valentine's Day? It's never too early! Read our article on 12 Valentine Decoration Ideas to Inspire Romance.
How to Decorate an Office Window for Christmas
Remind people that the jolly season is upon us with Christmas-themed holiday windows. Decorating the windows can get a little tricky since you'll want them to look great from both sides. Of course, you don't have to worry about the outside so much if your office is above the 25th floor. Christmas ornaments of all kinds can be included in office Christmas decorating ideas for windows. Here are some creative concepts your colleagues will appreciate. 
Idea 16. Window decals are a simple office Christmas decoration idea that look wonderful. They're usually made of opaque or clear vinyl with custom prints, giving you endless possibilities to design them any way you like. Putting them up is quick and easy and they don't leave any sticky residue after removal.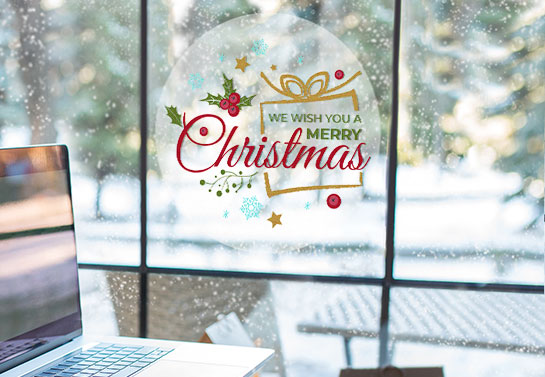 Idea 17. Dangle individual wooden letters that say Christmas from the ceiling or choose another word you like. Have the letters cut and painted in the size and color you want for unique office Christmas decorating ideas.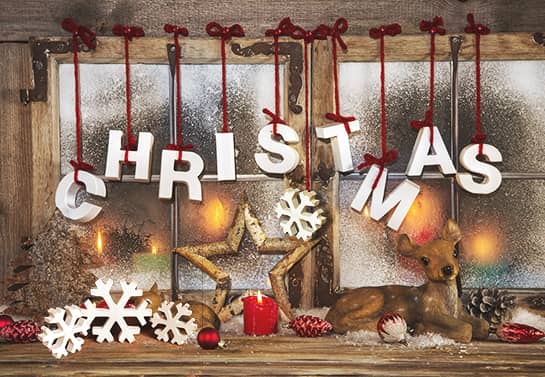 Idea 18. Just like wooden letters, you can also hang little ornaments on the windows of your office. They can have various shapes, colors and designs. The important thing is to choose a similar style and color palette for all of them so you don't end up with a messy look.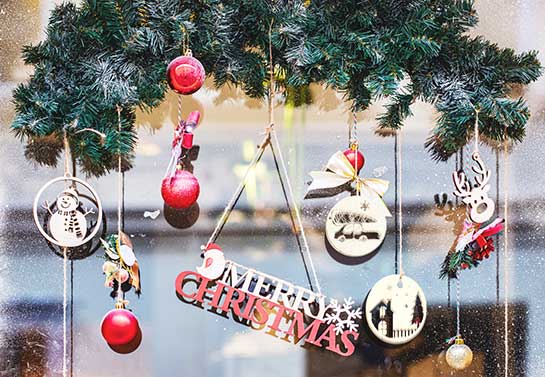 Idea 19. Are you fond of that lovely citiscape on Christmas Eve? We all are. Make it a part of your decorations by applying adhesive city and snowflake silhouettes on your windows. You'll enjoy the festive spirit and check off another fabulous design for how to decorate an office window for Christmas. Here is what it'll look like.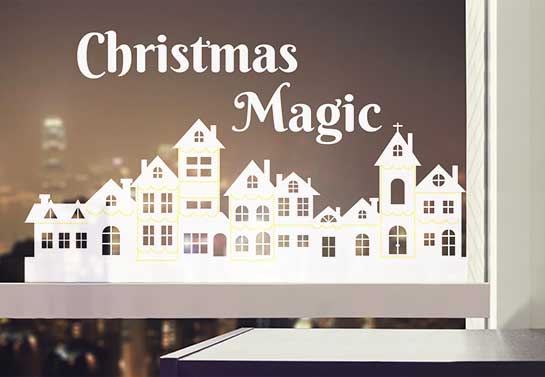 Idea 20. Stars and tree cut-outs will give your windows a beautiful flair. This type of DIY decoration is ideal for people looking for cheap ways to decorate the office for Christmas. Don't forget to add candles or bulbs on the windowsill to add extra holiday magic.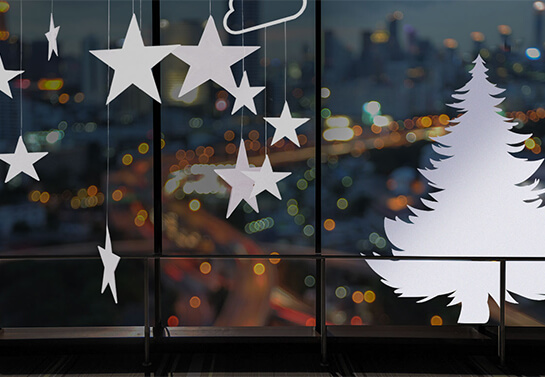 Idea 21. Grab a brush and some white paint to add Christmas sparkle to your holiday decorations for the office. Watercolor paint is our best choice as it can easily be washed off the windows later. And paper templates will come in handy if you're not so sure about your drawing skills!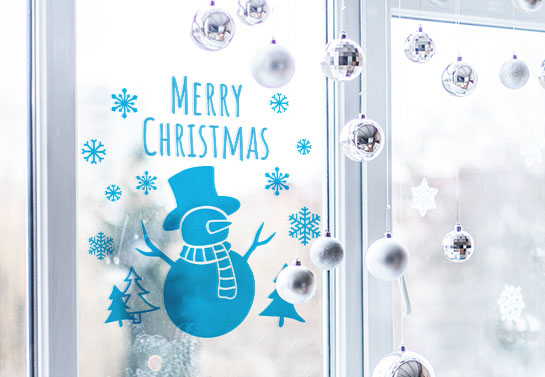 Idea 22. Use LED light cords to decorate your office windows with brilliant swirls. They'll add a nice glow to long and dark winter evenings to help keep everyone's spirits up. You can get as creative as you want with your festive designs. While you're at it, make sure to add your company name as a brand boost for people passing by.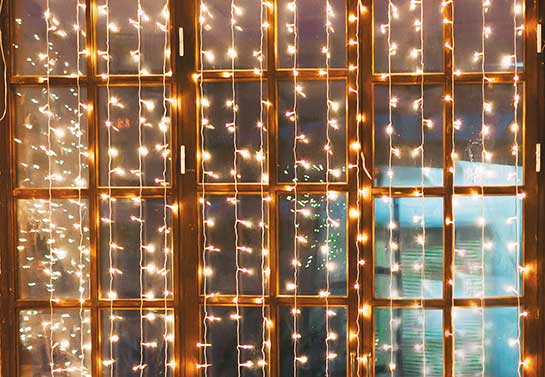 Need more ideas? We've got 16 Christmas Window Decoration Ideas and Tips to Rock the Eve.
How to Decorate the Office Floor for Christmas
Ground decorations like floor decals may seem minor but will add a touch of originality to the overall design of your office. Play a game and have your teammates follow Santa's footsteps all the way to the gifts or mistletoe.
Idea 23. Snowy white footstep stickers will change the overall feel of your office. You can also go with footprints of animals like reindeer. It all depends on your taste!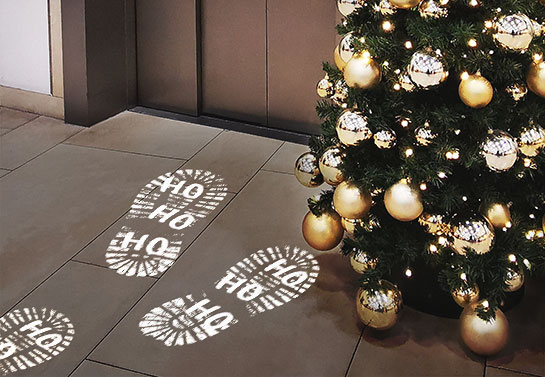 Idea 24. Use Christmas themed baseboard stickers. They'll make the floor of your office pop with creative yet simple office Christmas decoration ideas. Make sure the motif fits with the Christmas decoration ideas for office walls that you've selected.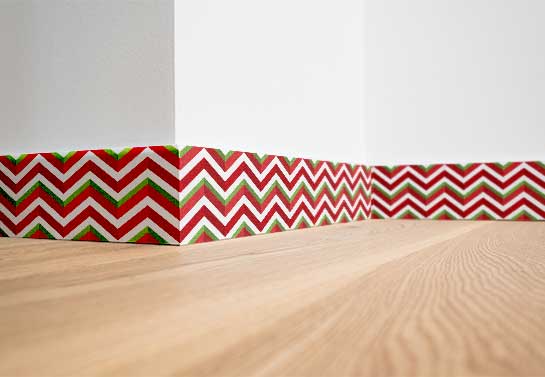 Idea 25. Adding on to stickers that make cute and simple office Christmas decoration ideas, here is another design you'll love. Candy-shaped adhesives for the floor will fill the room with classic holiday vibes and colors.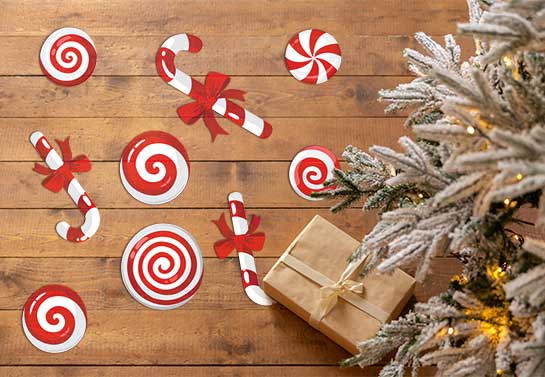 Idea 26. Put a basket on the floor filled with ornaments, fir branches, candles and anything else that reminds you of Christmas. Make sure to put the basket/s in a place that won't create a safety hazard when walking around the office.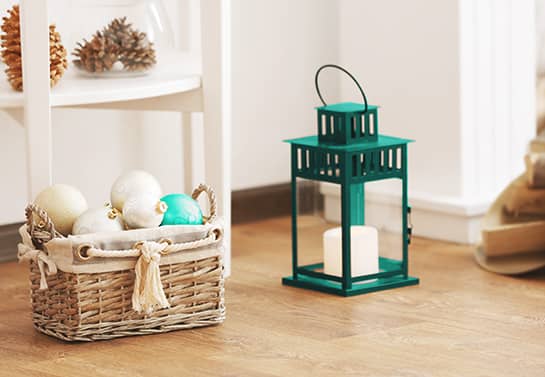 Idea 27. If you have stairs in your office, you should use the surface area they offer wisely. Recreate a nice holiday scene on your risers with adhesive prints just like in the picture below.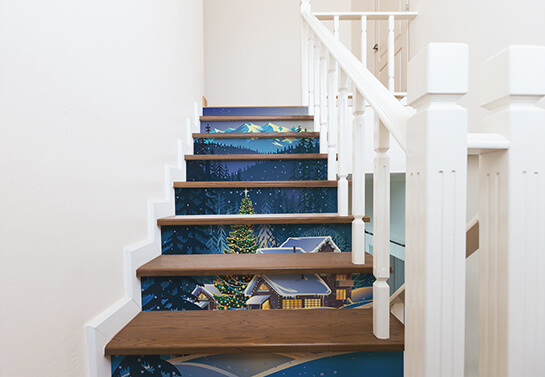 Idea 28. Level up your office holiday decorating ideas by using toy train rails all around the space you're planning to decorate. You can go on and create a miniature world of Christmas nostalgia in a quiet corner of your office.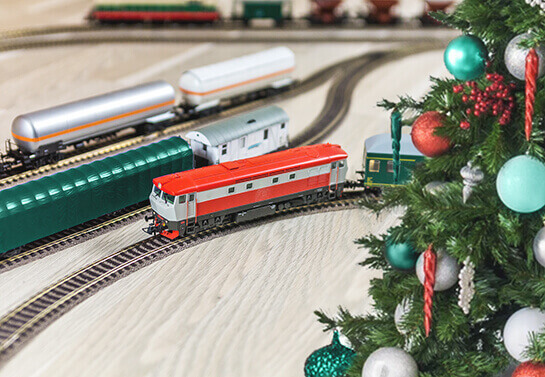 Idea 29. If you like the idea above but think it'll be an inconvenience to your team members' mobility, you can always go with railroad print stickers instead. They look just as cool, don't take up any extra room and you can safely stomp all over them.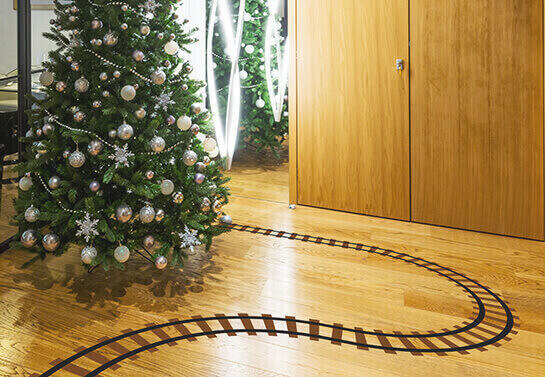 Use the Christmas templates available on our website to design your decor for this Holiday season. 
How to Decorate Office Walls for Christmas
Empty walls are dull walls, especially during the holidays. On the other hand, the more empty space you have, the more creative office holiday decorating ideas you can try! There are limitless ways to decorate your office walls to bring in more sparkle and joy. Here are a few:
Idea 30. Quote prints are easy Christmas decorations for the office walls. The right design accompanied with a few complementary decors like ornaments will make your walls look astonishing.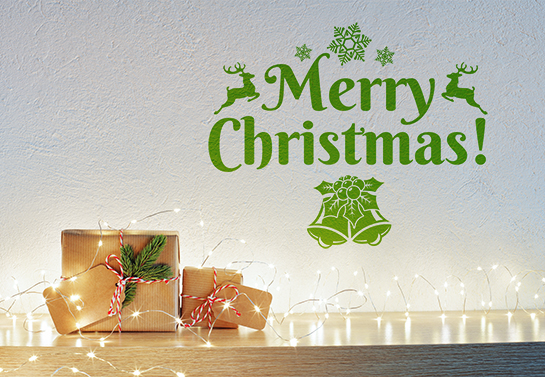 Idea 31. Another way to showcase quotes on the walls of your office is by getting them printed on wood. The best part is that you can keep and reuse them for every Christmas to follow. Full-color, extremely durable foam board printing is also ideal for such indoor visuals.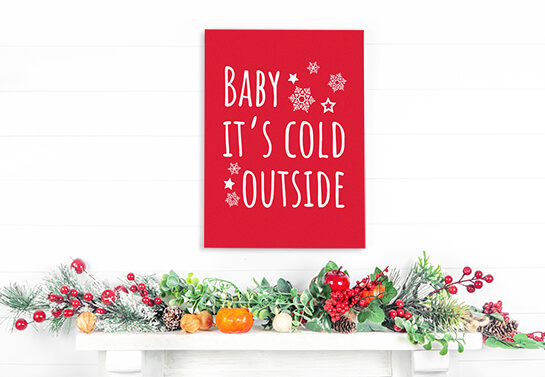 Idea  32. Columns in the office offer a lot of freedom to get creative with Christmas decoration ideas for office walls. Using geometric shapes to feature a Christmas tree on them is one unique idea you should definitely try.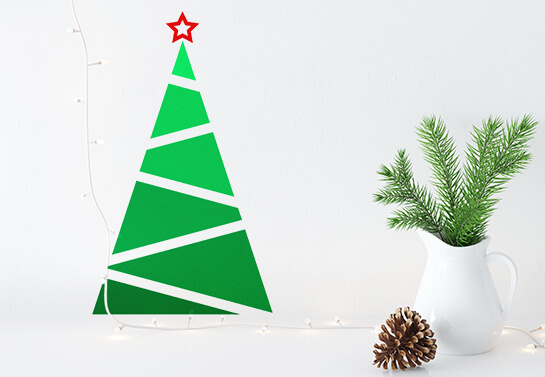 Idea 33. Temporary murals work great for big and bare walls. You may need a professional here for more complex designs. Paper templates could do the job for simpler paintings and work as a great team-building exercise as well! The mural will look even better if you embellish it with decorations. A creative Christmas tree or colorfully wrapped gifts would be splendid. If painting on the walls is too much hassle, wall decals come in as the perfect alternatives. They'll give a festive look to your walls within minutes and will be easy to remove once the holidays are through.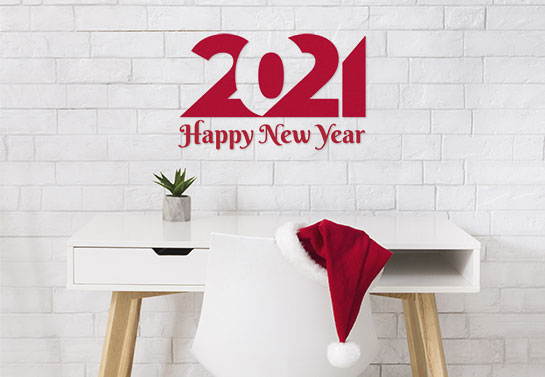 Idea 34. Funny Christmas cubicle decorating ideas with quotes are also worth considering. Vinyl lettering is the best option for quote prints. Here is a funny option: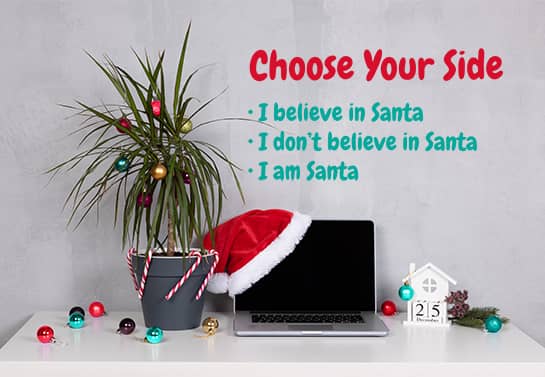 Idea 35. If you're looking for classy yet easy Christmas decorations for the office then consider this one. I bet there are quite a few frames or generic paintings around the office that no one looks at anymore. Wrap them up as gifts and you've got an instant Christmas mood-setter!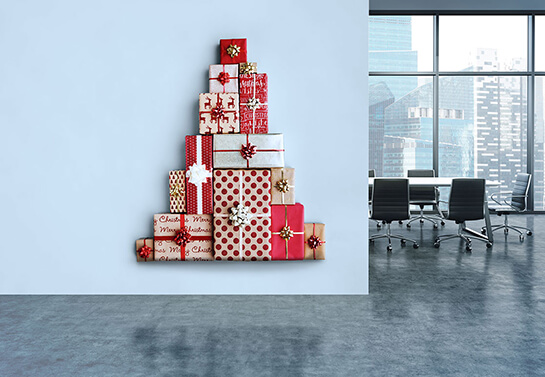 Idea 36. Make sure to remember one big concept that's sure to get people excited - a photo zone. It should include a big Christmas sign or a banner for a background or a tree surrounded by gift boxes and other festive trinkets. This will create a favorite holiday hangout spot for your staff.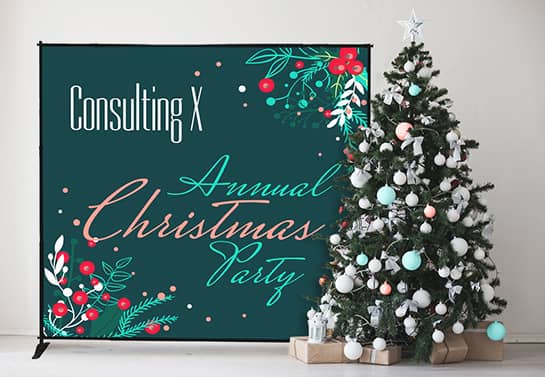 Idea 37. Christmas is about winter, too. Invest in nice acrylic photo prints of your favorite winter scene and pay homage to the snowy season.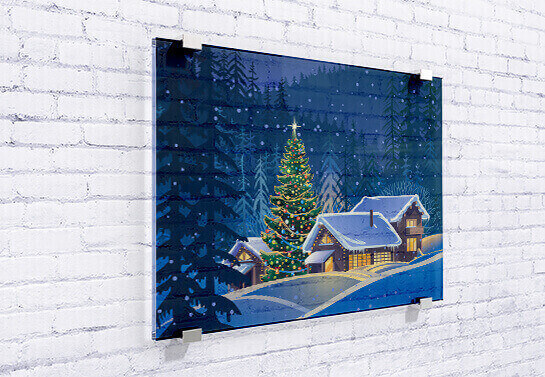 Idea 38. Want to make your employees feel special? Create a Christmas tree on the wall using pictures of each team member. This is a great way to remind everyone of memorable moments shared, your company's achievements for the year, and individual accolades.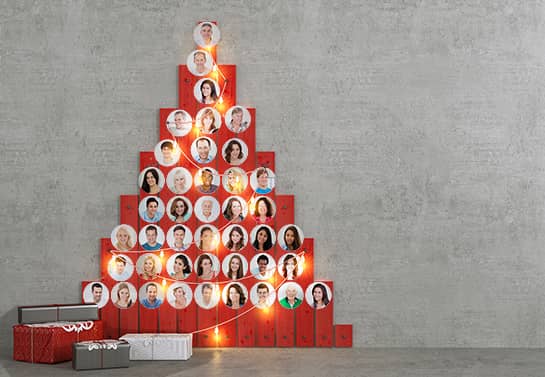 Bonus Office Christmas Decorating Ideas 
This year, we watched the Rockefeller tree lighting online. Join in on the fun while setting up your own tree and decoration. You don't want to have a disenchanting holiday season this year, do you? End a year on a bright note with all the Christmas lights you'll have around the house and neighborhood. 
Small Office Christmas Decorating Ideas
Things get a little tricky when it comes to small office Christmas decorating ideas as you don't have a lot of free space to play around with. The ideas below will help you turn your office into a winter wonderland nonetheless. I promise they won't create any extra clutter.
Idea 39. Go with 2D Christmas trees and other decorations to save up space. The materials you choose can vary. You can even opt for Christmas tree-shaped aluminum signs! You have some leeway in this situation. You can either mount/hang them on the wall or use easel backs to make them stand upright.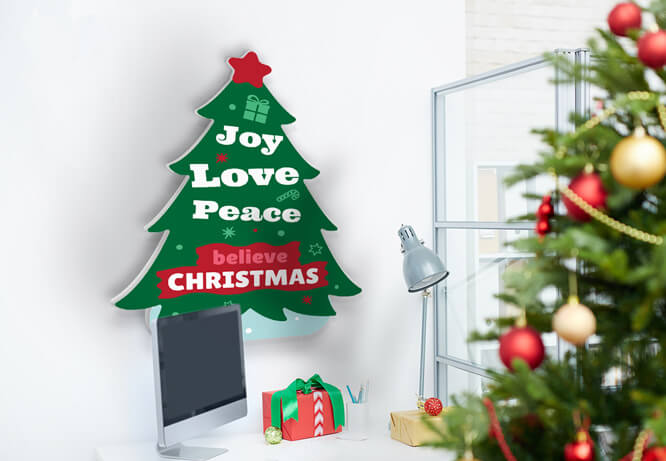 Idea 40. Use stickers on walls, floor, window, doors and everywhere else you want to decorate. They make easy Christmas decorations for the office, don't take up any room and won't damage surfaces upon removal.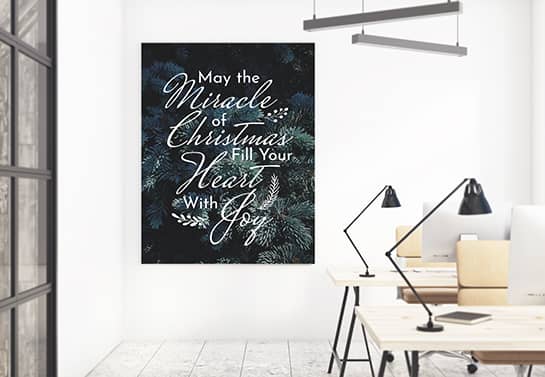 Idea 41.  Don't have much free space on your walls or floor but still want ideas for how to decorate the office for Christmas? No worries, you still have the ceiling. Use hanging decorations in offices with limited space. Make sure they're higher than the tallest of your coworkers. Otherwise, you risk having them pull down the decor by 'accident'.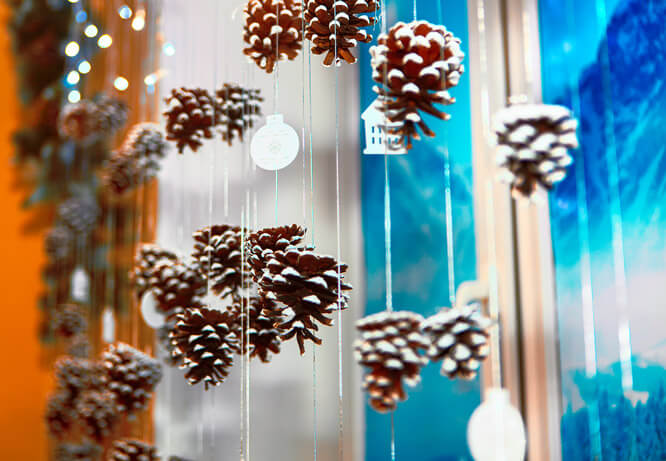 Funny Christmas Quotes for Decorations
As promised above, here I have a few quotes to be used for funny office Christmas decorating ideas.
All I want for Christmas is an empty task board.

A balanced diet is a cookie in each hand.

Here comes Amazon, Here comes Amazon, Right down my driveway.

Merry everything! Happy Always!
2022 Christmas Decoration Trends 
Christmas is here and it's the most wonderful time of the year! So let's see what decoration trends we have for 2022:
Choosing decorations that can be later saved and reused is a huge trend this year. Now more than ever, people appreciate the planet and don't want to create unnecessary waste.

Farmhouse style is a major one this year according to Google trends.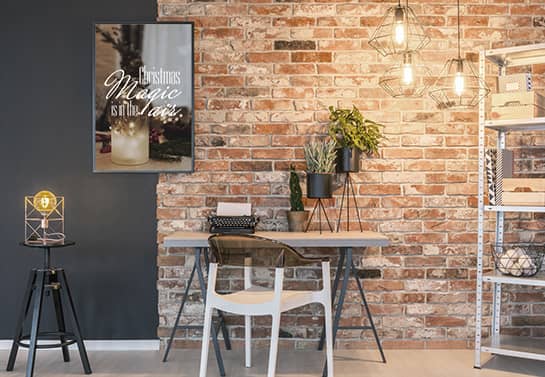 People are getting a lot of old-school and nostalgic decorations that remind them of their childhood like ceramic Christmas trees.

Are you looking for cheap ways to decorate your office for Christmas? Christmas cookies are your answer to how to decorate the office for Christmas on a budget. One con is that your 'decorations' won't last long but there are a lot of pros, too. Your colleagues will appreciate the sweet treats; you'll save up money on table or even Christmas tree decorations; and you won't have to pack everything back up once the holiday is over.
Color Guide for Your Christmas Decor
When it comes to color choice, neutral colors are an absolute winner this year. The good news is that you can use a wide range of hues from bright yellows to dark earth tones. Here is a color guide chart for 2022 Christmas decorations.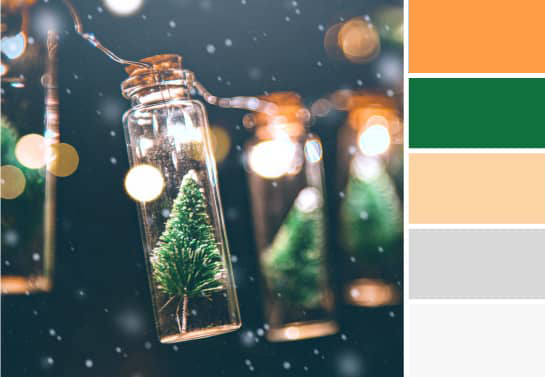 I hope that by now you've gathered plenty of inspiring ideas for how to decorate the office for Christmas this year. To bring them to life, use our design tool with lots of free templates made especially for you. Personalize them as you wish and have a jolly time doing it!