Nothing haunts us like the things we didn't buy. Running across a Black Friday sign on the street offers a second chance to make our shopping dreams come true. If you're the store owner and want to play Genie for a day, then welcome. This article is for you.
Charm everyone with mind-bending discounts starting with a Black Friday retail sign. Get a few to announce the beginning of the holiday shopping season.
I can hear the gears in your head turning. Jump in to unlock your very own Black Friday deals sign and banner ideas. I'll offer you templates and a chance to create cool designs for the black but bountiful day.
Black Friday Banners for Storefront and In-Store Promotions
Did you know that the term 'Black Friday' went viral in the 1980's? Ever since, it's been the official kickoff day for the Christmas shopping season. An impressive Black Friday banner is key to showcasing your store from the inside out and boosting sales. It's time to take out those retractable banners and dive in for even more ideas below.
Black Friday Sale Banners to Boost the Shopping Mood

The biggest sale day of the year is just around the corner and stores are flooded with items people could only dream of before. Keep your customers updated about the annual rush of special offers. Get Black Friday sale banners and use them again and again for your yearly promotions. 
X-stand banners are a perfect solution for announcing temporary sales. Why? Simple. They take up very little space in storage yet have the surface area to display large and vivid graphics.
Searching for a similar product idea? You can also go for roll-up displays as your Black Friday deals banners. They come in a bigger size option, can feature double-sided prints and be placed anywhere you wish. Install them easily, store them in compact carrying cases and reuse them for years to come.
Early Black Friday Banners to Lure In Shopaholics

This year, Black Friday events will get an earlier start than usual. Hurry up and offer your crazy discounts before the big shopping hustle and bustle begins. Why wait for Friday if you can get ahead of the game?
Get pre Black Friday banners for your in-store promotions and be prepared for people to break down your store windows from all the excitement. Oh, I'm just kidding! That only happens in the movies (and only sometimes on the news).
For this idea, you can use fabric banners to create your Black Friday sign. Hang them up from the store ceiling and let your lucky customers shop til they drop.
Choose from various mounting accessories to showcase seasonal discounts on affordable and lightweight gator board printing and foam board printing.
Don't know how to come up with a unique Black Friday banner design? No worries. Just sit back and flip through our designer-made Black Friday templates until you land on a favorite.

Black Friday Coming Soon Banners

Black Friday is always on the day after Thanksgiving so you can be closed on feast day and enjoy a grateful family dinner. Just make sure to let your customers know about the upcoming discounts with your store displays. 
Here's another Black Friday banner idea for you. Take advantage of mesh banners for making sale announcements on your storefront. The product can withstand strong winds so you can use it outdoors until the holiday shopping season is over. Let your sales be remembered for providing the most incredible purchases of the year.
Want to bring your idea to life? Here's a magic stick: Use our sign design tool and create the Black Friday displays straight from your imagination with just a few clicks.
Cyber Monday Sale Banner for an After-the-Sales-Rush Special

Online sales will undoubtedly be a hit this year because of the global pandemic. It means that many items will be available only for Cyber Monday purchase. Let your customers know the details by highlighting in-store Cyber Monday sale signs. 
Utilize your offline premise to announce the ongoing bargains that will take place online. Display your ideas on vinyl banners with vibrant graphics. Hang them up anywhere you like and wish everyone a virus-free virtual shopping spree.
You can choose our ready-made design in the picture above and personalize it or use our free sign design tool to create your own Cyber Monday sign.
Black Friday Signs to Feature Deals in Demand
The biggest shopping holiday of the year will be here before you know it. To keep up with the demand, make sure you spotlight your best offers.
Whether it's a small market or a big mall, Black Friday signs can be designed to stand out in any environment. One of the best ways to set the ideal shopping mood is with custom-shaped PVC signs. They're light, durable, reusable and most fitting for in-store use thanks to vivid prints.  
Need more specific ideas for an impressive set-up? Jump in to read more and find your favorite.
Special Black Friday Sale Signs

Are you wondering how to highlight sales while maintaining enough space for customers to shop freely? Then leverage this brilliant solution: window decals. Customize your adhesive Black Friday sale signs with bright colors and show off insane discounts all over your store windows. Let your Black Friday decals captivate all the pedestrians passing by your business.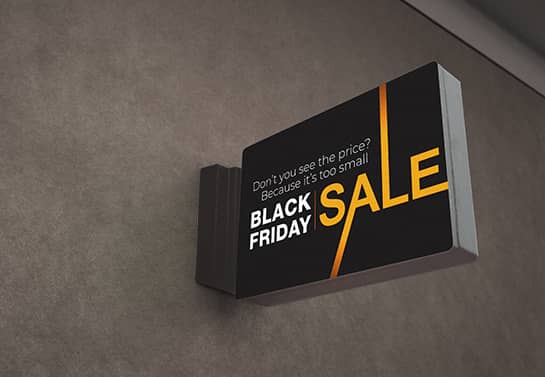 Whether you want to decorate your store or promote holiday deals, remember that lighting is key for capturing attention. If you have a lightbox, get translucent backlit decals to create glowing Black Friday sale signs that you can switch out as often as needed. Take advantage of illuminated sale displays to dazzle shoppers with the year's best deals.
Need other catchy window displays for business promotions and more? Head over to our article on Business Window Decal and Decor Ideas. Don't miss a thing and prepare to stand out from the competition.
Black Friday Week Signs to Attract More Customers

Why get stuck in the Black Friday traffic if you can shop the next day or even the day after that? The times of the 24-hour-only Black Friday sales are gone for good. These days, the crazy deals last for the entire week.
I know what you're thinking. Why not switch out the regular Black Friday retail signs with those of Black Friday Week and showcase them for seven days in a row? If so, you're on the right track.
Choose sandwich boards if you want to use the ground to display promotions whether it be indoors, outdoors or in between the aisles. Personalize your Black Friday Week sandwich board with single or double-sided prints and carry it from place to place if you need to. Most importantly, save the board and store it easily for the Black Friday Weeks to come.
Last but not least popular these days is the use of custom peel-and-stick floor decals. This product is the best fit if you wish to lead customers along a certain path to find your highlighted discounts. It works well inside big shopping centers and can also be used to mark social distancing spaces.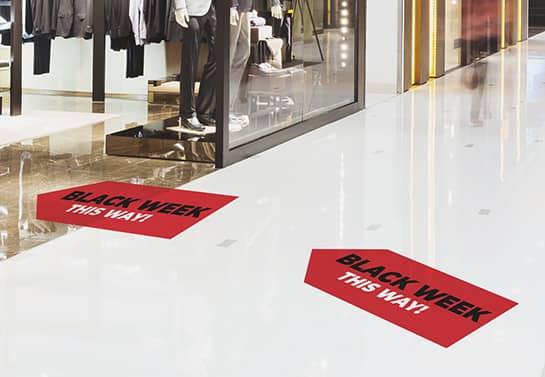 Bursting with creative ideas? Go to our user-friendly sign design tool to personalize your favorite signage. Stick it anywhere from the store's floors to the walls. Engage customers and become the top shop in town. 
If you'd like assistance with choosing or customizing a signage idea, contact our talented team for a free consultation. We wish you a profitable Black Friday (Week)!