St. Paddy's day is around the corner! To get the fun going you will need to decorate the house with themes inspired by the Irish legend. According to research by NRF, 23% of people planned on having office and home decorations last year. Here, I have a collection of charming St Patrick's day decoration ideas you can use anywhere from your house to your store. (Sham)rock the special decorations this year!
Let's start with door and entrance decoration ideas.
St. Patrick's Day Door Decoration Ideas 
You can begin by adding special decor to go along with the Irish flag or other traditional ornaments. Amaze your guests and passers-by alike with these unique St. Patrick's day decorations for the door and entrance of your place. 
Idea 1. When it comes to St. Patrick's day decorating ideas, a wooden hanging sign is a great solution. It will look especially good if you get one in the shape of a shamrock or the Leprechaun hat. You can have it custom printed with a quote and design of your liking. You can also have holes drilled on your sign to hang it with ease. Here is a nice wooden sign sample to get you inspired!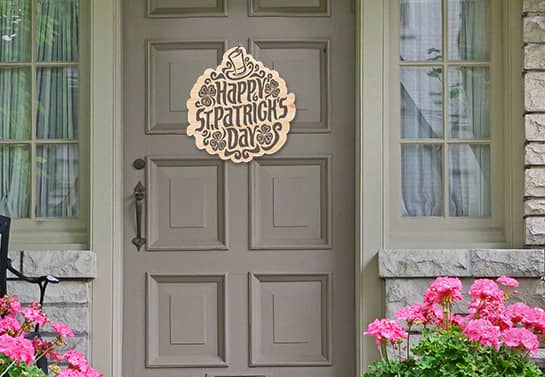 Idea 2. In case you don't want or can't hang a sign on your door, vinyl lettering can come to your aid. Here you can get creative and have any quote or written design on the door to welcome your guests. They are easy to stick and won't damage the surface of your door when you take them off. Here is what your door can look like this St. Patrick's day.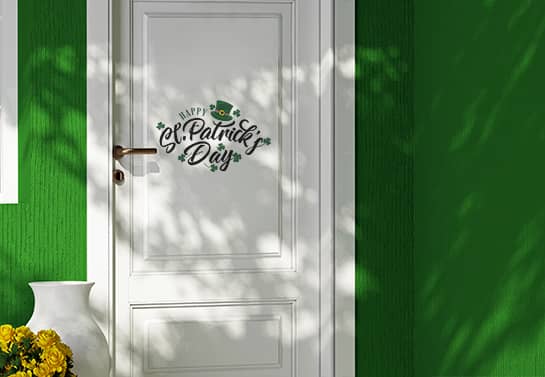 Although those were two of my favorite St. Patrick's day door decoration ideas, no St. Paddy's is complete without the traditional dishes. So let's see some decoration ideas for your table.
St. Patrick's Day Centerpiece Decoration Ideas 
Do you have shamrock drink coasters from the previous year's party but need fresh ideas for your table decorations? These St. Patrick's day centerpiece ideas will add a sparkle to your festive table and make the traditional dishes seem even more delightful.
Idea 3. Impress your guests and add a touch of creativity to your table centerpiece with an acrylic sign. Accompanied by other ornaments, custom printed acrylics will make for classy St. Patrick's day decorations. You can use easel backs, lean the sign on a jar or other decorations to keep it standing. Want to get an idea of what a centerpiece with acrylic photo prints will look like? Here is a nice example.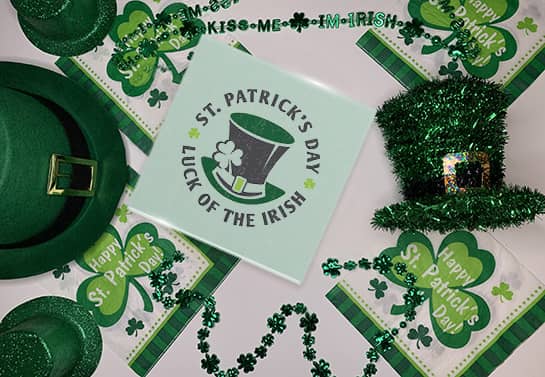 Idea 4. We all have plants in pots at home, don't we? They make tasteful St. Patrick's day decorations for the table. Take three or four pots with plants and "dress" them up as Leprechaun hats like in the picture below. Just half an hour of crafting and dull plant pots are transformed into unique St Patrick's day decorations.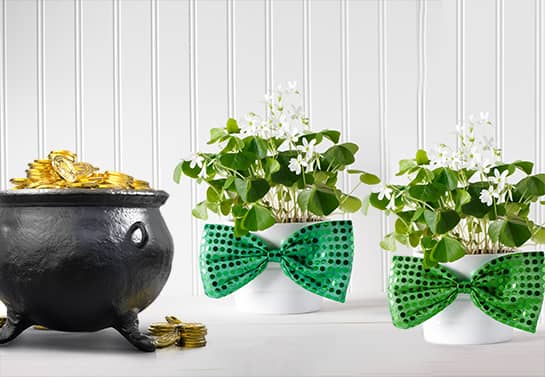 If you don't have any plants or want new ones, what about buying some shamrocks to make your centerpiece even more appropriate? To go a step further, add a "pot of gold" to it and your table is ready for the party! Who knows, maybe you'll find your lucky four-leaf clover this year.
Adding a St. Paddy's themed centerpiece will make your table look cool. You can even mix the two ideas above and get nice decorations not only for your table but also for your shelves or mantelpiece. 
Now, let's go on with some St. Patrick's day decorating ideas for the windows to fill the atmosphere with the luck of the holiday.
St. Patrick's Day Window Decoration Ideas
The best St. Patrick's day decorations definitely involve the windows. Let your guests and neighbors know you celebrate the feast of St. Patrick by decorating the windows of your apartment. Decorating storefront windows for St. Patrick's day is also a great option. 
From clover cut-outs to stickers, there are a lot of classy St. Patrick's day decorations to choose from. Read on for two interesting ideas to get your windows ready for the festive day.
Idea 5. Get your colorful paints and a brush ready for a simple painting on your window. Draw the St. Paddy's rainbow and a pot full of gold coins on the glass. Watercolor is an excellent choice as you may wash it off the windows with clean water. You can also use stencils in case you are not too sure about your drawing skills.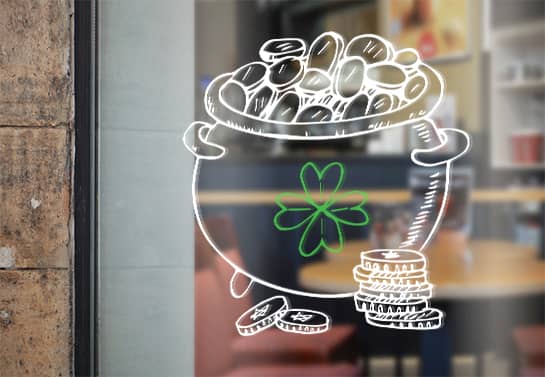 Idea 6. Window decals are ideal for a temporary decorating idea. You can get simple decals at the local shops or order them for a more customized look. Create your own design with our online design tool and get it delivered to your doorstep (*Note: Make sure to choose window decals product option before starting the design). 
You can always combine decals with other window ornaments like garlands or Leprechaun hats. Window decals can only be used once. If you would like to keep your decor for next year, static clings are the reusable alternative to decals. You can design and apply them just as you do decals and also reuse them in the future. Here's some inspiration!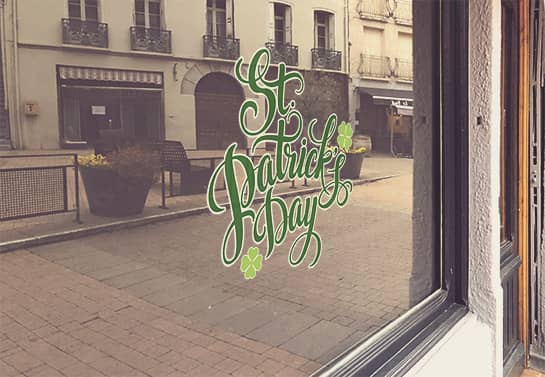 Now that we've decorated all around the house, let's look at some stylish St. Patrick's day decorations for the yard. Let everyone know you're Irish for the day!
St. Patrick's Day Yard Decoration Ideas 
St. Paddy's day  ushers in the spring mood so getting yard decorations is just fitting. Yard ornaments are some of the best St. Patrick's day decorations, and they are affordable. Here are some ideas to get started!
Idea 7. The Leprechaun is a must-have decoration for St. Paddy's day and you can use it to create a welcoming atmosphere in your yard. From the traditional looking gnomes to a creative and unique one, you're free to choose how your Leprechaun sign will look. Choose lightweight and weather-resistant corrugated plastic signs or custom aluminum signs for best results. The good thing is they'll never go out of style and you can use them for the coming years. Let's move on to another idea I like.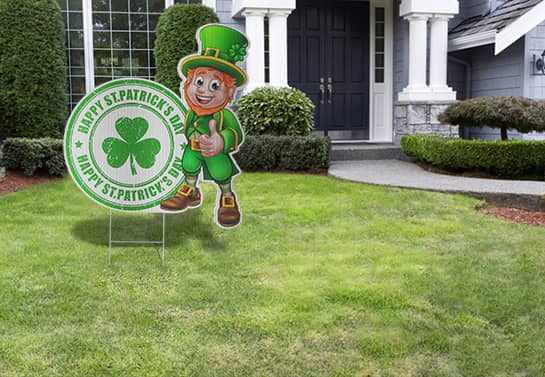 Idea 8. Like the Leprechaun, the shamrock is another inseparable token of the Irish holiday. Make the long pathway from your gates to the front door look like a part of the Irish legend by adding four-leaf clover signs to both sides of the path to lead the way. Here's how that will look.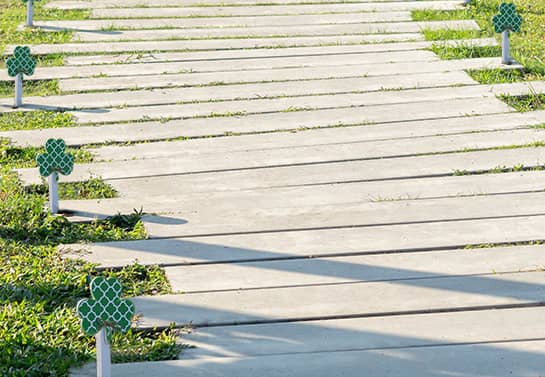 Both of these ideas will make your holiday decorations outstanding. If you have a big enough yard, go ahead and use them together! 
You can design your signs online and have them delivered without a hitch through our online design tool. Along with the premium quality of delivered products, here is what we offer:
Ready-made templates which are easy to customize through our online tool.
Next day shipping.
24/7 professional support to help you with any questions you may have.